Contemporary Cape Cod in Adamstown closes at $1.95 million | Real Estate And Development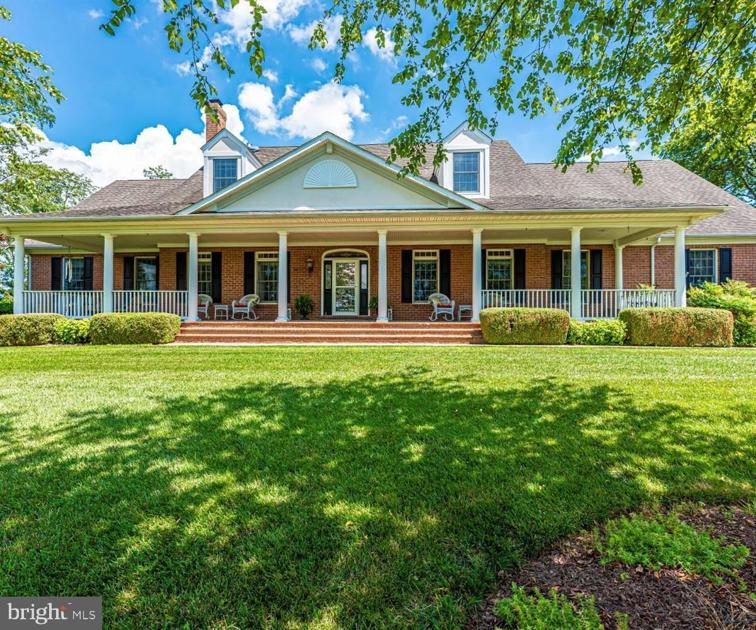 The custom-built contemporary Cape Cod at 5451 Doubs Road, Adamstown, is last week's top house. It listed for and closed at $1.95 million. Surrounded by a 61-plus acre sod farm, this four-bedroom home has 7,555 square feet of living space. Features include three porches, four fireplaces, a fully-finished basement and a two-car garage. There is also a three-bedroom tenant house on the property, a metal five-bay pole equipment shed, a metal pole barn with two horse stalls, and a separate office.
The following is a list of all other homes sold in Frederick County in the past week through agents and brokers, as reported through the Bright MLS database. It does not include homes sold without an agent. The list is provided by Dan Plombon of Mackintosh Inc., Realtors. All prices are closing prices.
THE REST OF THE TOP 5:
13202 Detour Road, Keymar, $1.35 million
3298 N. Hill Court, Middletown, $1.15 million
207 Magnolia Ave., Frederick, $1.11 million
7525 Old Receiver Road, Frederick, $1.075 million
ADAMSTOWN
5774 Morland Drive North, $635,000
BRUNSWICK
804 Brunswick St., $312,000
307 Brunswick St., $245,000
BUCKEYSTOWN
3716 W. Buckeystown Pike, $420,000
EMMITSBURG
60 Robindale Drive, $215,500
FREDERICK
4955 Old Swimming Pool Road, $875,000
2507 Owl Roost Court, $752,153
5804 Haller Place, $715,950
5263 Black Locust Drive, $670,000
9512 Bridgewater Court East, $650,000
407 Magnolia Ave., $621,000
526 Military Road, $619,900
5703 Woodlyn Road, $600,000
11129 Liberty Road, $587,000
7406 Hilltop Drive, $585,000
230 E. Second St., $569,900
1201 Apollo Drive, $564,990
1808 Whispering Meadow Court, $562,000
4816 Old Swimming Pool Road, $550,834
7096 Autumn Leaf Lane, $550,000
620 Humberson Lane, $535,000
1392 Rocky Springs Road, $531,806
1805 N. Greenleese Drive, $510,000
7196 W. Sundown Court, $505,000
6475 Saddlebrook Lane, $500,000
2498 Five Shillings Road, $500,000
6249 Derby Drive, $492,000
139 Crosstimber Way, $480,000
6599 Corbel Way, $436,000
5019 Macdonough Place, $424,990
2180 Archet Lane, $415,000
18 E. Third St., $405,000
7803 Wormans Mill Road, $394,900
703 Wyngate Drive, $377,000
2484 Bear Den Road, $370,000
1923 Crossing Stone Court, $364,000
1790 Wheyfield Drive, $357,000
304 Cheyenne Drive, $350,000
7130 Collinsworth Place, $350,000
6330 New Haven Court, $350,000
2607 Caulfield Court, $349,900
1444 Trafalgar Lane, $349,000
6517 Carston Court, $336,000
6380 New Haven Court, $331,000
5025 Canvas Back Court, $320,000
106 E. Fifth St., $315,000
536 Eisenhower Drive, $315,000
1730 Dogwood Drive, $310,000
1550 Beverly Court, $305,000
6742 Sandpiper Court, $305,000
5807 Duke Court, $299,900
5729 Charstone Court, $280,000
6923 Edgemont Road, $270,000
232 W. Fifth St., $266,000
7023 Arbor Drive, $265,000
1755 Heather Lane, $265,000
2665 S. Everly Drive, #7-4, $265,000
871 Waterford Drive, $263,000
563 Primus Court, $256,465
2501 Coleridge Drive, #3C, $250,000
6109 Springwater Place, #2402, $247,500
405 Heather Ridge Drive, $230,000
2139 Bristol Drive, #9, $230,000
500 Marshall Court, #3A, $223,000
6505 Springwater Court, #7404, $220,000
31 N. Pendleton Court, #14J, $210,000
621 Himes Ave., #IV110, $175,000
497 Carrollton Drive, #13, $173,000
5826 Shookstown Road, $137,500
650-B Heather Ridge Drive, #12B, $133,000
IJAMSVILLE
11146 Innsbrook Court, $850,000
9805 Big Woods Court, $680,000
5837 Rochefort St., $362,500
JEFFERSON
3317 Brockton Drive, $515,000
MIDDLETOWN
4300 Saratoga Springs Court, $875,000
602 W. Green St., $660,000
1632 Old National Pike, $510,000
4605 Calcite Court, $460,000
MONROVIA
4457 Stovepipe Lane, $665,000
MOUNT AIRY
4734 Caleb Wood Court, $870,000
4705 Otono Court, $864,305
7817 Woodville Road, $468,900
13116 Old National Pike, $150,000
MYERSVILLE
11428 Wolfsville Road, $392,000
NEW MARKET
513 Isaac Russell St., $784,105
10516 Edwardian Lane, $629,000
6643 Coldstream Drive West, $550,000
10810 Highwood Place, $515,000
6805 Chickadee Lane, $425,000
THURMONT
14 Ironmaster Court, $385,000
210 Westview Drive, $383,500
16142-A Kelbaugh Road, $275,000
106 Old Oak Place, $220,000
110 N. Altamont Ave. North, $167,000
UNION BRIDGE
12751 Bunker Hill Road, $310,000
URBANA
3633 Red Sage Way North, $836,670
3255 Thornapple Drive, $549,735
9114 Kenway Lane, $535,000
3736 Hope Commons Circle, $425,000
WALKERSVILLE
8496 Inspiration Ave., $397,000
118 Adams Court, $285,000
100 Chapel Court, #107, $200,000