23 bedroom office ideas for the ultimate work-life balance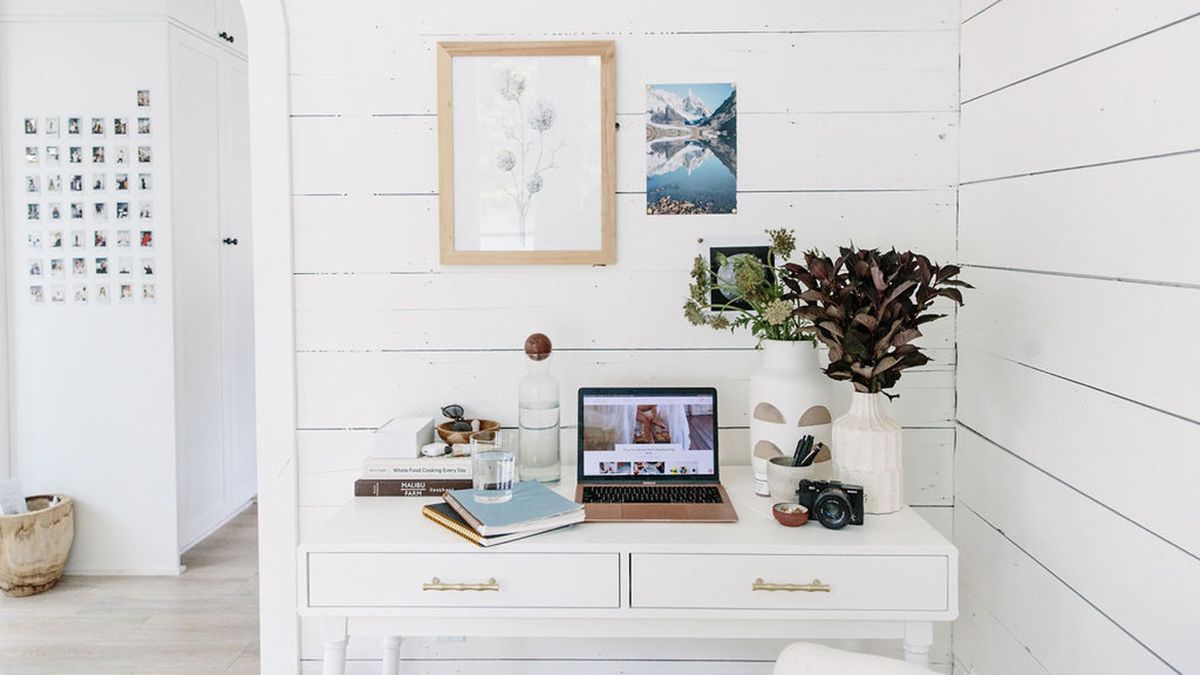 Looking for nifty bedroom office ideas? If your bedroom is missing a multifunctional trick, we've got some inspo for you. 
Sure we dream sweetly in them after the sun goes down and the stars come out to play, but shouldn't we be utilizing this zen-den space in the daylight hours too? YES is the answer.
And with many of us now working remotely from home on a flexible if not full-time basis, these sanctuaries of calm provide an overlooked space in which to create an office bedroom idea. (Phew to that – as if our apartment open-plan living-cum-kitchen and everything in between hasn't got enough going on already).
Ximena Rodriguez, interior designer, CetraRuddy (opens in new tab), says: 'For a dual home office idea, i.e. a bedroom that's also an office, it's important to create separation between these roles. This can be as simple as orienting furniture so the bed isn't visible from the desk or work surface. Ideally, windows should remain unobstructed by desks or monitors to ensure the room gets plenty of light.' 
1. Create a separation between work and sleep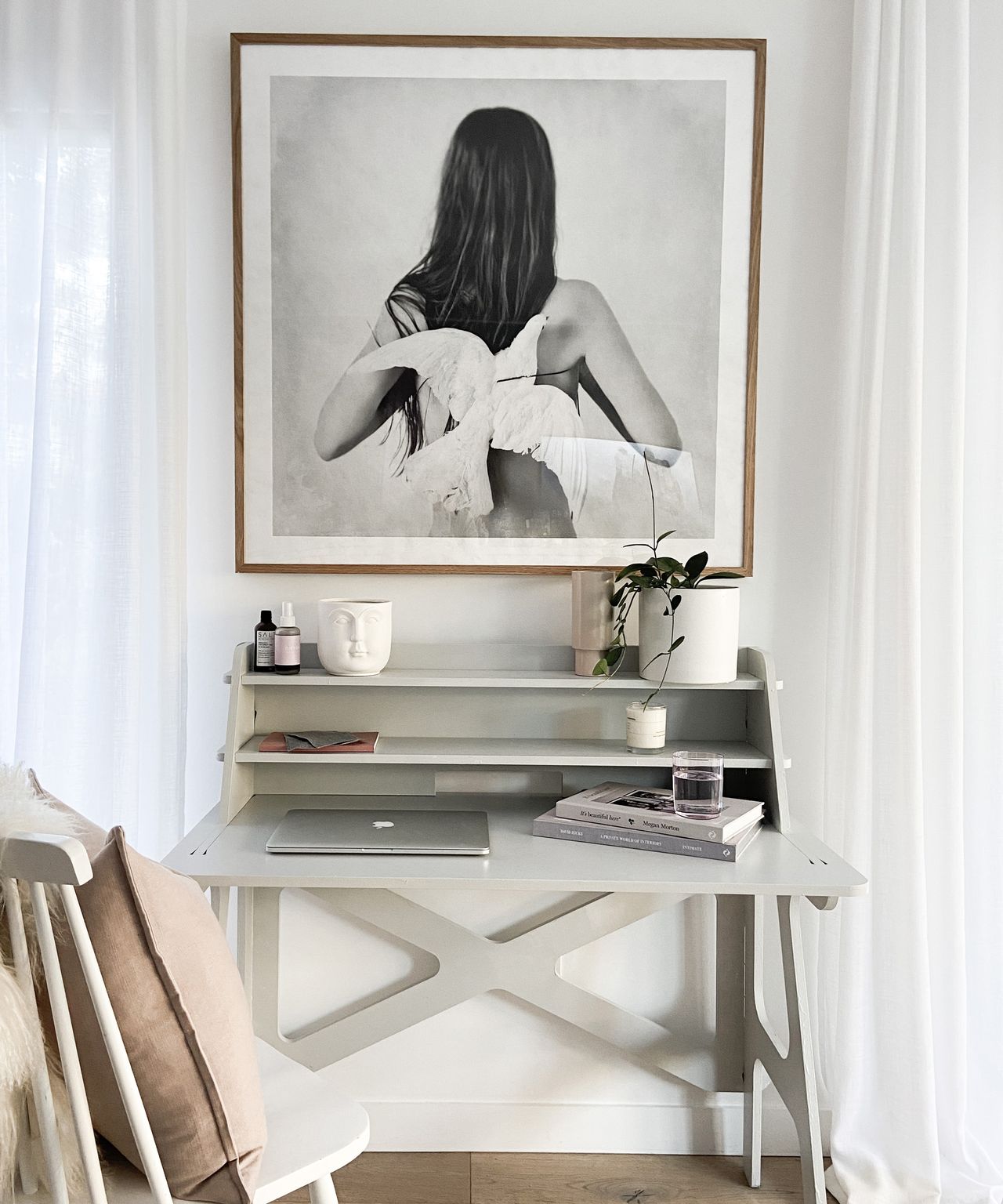 In a dual-role bedroom office, finding the right layout is critical – after all, the room needs to accommodate its other functions and still be a relaxing enough environment to become a sleep recovery room.
Anna Franklin, interior designer and founder of Stone House Collective (opens in new tab), says: 'Create separation between your workspace and your bedroom space. The bedroom is where we end our day and try to unwind. If your office space is located in your bedroom, create a clear separation between your bed and your workspace.'
'To start, incorporate a desk if you have the space, and position it in an area of the room that is not next to the bed. By doing so, you will be able to physically leave your workspace at the end of the day, and can more easily get into a relaxed headspace.'
Get expert advice on how to set up an office for comfort and productivity.
2. Or use a room divider to physically zone different areas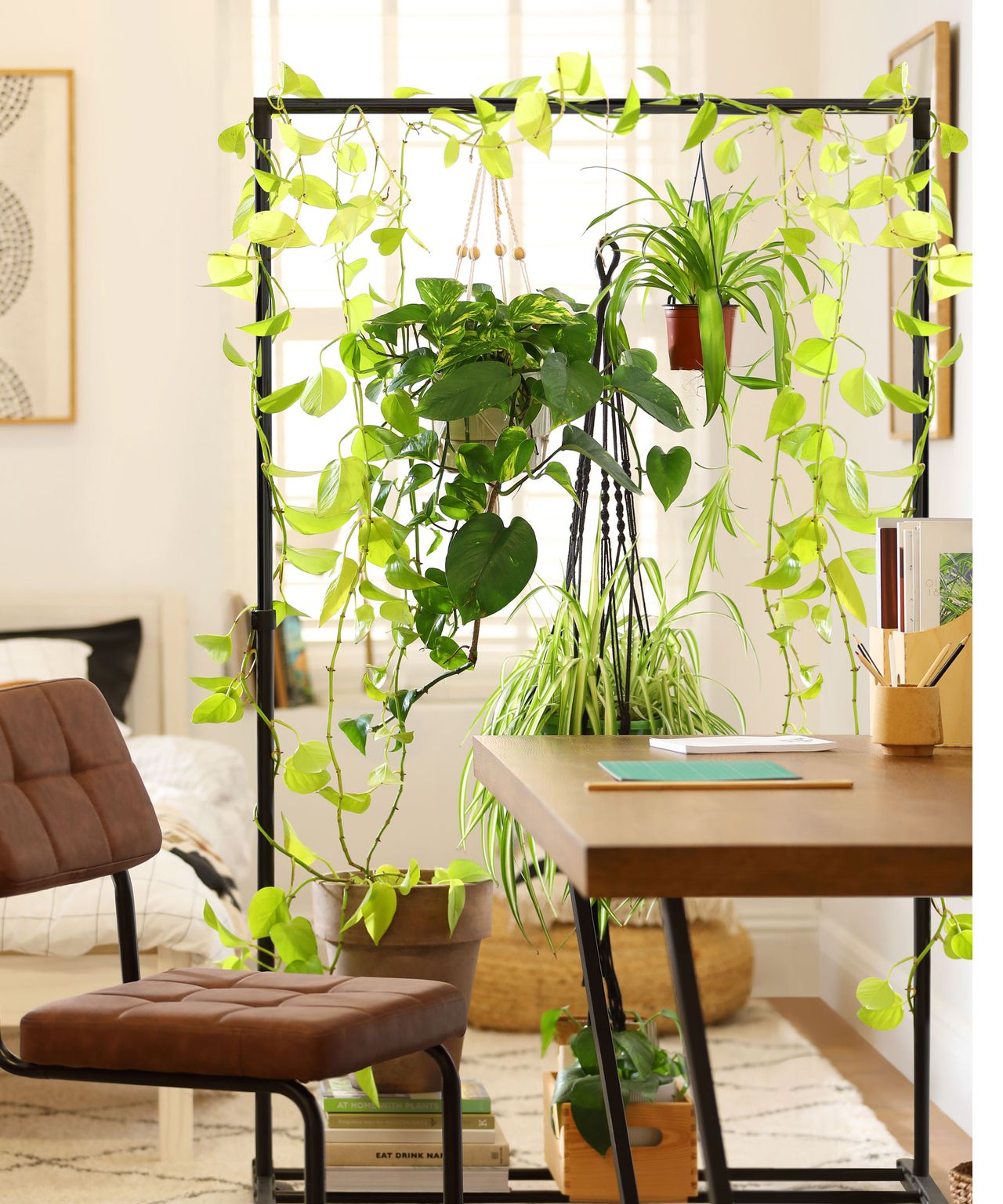 Put up boundaries in your office bedroom idea – quite literally, with a room divider or a block piece of furniture to define the zones between rest and do.
Kelly Dorval, digital marketing manager, CLV Group (opens in new tab), says: 'An important thing for those with an office in their bedroom is separating their living space from their working space. A great way to make a bedroom office is to keep the bed and the desk space on opposite sides of the room.'
'This way, you can have a designated space to work and sleep. If you need more separation, you can also purchase a large shelf or partition like the KALLAX (opens in new tab) shelf from IKEA. These shelves are perfect to act as separation as it doubles as storage and can be an effective partition.' 
3. Keep the office furniture minimal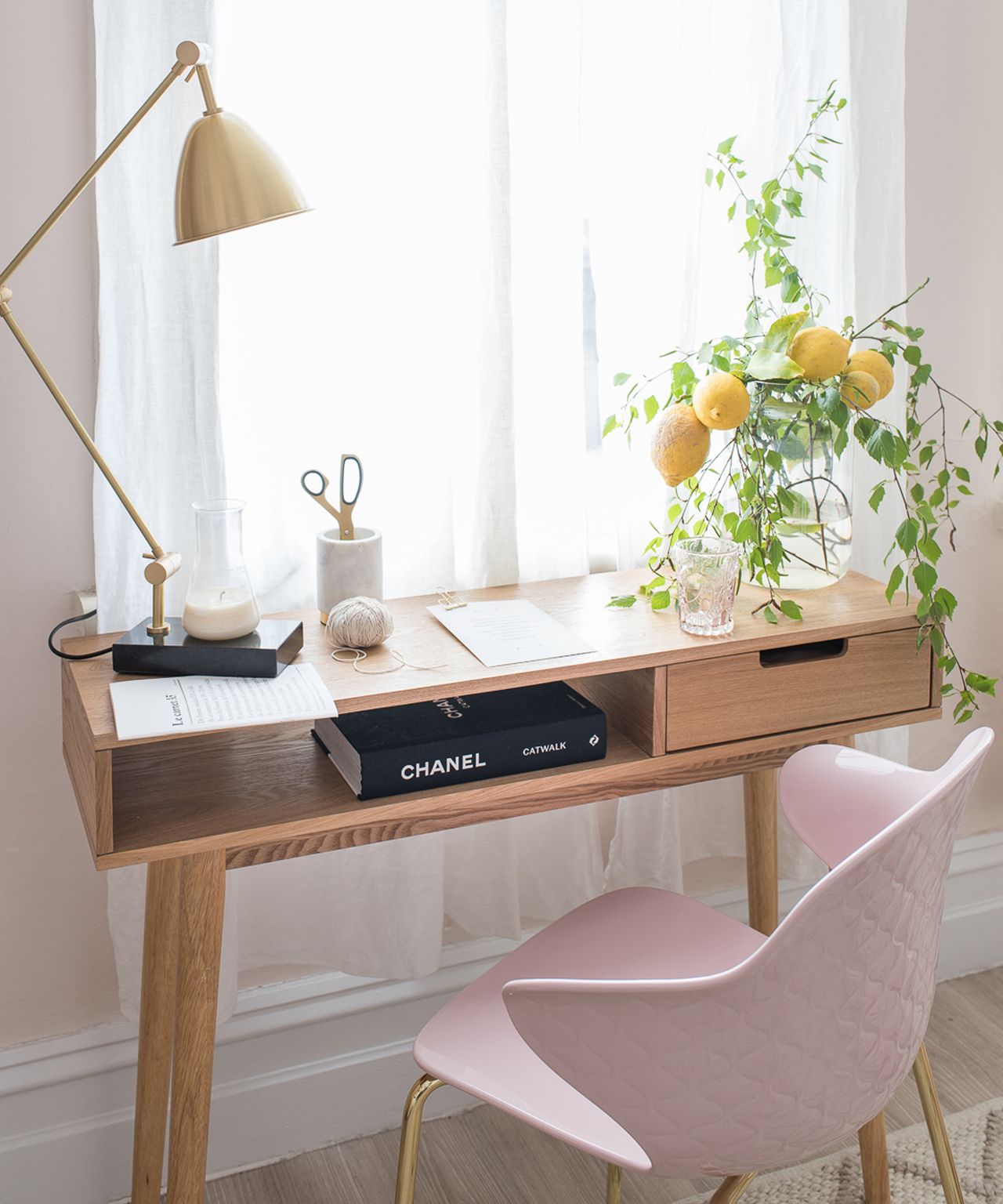 Franklin says: 'Since you are adding more furniture to the bedroom, you will want to keep the pieces minimal and sleek. This will minimize bulkiness that may make the space feel crowded, and allows the area to remain airy and bright. Even better, invest in a folding desk that can be tucked away at the end of the day.'
Anna's product recommendations include the Haotian Folding Wooden Wall-Mounted Table Desk in White available at Amazon (opens in new tab) and the Lulu and Georgia Camden Leather Office Chair in Ebony (opens in new tab)
4. Create a cohesive look with coordinated furniture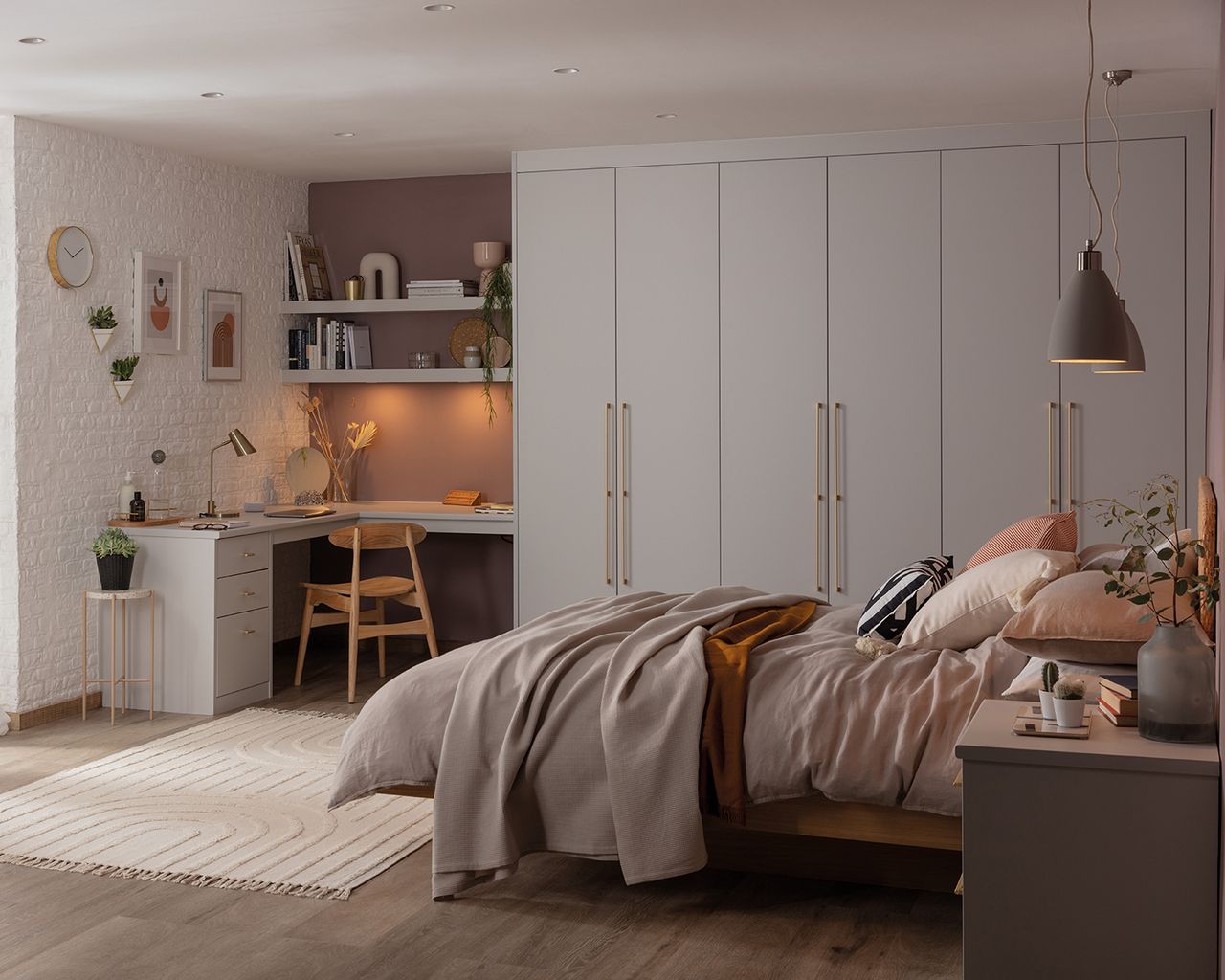 Rachal Hutcheson, national retail manager, Sharps (opens in new tab), says: 'Opting for a built-in desk solution, with the same design as your wardrobes, will create a cohesive look. Having the desk in close proximity to the cupboards allows for easy-to-reach office storage and helps to maximize productivity.'   
5. Max-out on office storage to stay focused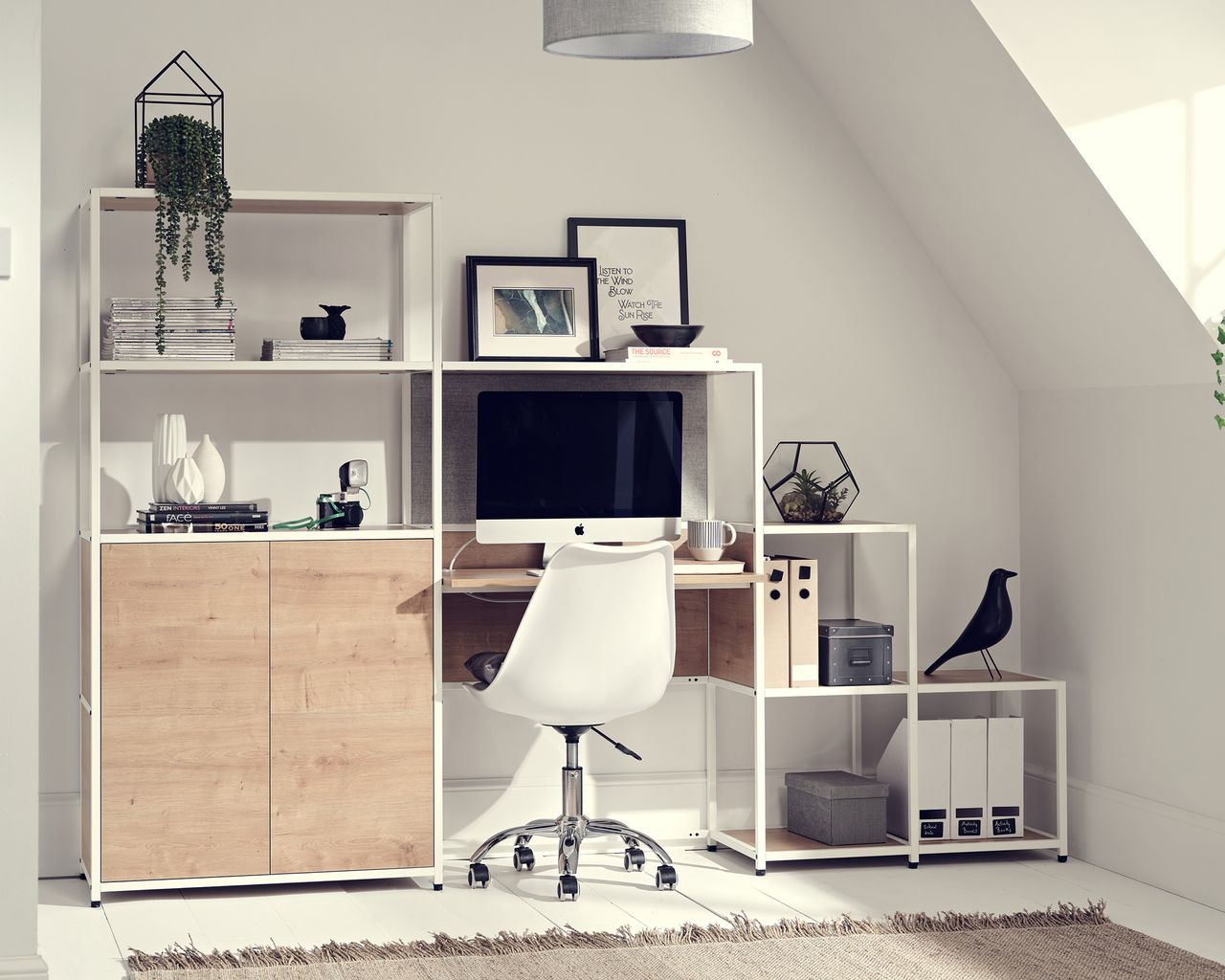 A cluttered space can often cause an unfocused mindset – definitely not great for staying motivated when home working. In multifunctional spaces like an office bedroom, where utilizing every inch of space is key, it's important to stay organized with savvy home office storage ideas, like the versatile Drawer storage organizer (opens in new tab) from Edenbrook. A tidy space will also aid restful slumber.
Camille Styles (opens in new tab), says: 'Creating smart storage is another must when you have less room to work with. The Yamazaki Rin Desk Organizer (opens in new tab) will help keep desk essentials organized and all in one place. The IKEA TROTTEN Cabinet (opens in new tab) is also a simple and economical storage option for holding both office and bedroom items like books, chargers, and the like.'
Hutcheson says: 'Our homes are having to work harder than ever to adapt into multifunctional spaces, that create a balance between work and play. If your bedroom is now also your working area, a clutter-free tidy desk space, in a previously unused corner, will aid a healthy work-life balance.'
6. Stay motivated with an inspirational gallery wall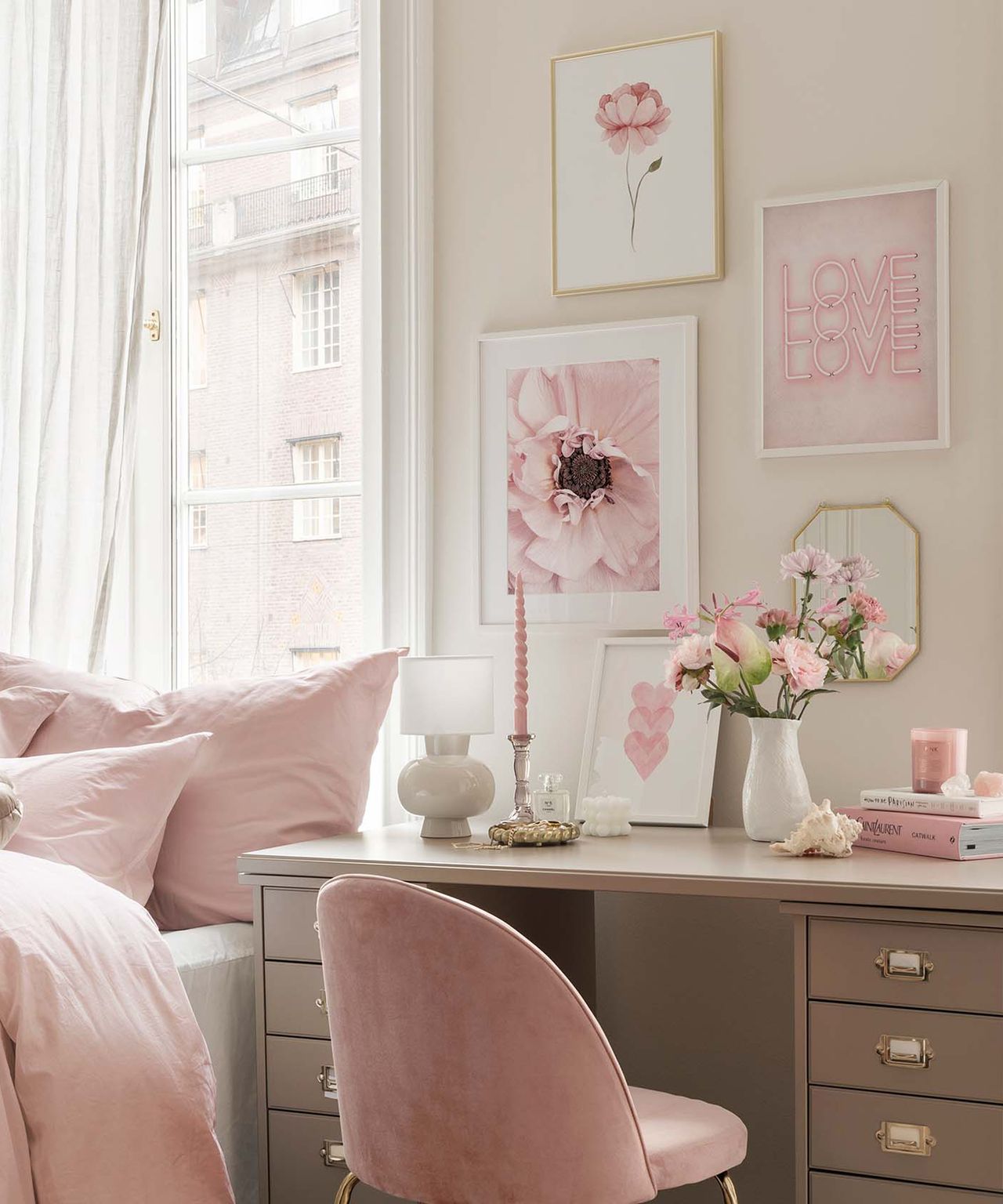 Add interest to your modern bedroom whilst creating a motivational environment to work in with a beautiful gallery wall idea. Adopt a visualization board approach, and curate a display of uplifting prints and inspirational images. 
Personalize to taste – perhaps you might want to try a wanderlust inspired array of wilderness destinations, or alternatively get creative with an artful collection of sculptural forms and modernist muses, like the abstract art prints from Winter Museo (opens in new tab)… Whatever you desire, let your personality shine through.
7. Reveal the best you with the perfect environment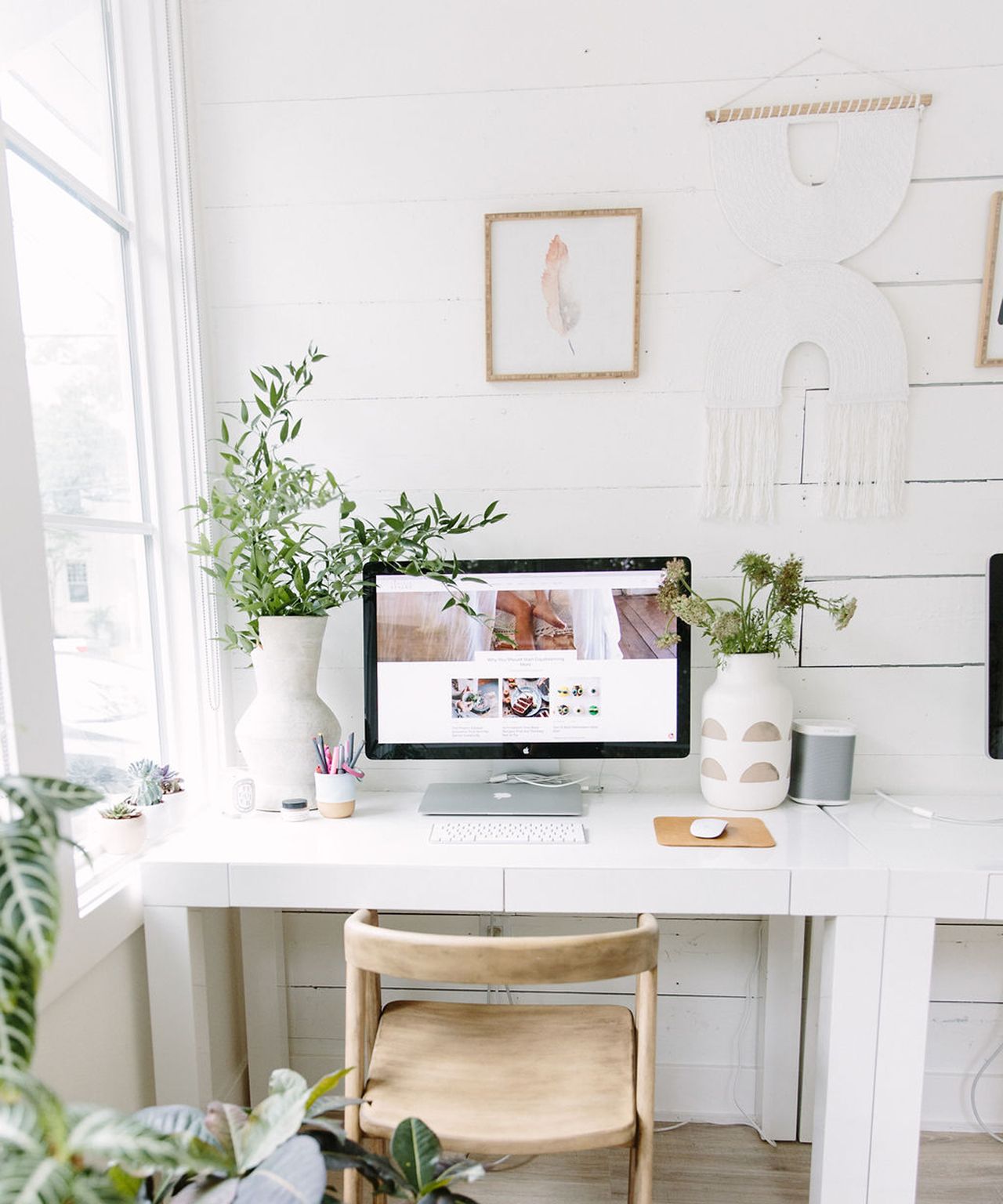 Getting enough zzzs goes hand in hand with maxing out productivity, and both of these functions need the optimum environment to be nurtured and thrive. Even the smallest upgrades, like a supportive pillow or scented candle, can make a world of difference…
 Styles advises: 'When it comes to our home workspaces, too often we allow a poorly arranged environment to hinder our potential. And a home office lacking inspiration and flow can negatively impact our work. It's critical to have things in place, from a streamlined desk to ample light, so we can focus not on what's in our way but on what we need to accomplish.'
Nurture your dual space with home office organization ideas for a stylish and productive workspace.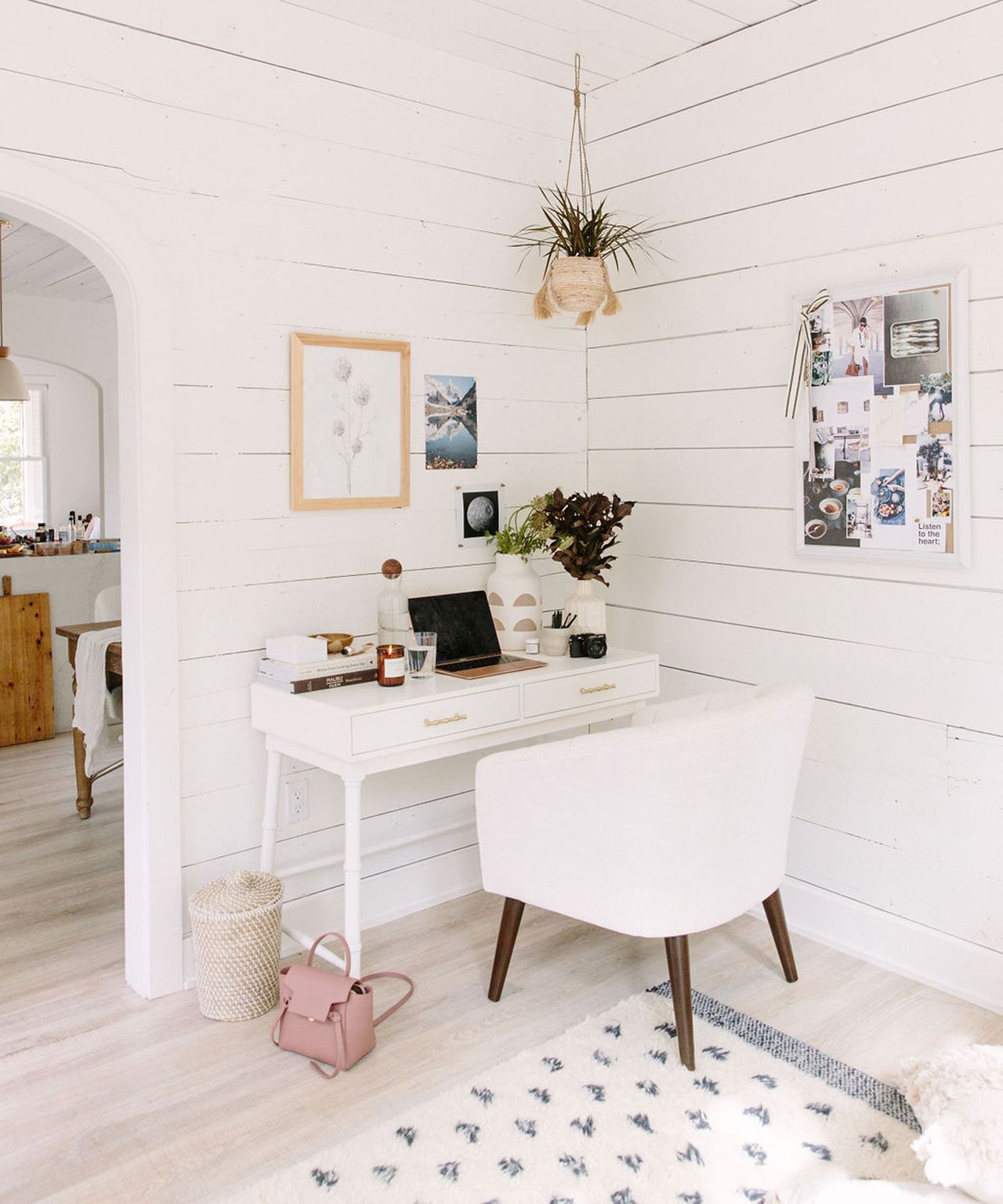 Styles continues: 'Your home office needs to work for you. Every item must have a purpose and place so it's within easy and comfortable reach – from your pens to your computer to your chair. In this light, think about what you can remove, tweak, shift, or add that will create such a place.'
If you're looking for further inspo, perhaps learn how to Feng Shui a bedroom to design a serene space filled with all the good vibes. 
8. Consider the right lighting scheme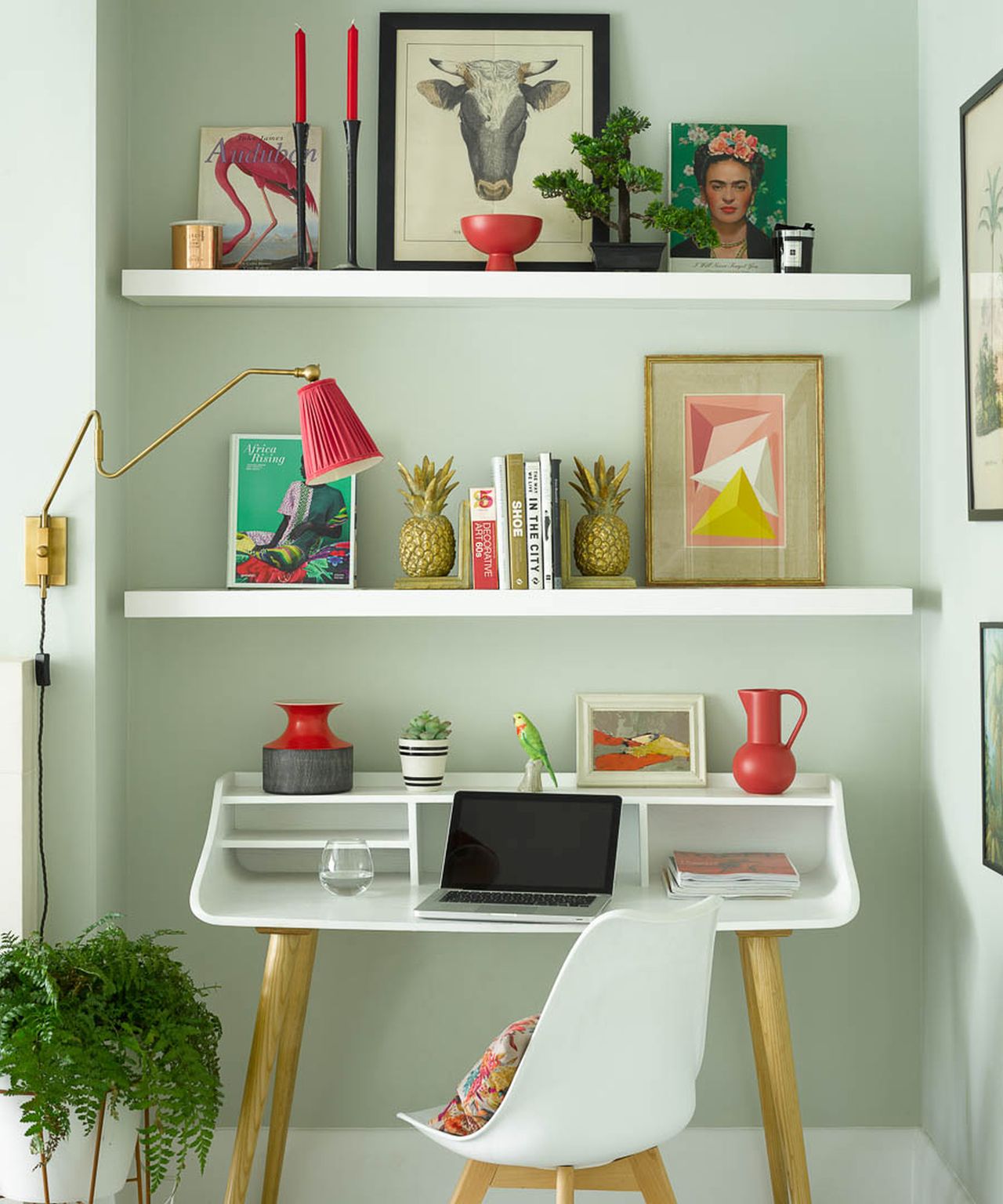 Just like in nature, home office lighting can impact your mood. Dim, low lighting can lead to drowsiness or relaxation, while extremely bright lights can make you feel more alert but can also make you feel tense or upset. Check out bedroom lighting ideas too. 
Mitchell Elworthy, founder and director, The Lighting Outlet (opens in new tab), says: 'While brighter lights may help increase productivity, the opposite is true when it comes to creativity. A study in Science Direct in 2013 suggested that dimmer lights can promote creative thinking by creating a feeling of freedom. This means that if you need to generate some ideas, then warm, low lighting is a good choice. It is also more in line with your general bedroom feel if you're working in the evening, though it might also make you drowsy.'
'To balance out your work/bedroom space, make it a goal to work in daylight as much as possible, especially early in the day. Natural light will help keep you awake and alert, reduce eye strain, help increase productivity and improve your mood. If you have a source of natural light in your bedroom, be sure to keep it unobscured by heavy drapes or blinds. It's also best to try and keep natural light sources in front of or next to your work surface to maximize your view and reduce distracting glares.'
9. Consider an ergonomic work layout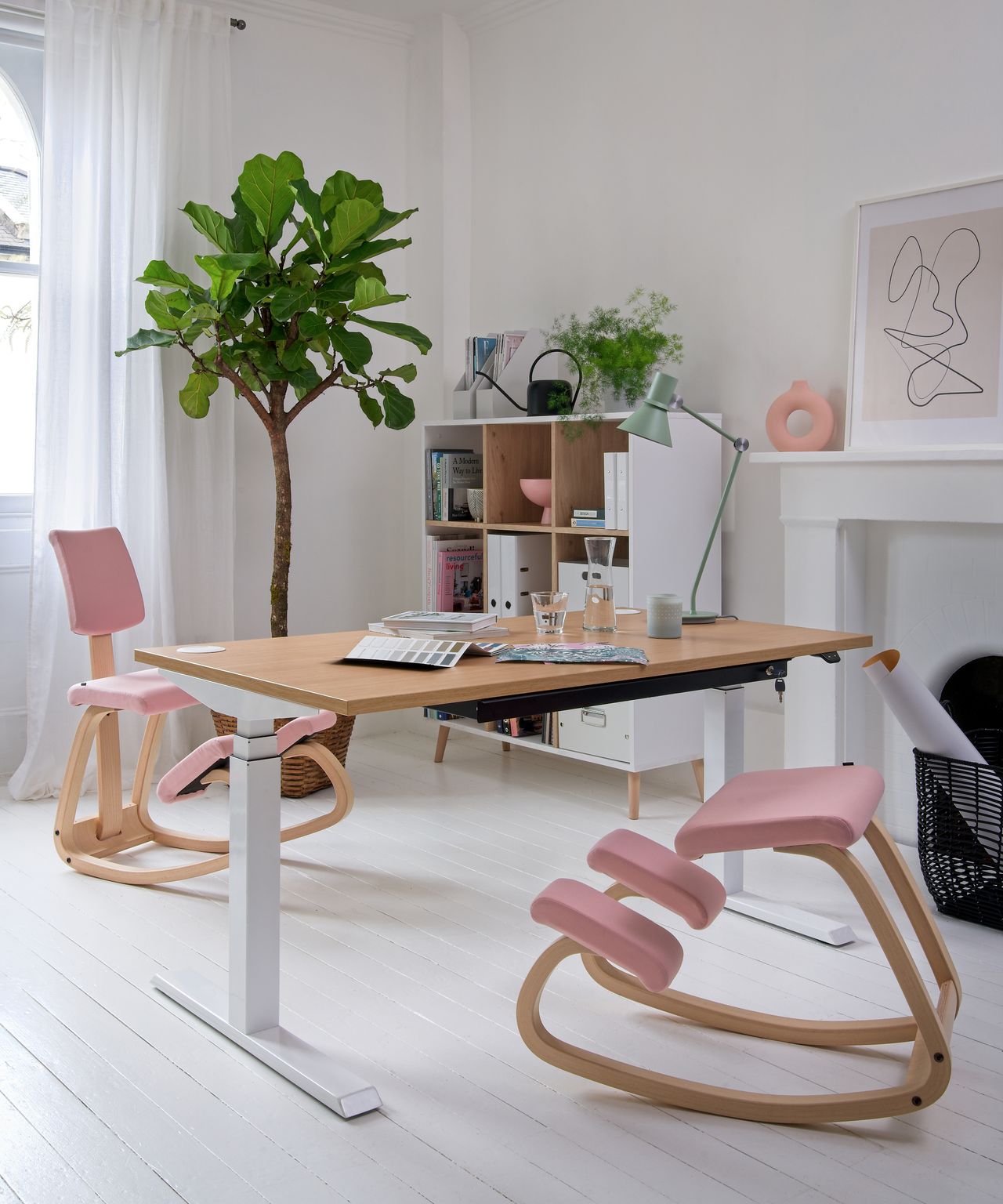 Styles says: 'If the arrangement of your furniture feels cramped, you will too – especially when your office space is dually functioning as your bedroom.  Consider an ergonomic work layout that allows movement and the option to stand. I love the Fully Remi Adjustable Standing Desk (opens in new tab), which moves up and down according to your sitting and standing needs.' 
10. Go for a minimalist scheme to avoid distractions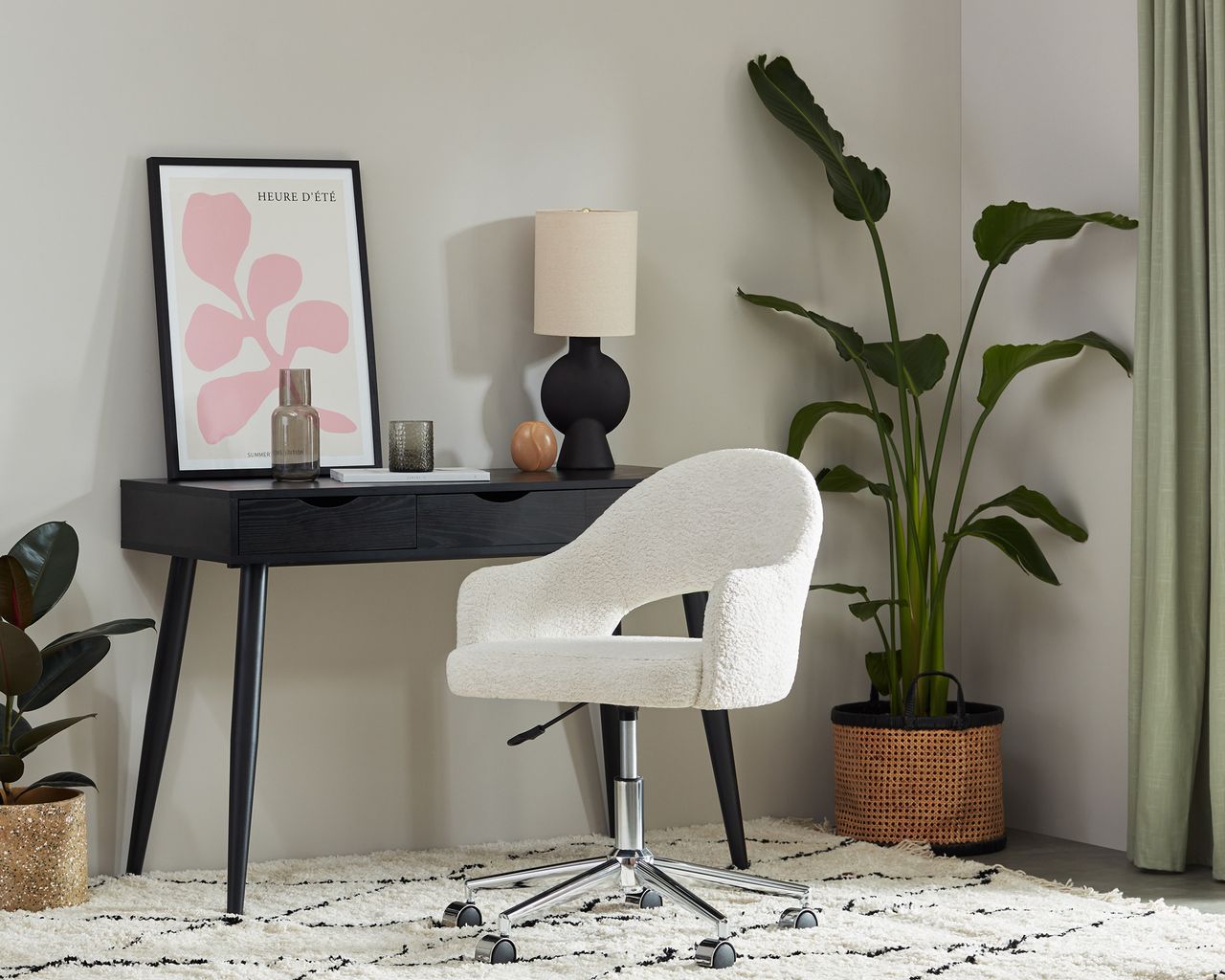 Keep calm, and stay focused with a fuss-free and streamlined 'Japandi' or Scandi bedroom idea. Tick for home working, and a tick for restful sweet dreaming… zzz.
Rodriguez says: 'We advise clients to avoid the temptations of clutter and lean towards a cohesive and warm minimalist approach, which can reduce anxiety levels and aid focus. For instance, choose a minimal and clean-lined desk (and use desk organizers), or if possible, use built-ins that offer a smoothly integrated look.'
Joe Ferguson, architectural joiner, SkirtingsRus (opens in new tab), says: 'For a bedroom office, we'd like to recommend stowaway desks and storage (try the Ameriwood Home Writing Desk (opens in new tab), or the Nexera Boss Secretary Desk (opens in new tab)). We believe in an "out of sight, out of mind" approach, especially in planning bedrooms with workspaces. It is important that during times of the day, one can work but still enjoy a restful sleep at night. Another option we have in mind is converted closet offices.'
11. Create a WFH office with a view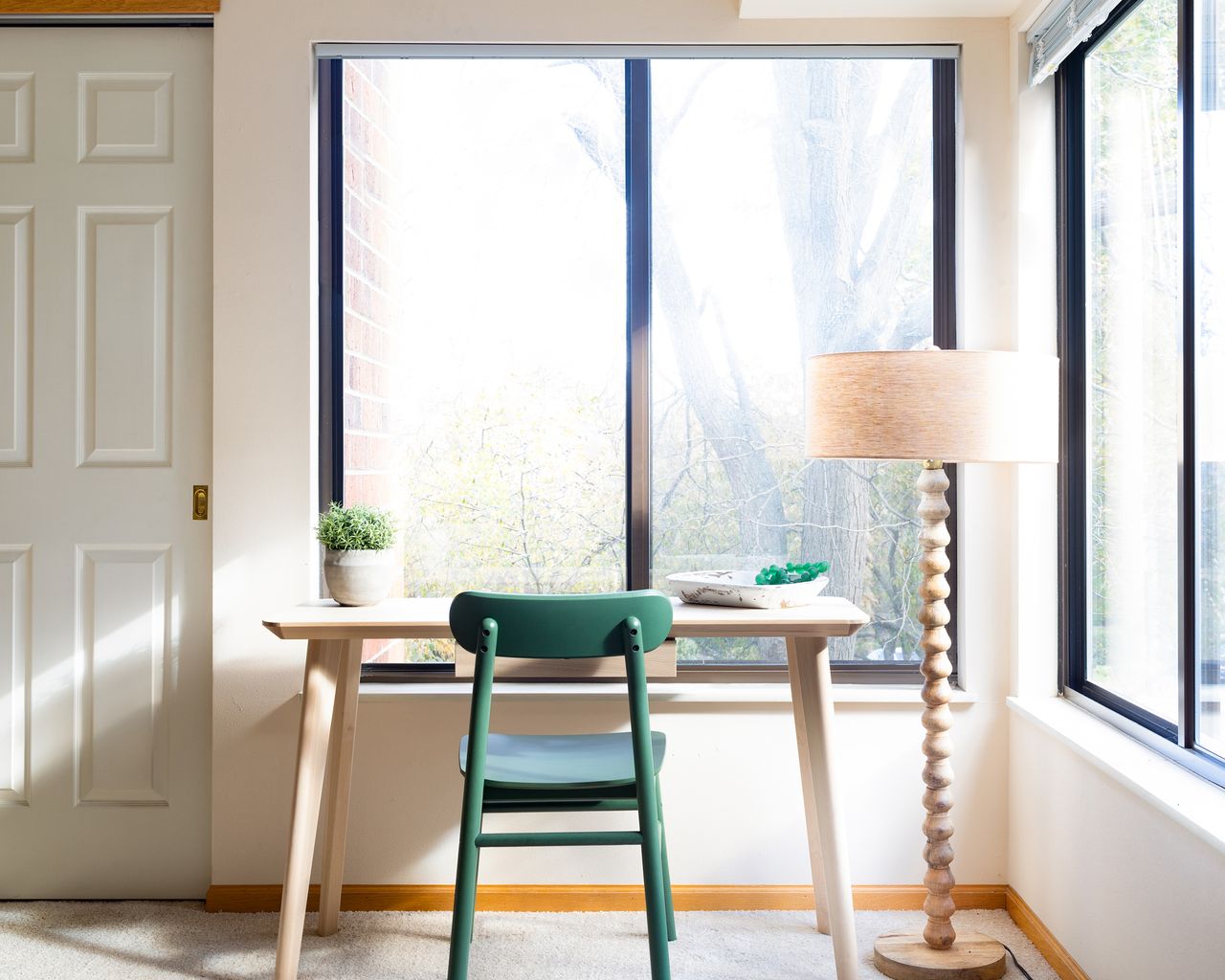 If you predominantly work from home, it can get a tad lonely from time to time. A quick trick to prevent 'FOMO' is to position your desk in front of a window – you'll benefit from natural daylight, whilst feeling connected to the outside world, regardless of whether your view looks out on the urban streets and people watching, or rural nature and bird twitching.  
12. And avoid Zoom doom with the right window treatment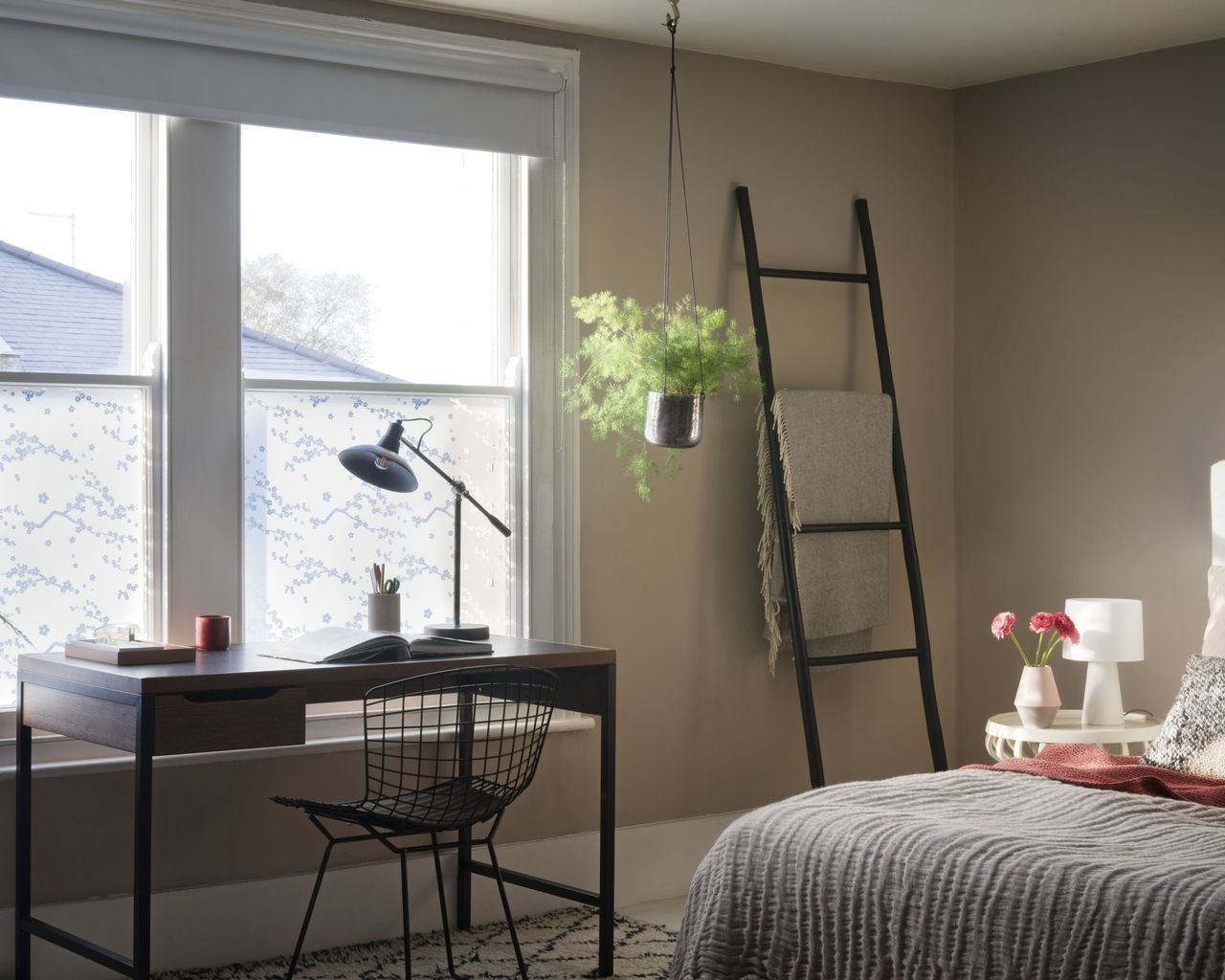 With videoconferencing the new norm, strategic lighting and an attractive backdrop are critical. But providing a camera-ready environment is asking a lot of the average home desk set-up – whether it's in the bedroom or in a dedicated home office.
Rebekah Correll, founder and designer, Transparent Interiors (opens in new tab), lets us in on her secret: 'It's possible, through a simple home office window treatment upgrade, to optimize the level and direction of natural light in the room where you Zoom.'
'Coinciding with the pandemic, but not prompted by it, Graber, launched what they call the Graber Visualizer (opens in new tab). The innovative, free tool lets individuals experiment with thousands of options by uploading a photo of their room to the online tool.'
'Users can play with light and privacy levels until they find the perfect solution – trying different opacities and virtually raising and lowering blinds or shades. A masking function shows how the window coverings look behind any furniture that may appear in the uploaded photo.' 
13.  Let nature nurture your indoor space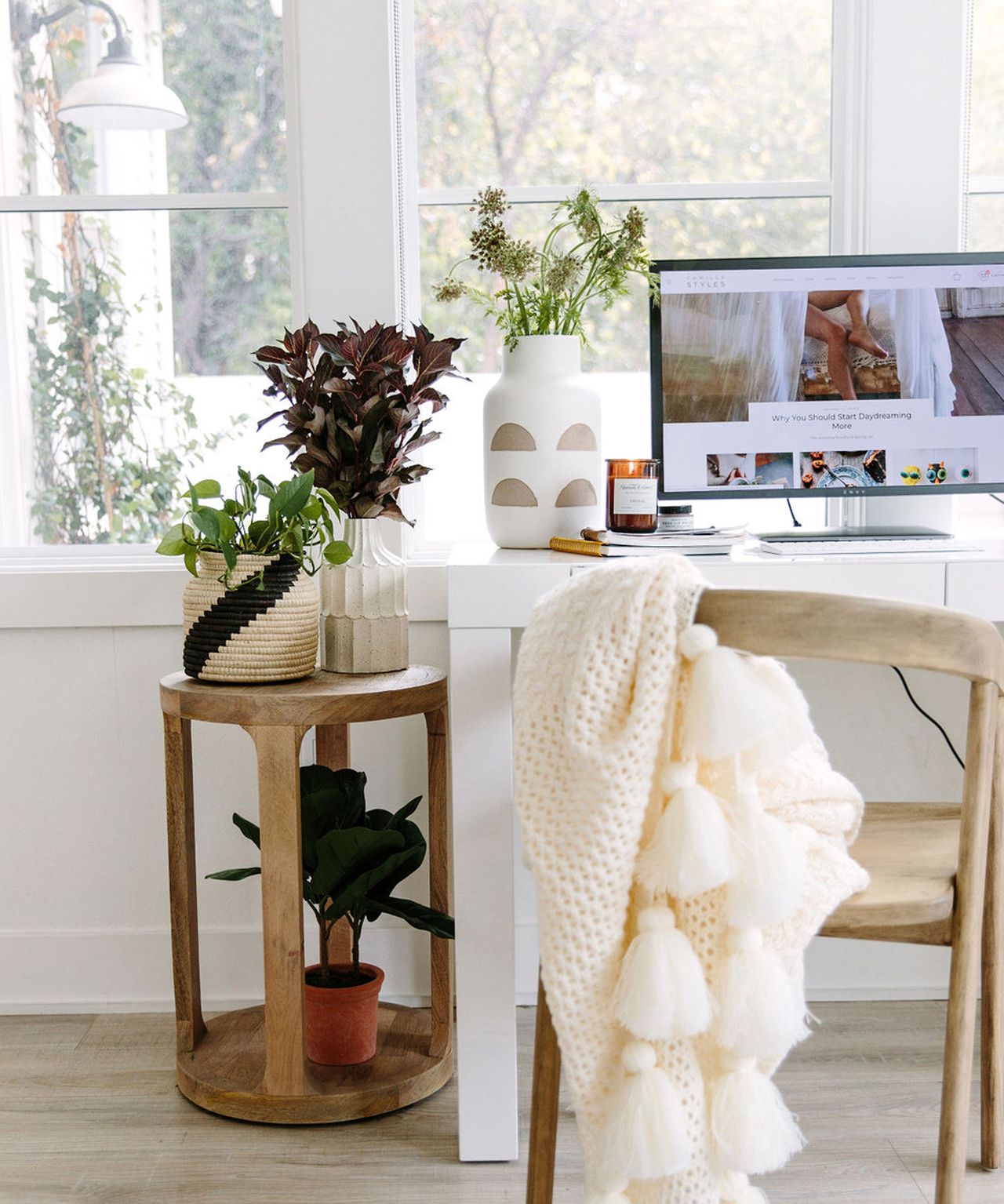 Not only do our beloved plant babies transform any space into a verdant indoor jungle of freshness, but the latest houseplant trends prove that plants can increase productivity, improve air quality, AND reduce sickness – the power of plant positivity knows no bounds! (As if we needed any more convincing.)
Styles says: 'Bring a little of the outdoors in to help to create a sense of serenity and peace – which is the perfect ambiance for both bedroom relaxation and workflow. The Loop Living Small Maia Planter (opens in new tab)will help honor a bit of workplace greenery.'
Gladys Connelly, housekeeping technical writer, The HouseWire (opens in new tab), says: 'Greenery can help both bedrooms and workspaces by adding life to the environment. Let cactus & succulent plants abound on shelves to add a fresh burst of color, and a decorative feature that works well with both the room's functions.
14. Convert a guest bedroom into an office space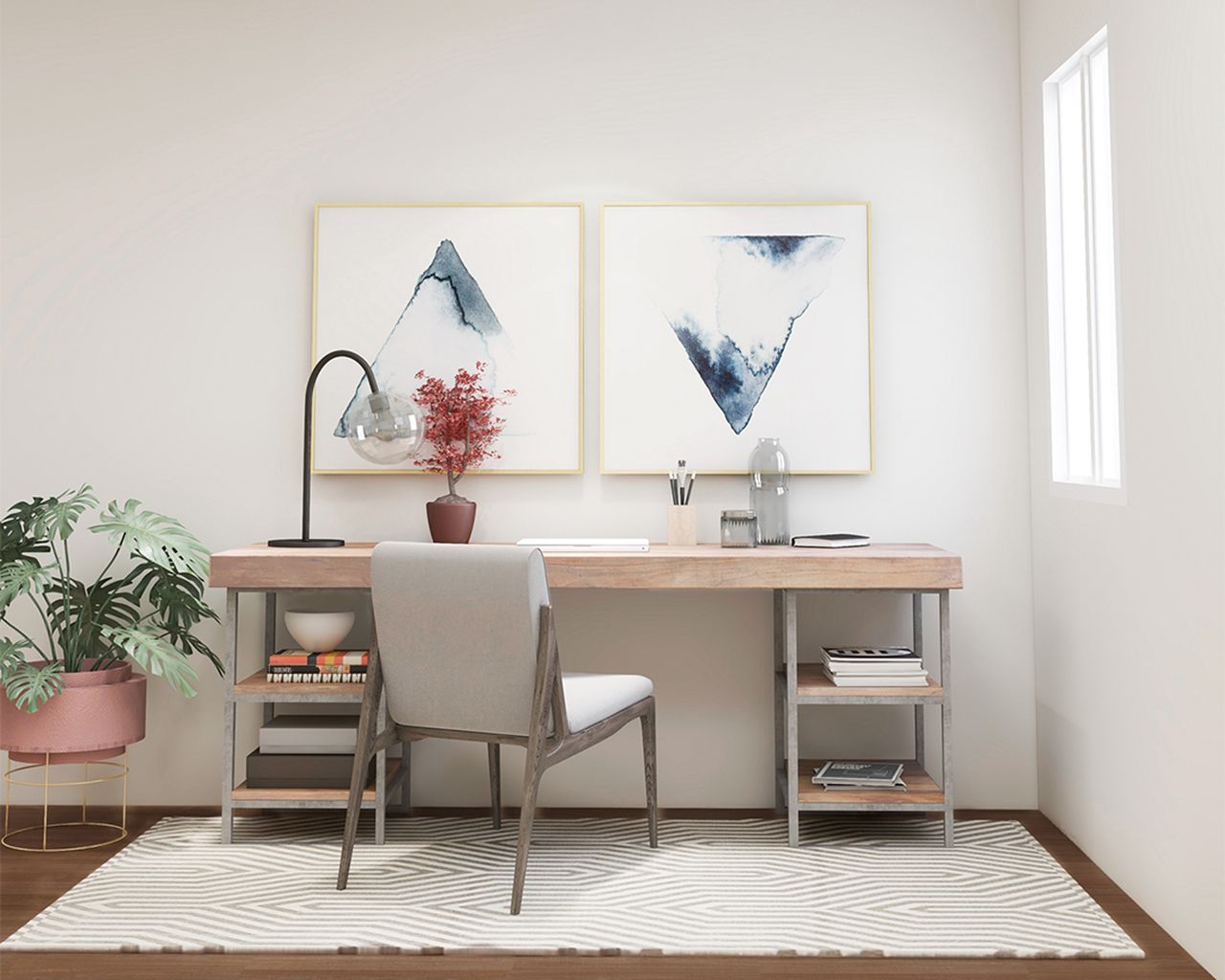 Is the guest room going to waste? Why not switch things up, and create a 'pop-up' home office spare bedroom idea with what you already have at home. 
Rebekah Correll, interior designer, Transparent Interiors (opens in new tab), says: 'A guest room is a great place to start. Disassemble the bed taking up all that space and move it to an attic, wrap it up and store it in the garage, or even just lean it up against the wall.'
'Purchase an inexpensive desk or even a folding table online, bring in an extra dining chair, and boom: home office. The goal here is to create a space that is clutter-free and distraction-free. Even if you can't move everything out, make sure your workspace is just for your work with desk organization ideas. This can also be accomplished with other rooms that are only used occasionally.' 
15. Earn your style stripes with striped walls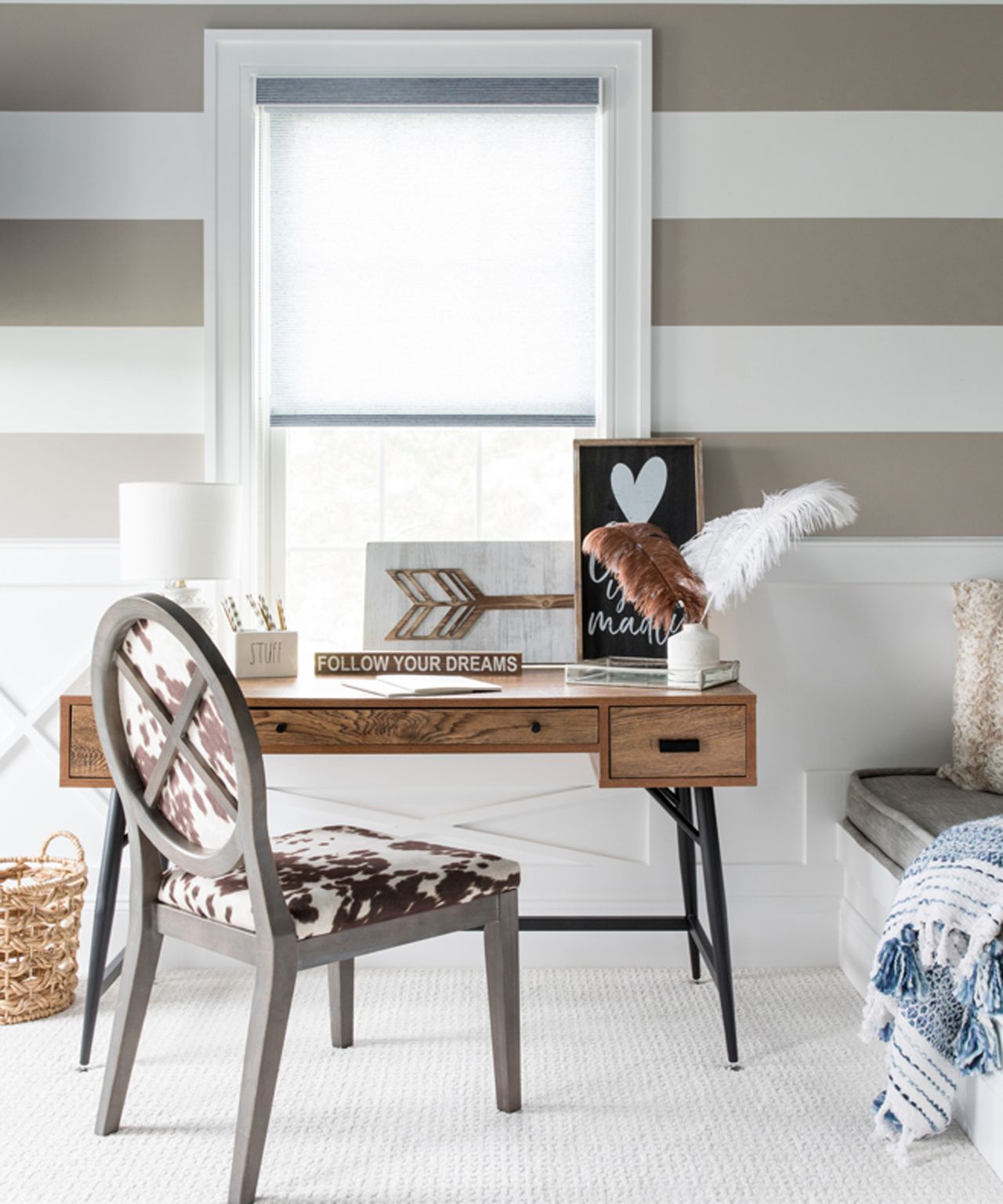 Love the look of this boho bedroom idea, that features horizontal stripes on the wall for a space-enhancing effect? 
Karen B Wolf, creative principal, Karen B Wolf Interiors (opens in new tab), says: 'Adding wide two-tone stripes is a great way to add interest to an office area in a room and help create a stylish and personal touch.' 
16. Turn a closet into a home office set-up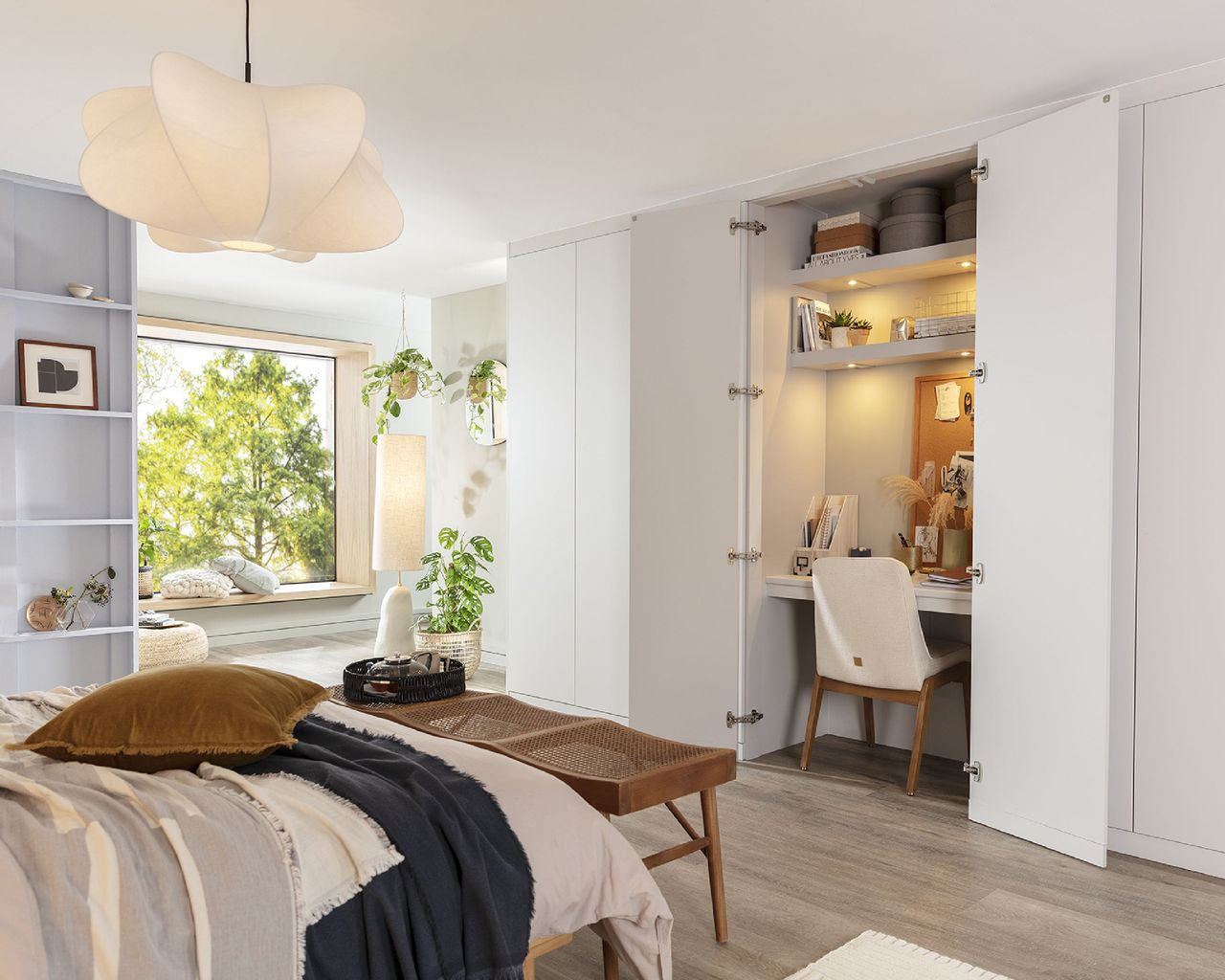 Robin Antill, director, Leisure Buildings (opens in new tab), says: 'Your bedroom might have already a huge closet. Perhaps you aren't utilizing all of it. Embrace the cloffice trend and add a workstation to your closet – simple. The best part is that when you're not working, you can cover it from view.' 
17. Combine function and fun with 'switch mode' seating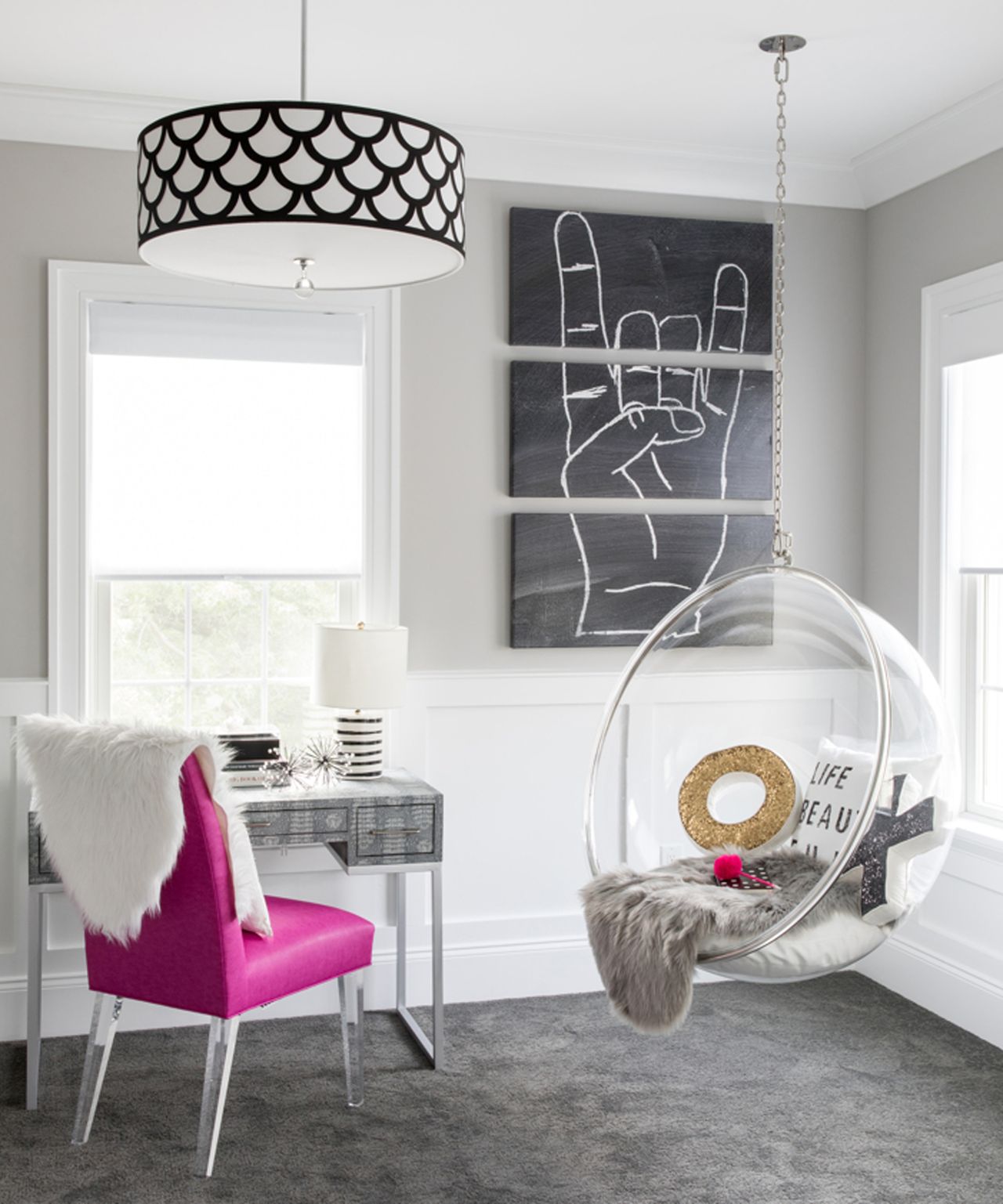 An office chair for study and a hanging chair for chillaxing gives this dual bedroom office 'switch mode' boundaries.
Wolf says: 'Who doesn't want a hanging chair in their office for the best study break and relaxation mode?' 
18. Bask in tranquility with an essential oil diffuser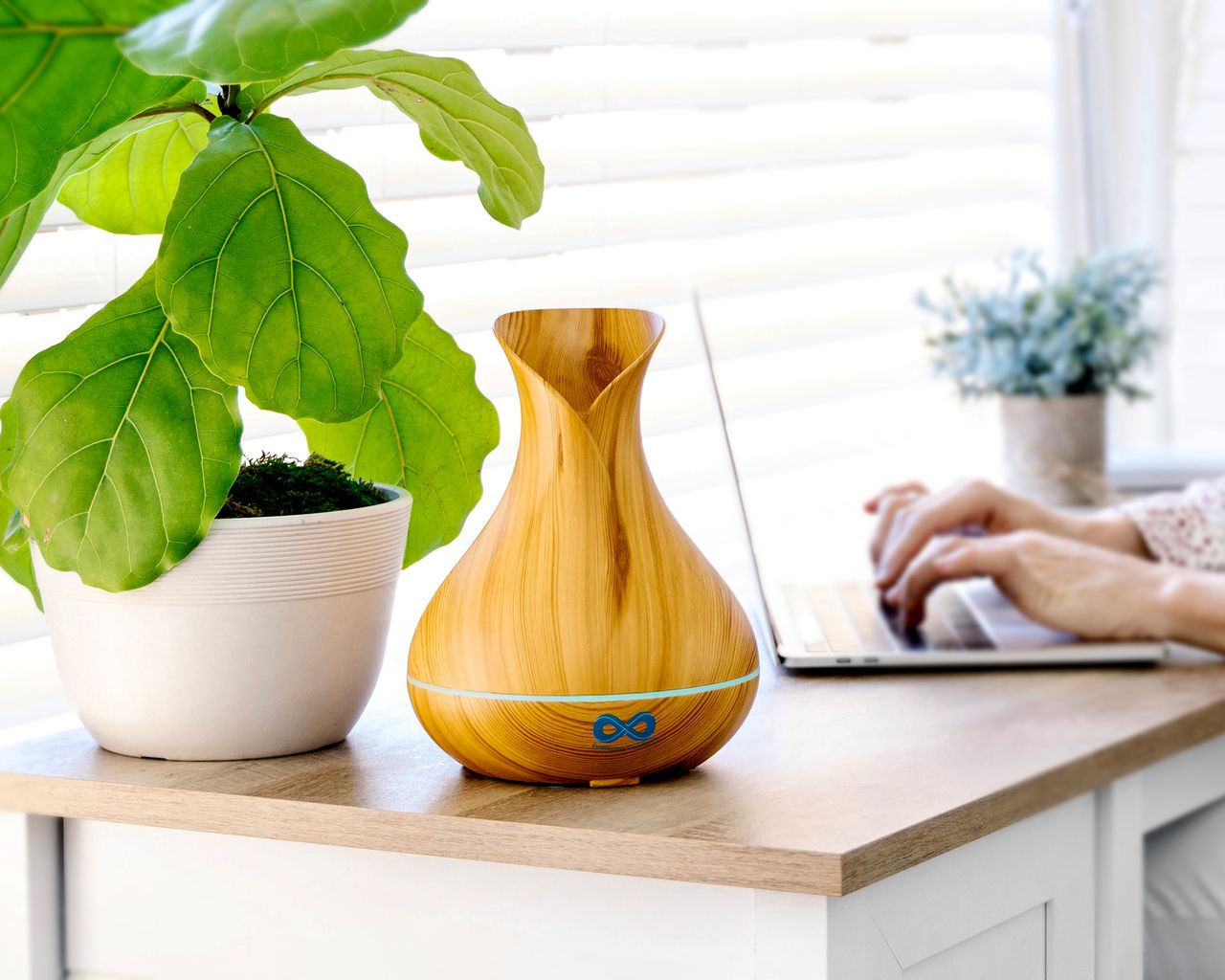 Transform your space into an oasis of zen for both work and relaxation with the Essential oil diffuser (opens in new tab) from Everlasting Comfort. Not only will you improve your life with blissful aromatherapy, but you'll benefit from an elevated mood with LED color options. 
19. Unify a dual space with color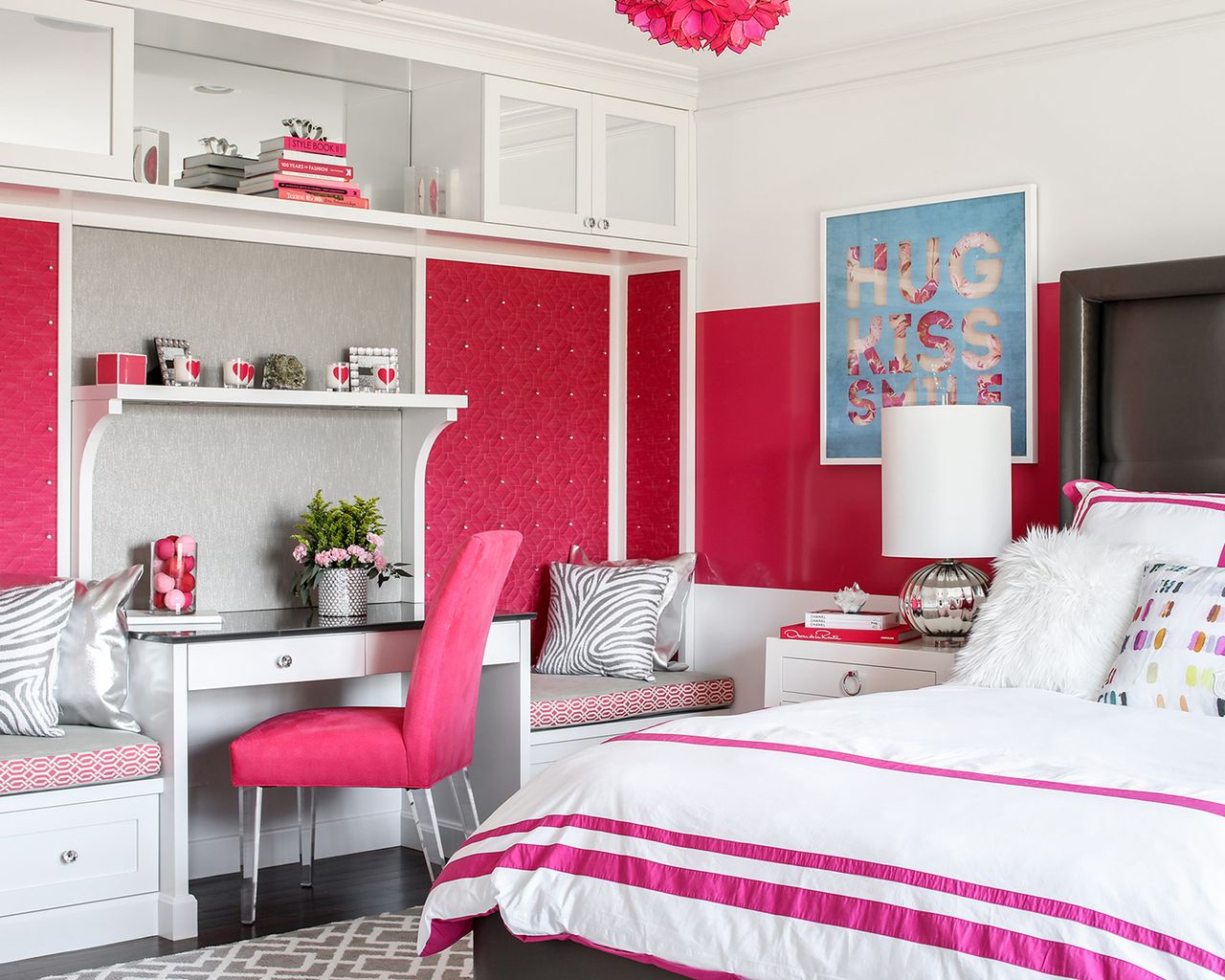 Experiment with bedroom paint colors for a budget-friendly revamp that will unite your dual-purpose space. 
Wolf says: 'This hot pink and gray bedroom carries the color through to the walls, which feature upholstered cork boards which create a functional study space.' 
20. Save space with a desk-cum-dressing table design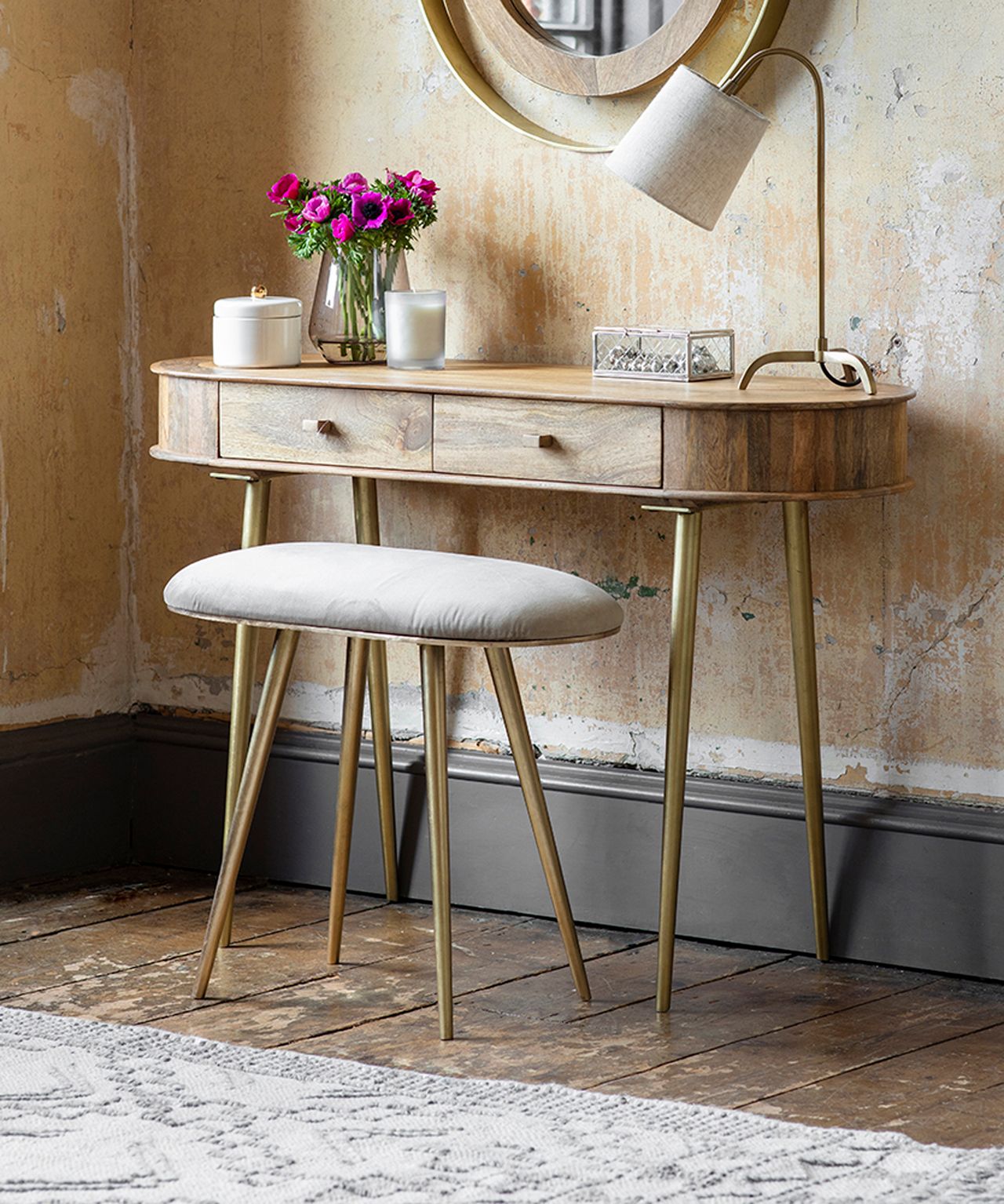 Lisa Slack, Head of Product, Thomas Sanderson (opens in new tab), shares her tips for small home office ideas: 'To make the most out of your bedroom, add a desk you can use as a dressing table and an office desk. You'll save space and money with this multipurpose space.'
'If you prefer to keep your office space separate from the rest of your bedroom, add a room divider for a feeling of privacy and to avoid any distractions.'
'A desk with drawers and shelves above will help you save space in your bedroom and keep it tidy.'
21. Zone a space with paint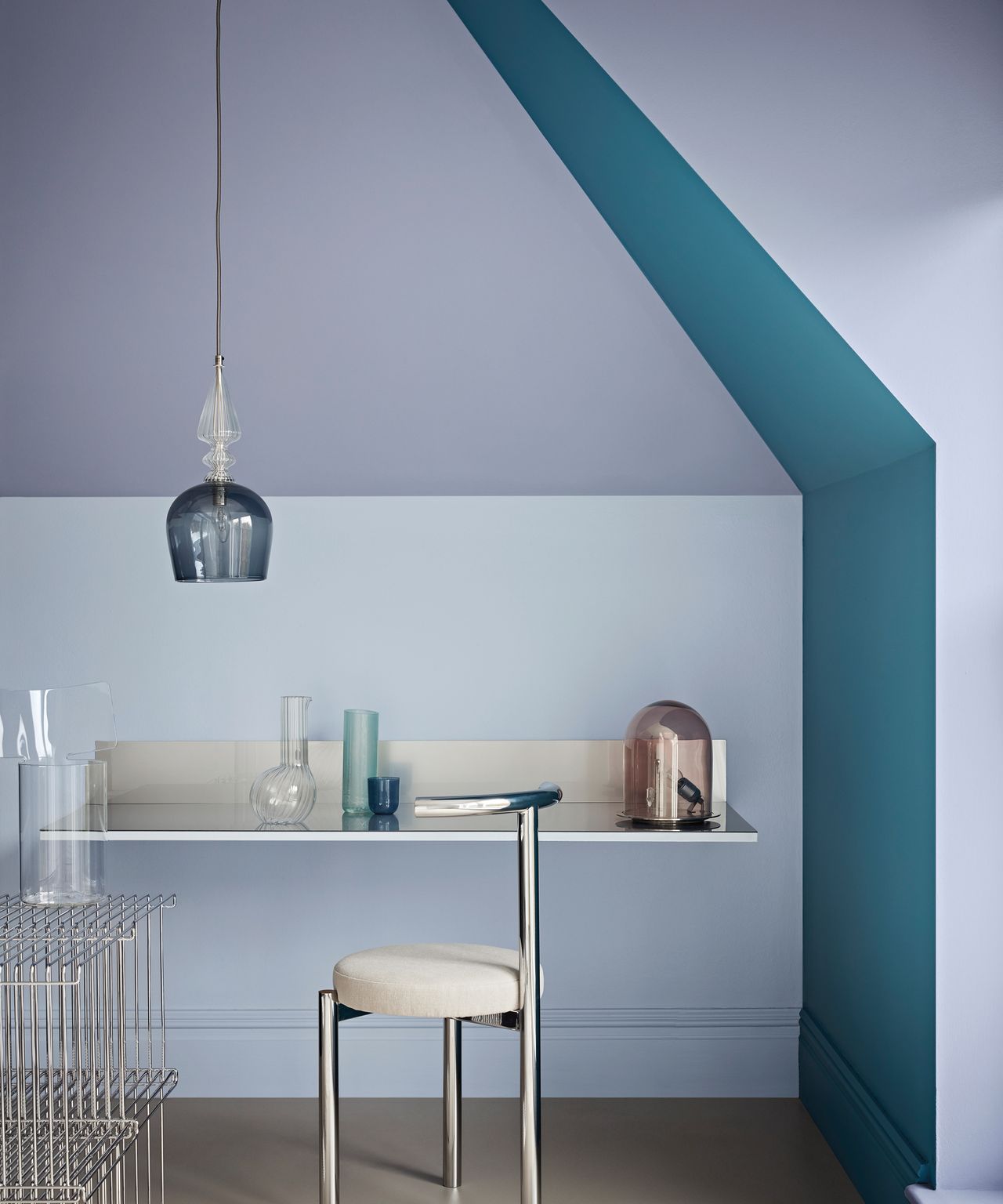 If you want your working from home set-up to be a focal feature in its own right, get creative with bedroom wall decor ideas, and paint a color block shape or section of a wall in a contrasting shade.
Justyna Korczynska, senior designer, Crown (opens in new tab), says: 'A good way to introduce a dark shade in your home is by painting just a section of a wall to create a zone within the bedroom. This could work very well in modern properties within a large bedroom. It's perfect to frame an office corner, a reading nook, or a dressing area. And by painting just a smaller section of the room you can go really brave or dark with your chosen color.' 
22. Balance scale in a small office bedroom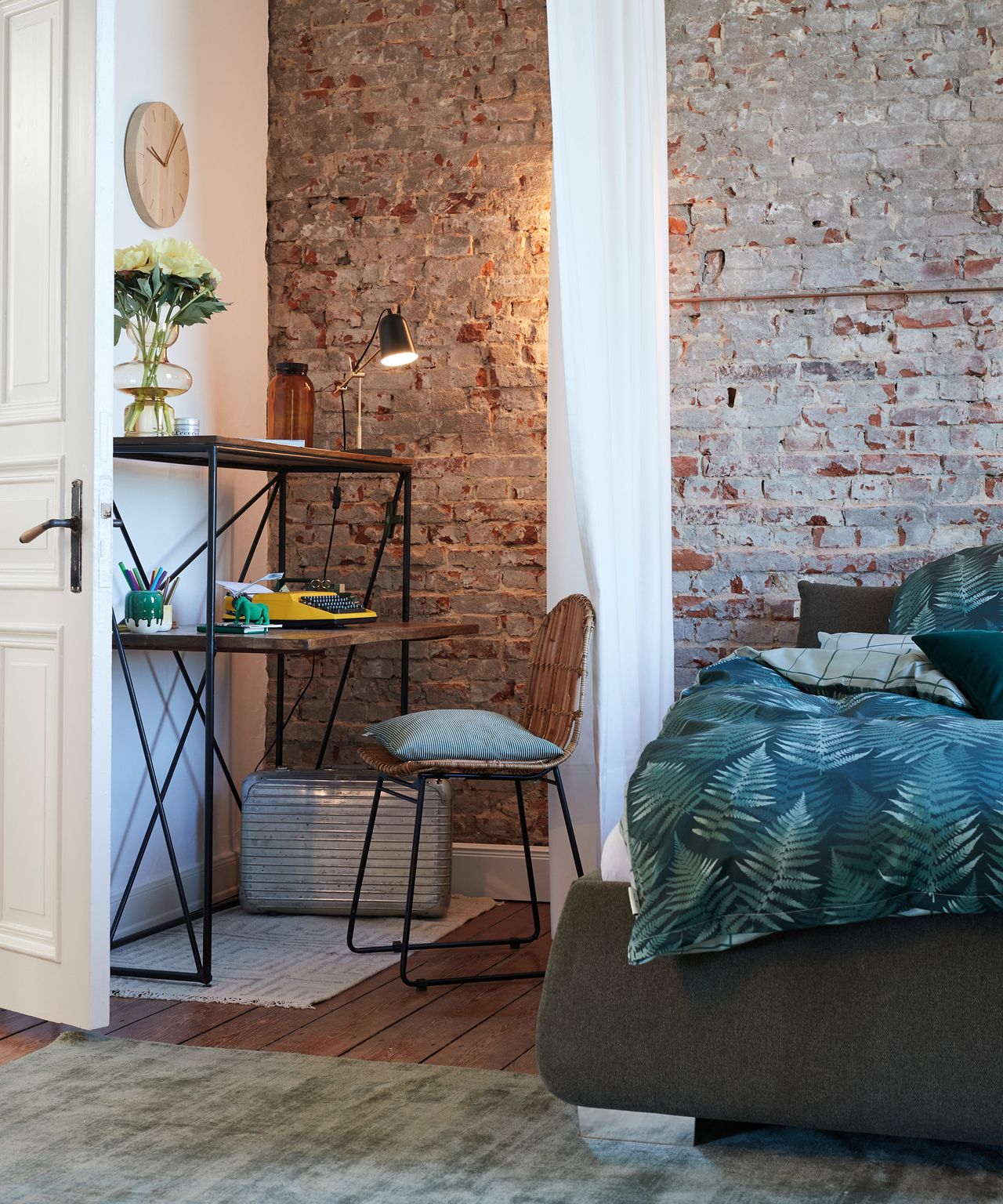 North Keeragool, interior designer, Andrew Franz Architect (opens in new tab), says: 'The scale of the pieces you are picking for a small bedroom really affects how you use the space, so don't choose anything oversized or too large. In addition to scale, work to increase the general openness of the room. You want to maintain that view looking into the room, and highlight the floor area – as little of it as you have.'
'Utilize low furniture, and make sure you have nothing too high. Opt for pieces that are leggier and lifted off the floor. If the bed is lifted off the, for example, you'll see more of the floor underneath, which highlights space and gives more of an impression of openness in the room.'
Discover the best beds 2022 that suit your style and budget. 
23. Utilize all levels with a loft bed in a kids' bedroom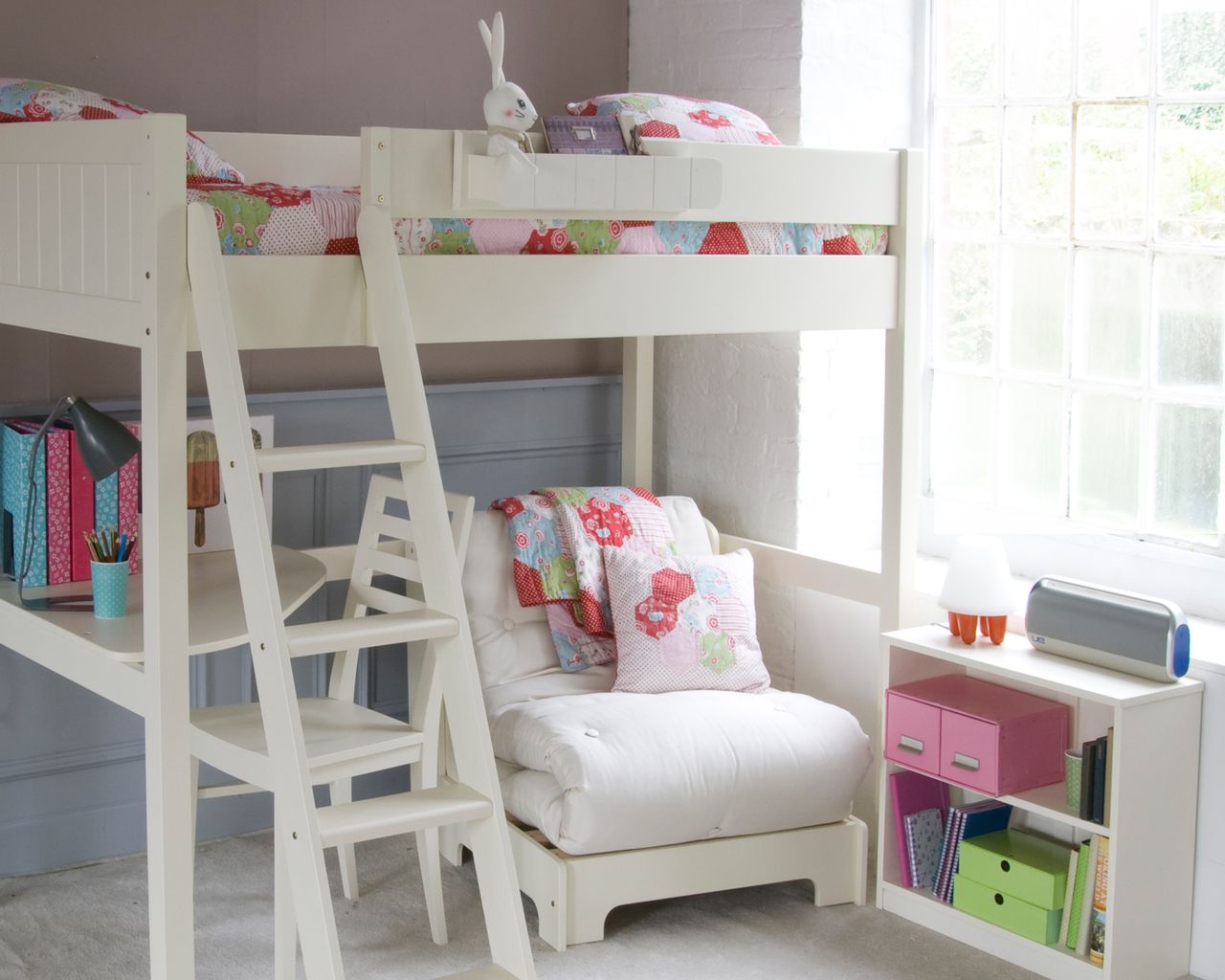 Connelly says: 'Some rooms are way too small to accommodate both a computer and a floor bed. A clever solution can be created by elevating your bed. With your newly discovered space, you can slide a desk right beneath your bed. This snug and creative bedroom office are perfect for a kids' bedroom idea.' 
And if you fancy a DIY weekend project, figuring out how to build a loft bed is easy with this DIY step-by-step guide. It's time to go 'above' and beyond.
How can I make an office in my bedroom? 
Andra DelMonico, lead interior designer, Trendey (opens in new tab), says: 'Create a separate space for your desk so that your desk and your bed are in separate spaces. This helps to create mental separation between work and sleep.'
'You could lay down an area rug under the desk and another under the bed to define the space visually on the floor. Then add a freestanding room divider or ceiling-mounted curtain rails so that you can hide the office space when you are not "at work".'
How can I create a motivational bedroom office? 
DelMonico says: 'When choosing your desk, chair, and lighting for your office, think about your personal style and what you find the most appealing. That way, you can create an office where you are the most comfortable.'
'Choose motivating colors like yellow, orange, or green. This will help you stay energized and motivated throughout the day. Avoid blue or gray, which can be too relaxing and have the opposite effect. Add bright task lighting to your desk or place it near a window. This will ensure your office has plenty of light to make working easier and keep your brain engaged.'
'Look for ways you can stay organized. Having a chaotic workspace not only makes doing your job more difficult, but it adds chaos to your bedroom. This can make it harder to sleep.'
How can I switch off from work at the end of the day? 
Antill says: 'If you're working in a small place, consider turning your desk into a bedside table. However, combining the two aspects of your life can be dangerous.'
'Closing your notebook or turning out your desktop when you're done, or removing all documents and work-related materials until you use that as work again are all small things one can do to help. I really like how a corkboard can be used as an idea board.'