3 Home Organisation Tips For Refreshing Your Living space In 2022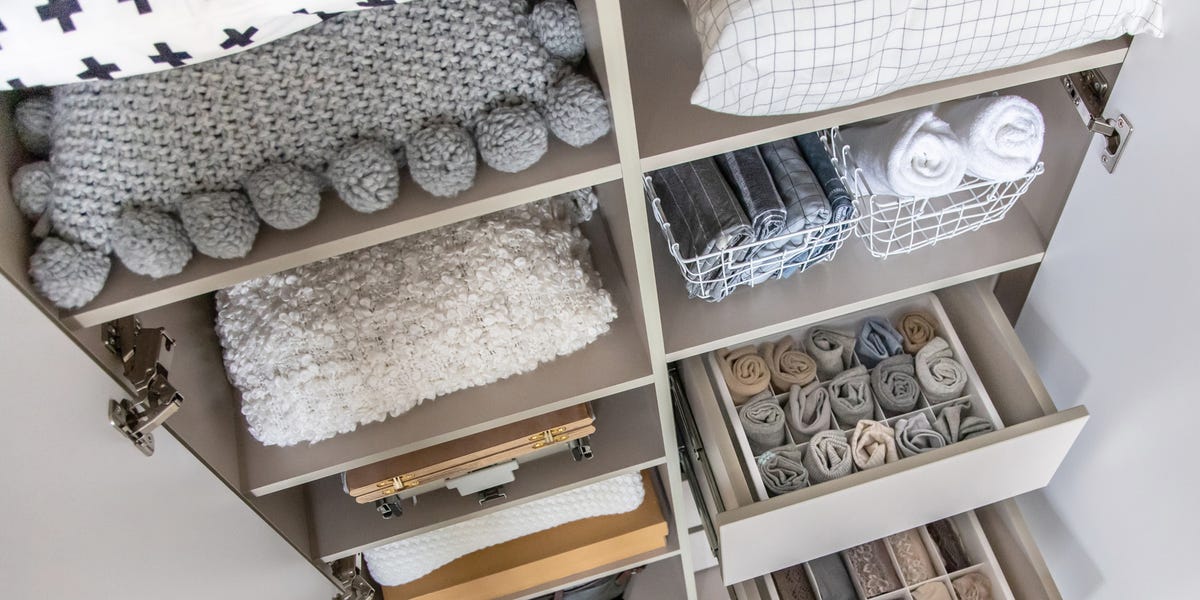 Organising your home is not necessarily a glamorous task, but a satisfying one nonetheless. The arrival of the new year is a great time to refresh your living space, not only will it improve your home tenfold but it'll give you a strong sense of accomplishment too. We're all about starting the year on the right foot!
However, getting organised can seem daunting, especially if you've got a large or busy home to contend with. But fear not because we've put together our top three principles for organising your home, so you're always set up to succeed.
1. Invest in furniture that doubles as storage
It doesn't get much better (in the world of interiors, at least) than multifunctional furniture that serves a purpose. We admit we're lovers of a nice aesthetic, but the reality is that nothing deserves more space than furniture that looks good and does good too. When organising your home, you'll find things that need a home and don't currently have one, so this is where furniture that doubles as storage comes in.
Out of sight is out of mind, so well-designed contemporary furniture that keeps things tidy is a huge win. A stellar example of modern Japandi style is the Juni Coffee Table in Natural, which features a hidden compartment for tucking things away. Who would know when looking at the sleek design that inside is a treasure trove of remote controls and coasters?
The Sandy Storage Bench works as a coffee table, bench seat and storage too – because good things come in threes. Plus, its large size means it's the perfect place for packing away seasonal items (such as winter boots and coats) whilst serving as a functional piece of furniture for the rest of the year.
We also recommend the Alison Side Table which comes as a handy twin pack, a great option if you've got lots to store. The top acts as a side table (perfect for your living room) whilst the caged base can be filled with spare soft furnishings. If you live under a blanket in the colder months and ditch them in spring, this is a great place to keep them.
2. Think vertically to save space
Whether you live in a petite abode or occupy a larger home, organising your belongings vertically is a great way to free up floor space and keep important items at an easy-to-find eye level. It also maximises the use of your space better than working horizontally. For example, the Annabel Bookcase in Grey features six shelves, two drawers and a cupboard – everything you could need for your living room can be stored in one easily accessible area.
The Malia 5 Tier Shelf Unit is more than twice as tall as it is wide, with room for all your essentials. Bathrooms are often the smallest room in the house, with space at a premium. This is why tall furniture is the best option. Although a slender 67cm wide, five shelves mean this unit will fit all your toiletries and bathroom necessities without taking up too much room.
Thinking vertically is also great for rooms where you lack adequate countertop storage space, such as the kitchen. The Novia Wall Shelf not only looks good but can also be positioned to act as a spice rack, condiment holder or above the sink as a washing up caddy. Think of all the saved counter space and you'll see why we're fans!
For narrow hallways, bulky jackets and piles of shoes, take up what little space there is to be had. For a slimline option, you can't go wrong with the Breanna Open Wardrobe. The simple design means no space is wasted with aesthetic flair, instead, the function is prioritised, with lots of vertical space for long coats.
3. Find a place for everything
Perhaps the most fundamental of all our tips is the idea that everything should have a place of its own. Nothing can be out of place if it has a designated spot in your home. Choose furniture that groups belongings together.
If you're an avid cocktail connoisseur, why not invest in a place to store drinks? The Hayleigh Cocktail Cabinet will keep all your spirits and barware accessories together and can be opened up for your home bar happy hour.
We couldn't be bigger fans of baskets when it comes to organising. Floor covered in children's toys? Baskets are the answer. Need somewhere to store shoes? Baskets. The Eino Baskets come as a trio, so you're more than prepared for a good organisation session.
If you need storage that moves from room to room, anything with a handle is key. The Elma Log Basket in Rattan is meant for firewood but also works as a magazine rack, as a toy basket and as a cleaning caddy. Simply choose its use!
For makeup lovers, a dressing table with space for cosmetics is a must. The Murphy Dressing Table is a stylish way to tuck away beauty essentials. The drawer is a good size for most products, so you'll never have to search for your moisturiser again.
Follow the House Beautiful Marketplace on Instagram.
This content is created and maintained by a third party, and imported onto this page to help users provide their email addresses. You may be able to find more information about this and similar content at piano.io