35 Creative Ways To Bring The Lake House Style Into Your Home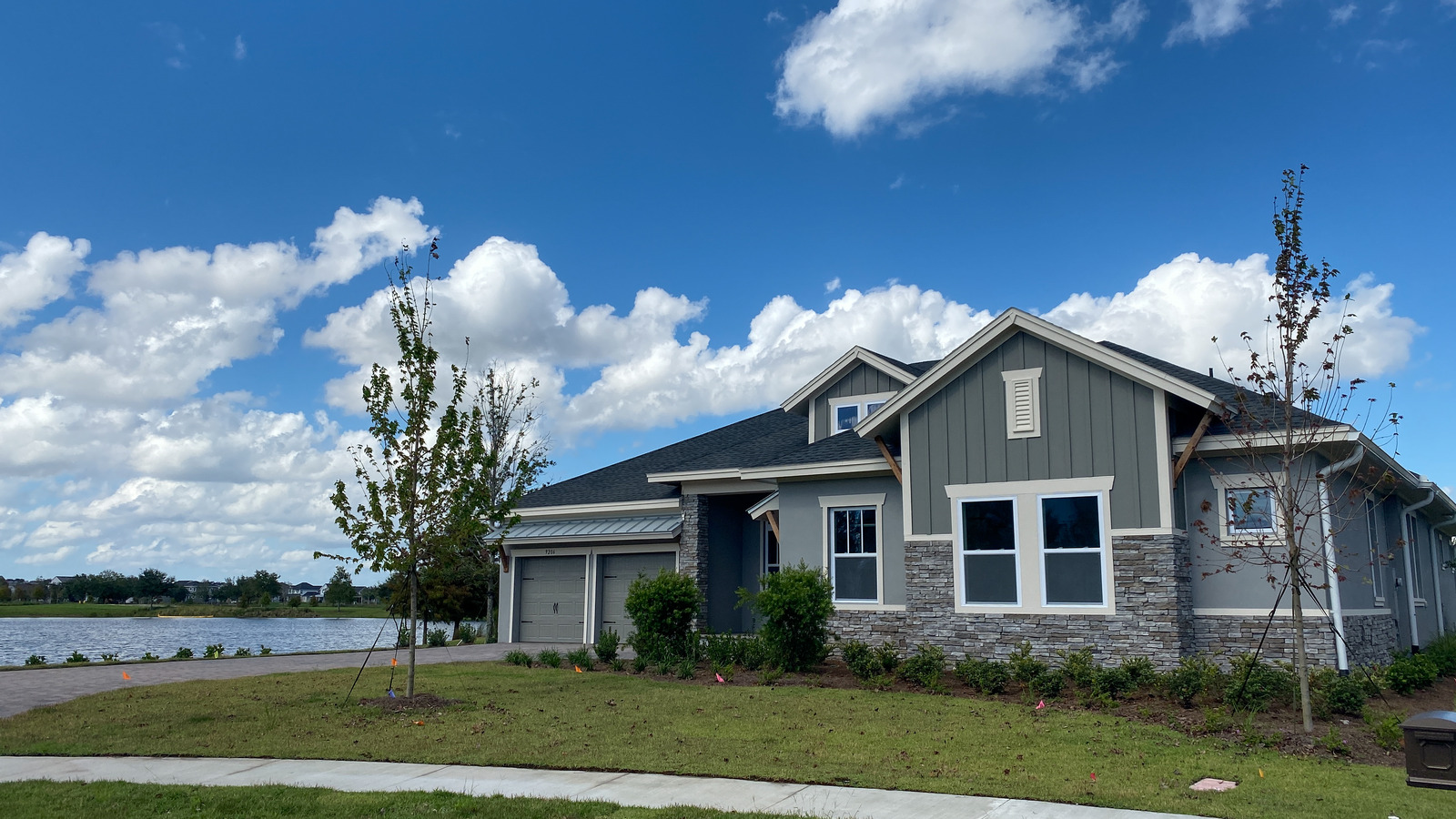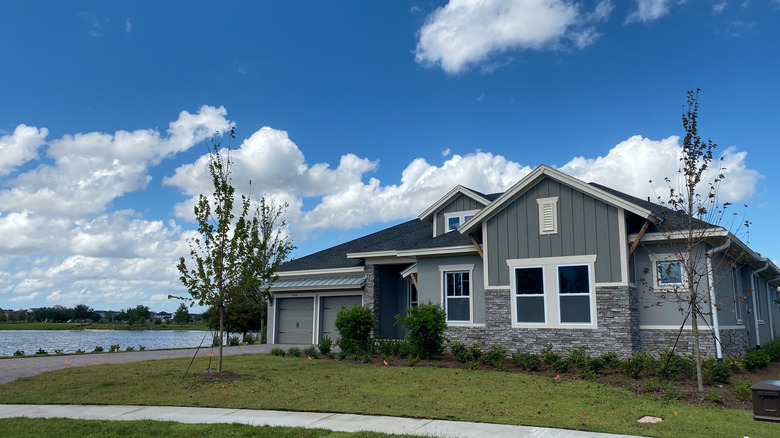 Joni Hanebutt/Shutterstock
A lake house is a place to go to relax for a long weekend where you can enjoy plenty of outdoor activities like kayaking or boating, so it's no wonder you'd want to bring this serene environment to your main home to enjoy long term. There's much to love about the #lakelife design aesthetic that conjures up the best summer memories, especially the comfortable vibe.
Studio Steidley (via One Kind Design) suggests how you can recreate the lake house style in your home. The designers explain that you should use neutral tones throughout the space and bring in pops of colors while mixing in some rustic and modern elements to make the room feel cozy. Other suggested highlights include featuring layered textures, having lots of storage options, and making the room functional for hosting friends and family, which is key to this decor style.
Love To Know gives a slew of tips for decorating just about every type of lake house with ideas for lighting, furniture, and accent pieces, including modern or rustic designs, so there's a style for everyone. The outlet suggests gravitating toward a color scheme with beautiful blue, green, or brown hues to feel like you're at a vacation home.
If you're inspired to create this relaxing vibe, keep reading to see how you can bring the best of lake living to your home so you have that cozy feeling every day.
1. The ultimate outdoor area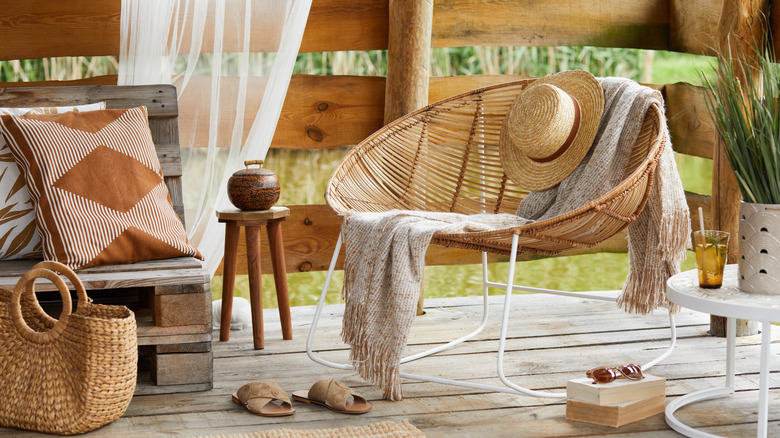 Followtheflow/Shutterstock
A lake house-inspired retreat wouldn't be complete without coming up with a relaxing spot on the patio to lounge or read. This comfy wicker chair with a throw blanket is the best place to hang out. The sun hat, beach bag, and sunglasses all have a spot after a long day spent enjoying the beach.
2. The right hues and view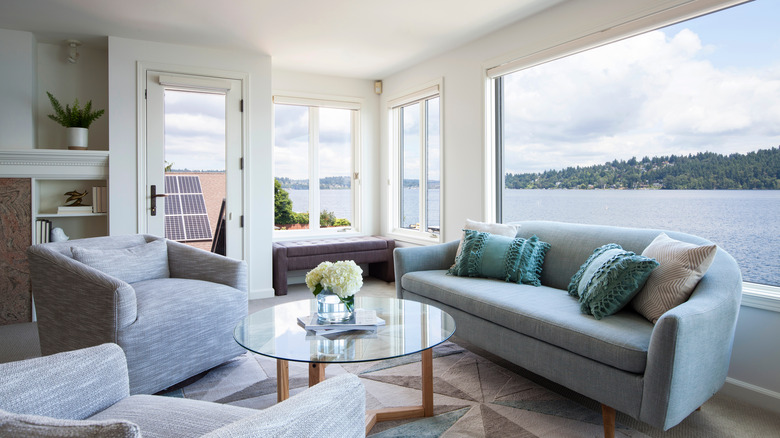 meganfaythbrown.com/Shutterstock
A living area features the prettiest light blue-hued seating area and has massive windows looking out to the main event … the lake, of course! Can you imagine relaxing in this serene space for long periods of time with a coffee or glass of wine?
3. Just add wicker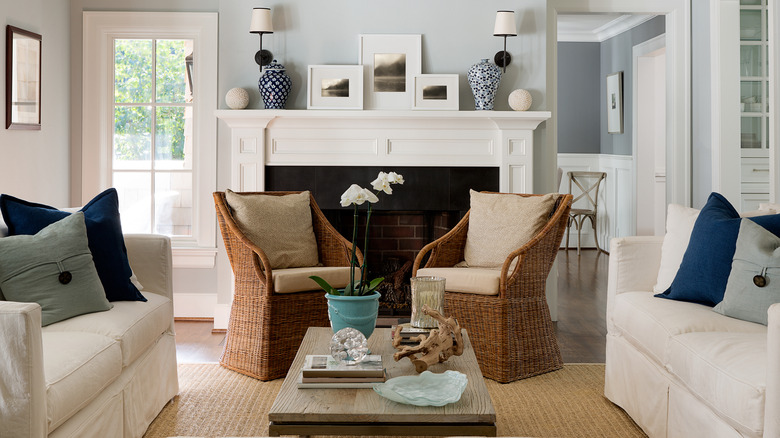 David Papazian/Shutterstock
Go for casual wicker furniture to get the feel of lake life in your home and create an ideal spot to ignite conversation. The homeowners went with light blue paint for the walls and blue pillows on a cream sofa.
4. Add a swing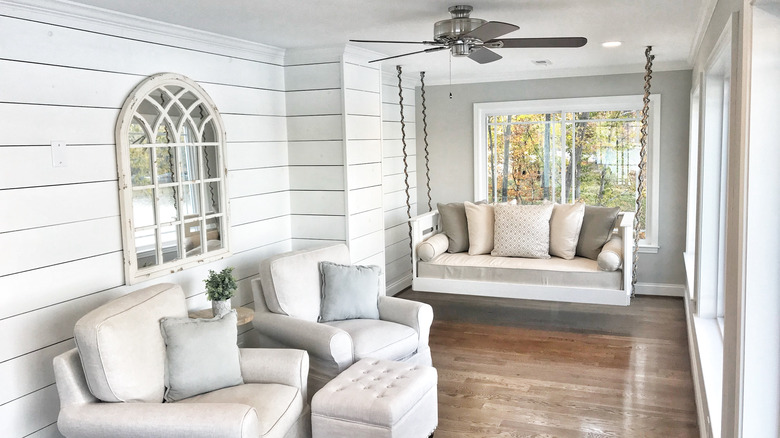 ocwarfford/Shutterstock
If your home has a sunroom, add a chair swing that could seat up to two people. Finish off the look with two more comfy seats in cream, preferably facing gorgeous lake views.
5. Wood tones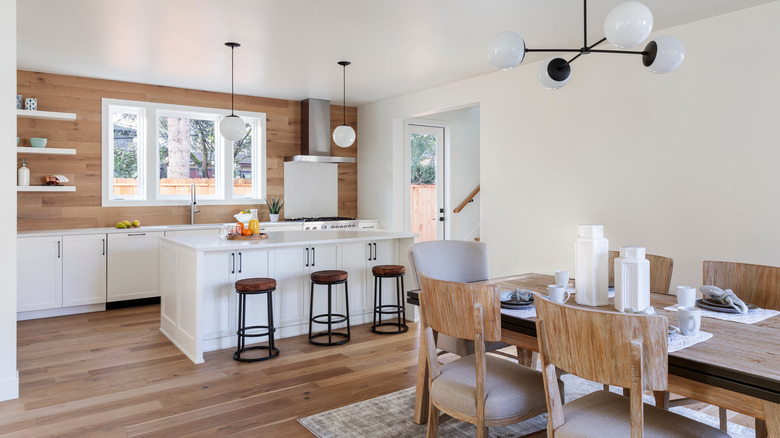 David Papazian/Shutterstock
This modern home is so cozy. It features wood planks on the wall, giving you the perfect backdrop to your main kitchen counter, which looks divine with the wood flooring and large dining room table.
6. Keep it simple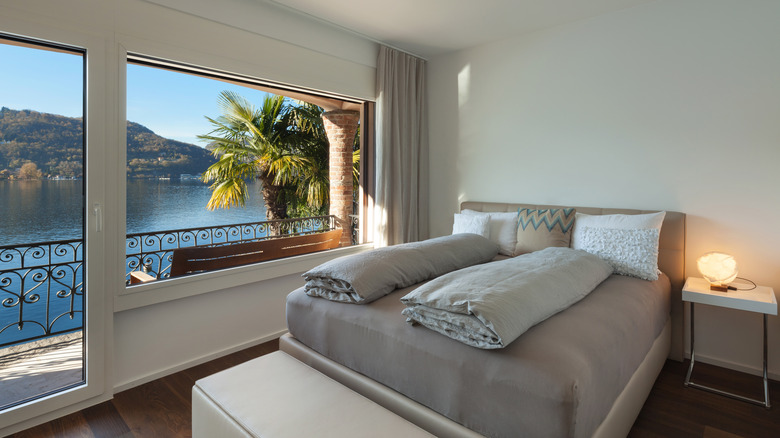 alexandre zveiger/Shutterstock
With this stunning view, it's hard to focus on anything else, but it just goes to show you that a simple neutral bedroom can be so beautiful.
7. Floor-to-ceiling windows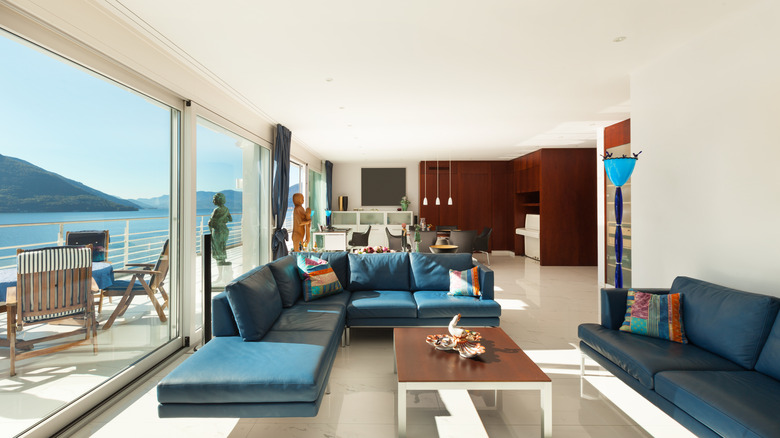 alexandre zveiger/Shutterstock
Open up your views with floor-to-ceiling windows, an excellent way to bring lake house style into your home. The open floor plan with the living area and kitchen makes entertaining a breeze, giving easy access to the outdoor patio to watch the sunset.
8. A dining area with a view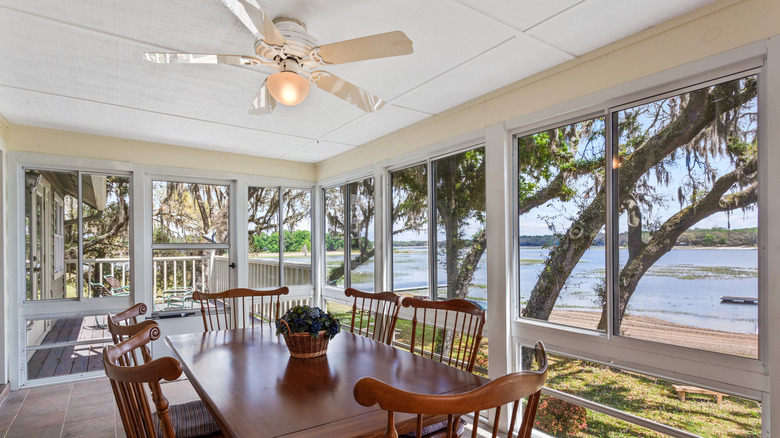 Pipas Imagery/Shutterstock
Transform your enclosed patio with views of the lake into an incredible dining area. Depending on your design aesthetic, you could choose a rustic or modern table or an expandable option to host your friends and family.
9. Bring in the color!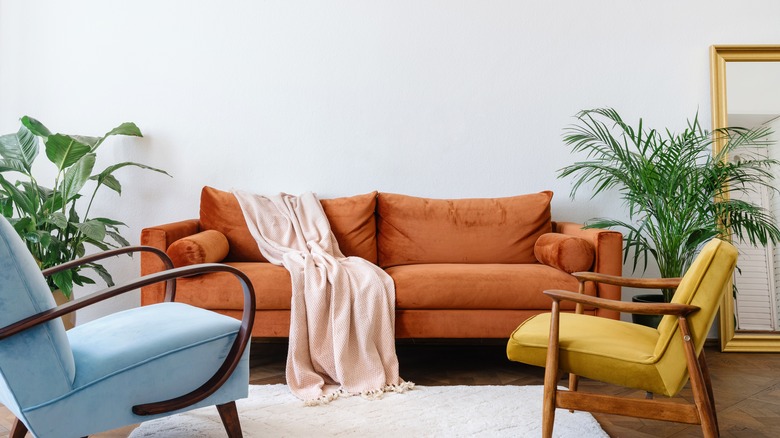 brizmaker/Shutterstock
If you bring color into your home, it's a great reminder of a vacation. A rust-colored couch goes well with light blue and mustard accent chairs and will remind you of the best summers at the lake.
10. Lots of plants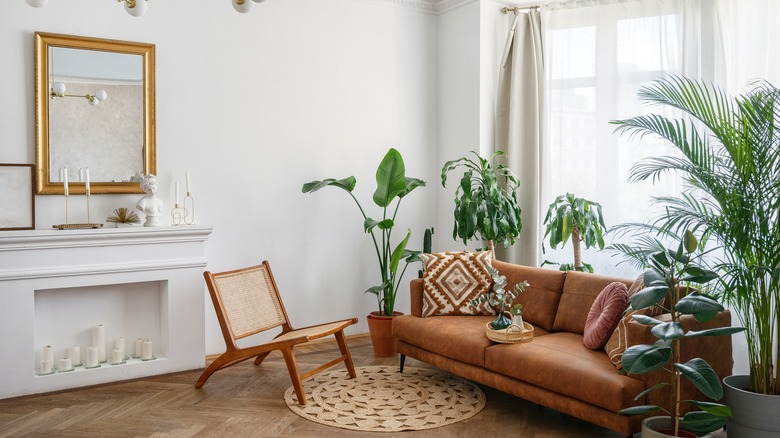 brizmaker/Shutterstock
Bring in a bevy of greenery to your living room to remind you that you are on a perpetual vacation … even at home.
11. Art imitates life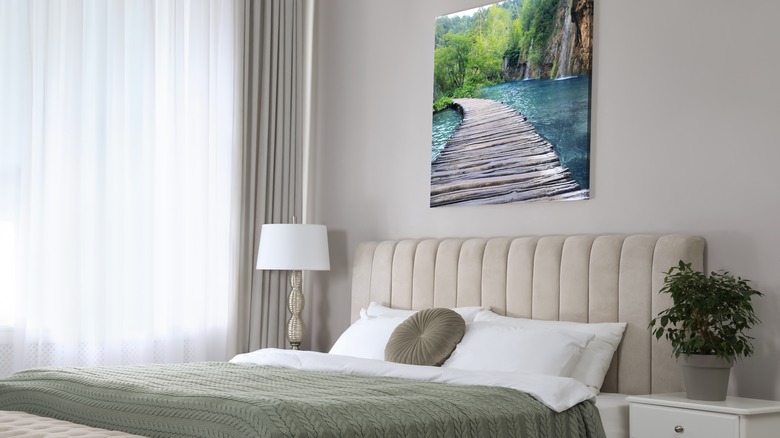 New Africa/Shutterstock
This serene bedroom with tan and green tones features the perfect #lakelife art piece right above the bed to inspire you or your guests for a weekend getaway.
12. A quiet place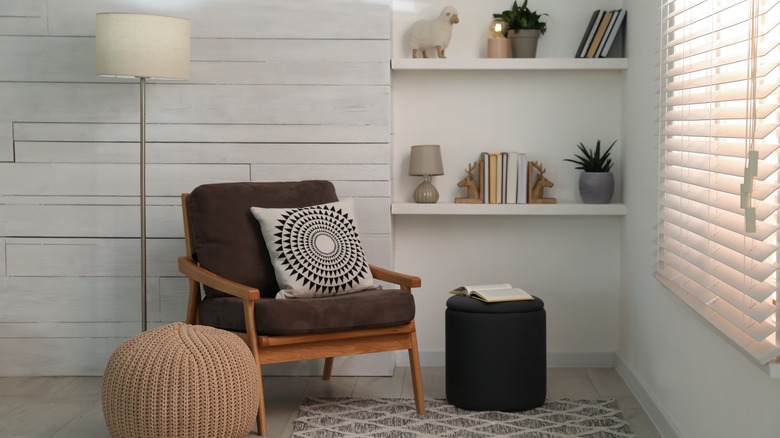 New Africa/Shutterstock
Create the most comfortable nook perfect to sit with a cup of tea or to devour the book you've been meaning to read, which is something you'd do at the lake, so why not do it at home too?!
13. Open it up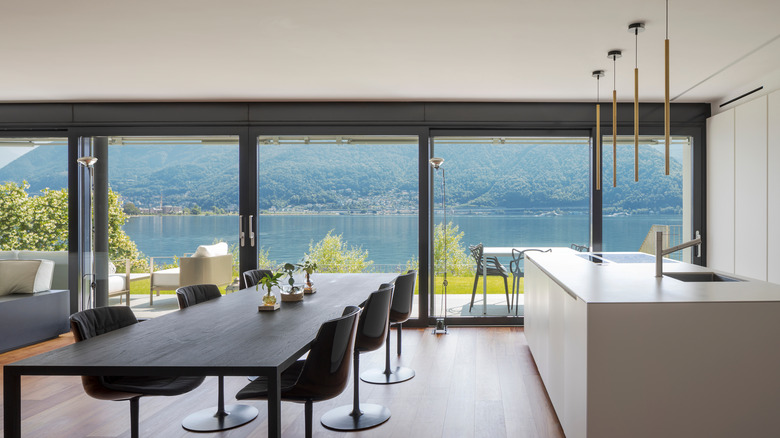 alexandre zveiger/Shutterstock
This open kitchen is a dream for any lover of modern design. It has a large island, a massive dining table, and looks out to an inspirational view of a lake.
14. A space for recreation
Sheila Say/Shutterstock
If you love all the games you play while at the lake, add an area to play pool to feel like you're on vacation at home. The relaxing blue colors on the walls and the pool table will remind you of a day at the lake.
15. Baby blue kitchen
Zdena Venclik/Shutterstock
This light blue kitchen is a great way to add the calmness of the lake to your kitchen's design aesthetic. It's undoubtedly a dreamy way to start the day, cooking some of your favorite meals.
16. The great room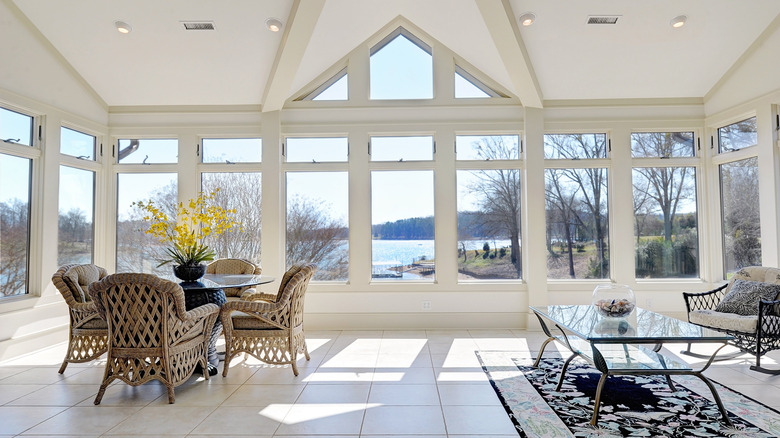 Crystal Alba/Shutterstock
If you have a large sunroom like this, prepare to spend lots of time there. A small round table with wicker chairs brings a relaxing vibe to the room and is the perfect spot to enjoy the sunrise and the lake while having breakfast.
17. Epic baths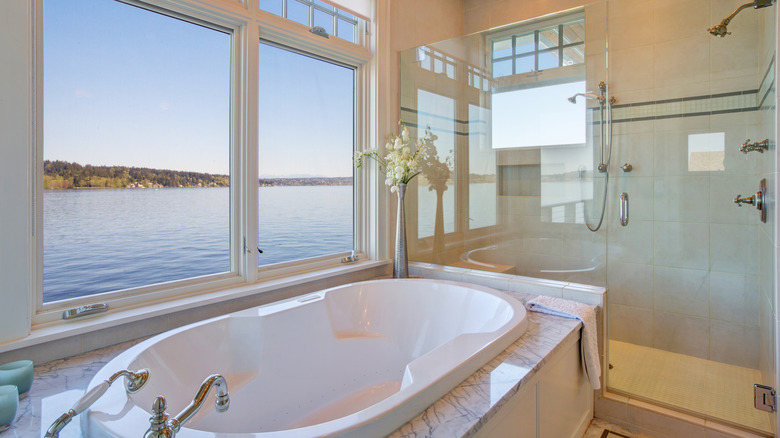 Artazum/Shutterstock
If you can look away from the view, this upscale bathroom has everything you need for relaxing baths; just add plenty of candles to make it feel like a vacation.
18. Focus on tile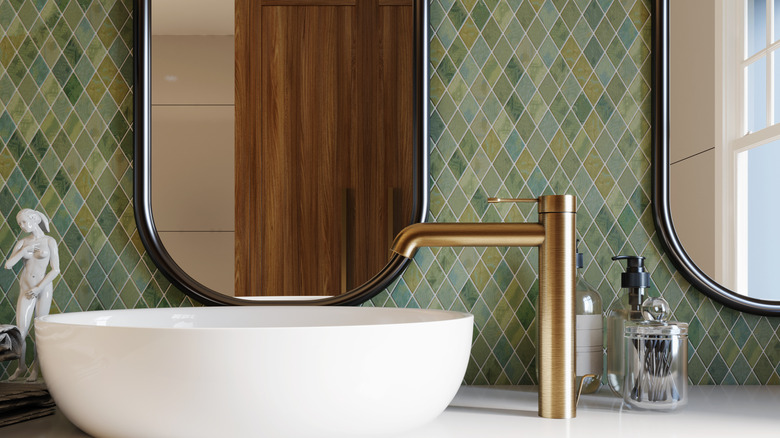 IZ1737/Shutterstock
Love To Know suggests bringing in blue and green tones inspired by the colors of the lake, which makes this bathroom a more exciting space.
19. Let there be light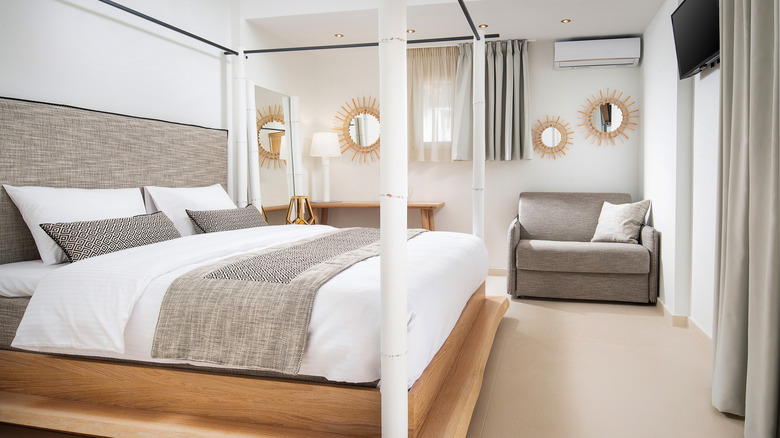 George Tsamakdas/Shutterstock
This light-filled room receives a ton of natural light, but the sunburst mirrors on the wall make this otherwise basic bedroom a standout. On the bed is a white comforter and pillows with an extra textured gray blanket.
20. Over-the-top bunk beds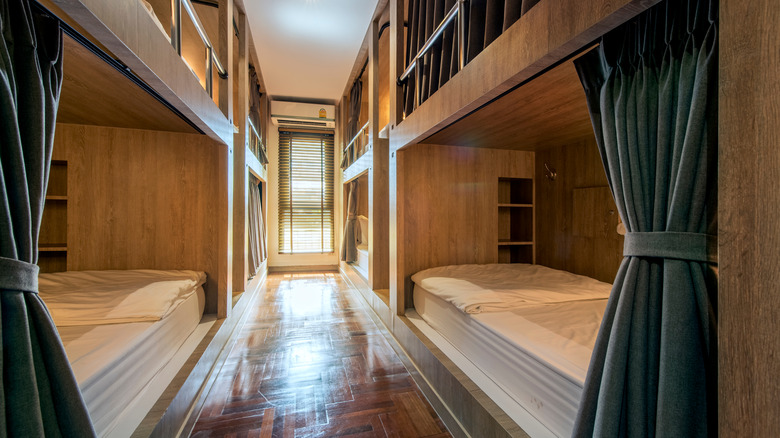 worradirek/Shutterstock
Lake homes are notorious for epic bunk bed scenarios like this one, so go ahead and create the most incredible bedroom with built-in bunks that all the kids in your family will adore!
21. Aqua accessories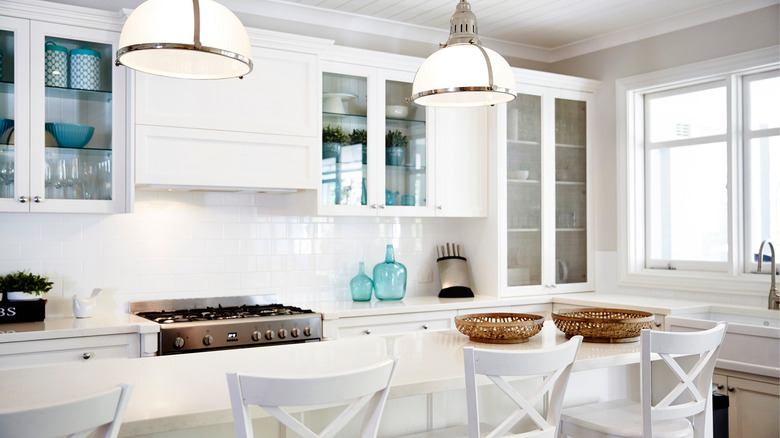 PhotoMavenStock/Shutterstock
This all-white kitchen gets a splash of color with the gorgeous glass-blown vases on the countertop and tableware that peeks through the glass cabinets in the same hue. On the center island, you can place wicker bowls, ideal to display colorful fruit.
22. Neutral haven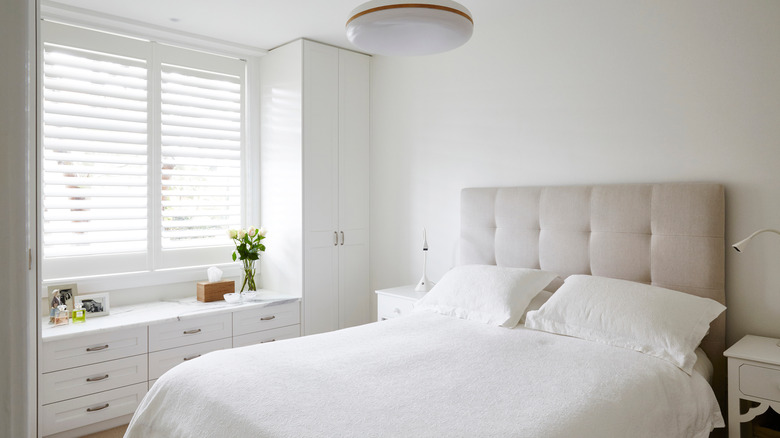 PhotoMavenStock/Shutterstock
A bedroom with a simple-yet-stunning aesthetic is always appreciated. The wood tones on the headboard and side tables go perfectly with the simple cream bedding and blue pillows.
23. Pops of yellow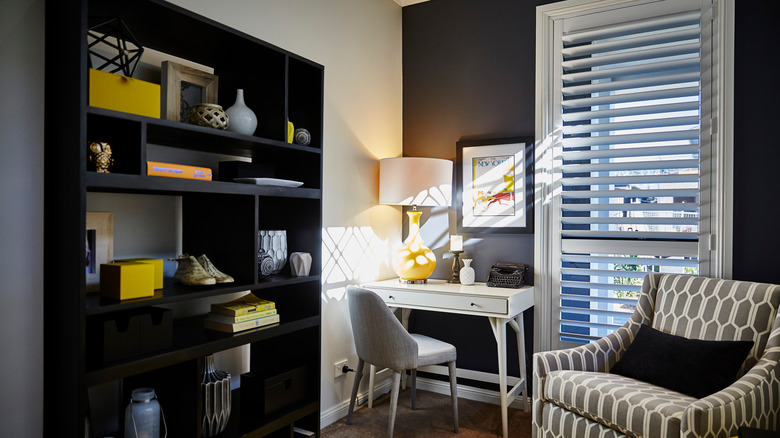 PhotoMavenStock/Shutterstock
A home office is definitely a reality, but why not make it more fun with pops of yellow accessories throughout? The basic bookshelf has gorgeous yellow items on display, and the desk has an eye-popping lamp.
24. Out on the boat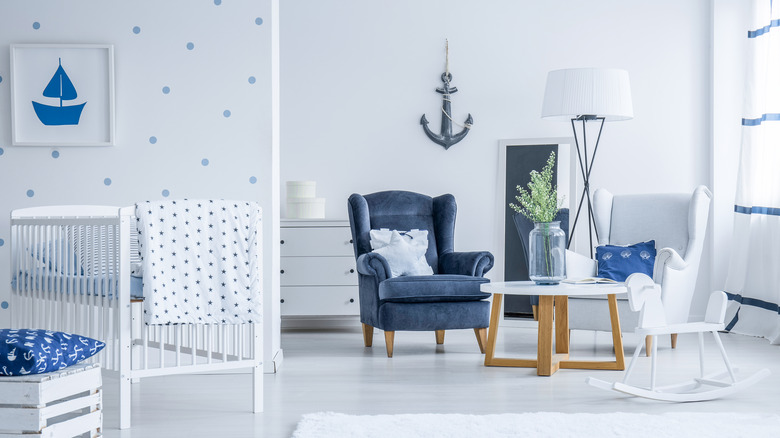 Ground Picture/Shutterstock
Here's a nursery dressed up in nautical-inspired decor that any child would love. It has a comfortable seating area, boat art, and a statement-making anchor to tie the room together.
25. A place to hang your hat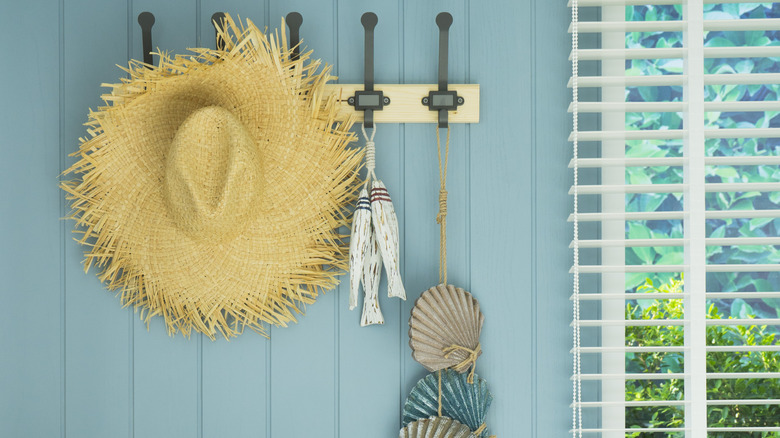 ben bryant/Shutterstock
Add a spot on your wall to hang your hats, keys, or beach bags for easy accessibility. Consider painting your walls a bright blue tone just like these homeowners did.
26. Striped bedding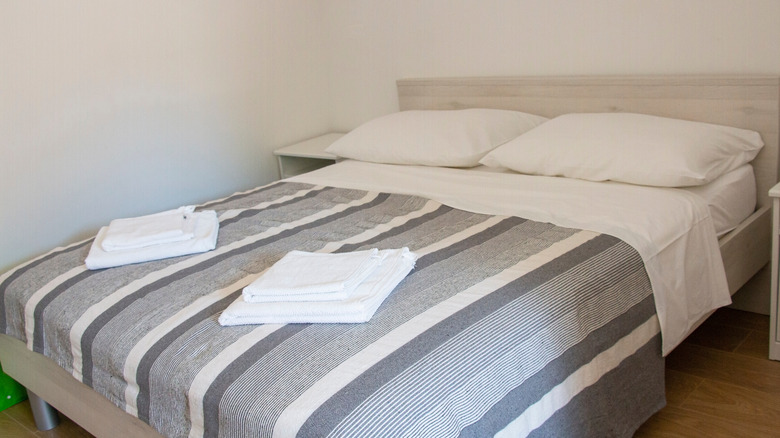 Inga Gedrovicha/Shutterstock
This breezy bedroom features nautical stripes and mixes shades of cream and light gray. Add wicker storage at the end of the bed, ideal for putting away clothes or extra blankets.
27. Blue and white stripes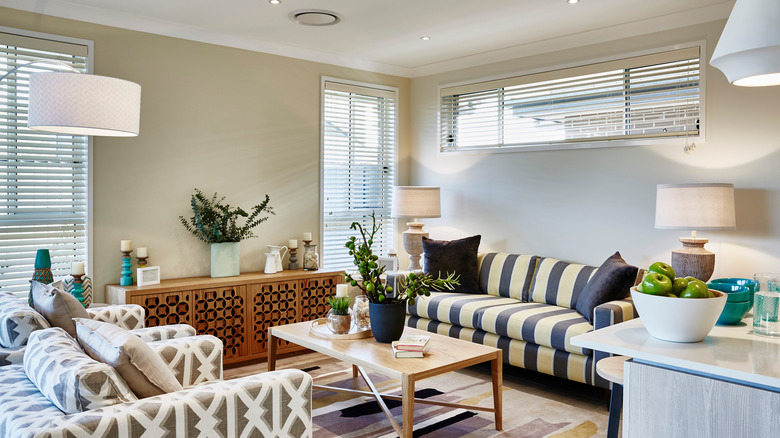 PhotoMavenStock/Shutterstock
Stripes are always a good idea when it comes to lake house decor. This blue and white striped couch is an excellent choice to inspire relaxed conversation in this seating area.
28. Dreamy aesthetic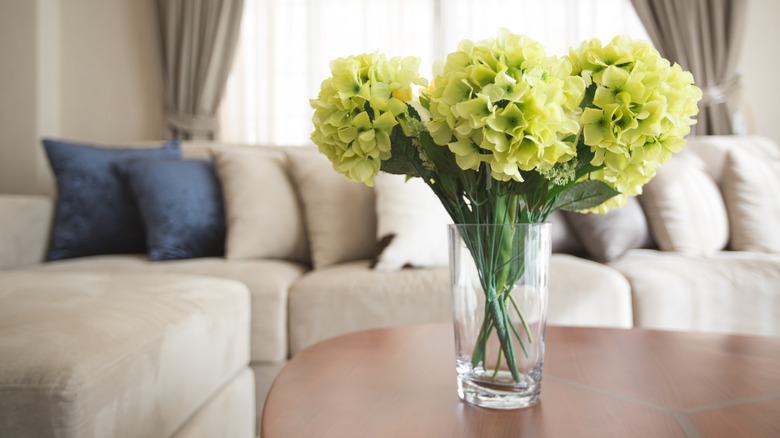 BOATFOTO/Shutterstock
A basic cream or tan couch with a variety of pillows looks stunning with the wood table. To create a dreamy space, just add a bouquet of beautiful flowers.
29. Lake house-inspired shelves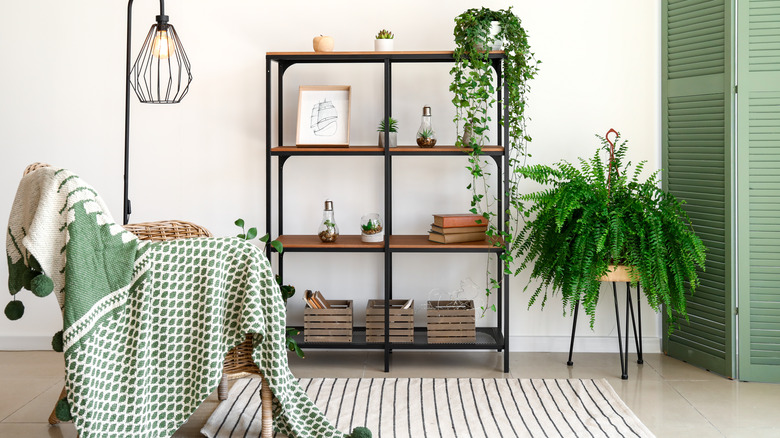 Pixel-Shot/Shutterstock
These shelves are great for storage and have a relaxed vibe with wood baskets for storing your favorite items. Add some plants to bring in some greenery! 
30. Your favorite things …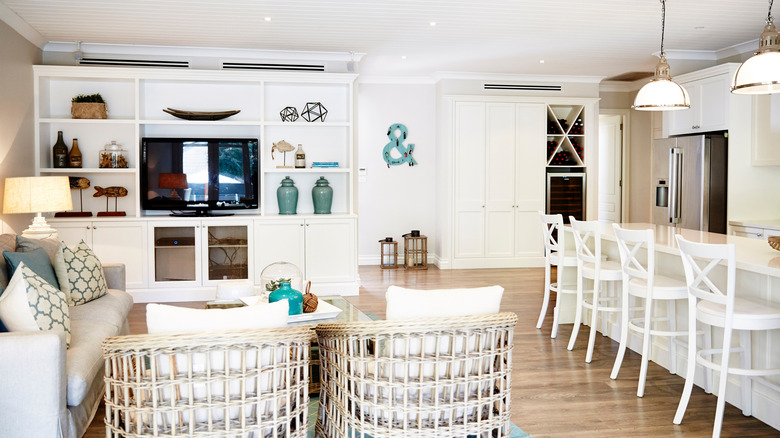 PhotoMavenStock/Shutterstock
The built-in TV entertainment center can be stocked with your favorite things, from a wooden fish sculpture (inspired by your many days out on the lake) to the matching teal vases on display.
31. Wicker and cream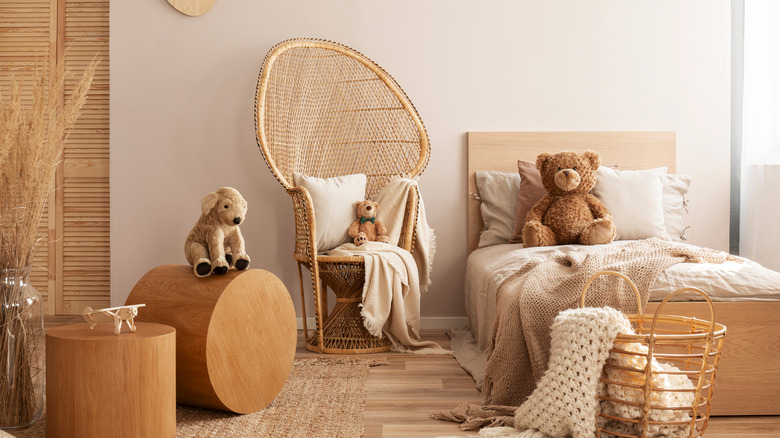 Ground Picture/Shutterstock
Simplicity at its best is the perfect way to describe this comfortable bedroom. A wicker headboard and chair pop against the wood furniture and cream bedding.
32. Bring in the pampas grass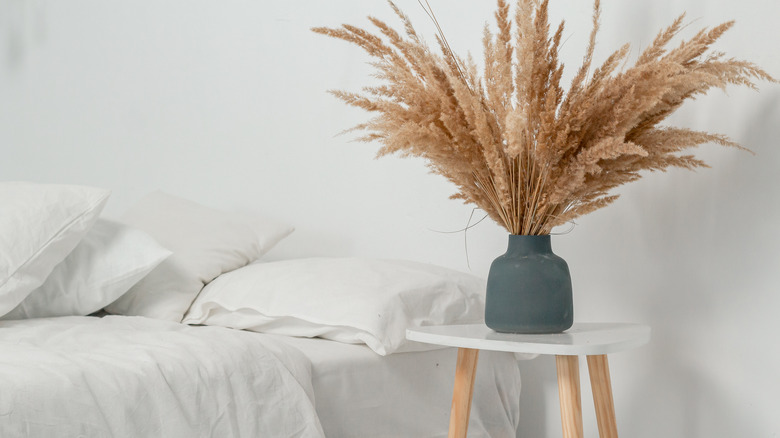 Nastya.ivs/Shutterstock
The cozy bedroom is dreamy, thanks to the pampas grass in a wicker vase. It's a great alternative if you don't have a green thumb, as Bon Appétit points out. They call it "unkillable," so go ahead and bring it into your space!
33. A relaxed couch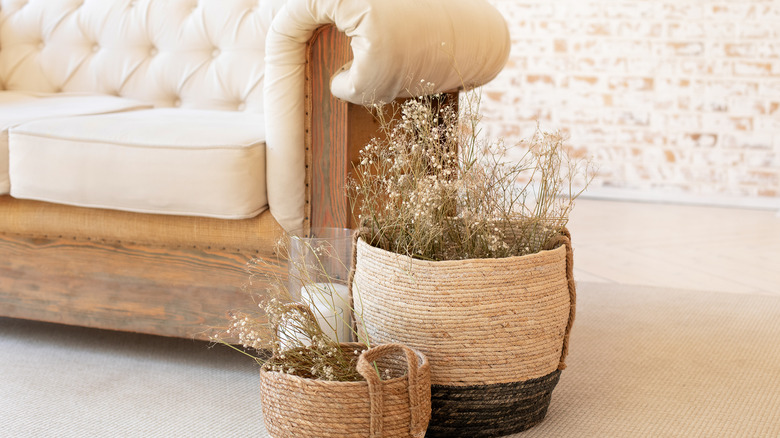 stock_studio/Shutterstock
You'll want to bring in the right pieces to acquire the lake house aesthetic at home. This tufted sofa with wood detailing is an excellent choice, as are the wicker baskets. 
34. Attic transformation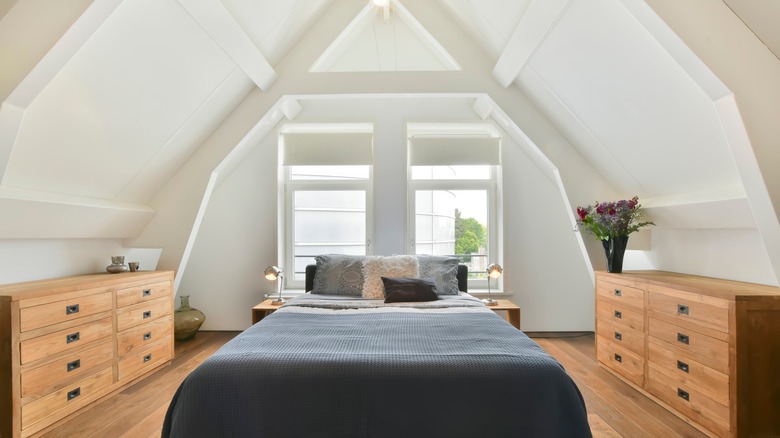 Procreators/Shutterstock
If you have an attic in your home, consider a simple transformation with white-painted exposed wood and striped bedding for a simple nautical look. Add in some potted plants to finish off the room.
35. Sage green walls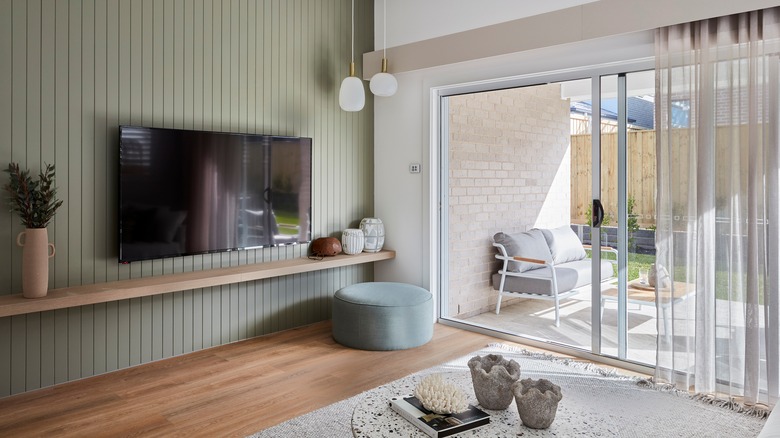 PhotoMavenStock/Shutterstock
Light green walls help bring the lake house feel to life in your home, as does a matching blue-green pouf. This home's indoor-outdoor flow also makes it seem like you're on vacation, which is something to love while getting through your everyday routine.