7 Interior Design Trends For 2022 To Inspire Your Home Makeover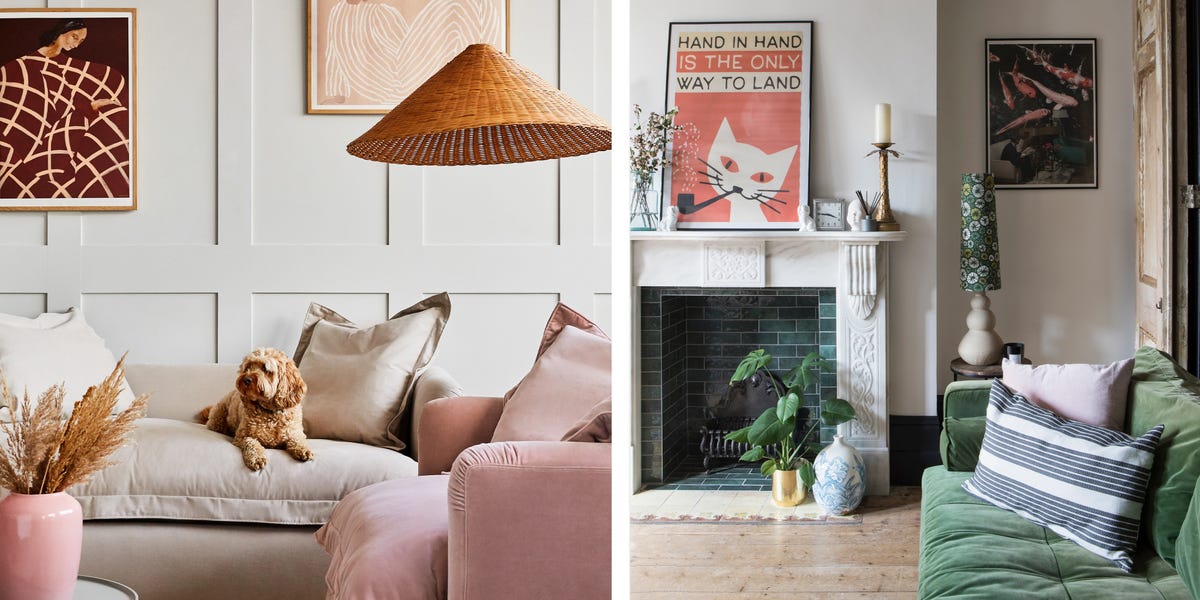 In 2022, interior design trends will centre around reclaiming spaces previously adapted to home working, a renewed interest in bringing the natural world indoors, and a drive to purchase and decorate more consciously.
Our choice of colour palette will become more confident as we experience new feelings of hope and positivity for the future, and, according to recent research, we will find happiness and fulfilment in rolling up our sleeves and tackling DIY home projects.
Below, design experts weigh in on the top interior design trends for 2022.
---
1. Statement lighting
Form matches (or surpasses) function in 2022, as we see a reframing of lighting as decorative objects.
Dayna Isom Johnson, Etsy's Trend Expert, says: 'Equal parts functional and fashionable, statement lighting allows folks to spotlight their beautiful homes, while doubling as eye-catching artwork. Many are already on the hunt for statement lighting – from sculptural pendants to standout sconces – that reflects their own personal style. On Etsy we've seen a 344 per cent increase in searches for 70s lighting, a 27 per cent increase in searches for sculptural or decorative lighting, a 25 per cent increase in searches for vintage lighting, and a 22 per cent increase in searches for colourful lighting.'
2. Sleep sanctuary
Bedrooms have had to work harder than ever over the last 18 months, for many of us doubling up as home offices as we navigate working from home. For 2022, there's a desire for the bedroom to return to a calm, peaceful sanctuary to retreat to.
Amy Wilson, Interior Designer for 247 Blinds and 247 Curtains, says: 'For a lot of people, 2022 is the time to reclaim your bedroom as the sanctuary it should be. Bedrooms are a place of rest and recuperation so focus will be on mood lighting, soothing colour palettes and layers of comforting textures.'
Designing a space conducive to quality sleep will be paramount. 'There will be a move towards simplifying the bedroom, removing clutter and distractions and instead creating beautifully styled beds with soft and inviting cushions and investment bedding,' Amy continues. 'If possible, an open window all year round is going to benefit your bedroom environment, as well as some blackout curtains to ensure quality deep sleep. Bedside tables should discretely bookmark your bed with just enough room for a good book and a glass of water (no charging devices in the bedroom).'
Heather Hacket, Design Manager for Christy, suggests using accessories and a soft colour palette: 'Combine neutral walls with beige, oatmeal and biscuity accents in your soft furnishings and round the look off with an abundance of throws and rugs in thick, cosy materials such as wool to create a snug, homely feel.'
3. Shades of green
Our connection to nature and the world around us has never been more important – during the pandemic, or post. Marianne Shillingford, Creative Director of Dulux, comments: 'After so long trapped indoors we have come to appreciate the power of nature to uplift and revitalise us. Colour-wise we are throwing open the doors and windows and inviting every shade of nature in for tea.'
Pinterest has seen searches for green interior inspiration increase by 80 per cent this year, as we embrace a plethora of nature-inspired green tones.
Ben White, design and trade expert at Swyft, says: 'Bringing the outside in; it's a trend we've spoken about for a while, but next year it will come into fruition. We will see green and natural tones blended into our interiors through the use of plants, timber and terracotta. We might also see the use of green velvet sofas, sage or olive painted walls or jute textured rugs.'
Heather suggests a moderate approach to decorating with green: 'Sage and mineral-based greens bring nature indoors and enrich interior spaces. However, a whole green room can seem a bit daunting. If you love the colour but don't want to make any permanent changes, add in pops of rich jewel-toned greens through your cushions, prints and decorative items, such as vases and candlesticks.'
4. Colourful kitchens
Amidst the pandemic, our design choices has revolved around countering instability and uncertainty – the use of comforting neutrals and cosy soft furnishings to cocoon ourselves. But as we slowly emerge, with a feeling of hope and positivity for the future, bright and optimistic colour combinations throughout the home will become more appealing.
Claire O'Brien, Head of Design at Splashback, says: 'A love of colour is also transported into the heart of the home – kitchens are no longer confined to neutrals, blues or greens. There is a move to introduce a broader colour palette in this space with colourful stoves and AGAs, painted walls, accessories and splashbacks, like the Laura Ashley Copper Splashback. Kitchen designers are introducing multiple shades to cabinets, differentiating from high and low level furniture and kitchen islands. For a more confident look, coloured cabinets are alternated in shade, creating a modern and playful space.'
Championing a joyful colour palette will also tip over into a more experimental use of print and pattern. 'As we move on a journey of self-discovery, propelled by a maturing confidence in our design choices, embracing pattern alongside a growing love affair of colour is creating a perfect storm,' Claire adds. 'It can be retro, traditional or modern in feel, simple and orderly or bold and chaotic, but whatever form it takes, there is no doubt that print and pattern plays a major part within interiors for 2022.'
5. Cottagecore
One of the biggest trends to emerge in 2021, with more Google searches globally than any other design style, cottagecore will continue its dominance into 2022 – thanks in no small part to the saturation of dreamy cottagecore content shared across Instagram and TikTok.
Claire explains: 'The Cottagecore trend is the epitome of The Good Life, drawing inspiration from the countryside with its sprawling meadows and wildflowers. It harnesses the look and charm of an idyllic country cottage through embracing familiar floral prints and patterns, chalk painted surfaces, organic textures and woods – creating a wholesome, pastoral and mindful rural vibe.
'Cottagecore brings the outdoors in at every opportunity – helping us connect with nature once again. It embraces sustainability and celebrates a return to artisanal skills such as foraging and home baking.'
6. Sustainably minded
2022 will see a further emphasis on sustainable materials, responsible manufacturing, and the reuse and resale of furniture and homeware.
Ben says: 'Sustainability and use of organic materials have become prominent in recent years. With the public's increased exposure to climate change, the idea of sustainability has fed into the interior industry and our homes. This will translate into how we buy furniture; a move towards furniture items with reclaimed woods and accessories with recycled glass and metal… investing in meaningless furniture and accessories is a thing of the past.'
Sophie Hill, Marketing, Insight and Innovation at Rothley, agrees: 'We've seen a clear shift towards more conscious choices, whether that is materials or extending the life of items around the home rather than buying more things.'
This drive to purchase more consciously is particularly pronounced amongst millennial and Gen Z shoppers, with second hand furniture and homeware predicted to become a preferred resource, as evidenced by the new homeware resale marketplace app, Narchie.
7. DIY and upcycling
A natural progression from the above, 2022 will see a surge in homeowners taking on DIY projects as part of creating a more mindful home.
Sophie says: 'Low-waste living and upcycling is at the heart of creating a mindful home, and we have definitely seen a rise in upcycling which is likely to continue – from people sewing and making over old outfits, to making garden furniture out of wooden pallets. For the less experienced DIY-ers, taking an old piece of furniture and customising it is a great way to reduce waste and also means no one else has the same piece as you.'
A recent survey by Blinds Direct has revealed over two thirds (68 per cent) of UK homeowners are choosing to complete a variety of home improvement tasks themselves, with younger generations taking up the mantle of the DIY nation – 58 per cent of 18–24-year-olds are planning on updating their homes themselves.
Darren Green, Managing Director at Blinds Direct, says: 'We're becoming increasingly confident in taking on the challenge of keeping our homes beautiful ourselves. Whether it's fitting a wooden blind, painting a wall or building a new desk, we are becoming increasingly confident in our own abilities and the positive effect it has on our happiness reinforces the importance of doing things independently.'
Follow House Beautiful on Instagram.
This content is created and maintained by a third party, and imported onto this page to help users provide their email addresses. You may be able to find more information about this and similar content at piano.io