Bedroom flooring ideas: 10 ways with flooring for a bedroom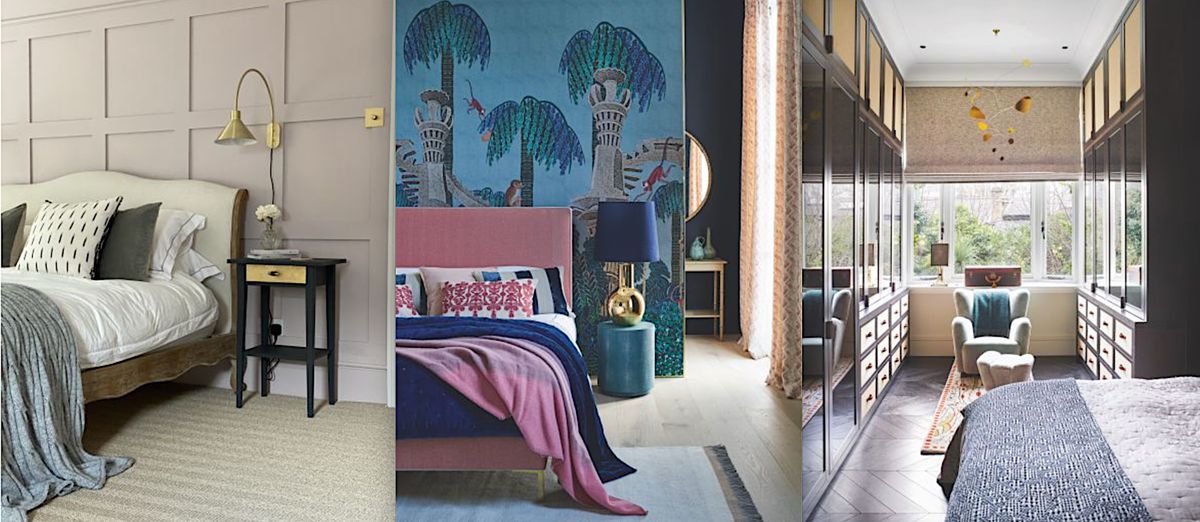 Bedroom flooring ideas can bring so much to the room. It's a part of the home in which foot traffic is light, offering the chance to up the luxe level, and perhaps indulge in color choices ruled out for other rooms.
Carpet with dense luxurious pile, beautifully grained woods, and soft and strikingly patterned area rugs are just some of the bedroom ideas on offer to please the eye as well as comfort bare feet.
As inspiration for your bedroom remodel, we've collected beautiful bedroom flooring ideas, and we're sharing expert advice on selection and care.
Bedroom flooring ideas
Be inspired by bedroom flooring ideas featuring classic choices such as hardwood and bedroom carpet ideas, along with more unusual options for the room.
1. Enjoy enduring beauty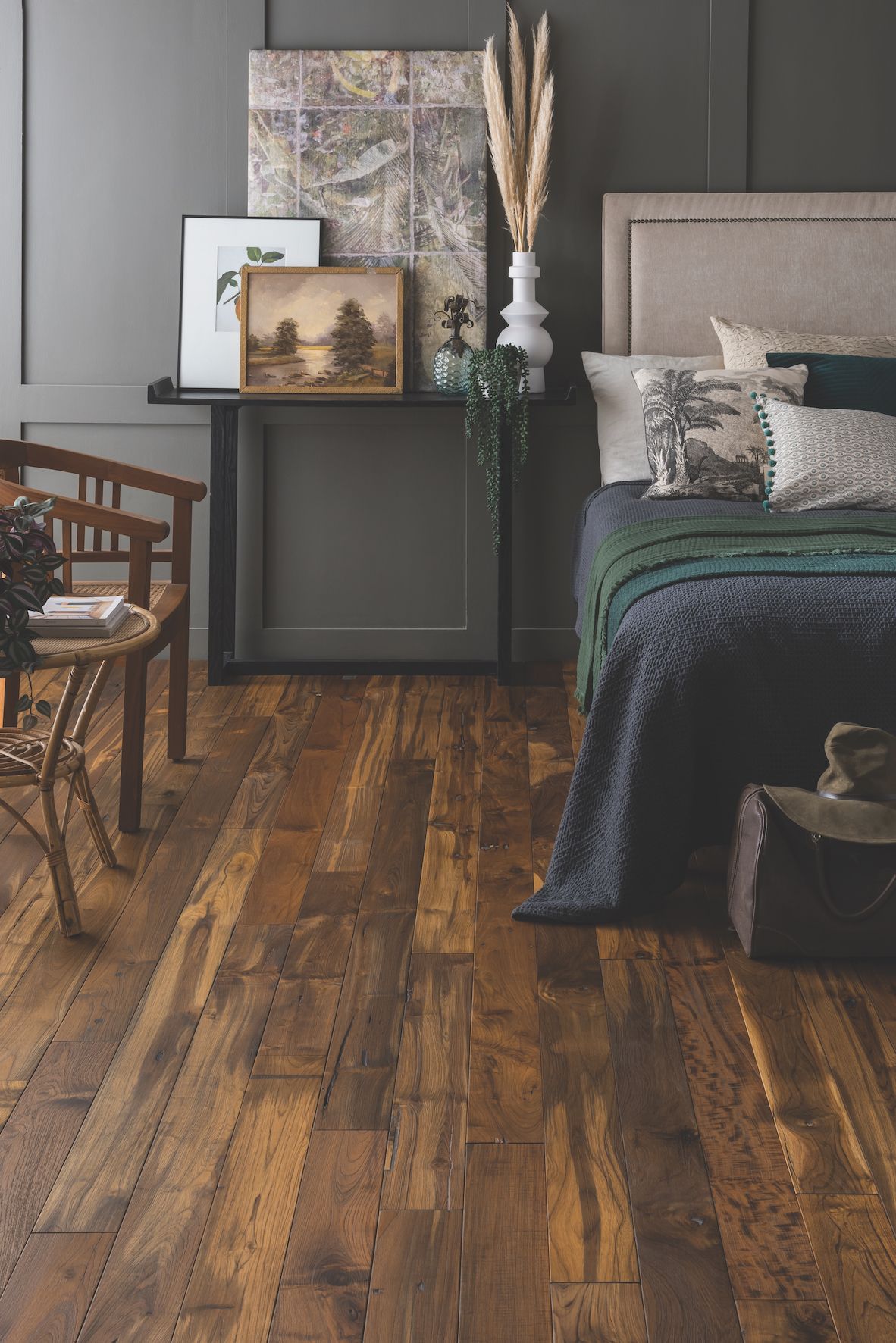 Hardwood is a sought-after option as bedroom flooring. It may be an investment choice, but the spend can be well rewarded.
'Good quality wood flooring will last for decades to come, and with minimal maintenance, will age gracefully,' says Robert Walsh, founder and owner, Ted Todd Fine Wood Floors. 'With a variety of species and finishes available, you can make a real statement with a herringbone or chevron design or allow the floor to blend seamlessly with your existing décor with a plank format.'
2. Freshen up at floor level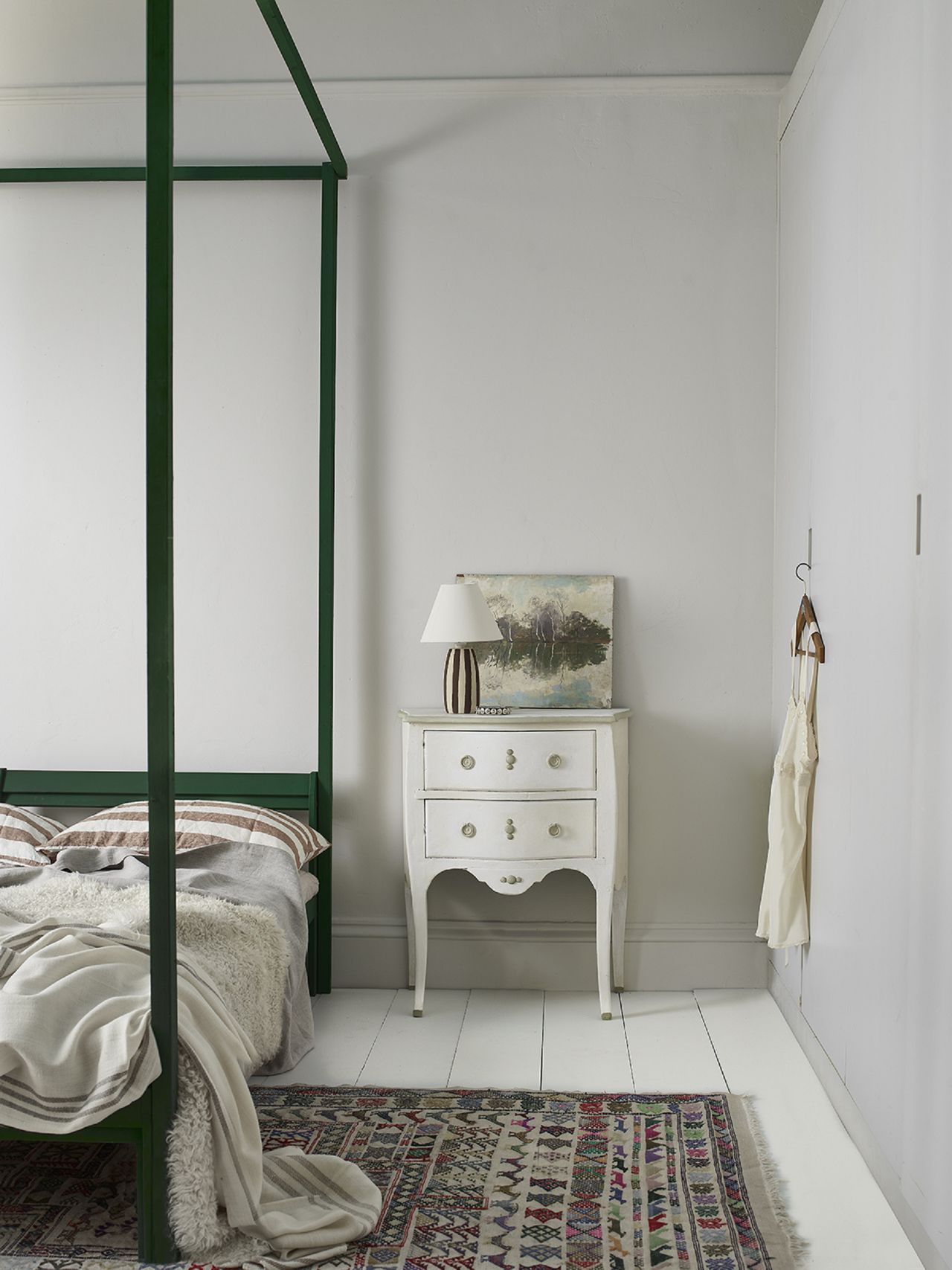 Give a new lease of life to a bedroom floor with paint. While this isn't something you'll want to do with lovely antique planks, it will revitalize a lesser quality wood. Make sure to choose a floor paint made for the purpose for lasting results. Go light to brighten a dark room but, if applying a test area of paint brings out old stains, use a stain blocker or go for a dark paint to conceal them instead. Be sure to finish with a varnish compatible with the floor paint to create a durable finish.
3. Indulge in a luxurious flooring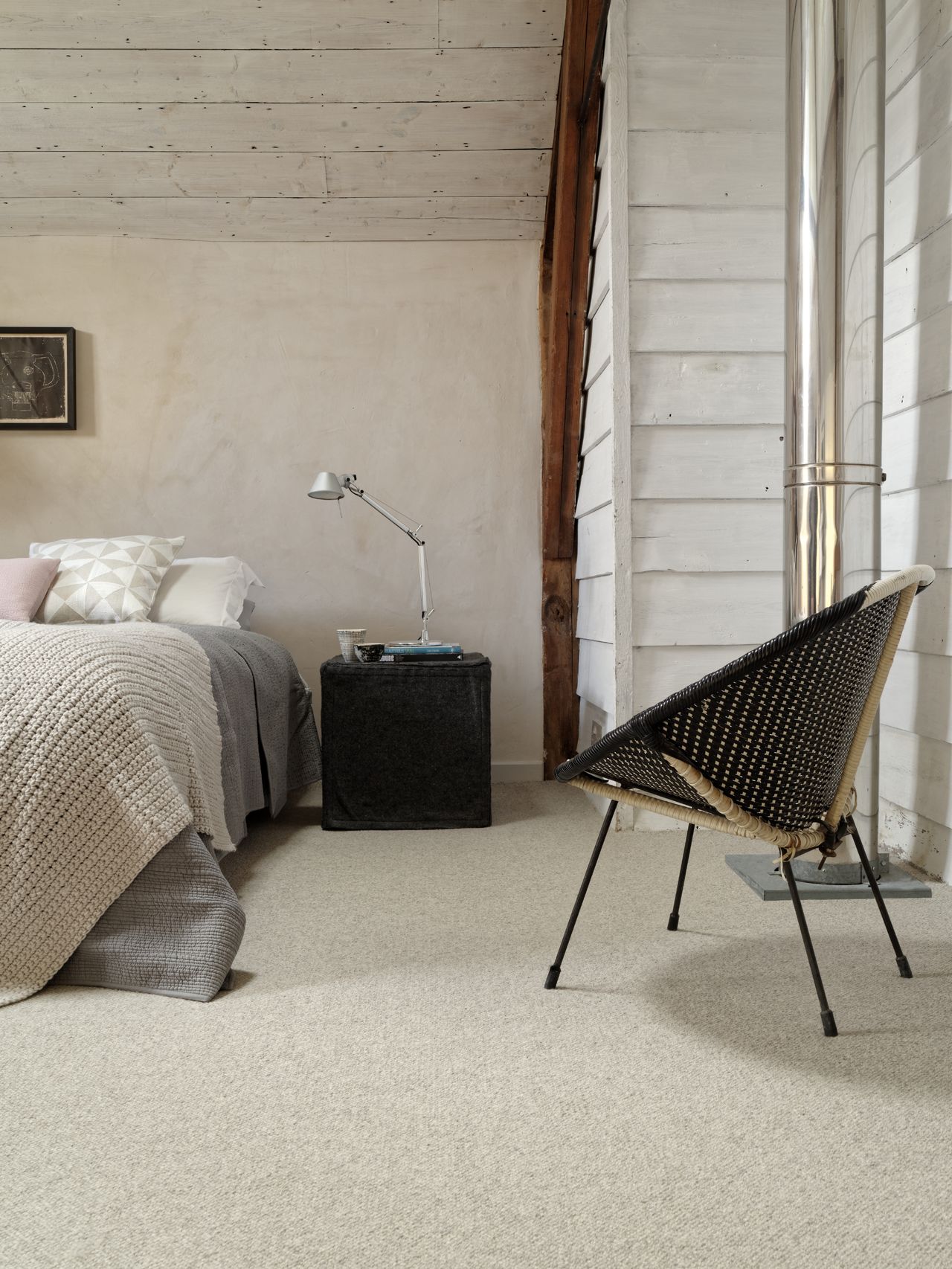 Take advantage of the fact that bedroom flooring ideas can encompass materials, finishes, and colors you wouldn't select for rooms that see more foot traffic and more dirt.
'Bedrooms are very personal spaces and here one can be as ostentatious, bold, or as decadent as one likes,' says Rupert Anton of the Carpet Foundation.
'Long, deep pile carpets such as saxonies and shag piles are very luxurious, soft and tactile. However, they do flatten easily hence they are not practical in other living spaces but, for a bedroom, they can provide a sense of underfoot luxury. 
'On a practical level, a bedroom is the room that will take the least wear so you don't need to spend as much money on a bedroom carpet as, say, a living room carpet. Also, if your chosen carpet comes in more than one weight, pick the lowest
weight for the same reason.'
4. Exploit the power of pattern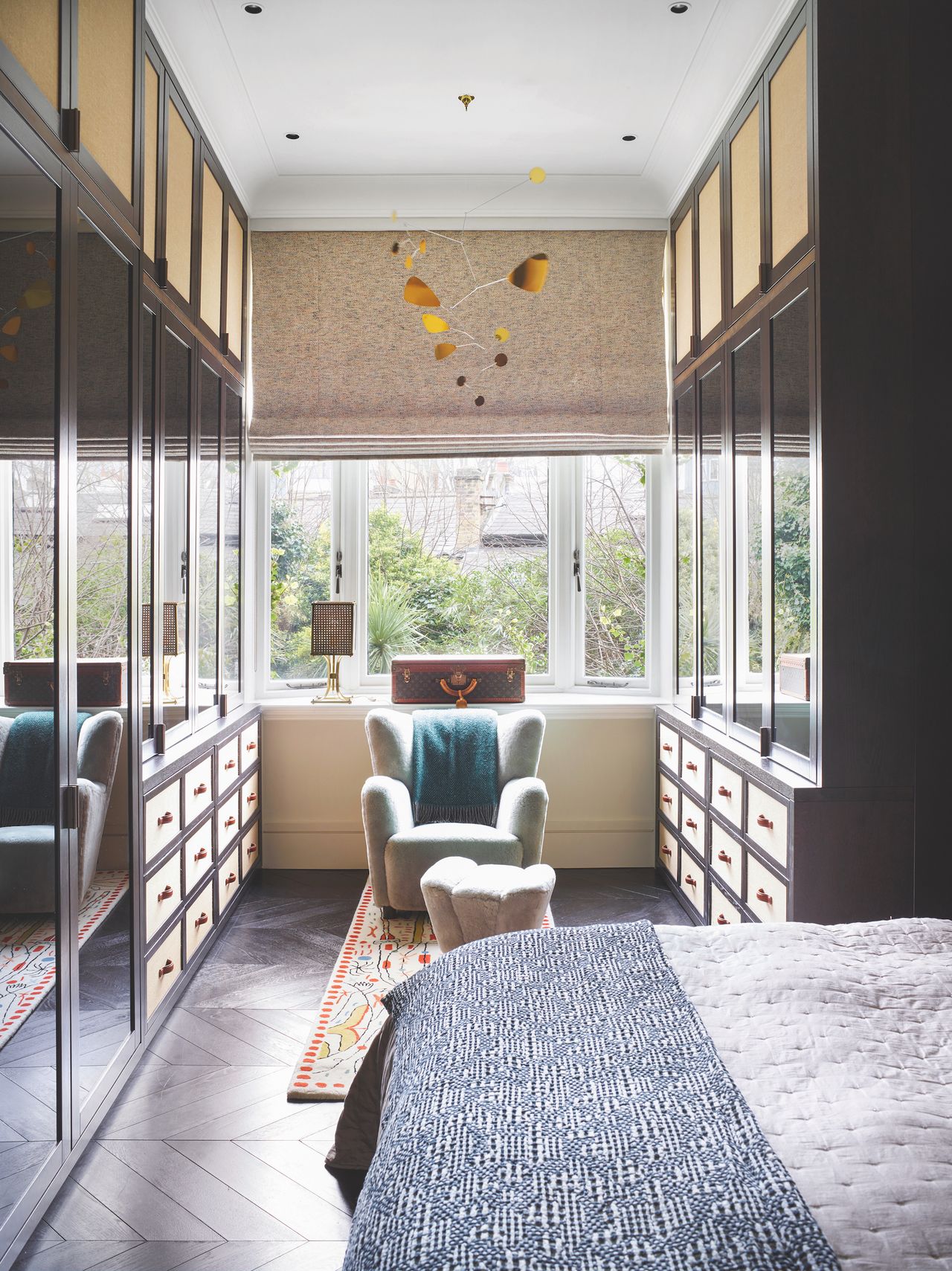 If hardwood is at the top of your list of bedroom flooring ideas you might want to take advantage of its power to visually alter the proportions of a room. A chevron design like this one can make the room feel wider or longer depending on the direction in which it's laid.
And note that if a more understated bedroom floor finish is your preference, planks can achieve the same effect.
5. Lighten up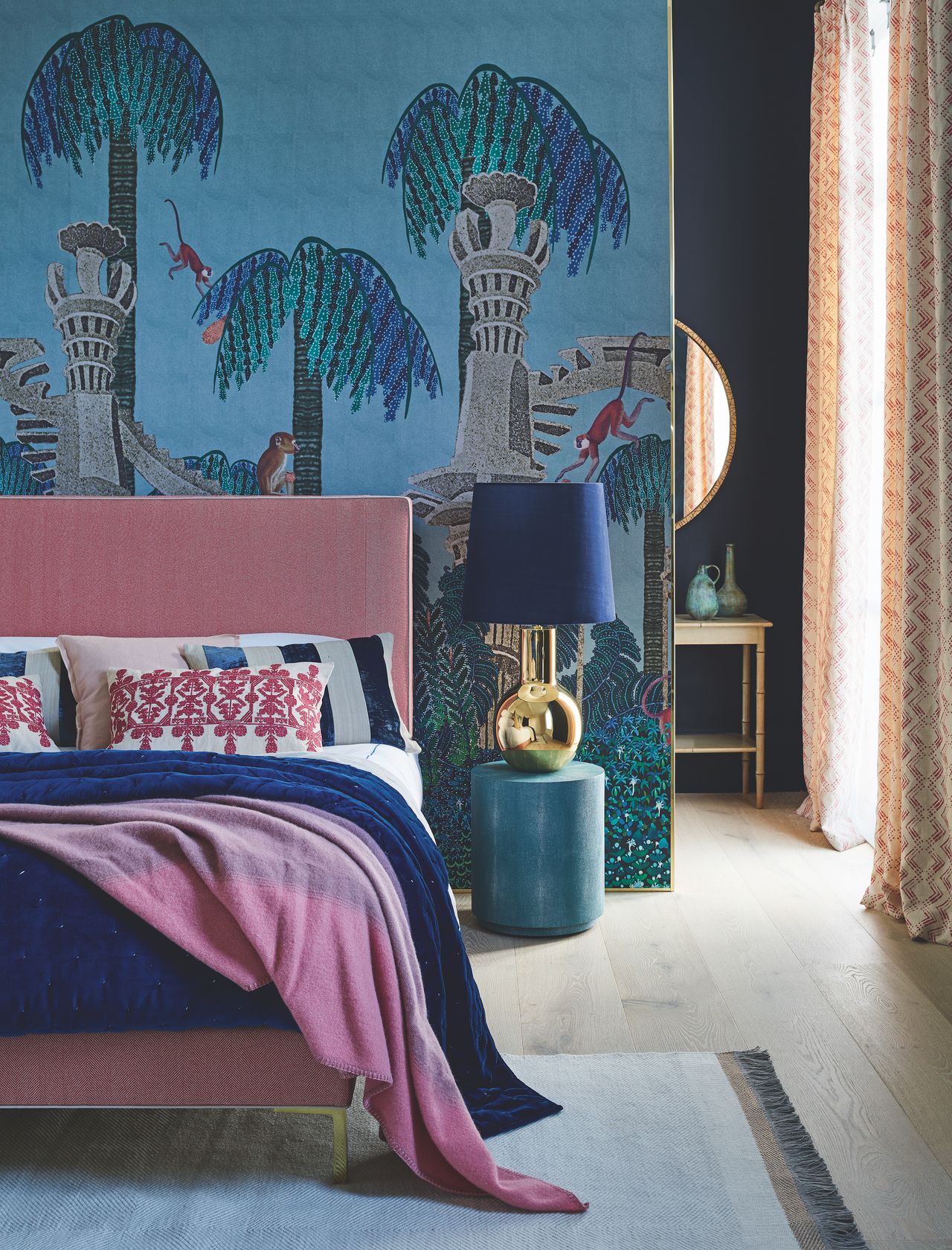 While mid tones of wood are enduring favorites for bedroom floors, and darks dramatic, light finishes are on trend for a very good reason.
'Pale floors are becoming more and more popular as they work so well with the strong, saturated wall colours everyone's using at the moment,' says Richard Aylen of Junckers.
In this room, the light wood floor is also a soothing backdrop that lets the decorative detail of the wall mural behind the bed shine.
6. Opt for a statement floor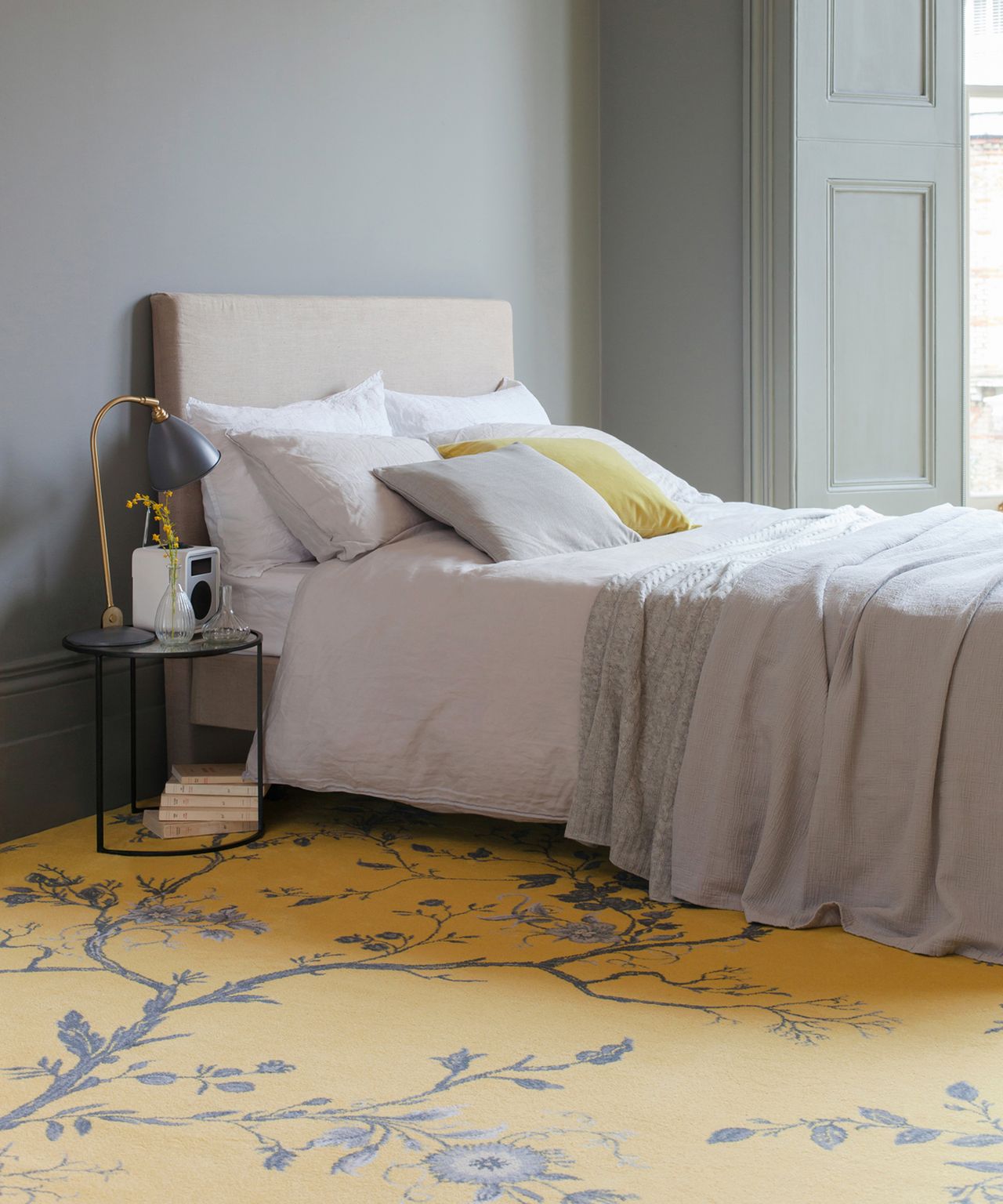 Change the decorative focus of the bedroom by introducing pattern and color underfoot instead of on the walls, linens or upholstery. It can be a surprisingly contemporary move if you choose a carpet with a floral trail motif like this one rather than a traditional ornate pattern.
To keep the look modern, complement a bold carpet like this one with neutrals elsewhere in the room.
7. Embrace the possibilities of alternative fibres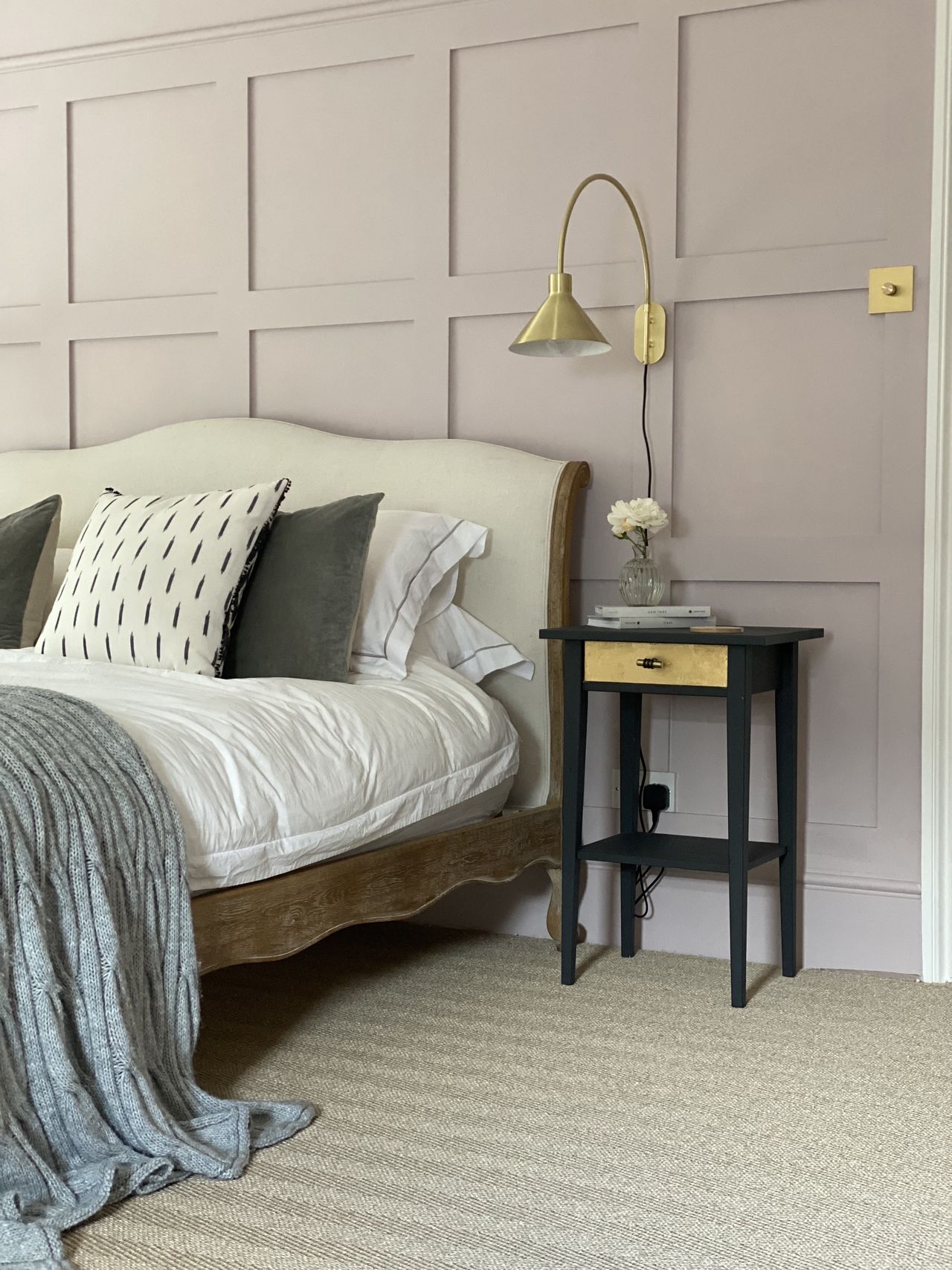 If your preference among bedroom flooring ideas is for natural materials, consider sisal or jute as well as wool carpet.
'Sisal creates a textural statement on a bedroom floor and can be chosen in a variety of patterns from bouclé and chunky loop weaves to more geometric chevrons and linear designs,' says Julian Downes, MD, Fibre Flooring. 
'Where a neutral, Scandi look is desired, sisal creates a point of interest which feels tactile, while maintaining a minimalist aesthetic. Sisal is naturally mothproof, which is ideal in a room with lots of clothing and soft furnishings.'
8. Choose a sophisticated stripe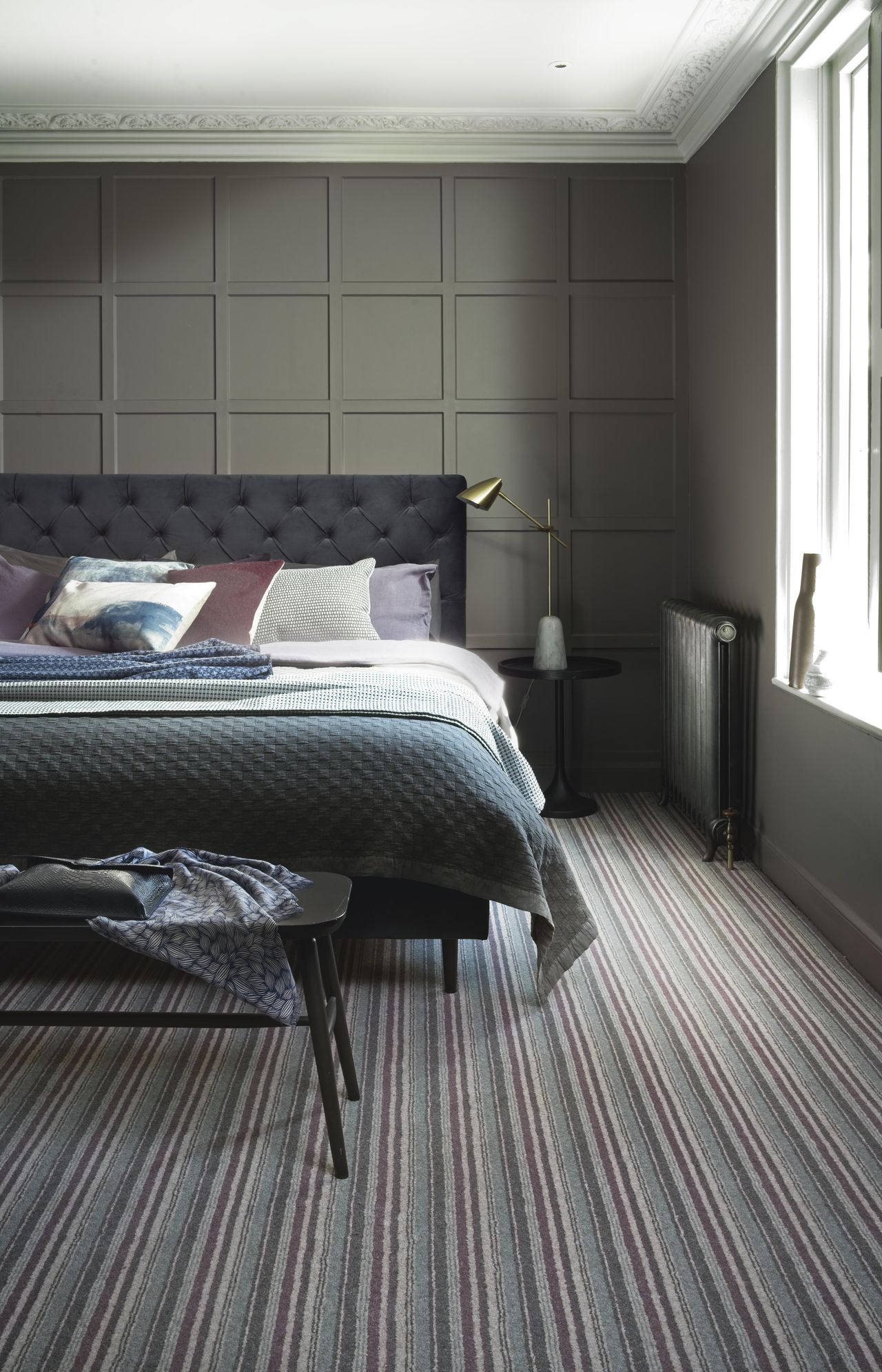 Another alternative for adding interest at floor level while ensuring flooring is soft, warm, and insulates against noise? A striped carpet is a wonderful choice. It's a sophisticated and smart take on pattern and will please those who wouldn't countenance a floral motif.
It's also a great way to add in an accent of warm color if a block color would feel overpowering in your room.
9. Layer area rugs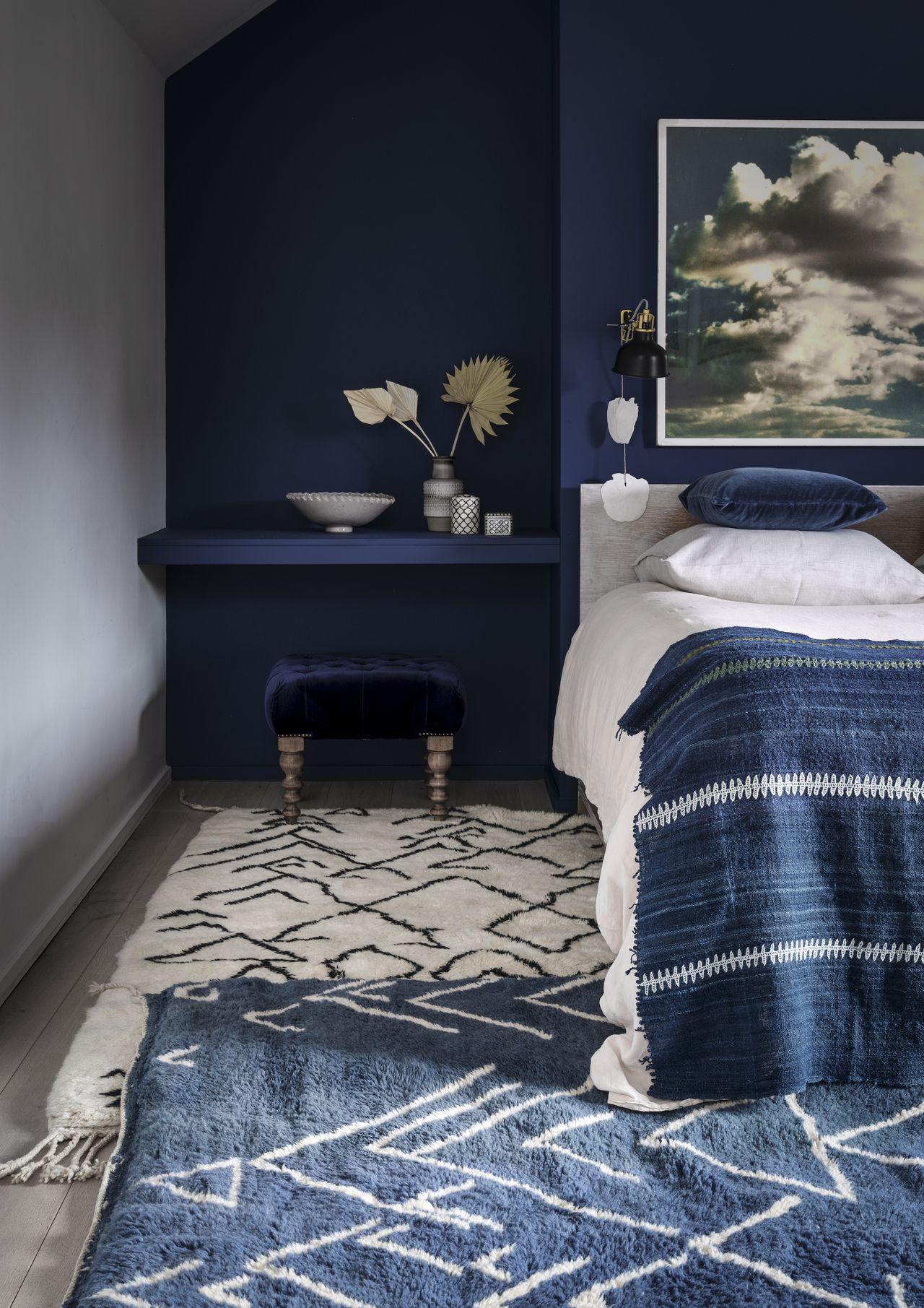 Combining an area rug with wood flooring can bring the best of both worlds to a bedroom. The wood remains prominent but bare feet can meet a yielding and warmer surface. 
A contemporary bedroom trend is to layer rugs as an alternative to adding a solo version, using different patterns and colors to create individual style in the room. Follow this room's lead by overlapping two designs, or use a smaller rug over a larger version.
10. Keep maintenance in mind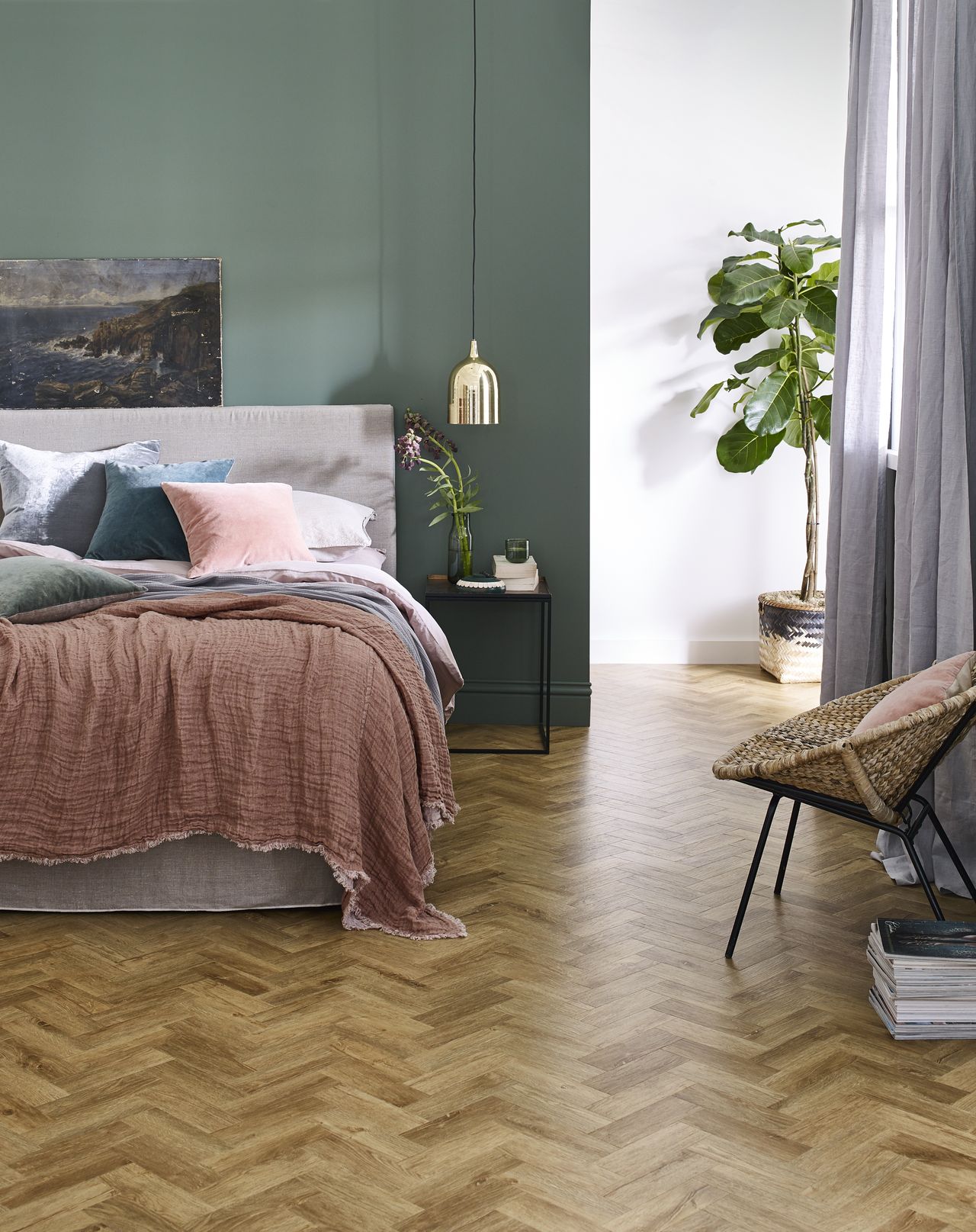 While nothing but the real thing will do for many, it's possible to desire the look of a wood floor in a bedroom but want minimal care needs. If that's the case, think LVT (luxury vinyl tile). It can replicate the appearance of wood and maintenance is quick and easy. The sum total of it? 'LVT simply requires a sweep and occasional mop to keep it looking fresh,' says Sarah Escott, Amtico design manager.
While not as soft as carpet, LVT does yield so provides comfort and in the low traffic area of a bedroom can last for many years.
Can bedrooms have different flooring?
Bedrooms will often have different flooring from other rooms in a home. Bedroom floors experience less wear than shared areas of a home, so choices don't need to be as durable. They don't have the same humidity or splashes as a kitchen or bathroom either, and dirt brought in from outside is far less of a consideration than in the hallway, or a mudroom. Different flooring might also be preferred for warmth beneath bare feet and to make the room feel like the luxurious and private space it is.
The exception to these guidelines is children's rooms where more durability and stainproofing could be preferable to ensure the longevity of the flooring.
What flooring is most popular in bedrooms?
Hardwood is a favorite of many and also the flooring that could make the difference in the speed at which your home sells, and the price it achieves. 
When the recovered project cost percentages of all interior projects were calculated for the National Association of Realtors and National Association of the Remodeling Industry remodeling impact report 2019, the highest percentage cost recovered was from new wood flooring at 106 per cent, with hardwood flooring refinish at 100 per cent.
But carpet is also a perennial favorite for bedrooms. It's comfortable to stand on and feels warm, cushions against falls in a room used by young kids or adults who aren't always stable on their feet, insulates against the cold and noise, and offers enormous choice.