Best kitchen designers: the top kitchen designers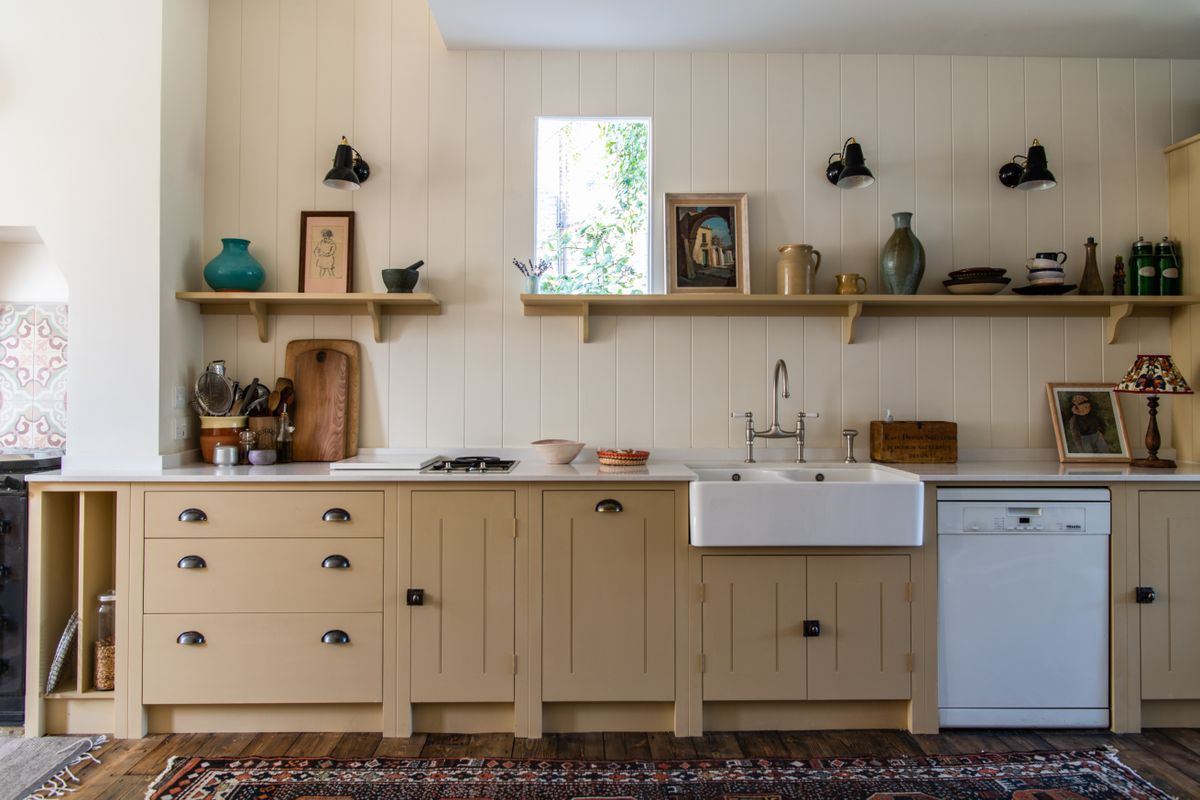 Realizing a dream room is a project worth undertaking with the best kitchen designers. The kitchen as a hidden-away space that's merely functional is an idea that's long gone, and today they're rooms to be shared with the family and with guests that must both work hard and look good.
For a design that meets every criteria many opt to call on the vast skills and experience of a professional. Follow in their footsteps and you can ensure all your kitchen ideas can be achieved in a way that complements both your home and your lifestyle. 
To guide your quest for a professional as well as inspire we've put together a selection of the best kitchen designers in the UK, including some who design in the US, too.
The best kitchen designers
Call on an expert if you are planning a kitchen so that it meets every expectation. These are some of the best kitchen designers in the UK and US.
Neptune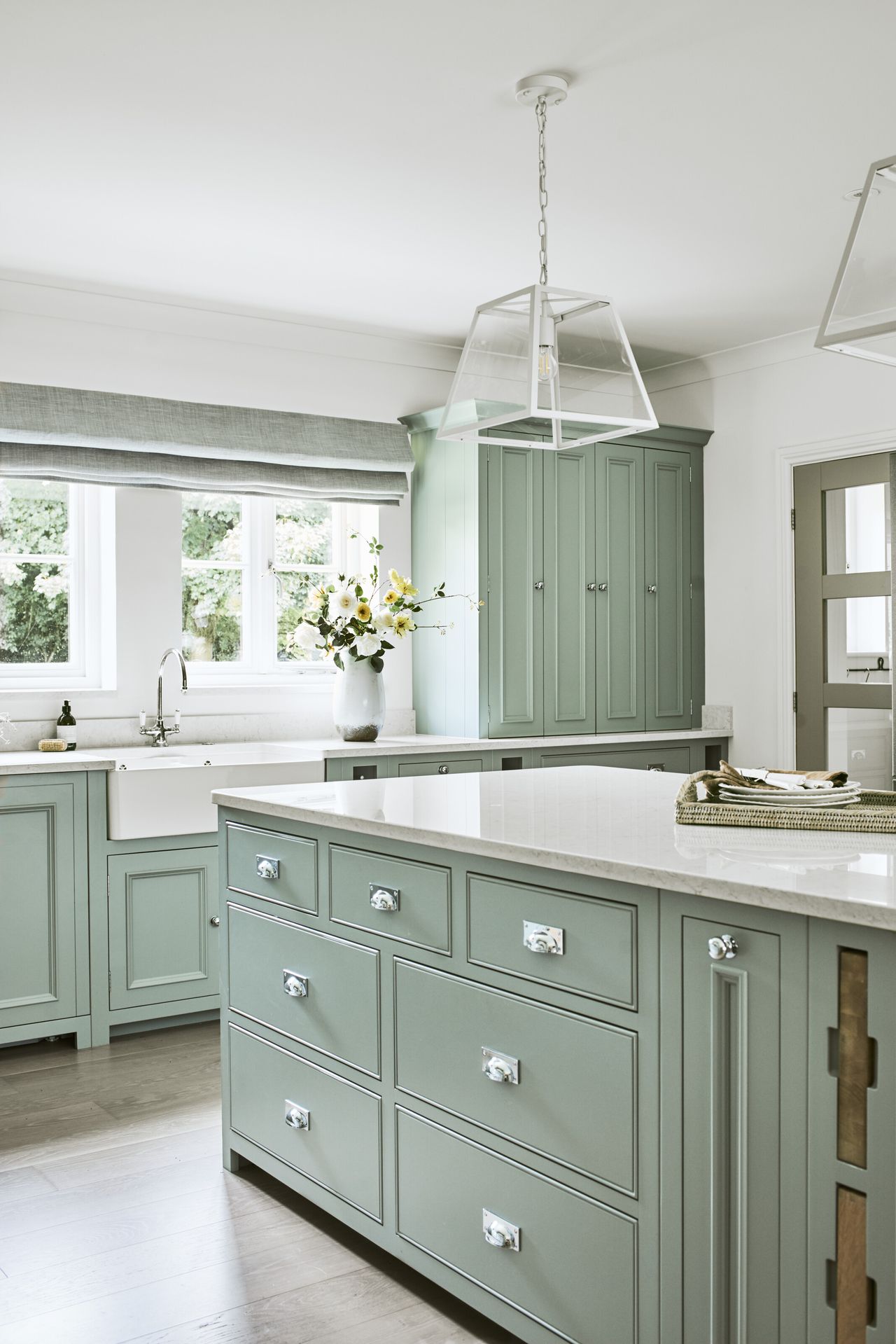 The trademark look at Neptune is British with refined, simple, and sturdy furniture created with attention to detail, and the company's kitchens are no exception. They're made to last using natural timber, and employing traditional joinery techniques. Doors are constructed from five pieces in the centuries-old way, too. Designs are timeless in style with four collections on offer that can be painted in any of company's 28 core colors, or the archive colors. Made in the company's own production facility, the bespoke service can accommodate every space with made-to-measure units. 
The kitchen design service is available in all of the company's stores, which are located across the UK, plus the bespoke workshop in Wiltshire.
Ledbury Studio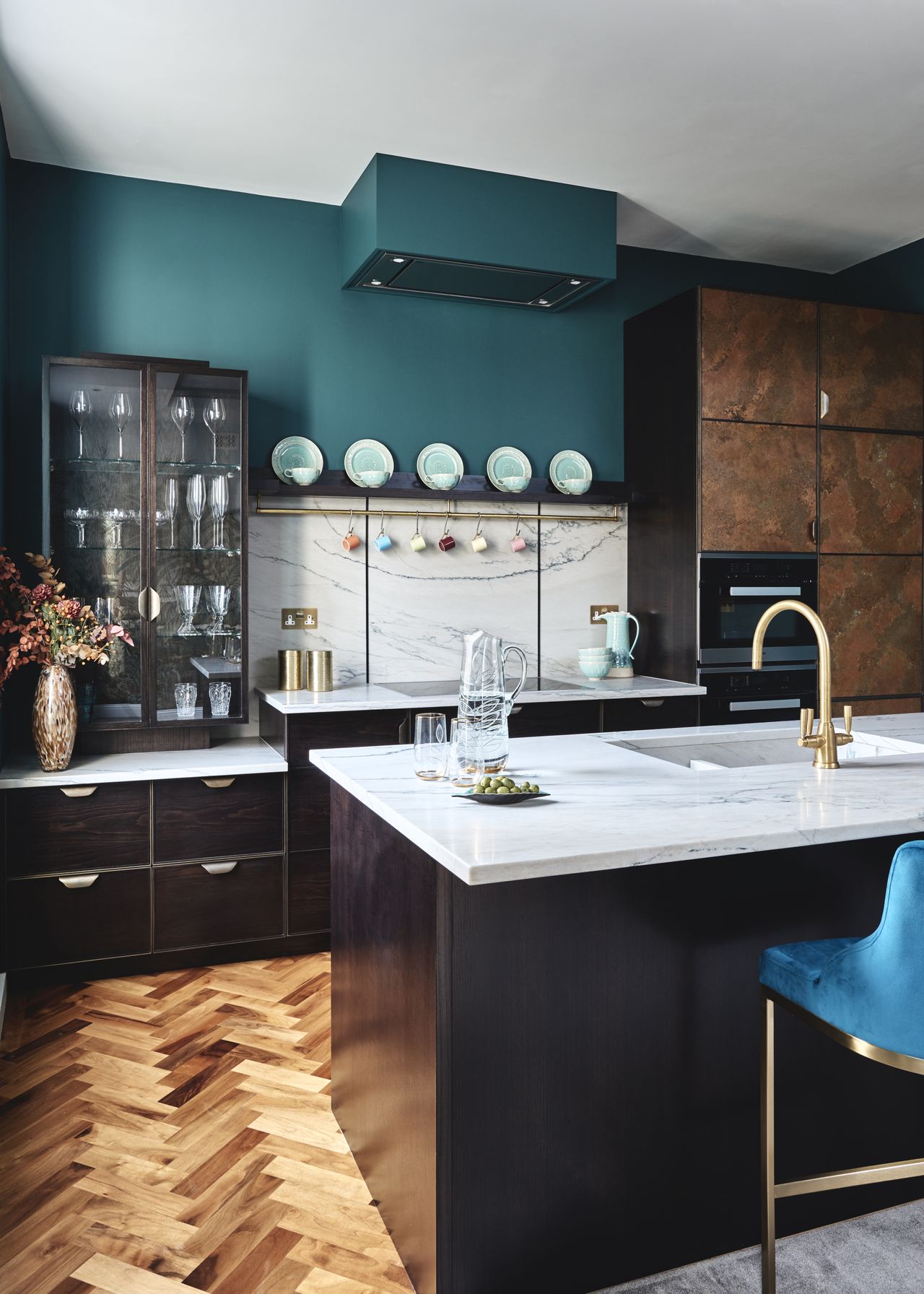 Charlie Smallbone of Ledbury Studio has been a leading kitchen designer since the 1980s. The studio showcases his latest designs, which combine wood, metal, and stone in a sleek contemporary collection. The skilled team employ modern technology to show the beautiful materials in a new light, while creating kitchens that are smoothly functional and provide space to cook, live, and entertain. Each kitchen is completely bespoke with the team responding to clients' ideas and interests to create striking and innovative kitchens.
Visit the showrooms in London's Notting Hill, or Surrey.
DeVOL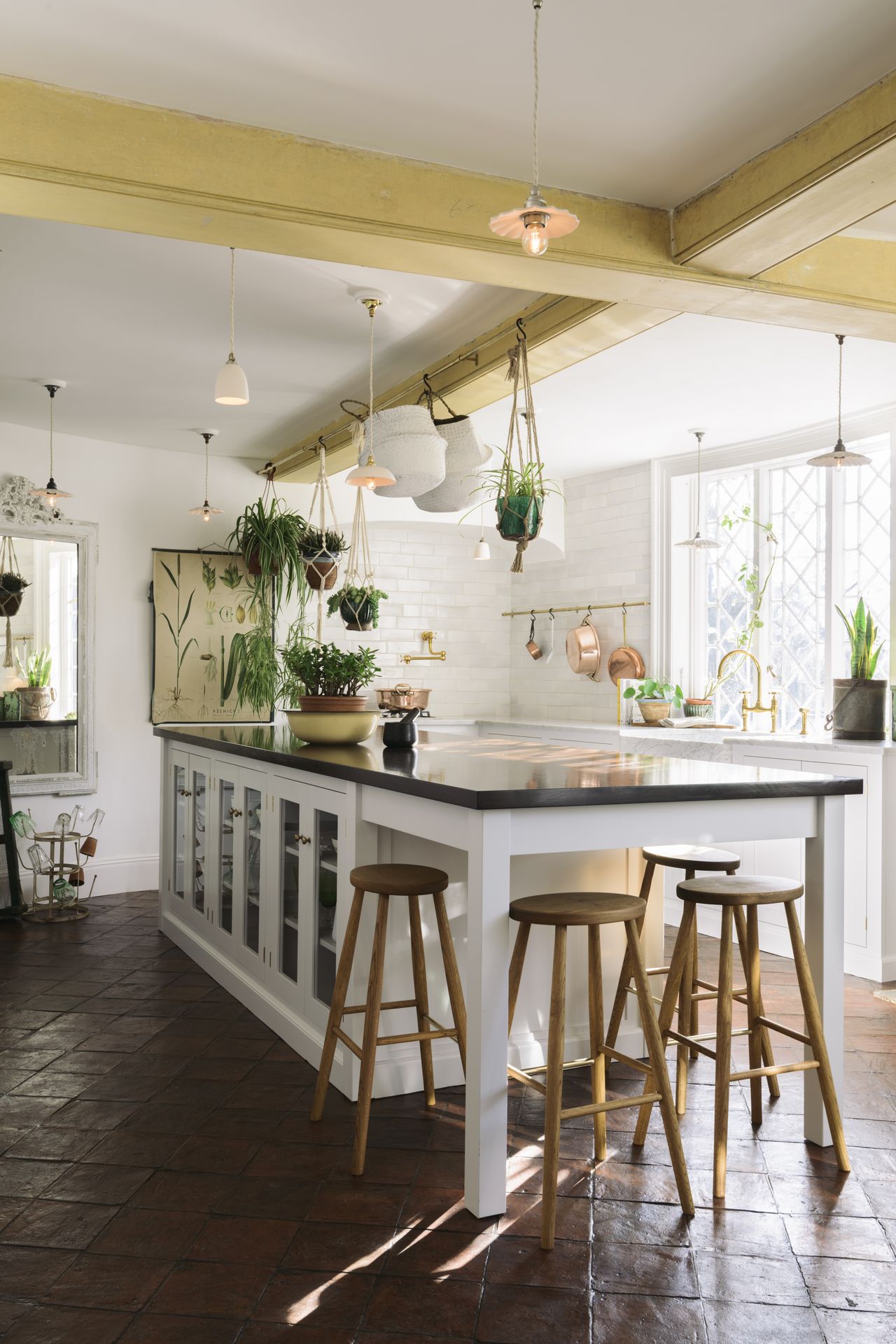 The kitchen ranges from deVOL are in the traditions of classic design periods and all kitchens are made to order in the company's Leicestershire workshops. The company's approach is to have control over every aspect of what they do from finding prime maple for the doors to having hinges and catches made to its own designs. Sustainability and a belief that style is about longevity are part of the ethos, and the interior and exterior of the cabinets are painted with water-based paint that's brush applied for a traditional appearance and because this enables it to be touched up if knocks and scrapes occur. 
Based at 16th century Cotes Mill in Leicestershire, the company has three further showrooms, two in London and one in New York City where designers can create kitchens for homes across the US.
Harvey Jones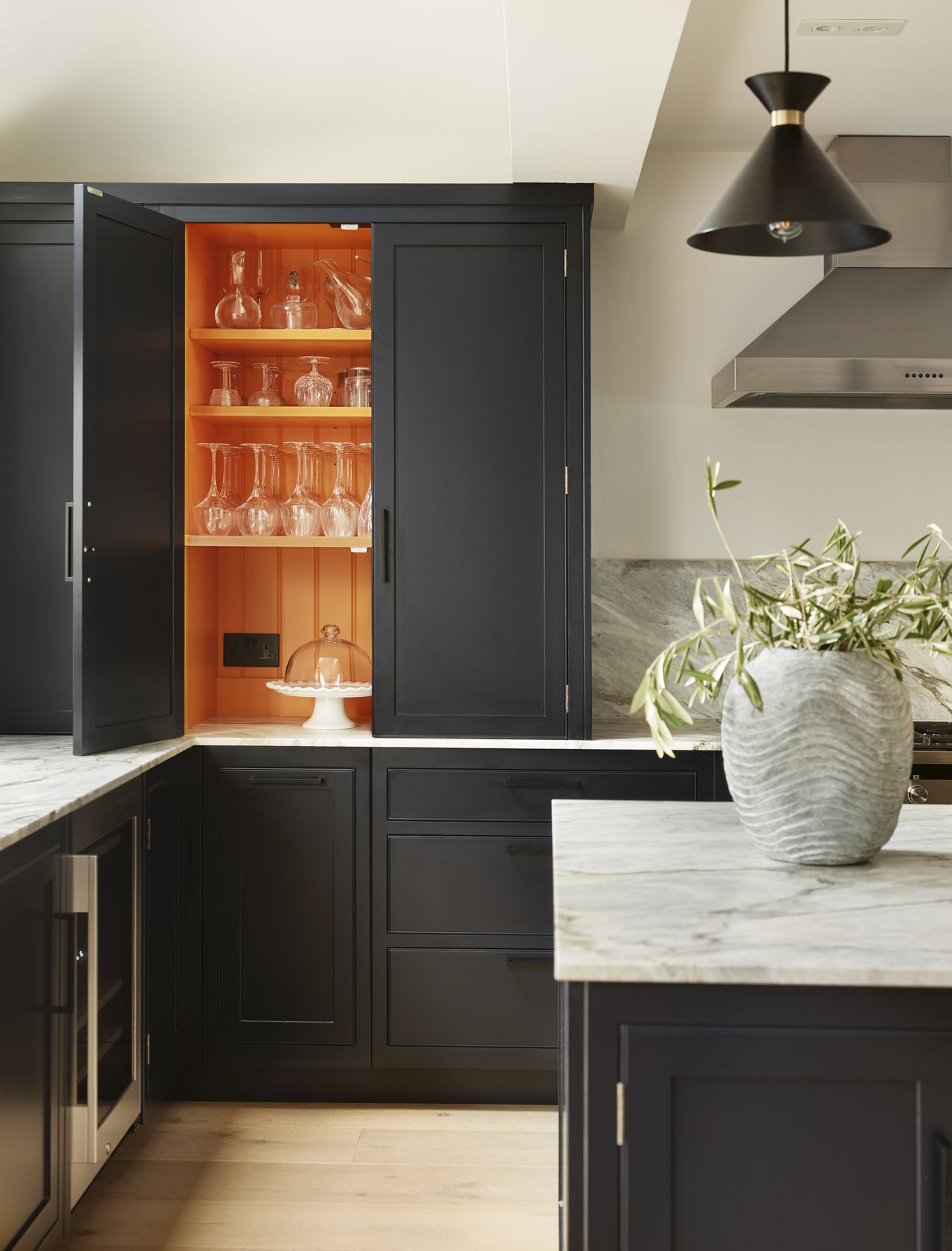 Pick from five styles for cabinets at Harvey Jones, where the kitchens are handmade to order in the Cambridgeshire workshop. Each kitchen is tailored to the client's lifestyle with creative configurations, cabinets made to fit the space, clever storage mechanisms and, if required, bespoke storage solutions for specific items. An unlimited choice of paint colors, counters, appliances, sinks, taps, and handles further personalizes each kitchen design.
Visit one of the showrooms, which are located across the UK.
Life Kitchens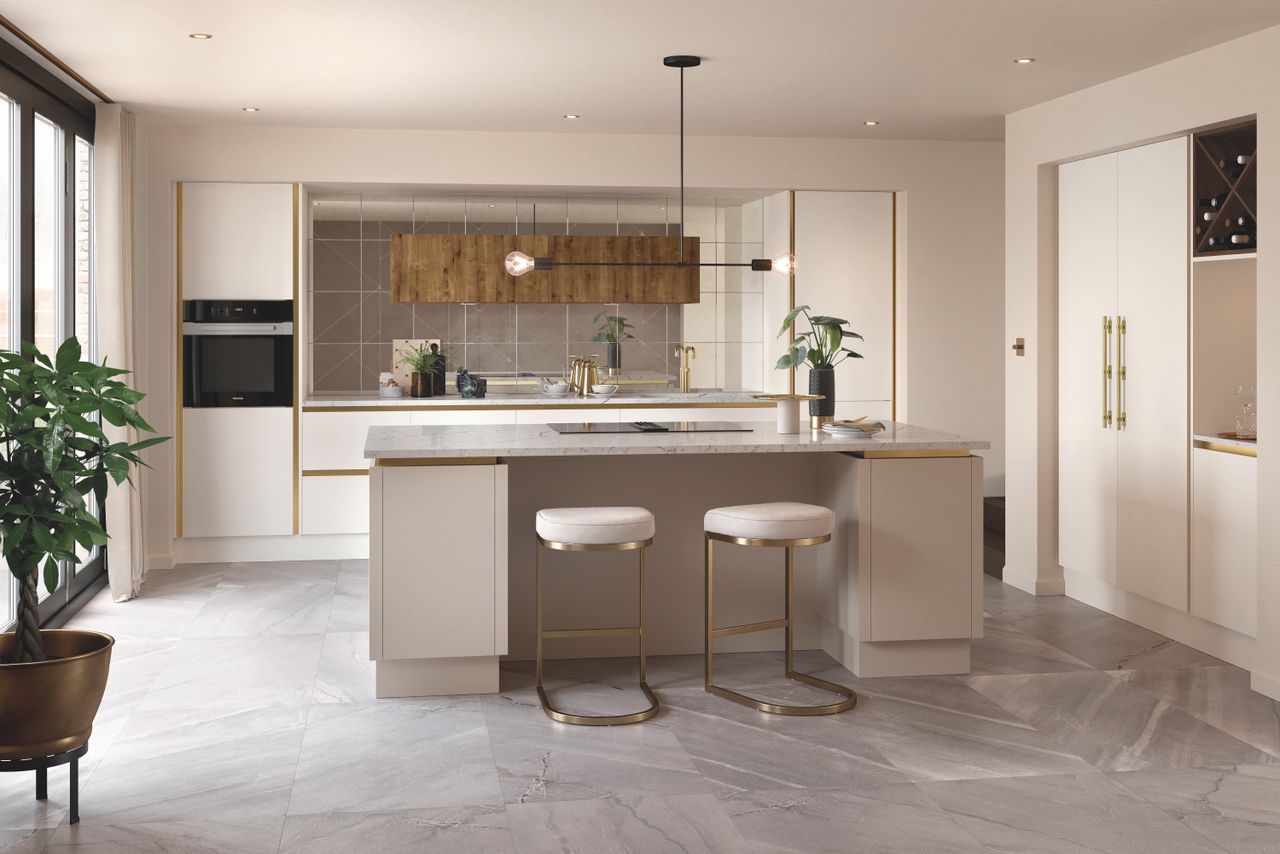 A fifth-generation British family business first established over 110 years ago, Life Kitchens offers a wide range of kitchen looks from classic to ultra contemporary that are designed to inspire with each kitchen indvidually tailored to the client's home and lifestyle. There's a palette of 35 painted colors to select from, along with a wide range of handles to create personal detail. Taking advantage of virtual reality technology, the company provides the opportunity to experience your design through a 360º 4D VR headset at its showroom.
Visit the company in London's Waterloo.
Tom Howley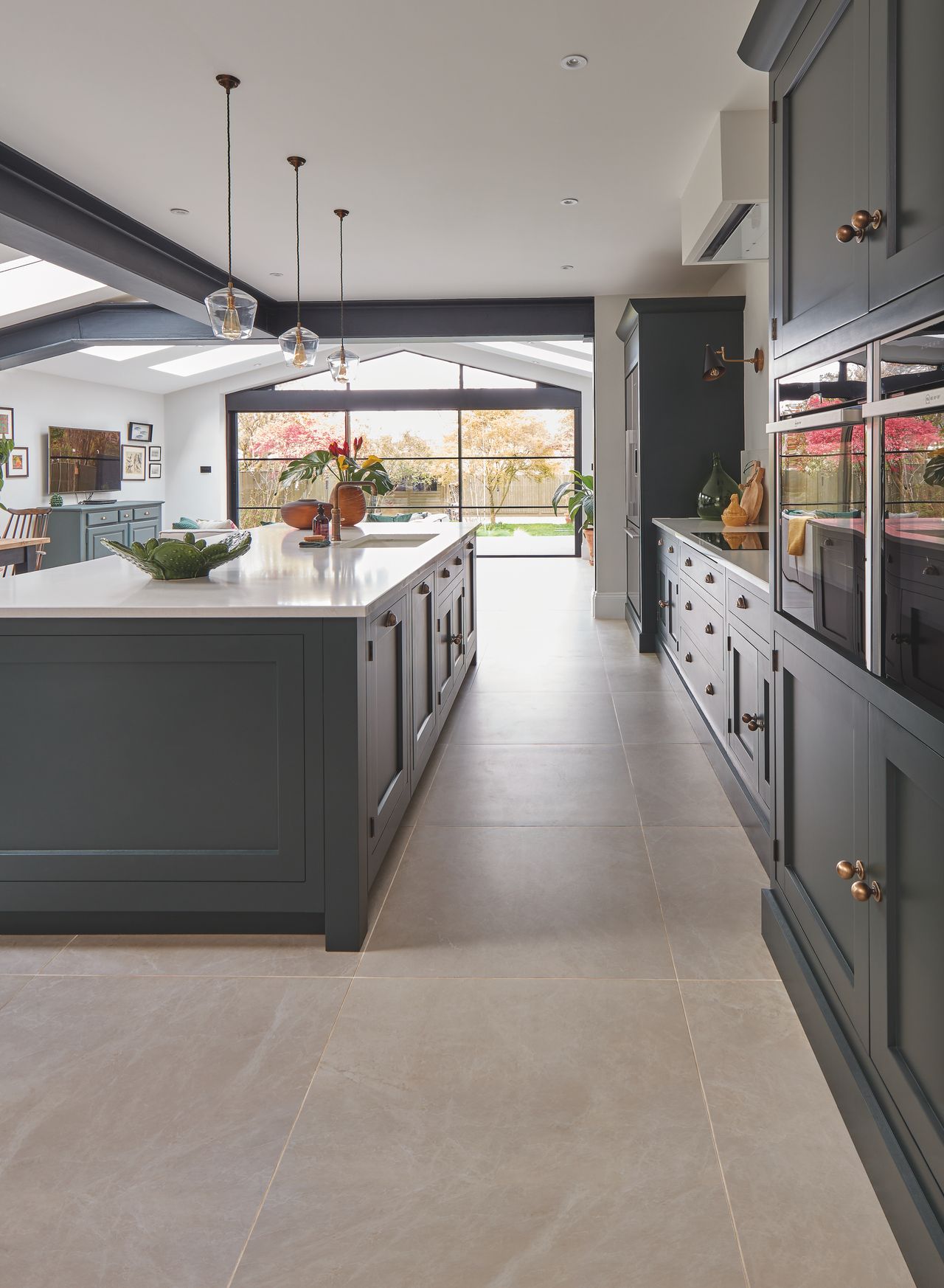 Handmade to order at the UK workshop, the kitchens from Tom Howley are completely bespoke. There are six kitchen collections to choose from and each has fine design detail. The in-frame cabinetry creates a classic Shaker look, but it may have a beaded frame for a traditional twist or simple square frames for a more contemporary aesthetic. Cornices, skirting boards, and pillars are also key elements of the designs. High quality materials are used to produce the kitchen furniture in oak and walnut which has a hand-painted finish. 
Showrooms are located around the UK, and enquiries from the US as well as continental Europe are welcome.
Martin Moore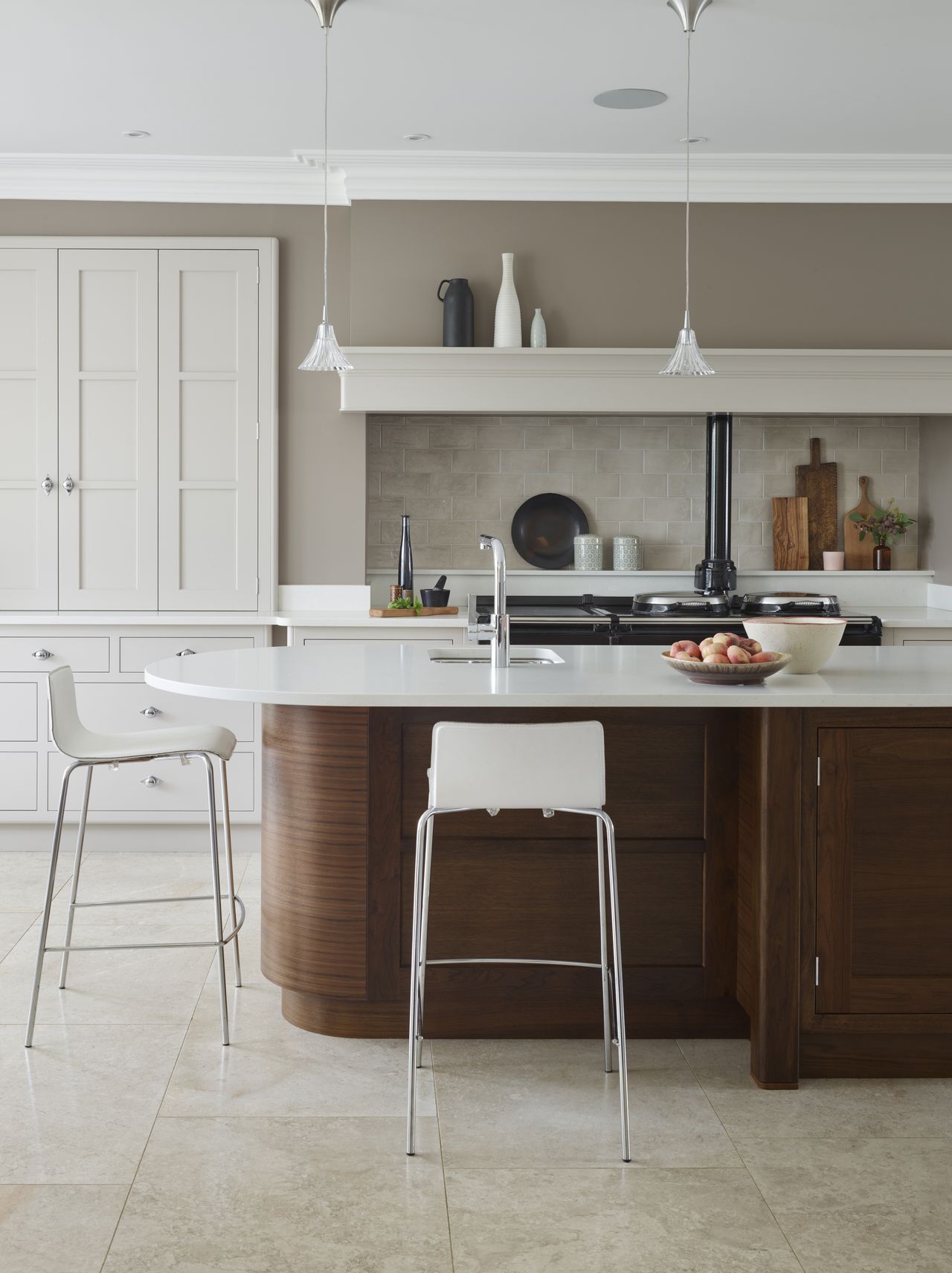 Family run company Martin Moore was founded in 1975, and developed a hallmark style of classic, timeless furniture which is designed and made to order. The cabinetry is custom-built in the company's Yorkshire workshop. The designs are rooted in the forms and conventions of English furniture with proportions that can be seen in Georgian, Victorian, and modern architecture. The design themes are grouped as collections as inspiration, allowing clients to choose a preferred look that's carried into a unique design.
The company has eight showrooms, three of which are in London, and designs kitchens for homes around the UK and in Europe.
Roundhouse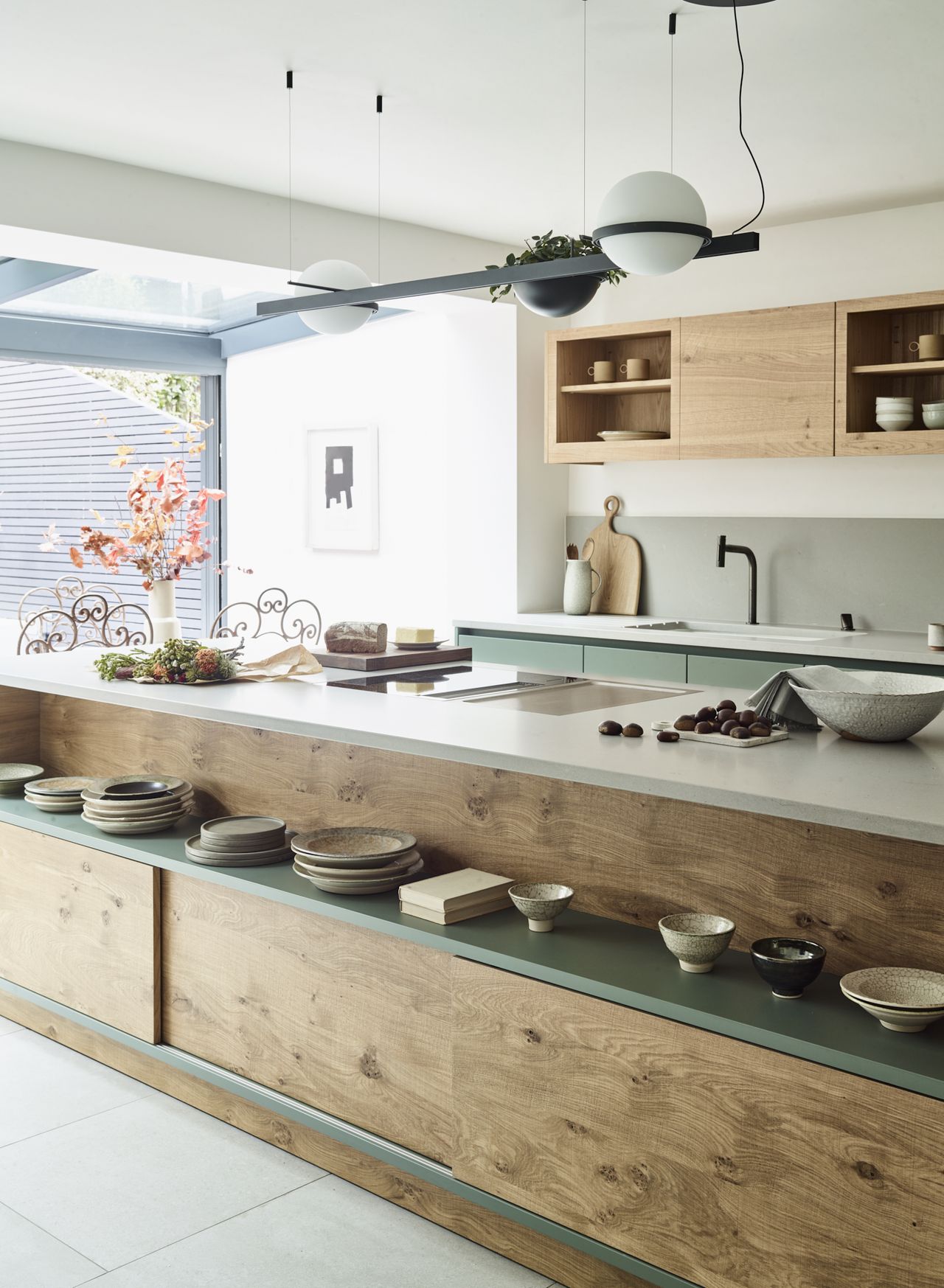 The bespoke kitchens from Roundhouse – a company founded by architects – are influenced by both contemporary and traditional design and have a signature understated aesthetic. The designs use innovative materials, texture, and color and are made to measure in the company's Worcestershire manufacturing facility. The company strives to  minimize its environmental impact using timbers with the highest accreditation and FSC standards, and supports The Woodland Trust and its tree-planting scheme.
There are showrooms in four London locations, as well as in Surrey and Gloucestershire.
Naked Kitchens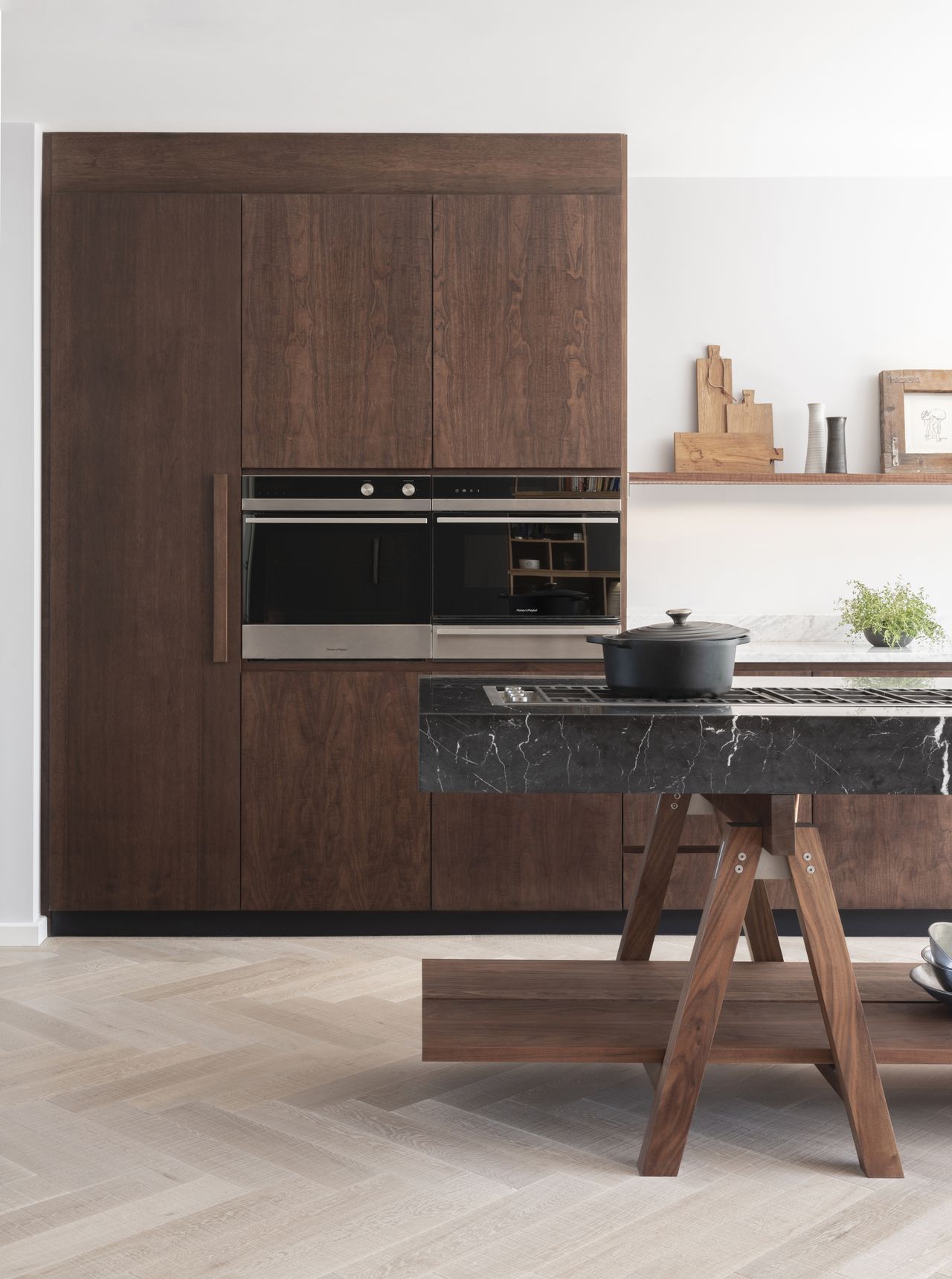 At Naked Kitchens there's a choice of working with the company to design a kitchen, or providing plans. Solid timber designs are the company's heritage, and most of today's kitchens have an element of oak or walnut. Clients can select the carcass to be made from an oak or walnut veneered ply or an oak/walnut effect material depending on budget. The company is family run and all the cabinetry is made in its Norfolk workshops where the focus is on specifying the best materials for its kitchens and manufacture is highly mechanised with state-of-the-art technology.
As well as the workshops, the showroom can also be found in Norfolk. 
Mowlem & Co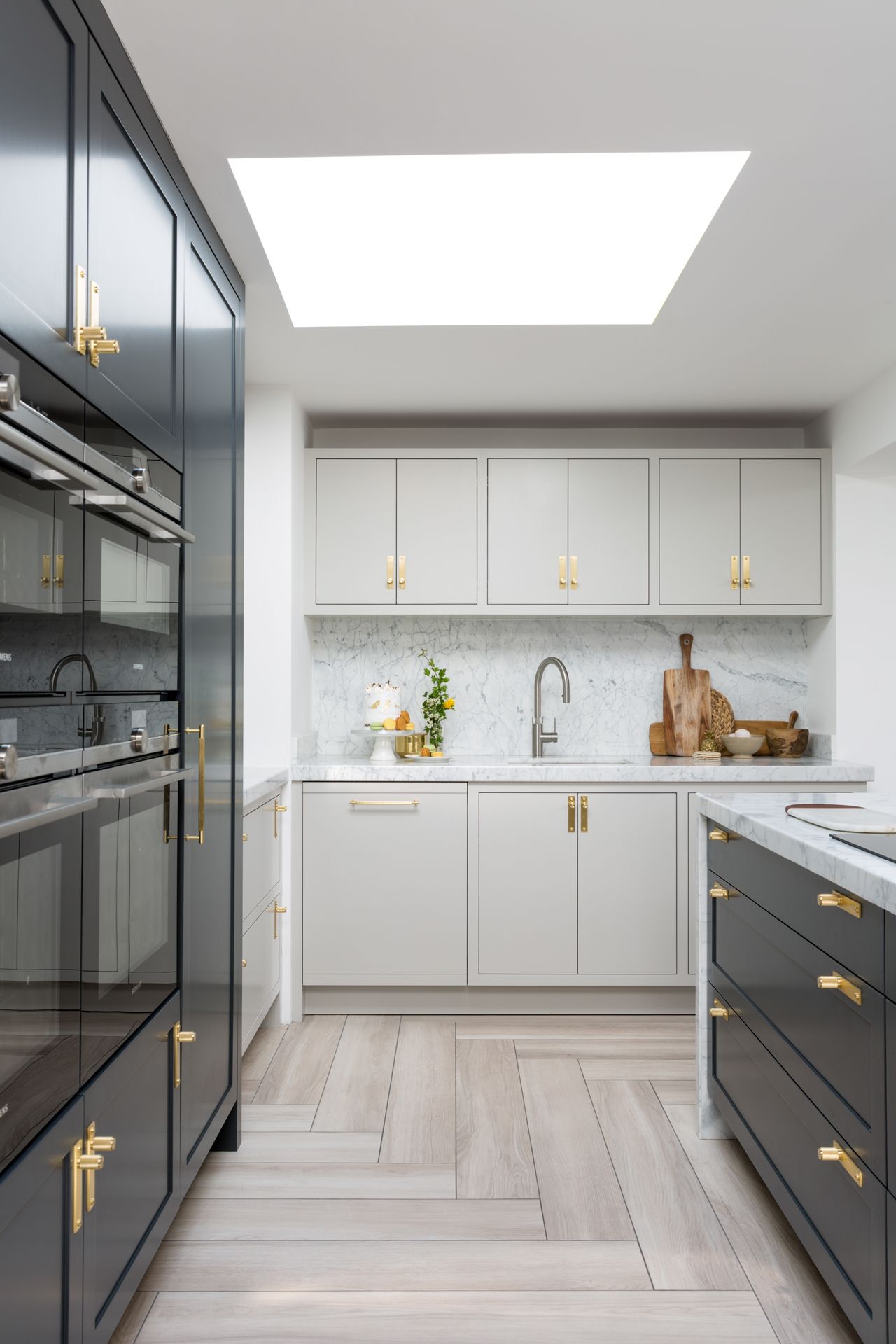 A kitchen design from Mowlem & Co may be inspired by different aspects of a client's home or lifestyle, or even conceived around a work of art, a treasured piece of furniture, or a passion for a style of cuisine. Understanding social trends is part of the company's philosophy with kitchens designed for open-plan schemes, and to host both family meals and dinner parties, and with features such as walk-in pantries, and island units with built-in dining. For the company bespoke means 'anything you want' (within what is physically possible) in any style you want (from classic to cutting edge) and all completely custom made.
Launched in Newcastle-upon-Tyne, the company has a showroom there as well as on London's King's Road. 
Plain English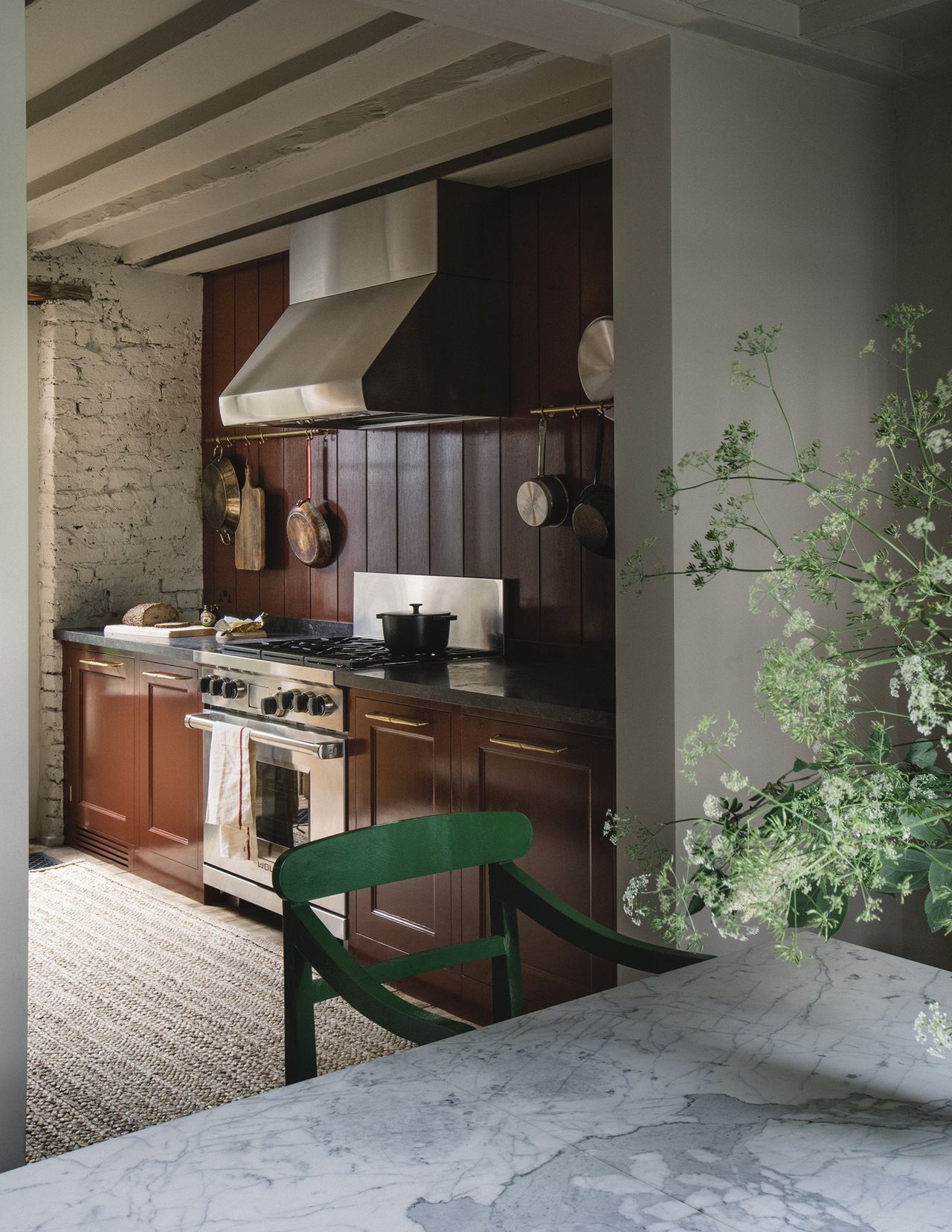 The aesthetic of Plain English pays tribute to the British craftsmen of the past whose honest, unfussy and functional designs were built to withstand a lifetime of everyday use. Kitchens are created with sustainably sourced timber, honed marble, raw stone and unpolished metals. The designs draw on five core ranges in creating a layout that complements the home and a client's needs to create a unique design, and are made in the Suffolk workshops using both traditional skills and precision modern machinery. The cabinetry colors are exclusive and are applied by hand to leaving a faint trace of the brushstrokes for beautiful detail.
Visit the showroom in Suffolk or London's Marylebone. The company also has a New York City showroom and a design co-ordinator on the west coast and works across all 50 states.
British Standard by Plain English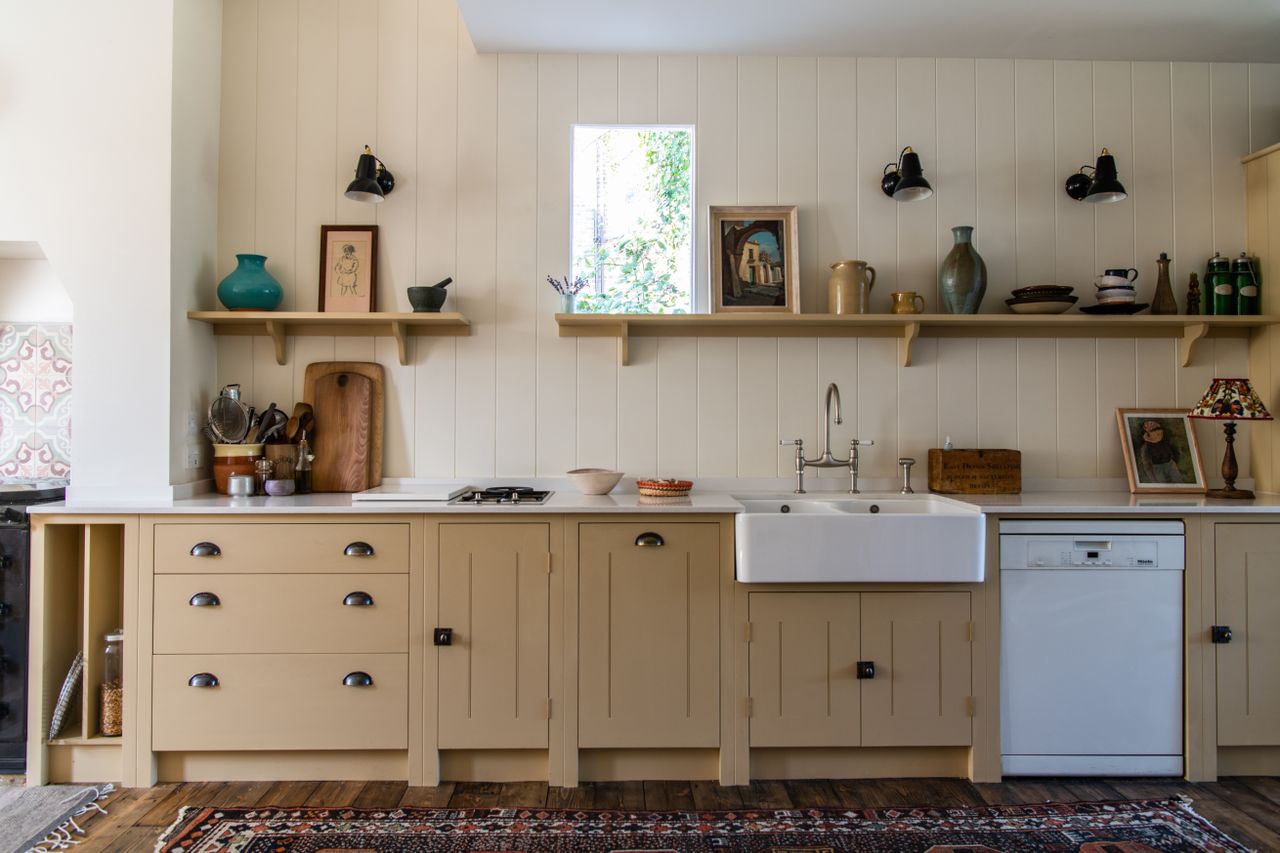 The cabinets from British Standard by Plain English are beautifully simple off-the-peg designs. As the name reveals, the company was created by the founders of bespoke kitchen company Plain English, and the cabinets are made by the same team of craftspeople in Suffolk, and designed to last a lifetime. There is a range of standard sizes and the modular pieces work together in multiple configurations. They're delivered to a home ready-made and painted off-white and can then either be installed by a contractor or on a DIY basis, and painted. The pared-back design of the cabinets ensures they can complement different interiors, including rural and urban, and old homes or new. 
UK showrooms are located in London and Suffolk, and in the US, in NYC.
Smallbone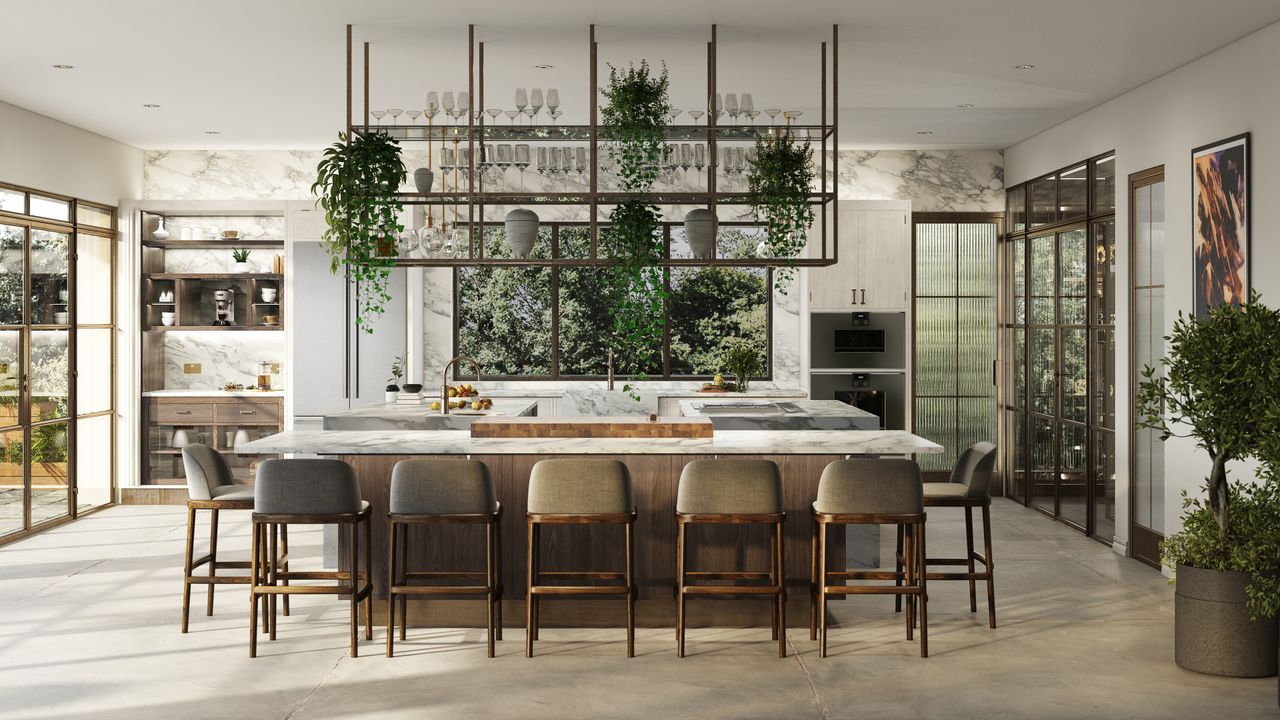 Renowned for its British design and craftsmanship, Smallbone has a more than 40 year history with the cabinets handmade in its Wiltshire workshop. The company's joiners use traditional techniques to make the bespoke kitchens from a large range of materials including European oak, rosewood, mahogany, American walnut, and maple. The kitchen collections span both classic and contemporary designs with each tailored precisely to the client's needs from a wide palette of materials and finishes to create a luxurious room for living, relaxing, and entertaining as well as cooking. 
View the kitchens at the Luxury Pavilion, Knightsbridge, London, or in the US, in NYC.
Brookmans by Smallbone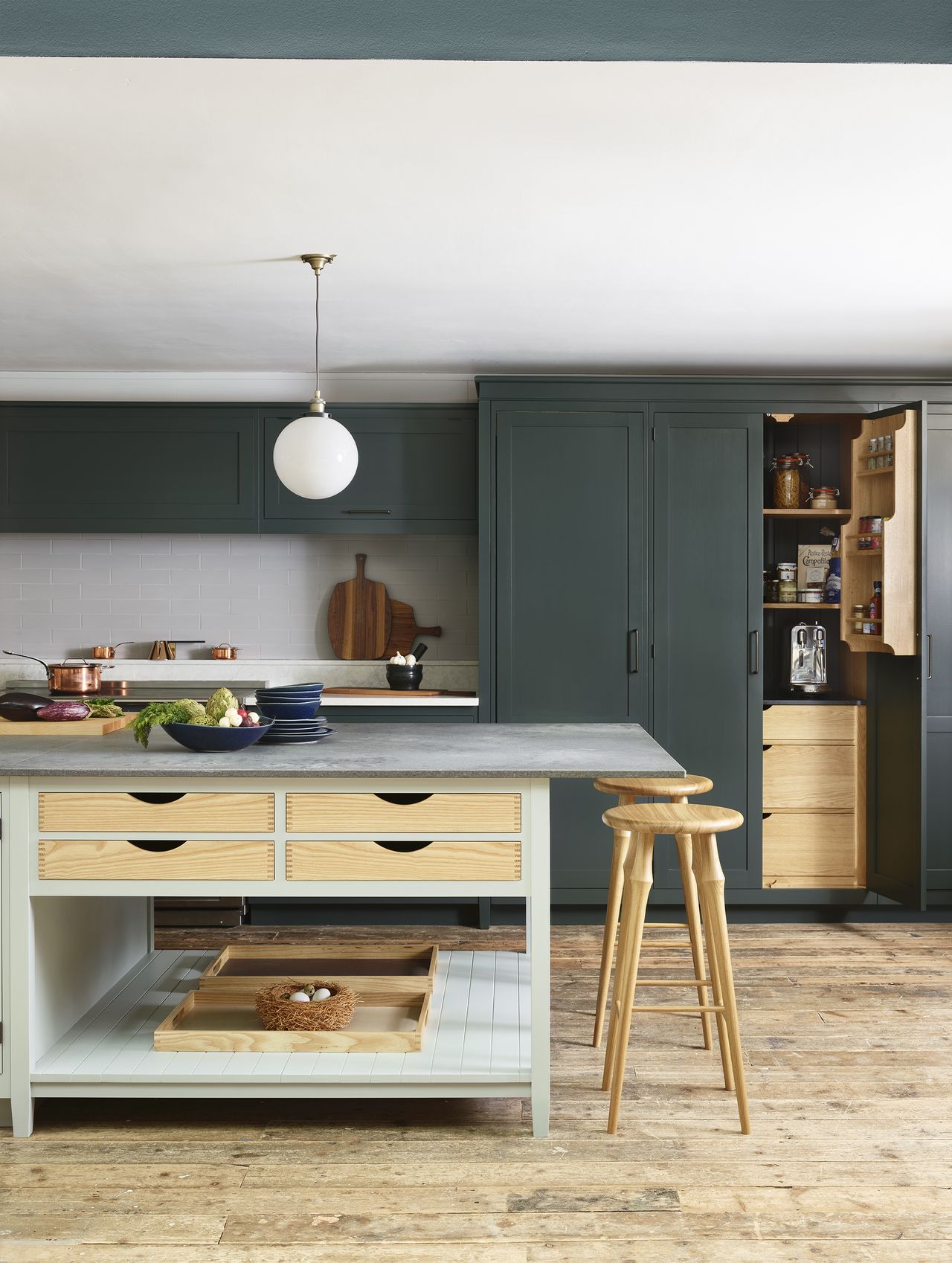 The younger sibling of Smallbone, Brookmans by Smallbone also makes its kitchens in the company's Wiltshire workshop. The bespoke kitchens are created using traditional joinery and state-of-the-art machinery by skilled craftspeople, and the design service draws on the company's 40 years plus of experience. The kitchen collections include the K1, a contemporary take on Georgian painted furniture, with both fitted and freestanding elements. A wide choice of colors – handpainted on to the cabinets – hardware, and details make each design personal. The K2 collection, meanwhile, is influenced by international design of the 1960s and 1970s. All the wood used in the kitchens is from sustainable and renewable sources.
The showroom is located at Heal's, London.
Charles Yorke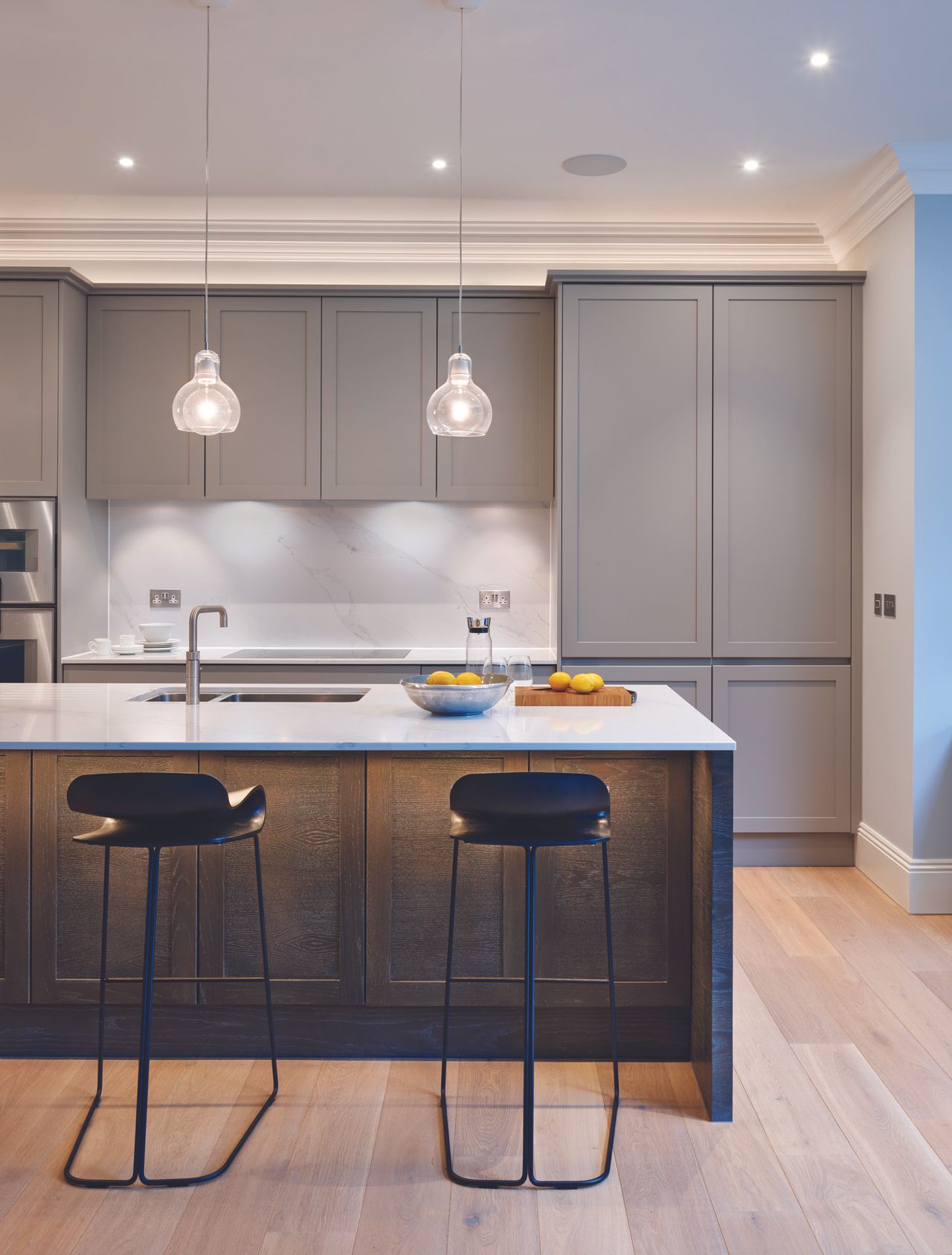 The bespoke kitchens from Nottinghamshire-based Charles Yorke are grouped into three collections: the clean-lined contemporary designs, Shaker style that can be adapted to create a more modern or traditional look, and classic, which draw on Edwardian or Victorian furniture styles, among others. All are designed to individual requirements. The furniture is made in the company's workshop combining traditional cabinetmaking techniques with the latest technology. Materials come from sustainable sources while the wood waste fuels a biomass boiler; paints and lacquers, meanwhile, are water based.
The design team works with retail partners around the world, and you can find your nearest via the company website.
John Lewis of Hungerford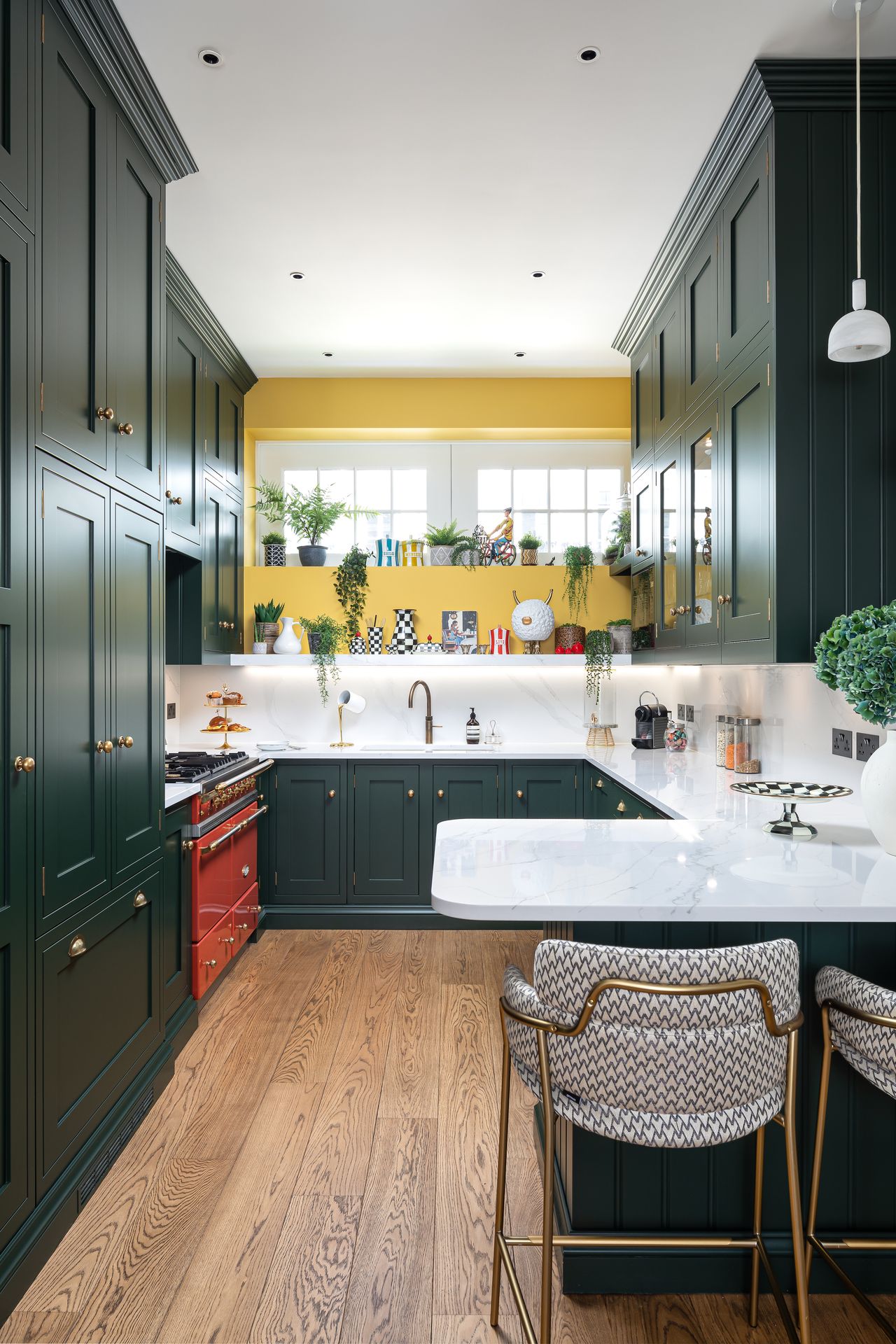 Founded in 1972 in – of course – Hungerford, John Lewis of Hungerford has been making its bespoke handpainted kitchens along with freestanding kitchen furniture ever since. Still a British manufacturer, the company offers contemporary, classic, and traditional options and the designs are made using both traditional and modern techniques in its Oxfordshire factory. The cabinets are available in a huge palette of colors over 80 in number. Designers work with each client to deliver a personalized kitchen, and its installers can complete all aspects of installation if required, including gas and electrical services. 
Kitchens can be viewed at one of the 13 showrooms, which are to be found in London, and the south, west, and east of England.
Davonport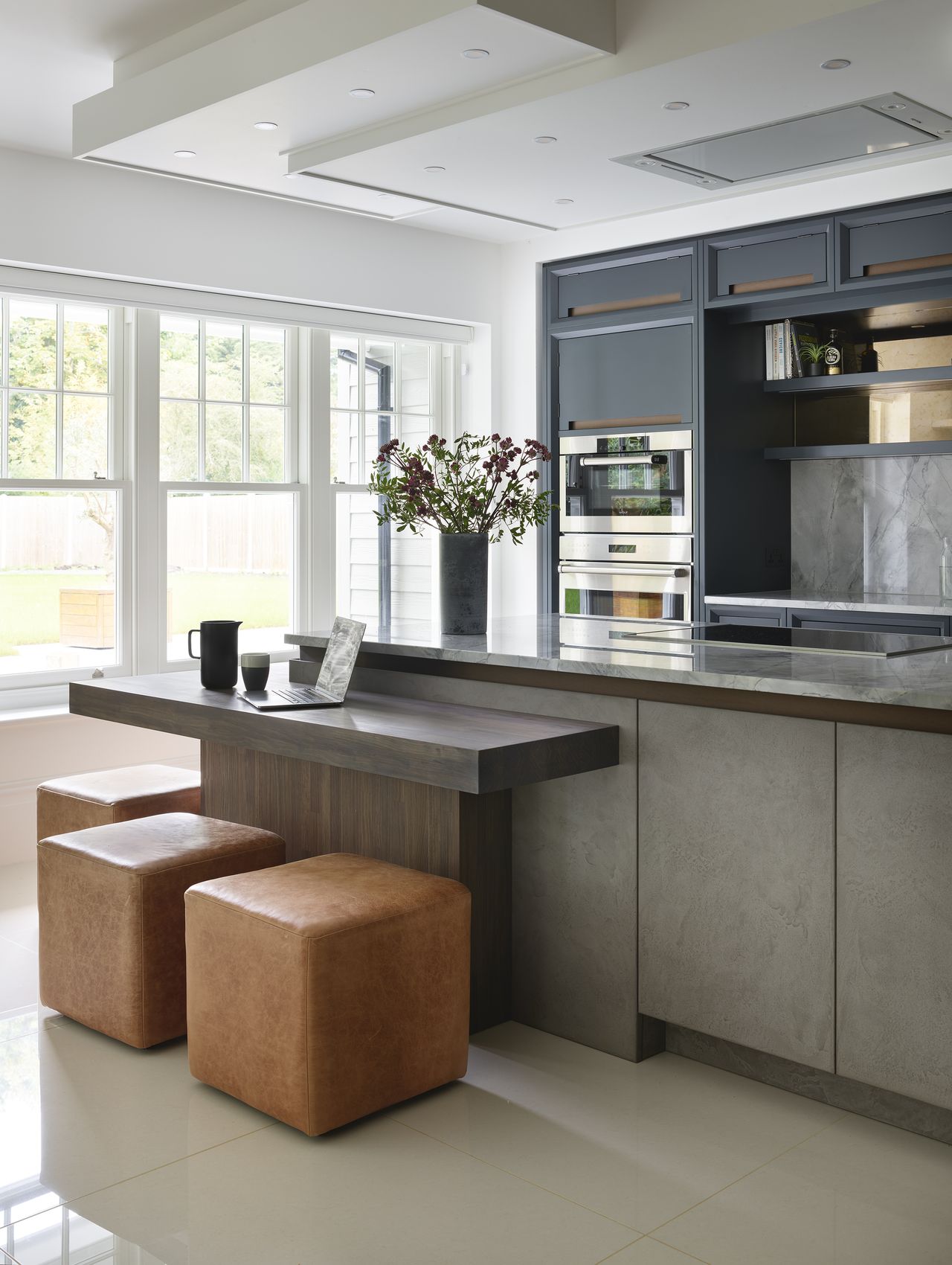 Founded by Richard Davonport in 1996, all the furniture from Davonport is handmade to order in the company's workshops on the Essex and Suffolk border. Every piece is entirely bespoke to create a unique kitchen design, and traditional methods are used, such as mortise and tenon joints for cabinets and doors, and dovetail joints on the corners of every drawer box. To inspire an individual design, the kitchens are divided into classic and modern styles, while features from cabinetry shape to oven cavity height are designed to suit the client. All the timber used in the kitchens is certified by the Forest Stewardship Council (FSC).
Visit the Colchester showroom or use the locator on the company website to find an alternative in the south and south east of England. 
Eggersmann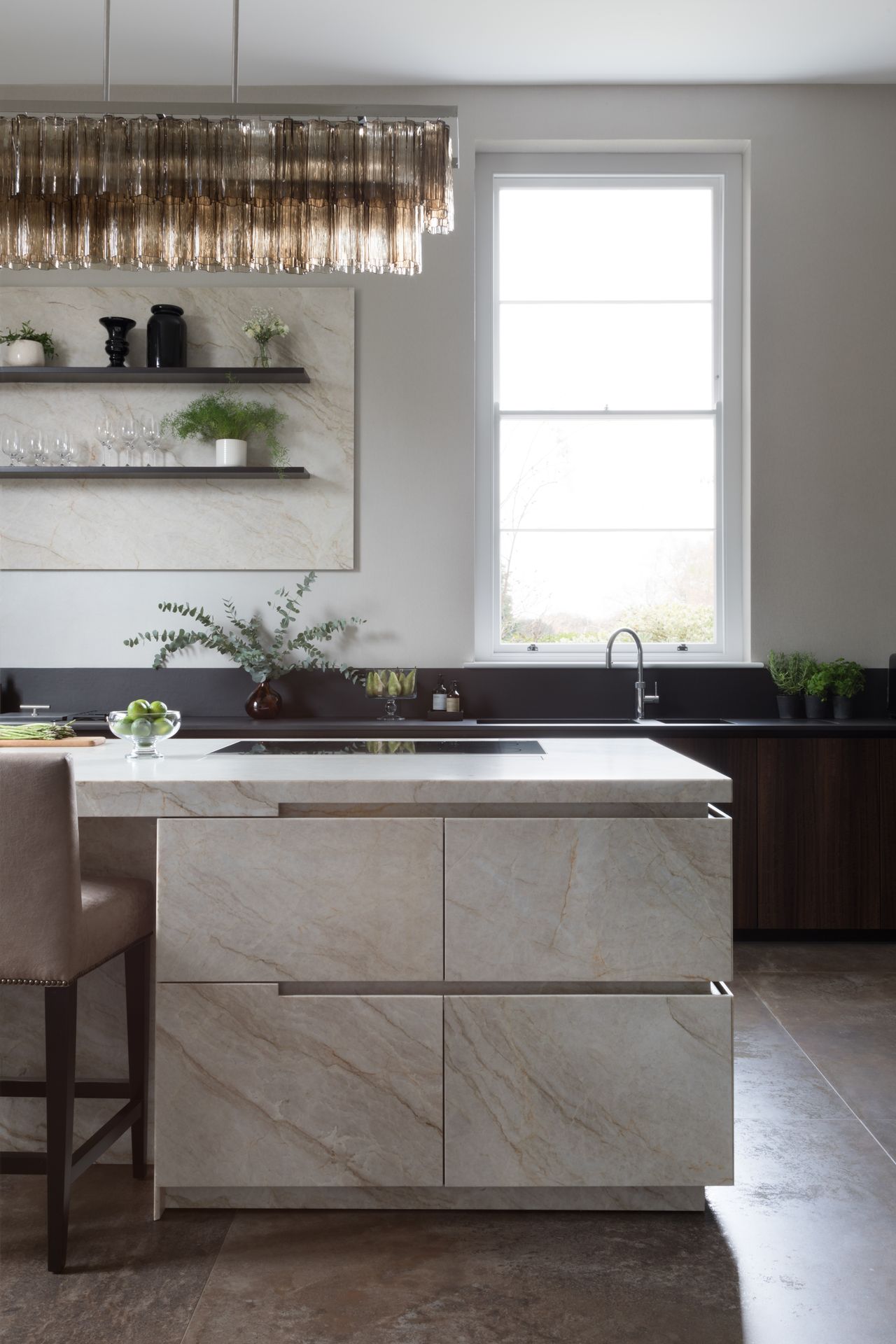 The kitchens from German-based Eggersmann are sleek and modern in style. But while they're minimalist, they're also luxurious with the option of its Unique stone cabinet fronts and exotic veneers. The company, which has been in the same family since its beginnings in 1908, uses advanced manufacturing technologies as well as fostering traditional craft, and each kitchen design is made to order in its facility in the East Westphalia region of Germany. The three kitchen systems – called Unique, E3.0 and Work's – offer different designs, shapes, and materials which can be combined in a flexible way to make each client's kitchen individual.
The kitchens are available through distributors in London, the south east, and Manchester, as well as in the USA, and locations can be found on the company's site.
Lewis Alderson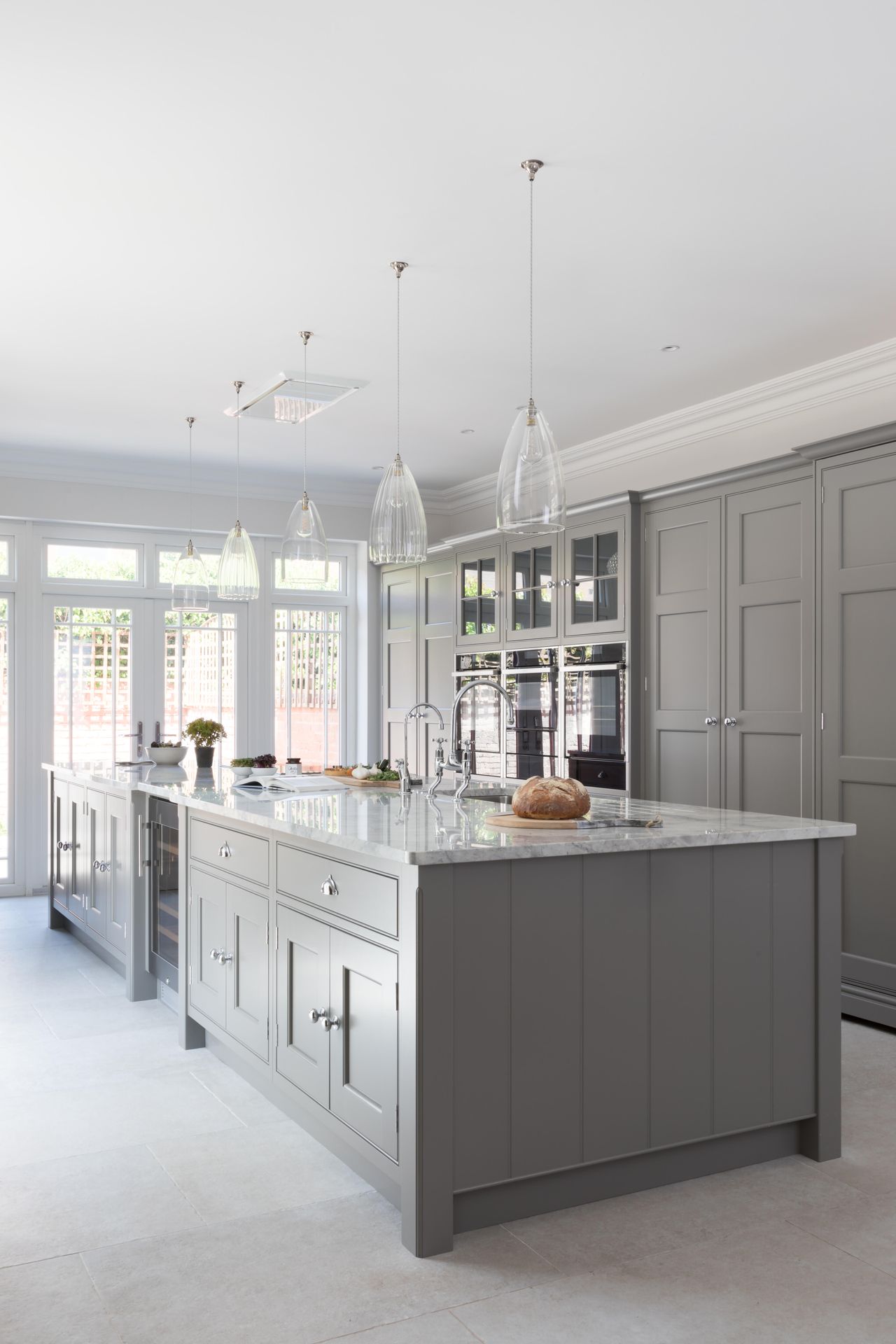 The kitchens from Lewis Alderson are completely bespoke. Rather than offering ranges, each design is individual to suit the architecture of the home, and each client's lifestyle with many wanting a room that's a durable environment for cooking as well as a luxurious entertaining space. As for the cabinet style, it is classic British and notable for luxurious finishes for counters, handles, and lighting, and oversized islands. The company's kitchens often include ancillary rooms such as laundries, pantries, and boot rooms, and all the designs seek to maximize hidden storage. The furniture is handmade in Yorkshire, and it is handpainted on site.
Find the showroom in Hartley Wintney, Hampshire.
Pluck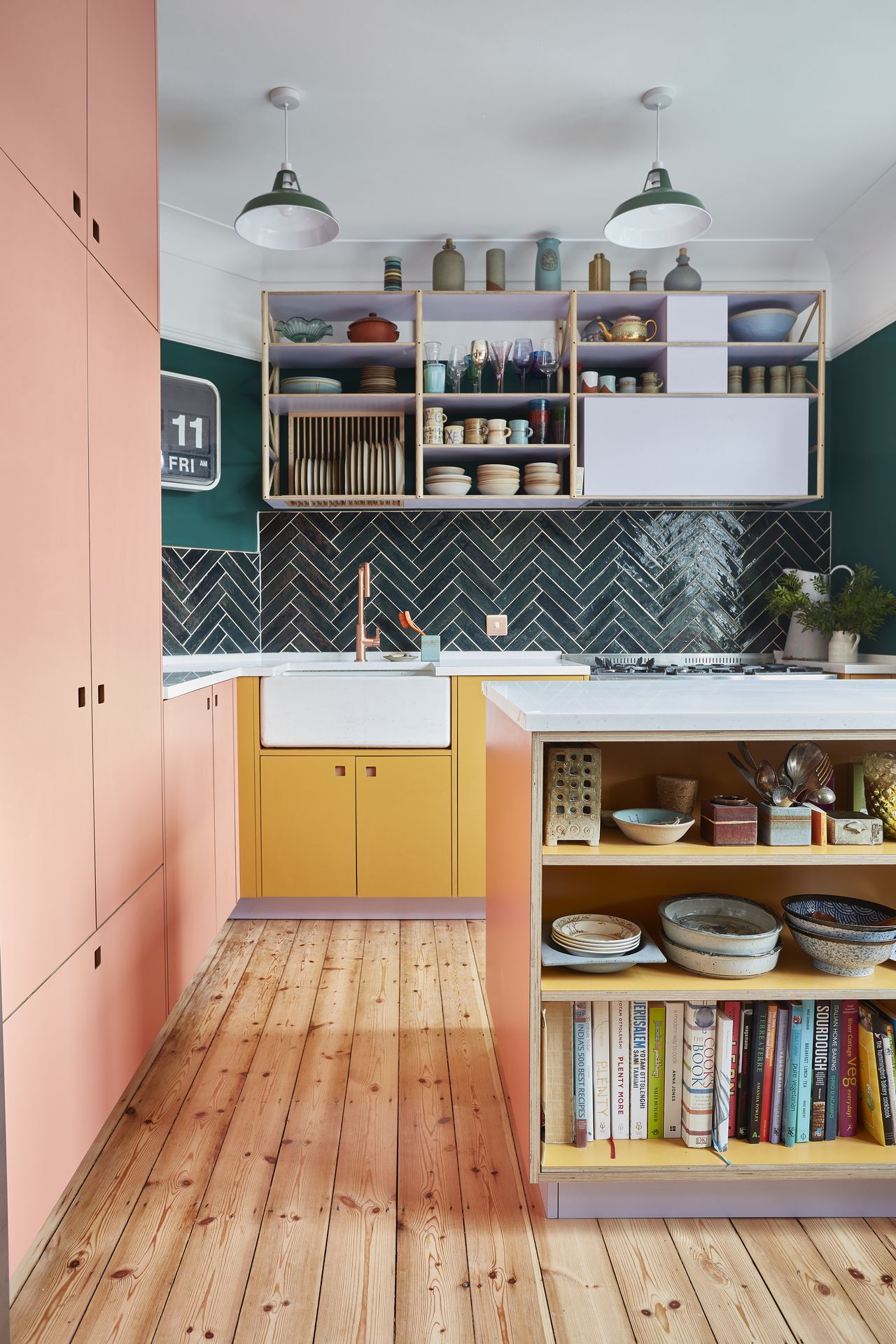 The kitchens from Pluck have a clean, modern aesthetic, and the pared-back style is designed to complement homes from all periods as well as contemporary builds. The kitchen furniture is designed to last and to be repairable, using the core material of birch plywood from an FSC-accredited supplier. There's a choice of shades for the cabinets including bold, softer and neutral hues; these are high pressure laminate to create a lasting finish. There's also a selection of wood veneers plus cork. Tailored to fit architectural features and use the space in the room efficiently, the cabinets all have recessed handles to create clean lines, and are available in a choice of shapes and finishes. Founded in 2007, the company designs and makes its cabinets in London.
Visit the studio and workshop at its Brixton, London HQ.