Family room furniture ideas: 12 ideas to help you furnish your family room in style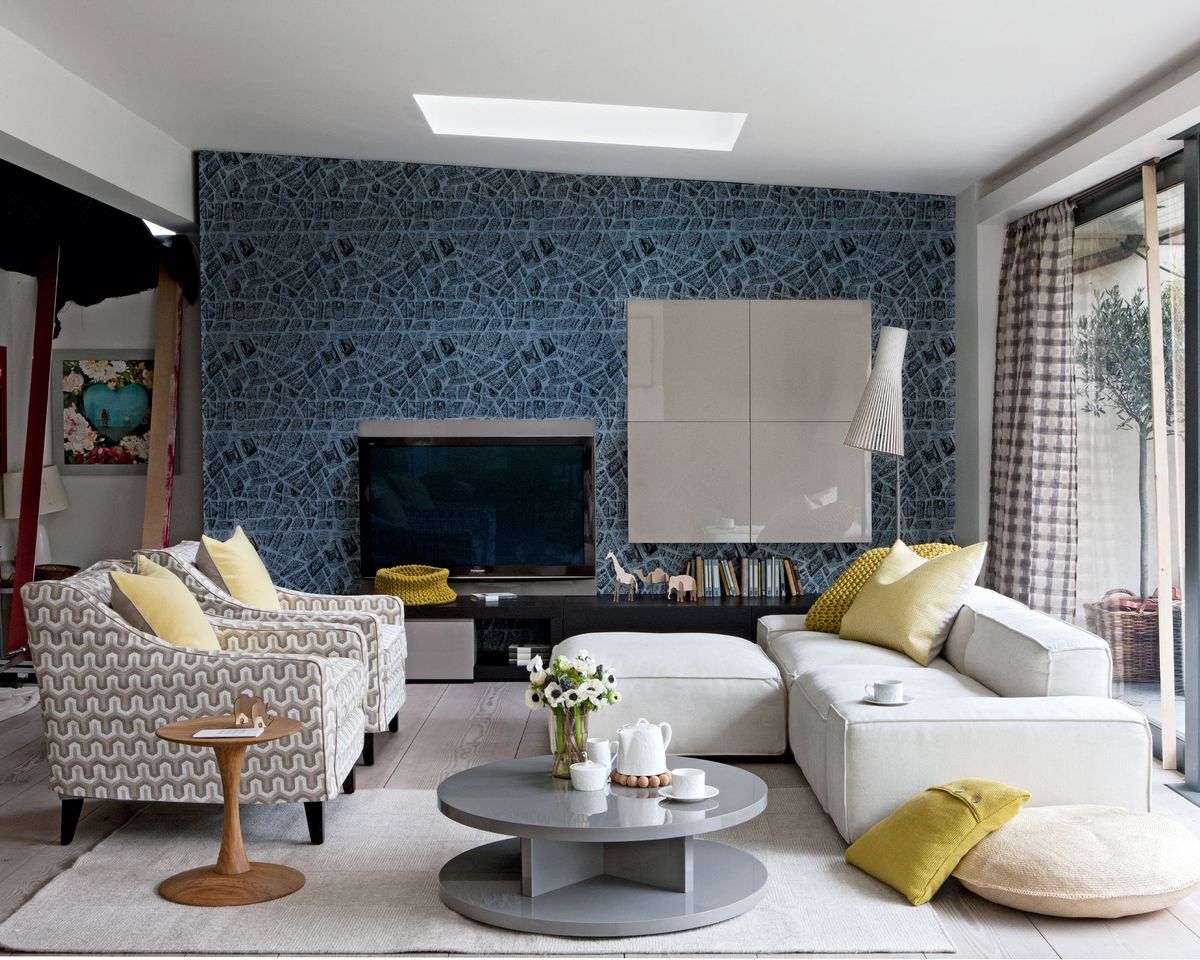 Family room furniture ideas can help you make the most out of an all-purpose, busy space in the family home, ensuring you pick furniture pieces that reflect your style whilst still remaining functional.
The family room is an informal area in the home that you can relax, play and entertain in with family and friends. For some, it can be a separate space to a living or reception room, however for others, it can be the main place in the home to sit back and relax in comfort.
Once you have picked your family room decor ideas, planning your furniture – and related family room layout – to bring your space to life takes careful consideration and thought in order to make the most out of this multifunctional space.
Family room furniture ideas
Similar to living room furniture ideas, the main features to consider when planning your family room furniture ideas are: seating, storage and display.
From practical storage designs to child-friendly upholstery, in order to enjoy and take comfort in this room in the home, finding the right balance between style and practicality will create a long-lasting scheme.
For inspiration, guidance and expert tips on how to bring these important elements to life, explore our top family room furniture ideas below.
1. Have plenty of seating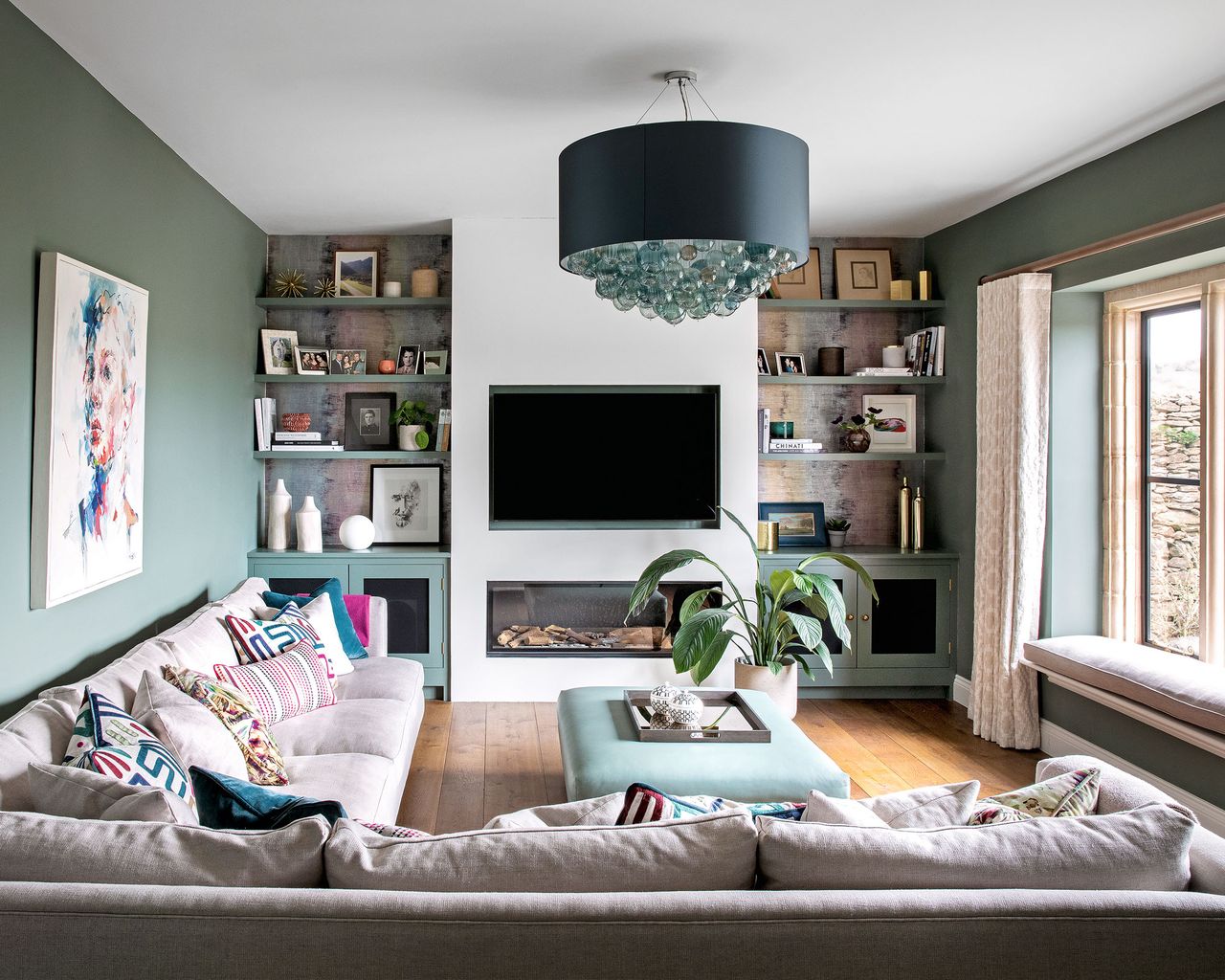 One of the most important elements of family room furniture, making sure you have plenty of seating will create a relaxing space that you can enjoy with all of the family.
This is where sectional living room ideas come into their own. As in the large, L-shaped sofa in the room above, they can create an expansive, central seating area, ideal if you have a big family. Positioned to face the TV and fireplace, the overall effect is both inviting and cozy.
'A great starting point for family room layout ideas, whether you choose a large sofa, or have multiple seating options, from lounge chairs to benches and ottomans, having plenty of seating that caters to the whole family will ensure your family room is used to its full potential,' says Jennifer Ebert, Homes & Gardens' Digital Editor.
2. Create built-in storage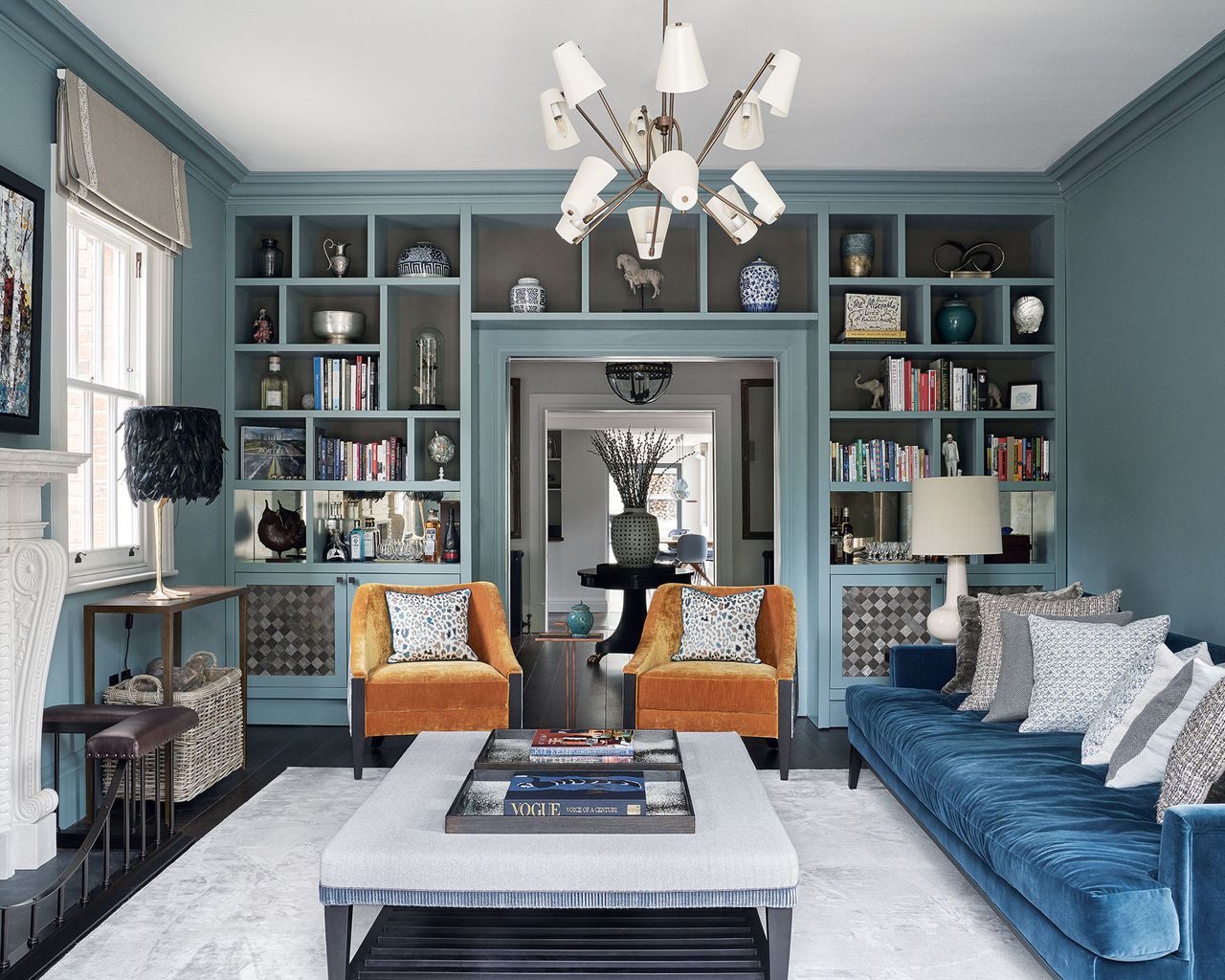 Built-in storage units not only make the most out of every angle and alcove in a room to provide practical storage space, but can also create unique display areas that add personality to your family room space. 
For living room storage ideas that suit family rooms perfectly, floor to ceiling units like in the room above can create great organization in a family room and really maximize on the space available. A platform to display unique, personal belongings and decorative accessories, using your built-in storage to reflect your family identity can make the space your own.
3. Choose multifunctional storage designs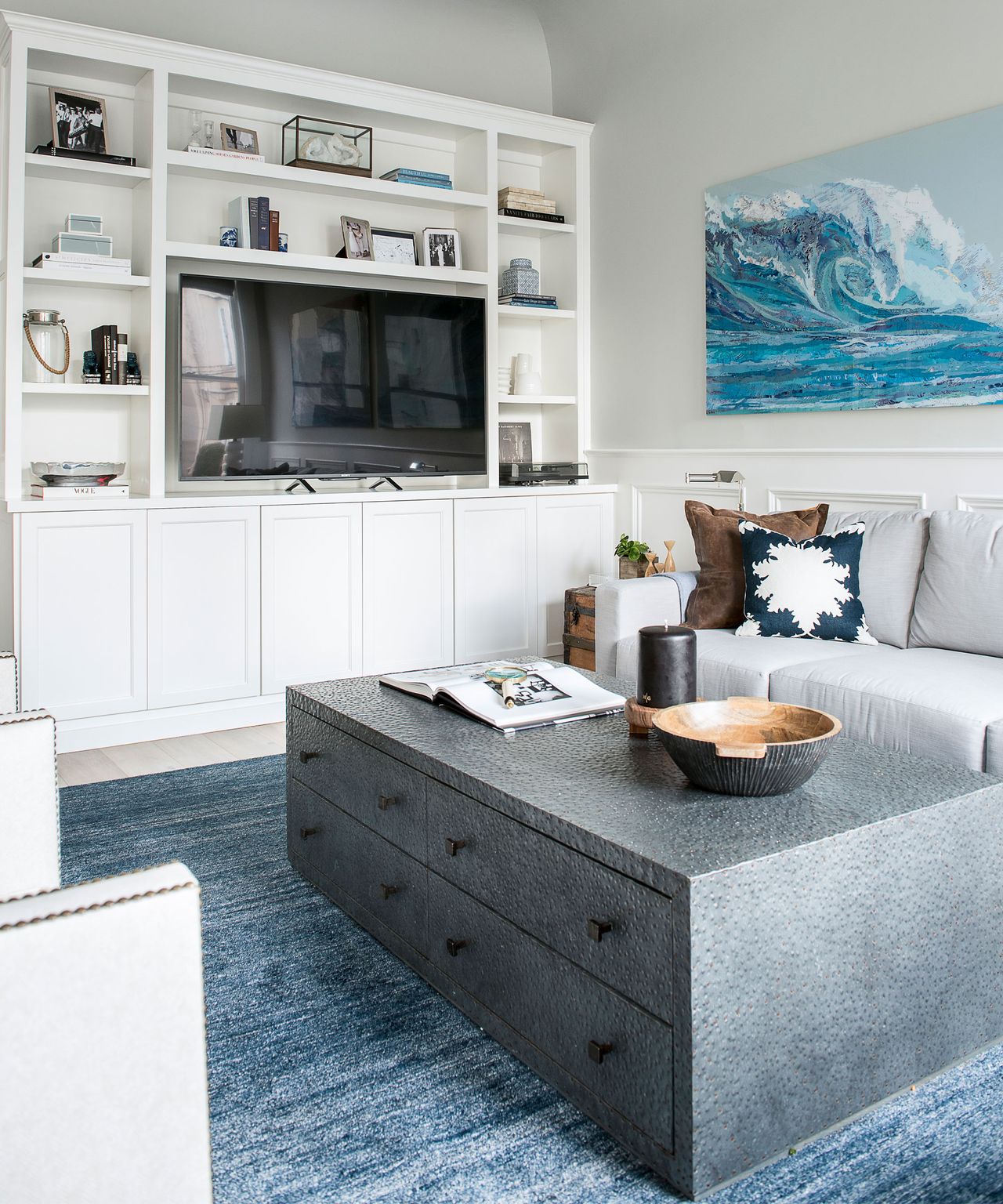 The family room is often a multifunctional space that has a variety of uses, from being a family-friendly space where children can play, to a relaxing seat space where you can host friends and family.
'In order to make the most out of the space and its changing functions, choosing multifunctional furniture pieces will ensure that your room design is practical and not bursting at the seams. Picking flexible designs is also a great tip for family room spaces that are limited in size, as you will get the most out of a smaller space', says Homes & Gardens' Editorial Director Sarah Spiteri.
In the room above by Margaret Ash Design, the sleek coffee table adds texture and contrast to the light and bright family room space. Finished with discreet draws, the table serves as both a practical storage area as well as a beautiful display piece.
4. Use a versatile ottoman or pouf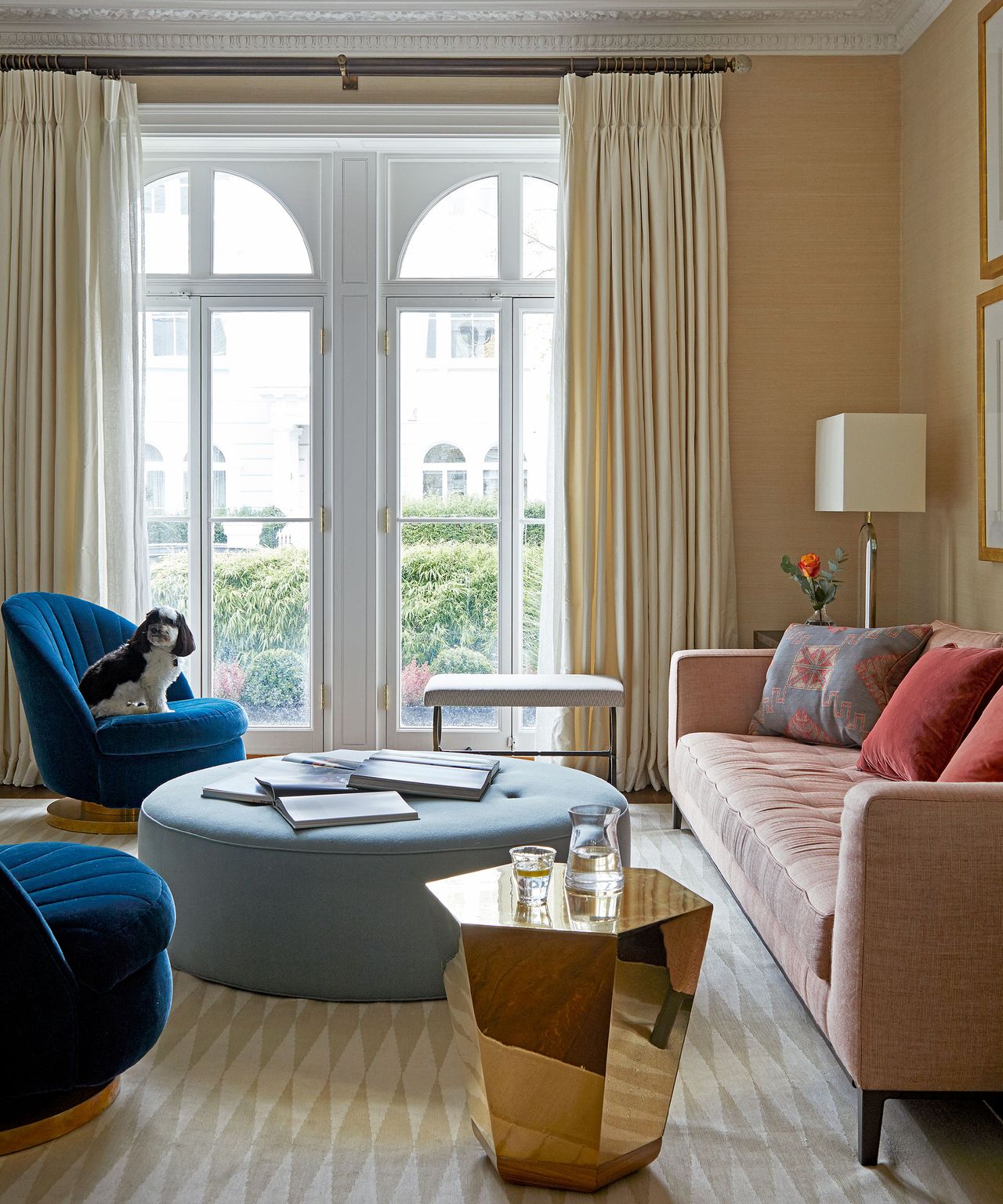 Ideal for pairing with a lounge chair or sofa for elevated comfort, an ottoman or pouf can also be used in a family room for additional seating, as well as providing a practical surface area to rest objects, books and magazines.
A versatile addition to a family room space, you can get ottoman and pouf designs of all shapes, sizes and finishes, great for injecting a splash of color or pattern into your scheme.
5. Elevate your TV area with furniture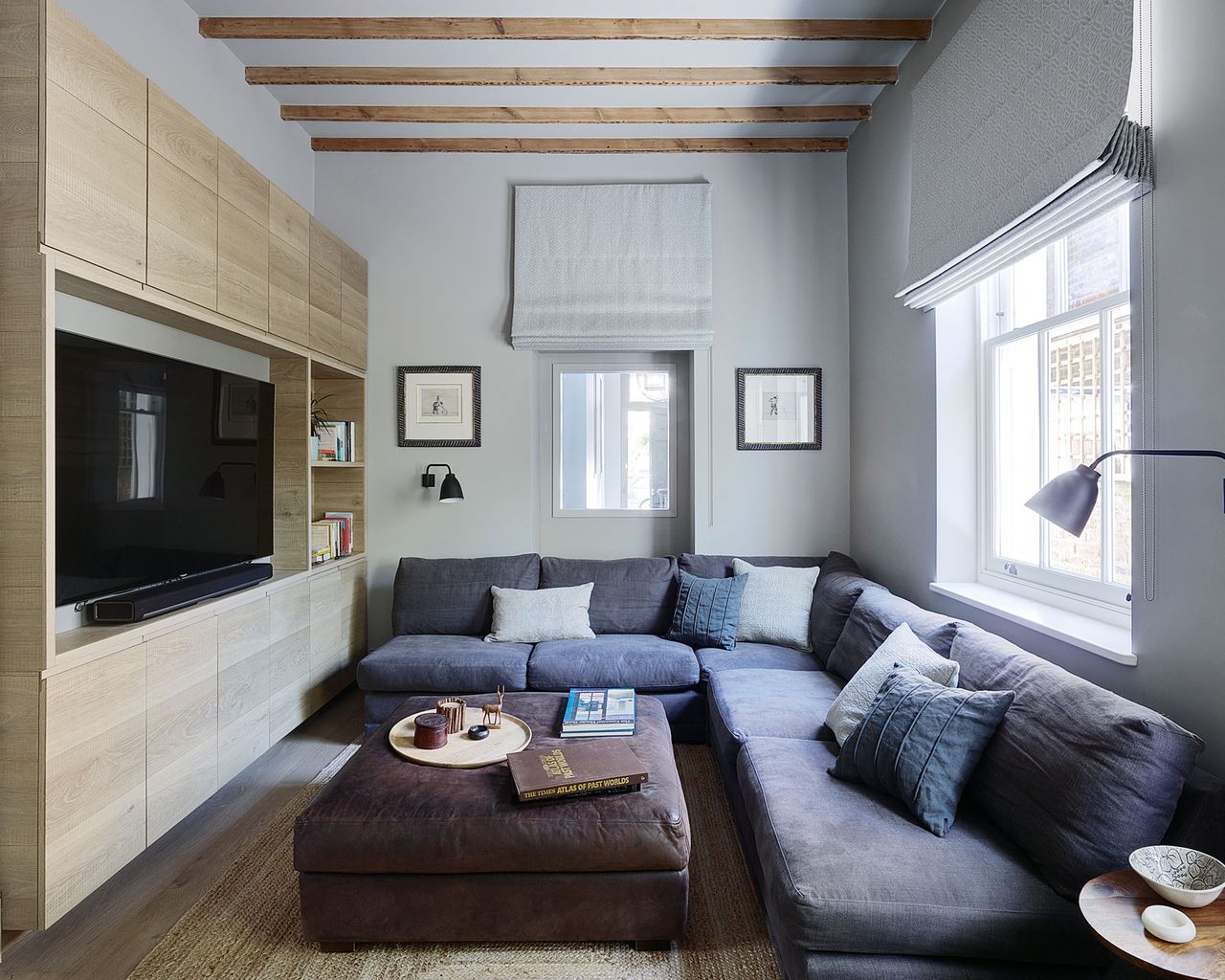 The family room is often the space family members will gather together to relax and watch TV. 
Choosing practical furniture designs that incorporate the TV will ensure that your family room tv ideas are not forgotten and the TV is not awkwardly placed in the room last minute. 
The wooden display and storage design used in the family room above creates a striking media unit that combines traditional, warming materials with modern technologies. When paired with the inviting sofa, the overall design creates a cozy, snug vibe that is perfect for a family room space.
6. Enhance your design with colorful accents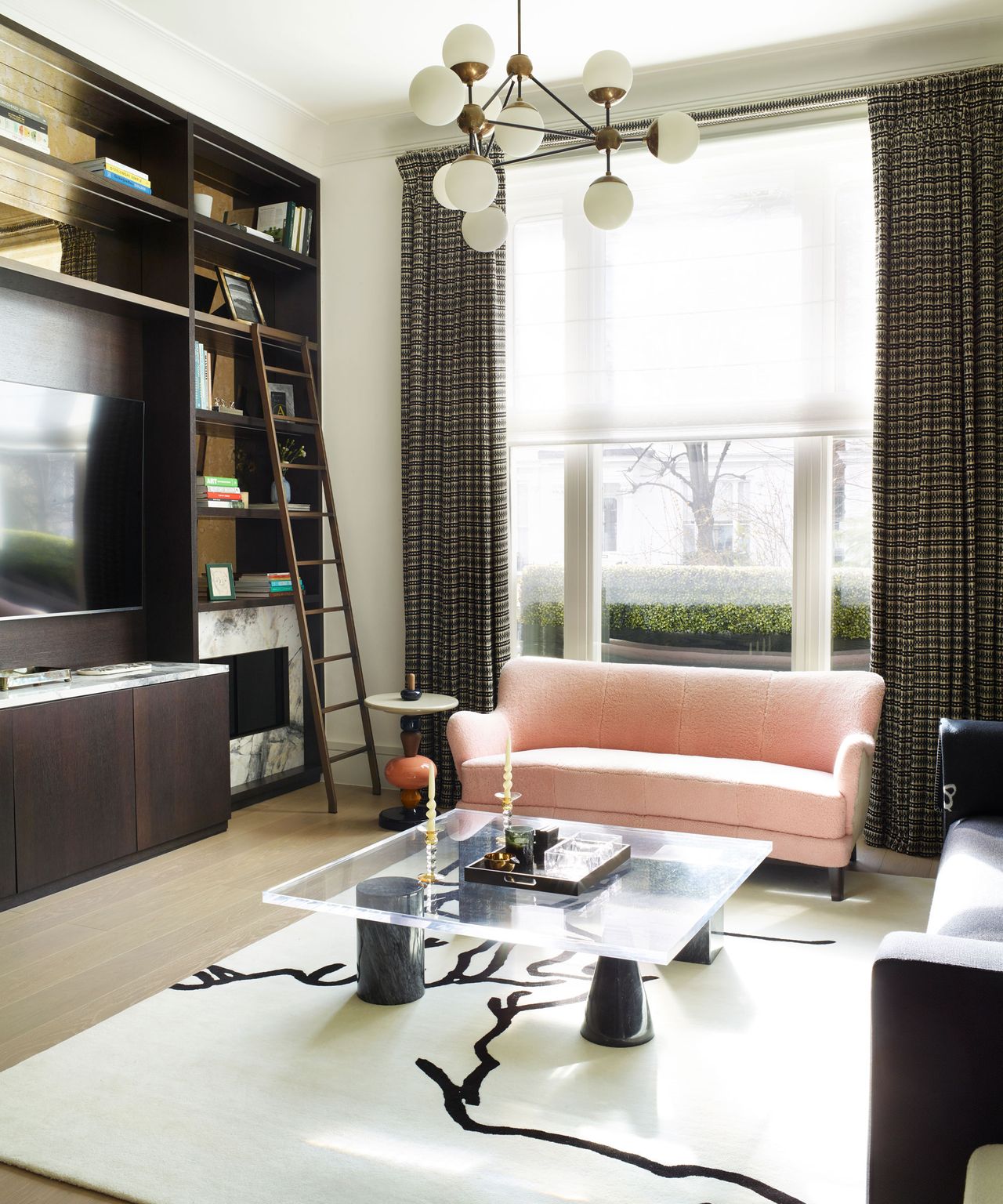 A great way to make a statement and add character to a room, choosing colorful furniture designs can beautifully enhance your family room space.
In this family room, the pale pink sofa creates an elegant contrast with the cream and brown palette used throughout, perfect for accent chair ideas, as your attention is focused on this seat space. 
Using accents in this way is a great way to zone a room, highlighting key features and central areas in a colorful, stylish way.
7. Choose child friendly furnishings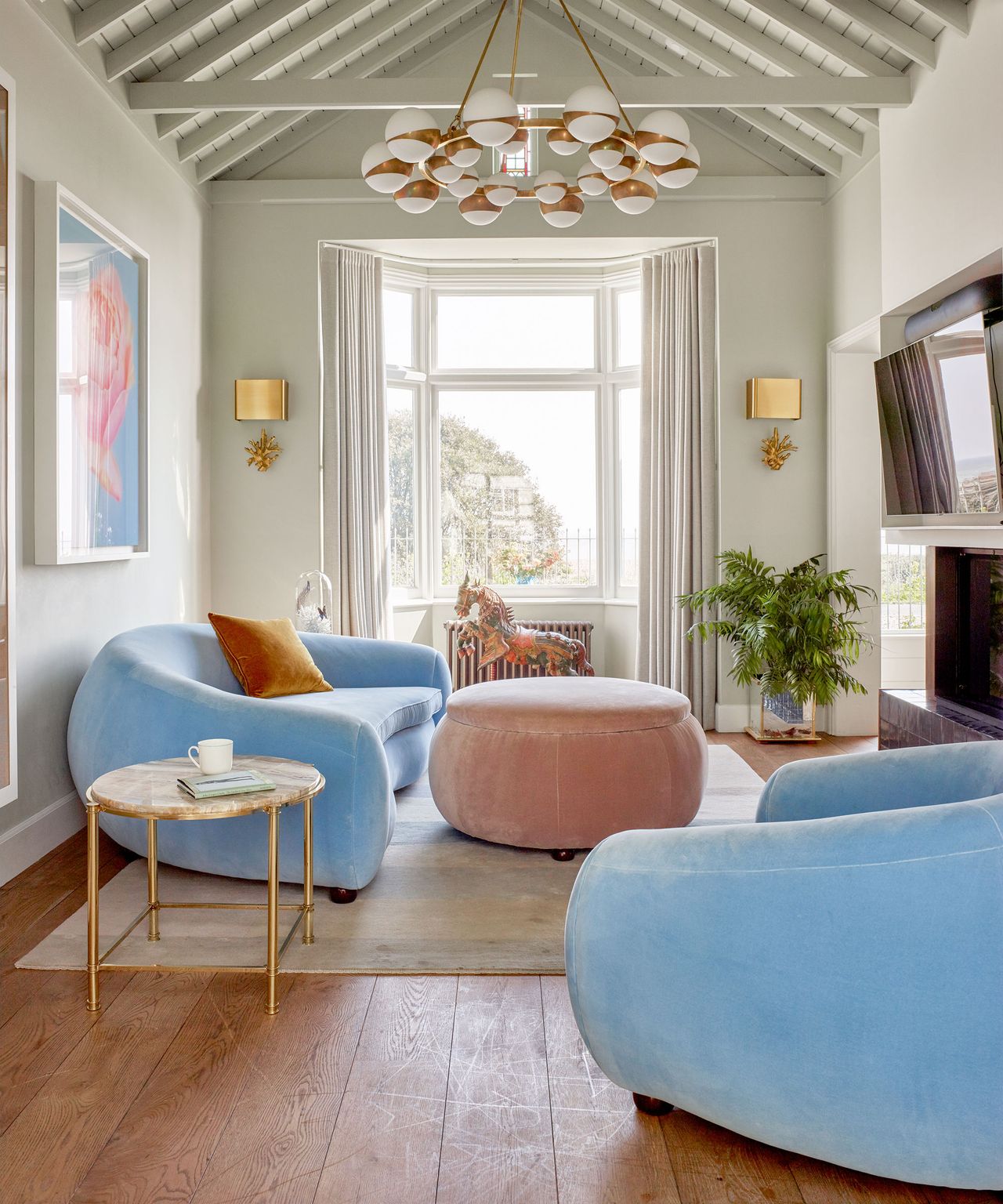 An important factor to remember when planning your family room design, choosing child friendly furnishings will ensure that your space is stylish, practical and safe for children.
'Child friendly does not mean that style and character need to be compromised, there are a range of furniture designs out there for your family room that can be both functional and beautiful – sometimes all it takes is to think outside the box,' says Homes & Gardens' Editor in Chief Lucy Searle.
In this living room, the scheme is defined by soft curves and inviting upholstery. The rounded profiles of the stand out sofa, armchair and ottoman designs are perfect for a child friendly space, creating a tactile, welcoming atmosphere.
Added practical details such as the TV mounted high on the wall above the fireplace also ensures that both the TV and its cables and accessories are out of reach from small hands – one tip to remember for family room ideas with a fireplace.
8. Make it personal with painted furniture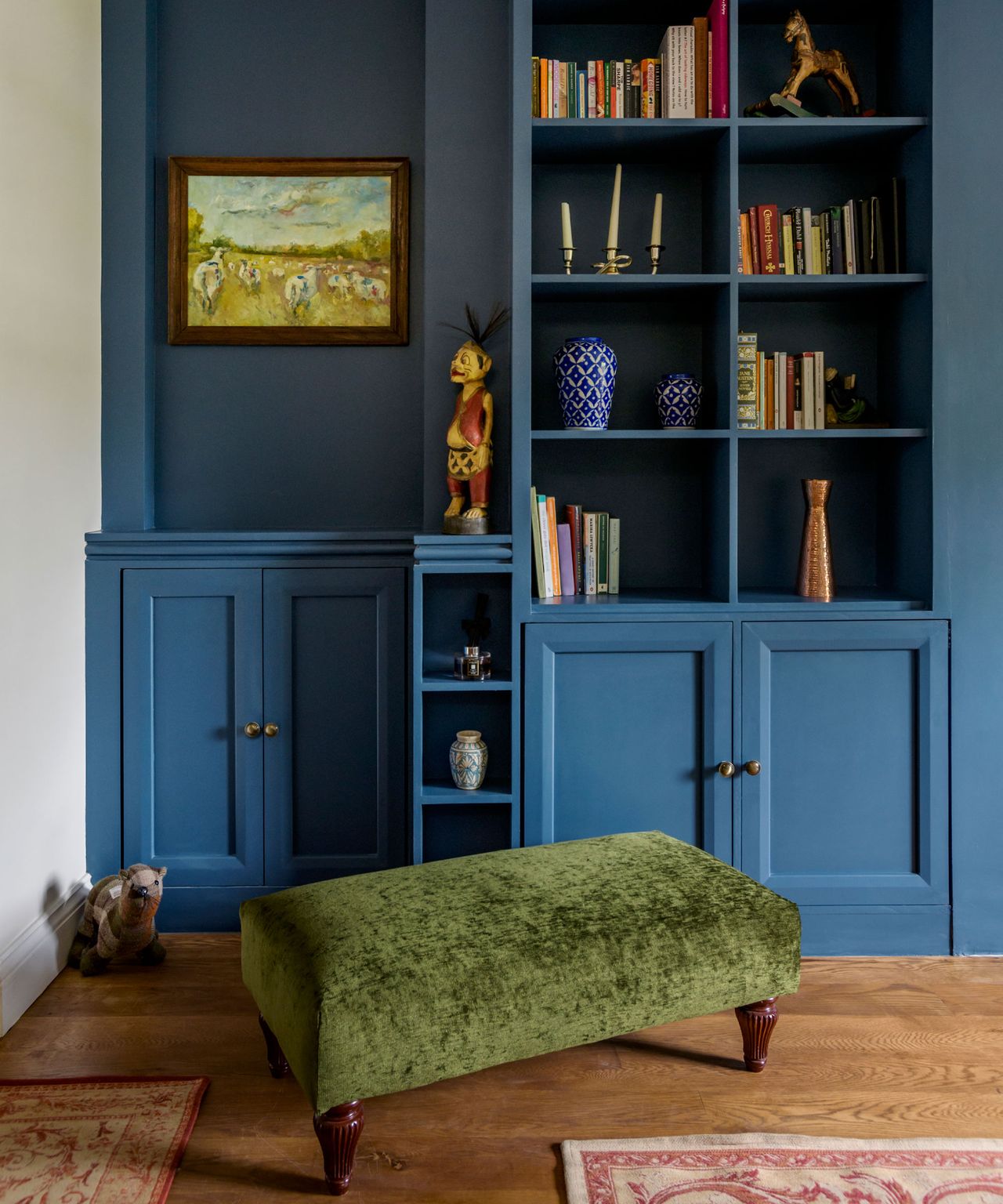 To create a real impact in a family room, using family room paint ideas to elevate pieces of furniture will add a dynamic element of color as well as reflect your personal style in a space.
From painted storage cabinets, to side tables, using paint is a simple way to refresh old furniture pieces and elevate existing features in your family room. 
In this space, the floor-ceiling built-in shelving and cabinets have been painted to match the wall color color and create a striking storage and display area. The blue shade used is effortlessly timeless and is a great way to liven up a family room in a sophisticated way.
9. Have lots of shelving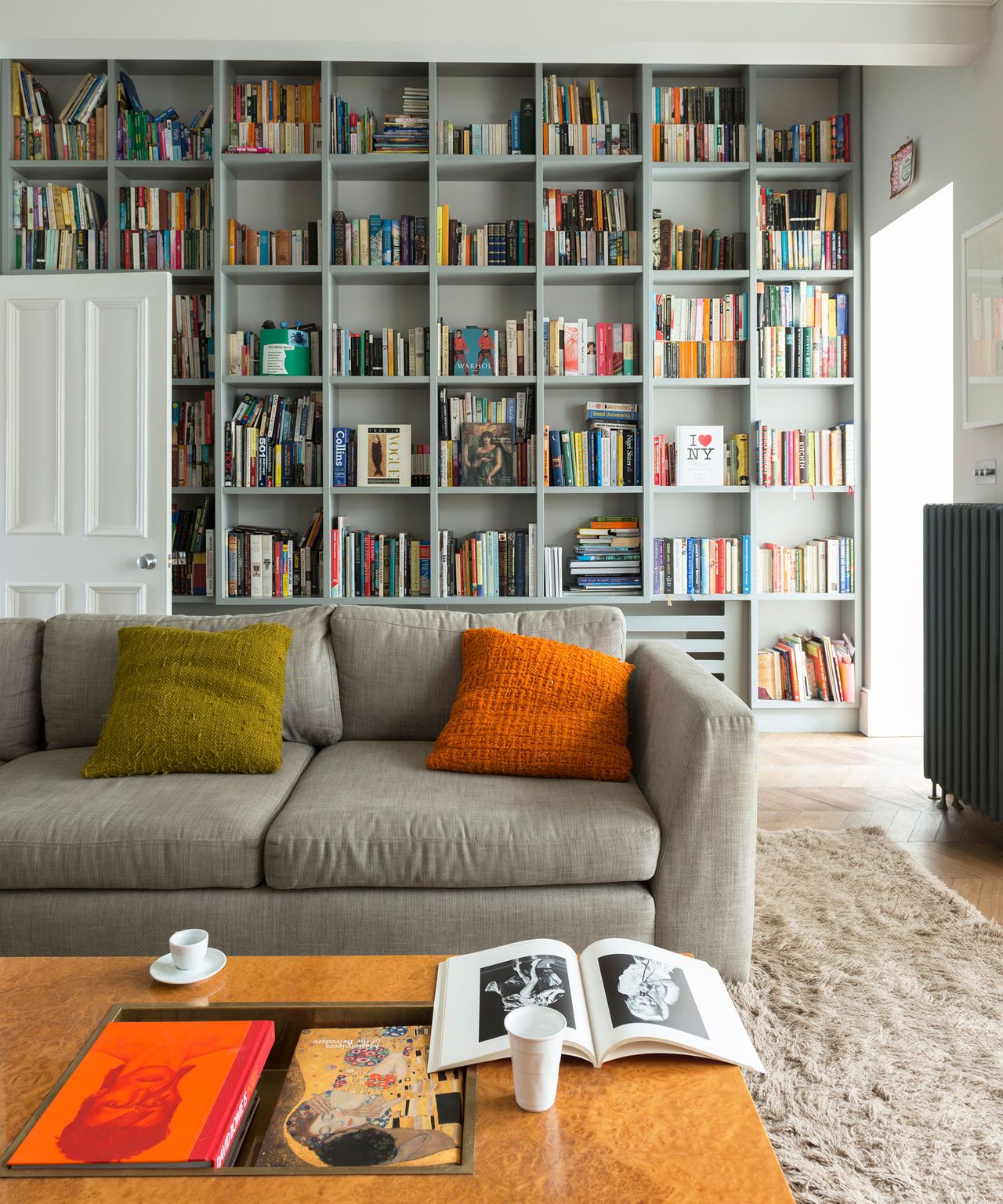 Ideal for creating storage and display areas, shelving units are a must for any family room.
In this room, the alcove, floating box storage shelves create a unique, decorative display space as well as a storage area. 
Whether filled with books, or used to create a more minimalist look like in the family room above, having plenty of shelving dotted around your family room space provides both decorative and practical design options.
10. Make the space cozy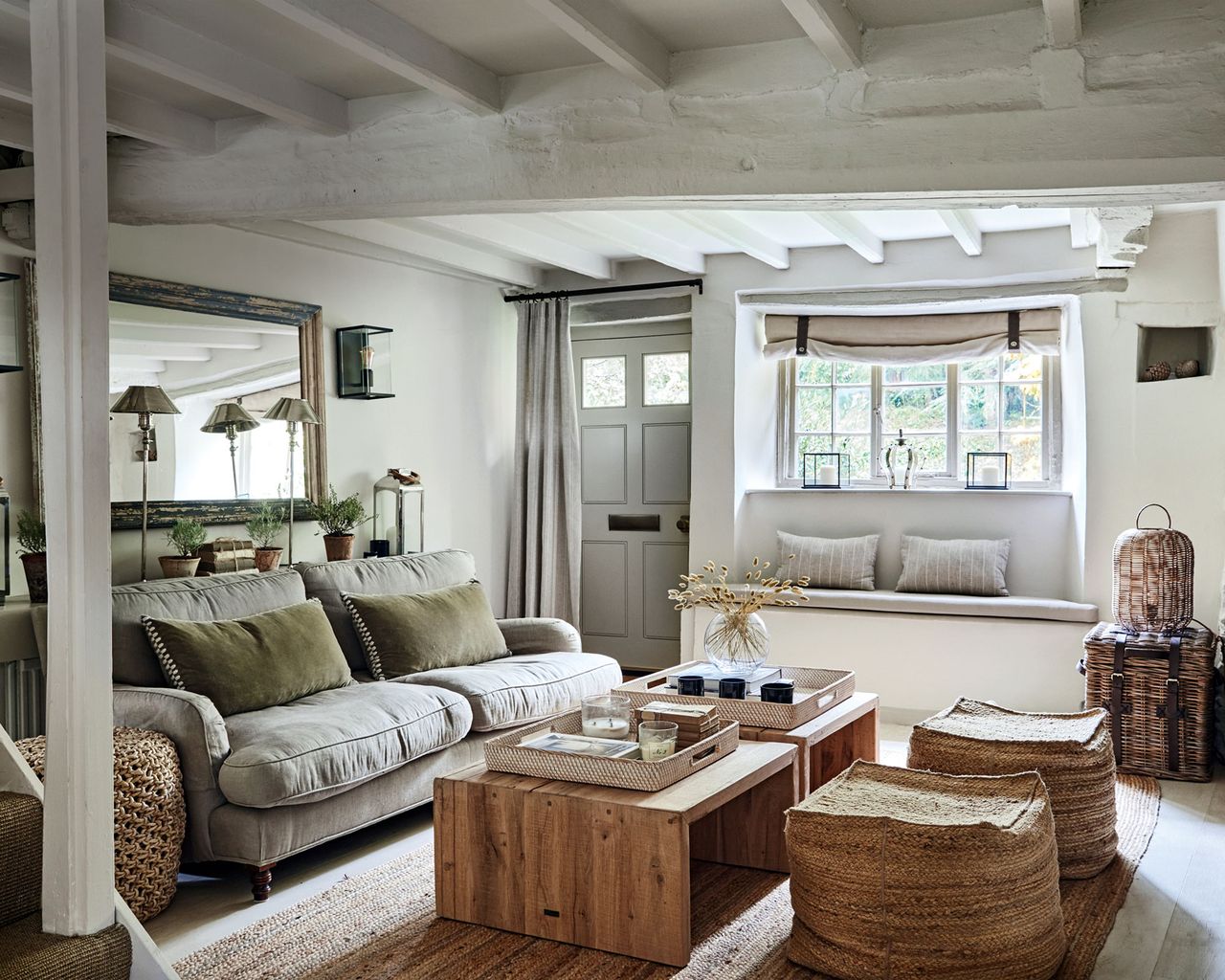 A simple tip but one that should be at the heart of any family room, picking furniture pieces that enhance feelings of comfort and coziness will create an inviting and calming space. 
The family room above is defined by a relaxed, neutral palette, rich with contrasting textures and materials. With three distinct zones for seating, a sofa space, bench seating and low bean-bag style chairs, there a multiple settings to feel cozy and relaxed. The use of natural materials, such as the wooden coffee tables and woven baskets also enhance this feeling of warmth and relaxation in the space.
Layering contrasting textures and soft materials through your family room furniture choices is guaranteed to create a cozy space.
11. Choose durable designs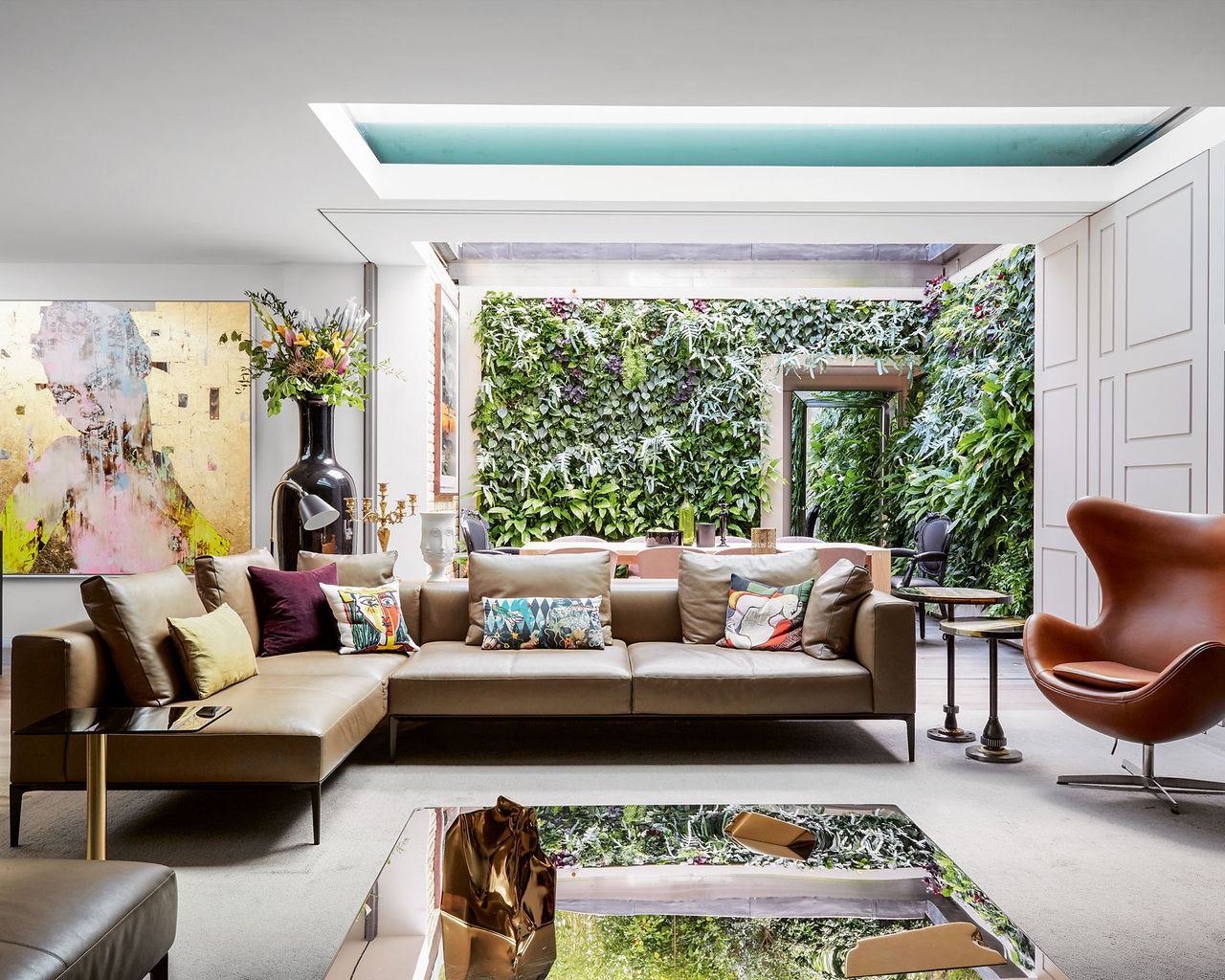 The family room is a high-traffic space that serves multiple functions for the whole family, from movie nights to playing board games, to simply sitting and relaxing.
Ensuring that you choose long-lasting, durable designs will make this all-encompassing space stand the test of time in your home. 
Choosing durable options such as leather upholstery for your seating provides a child-proof and hardwearing design that still remains luxurious. 
Other durable options include wooden and metal furniture, guaranteed to be both timeless in style and hard-wearing.
12. Use furniture to create an engaging seat space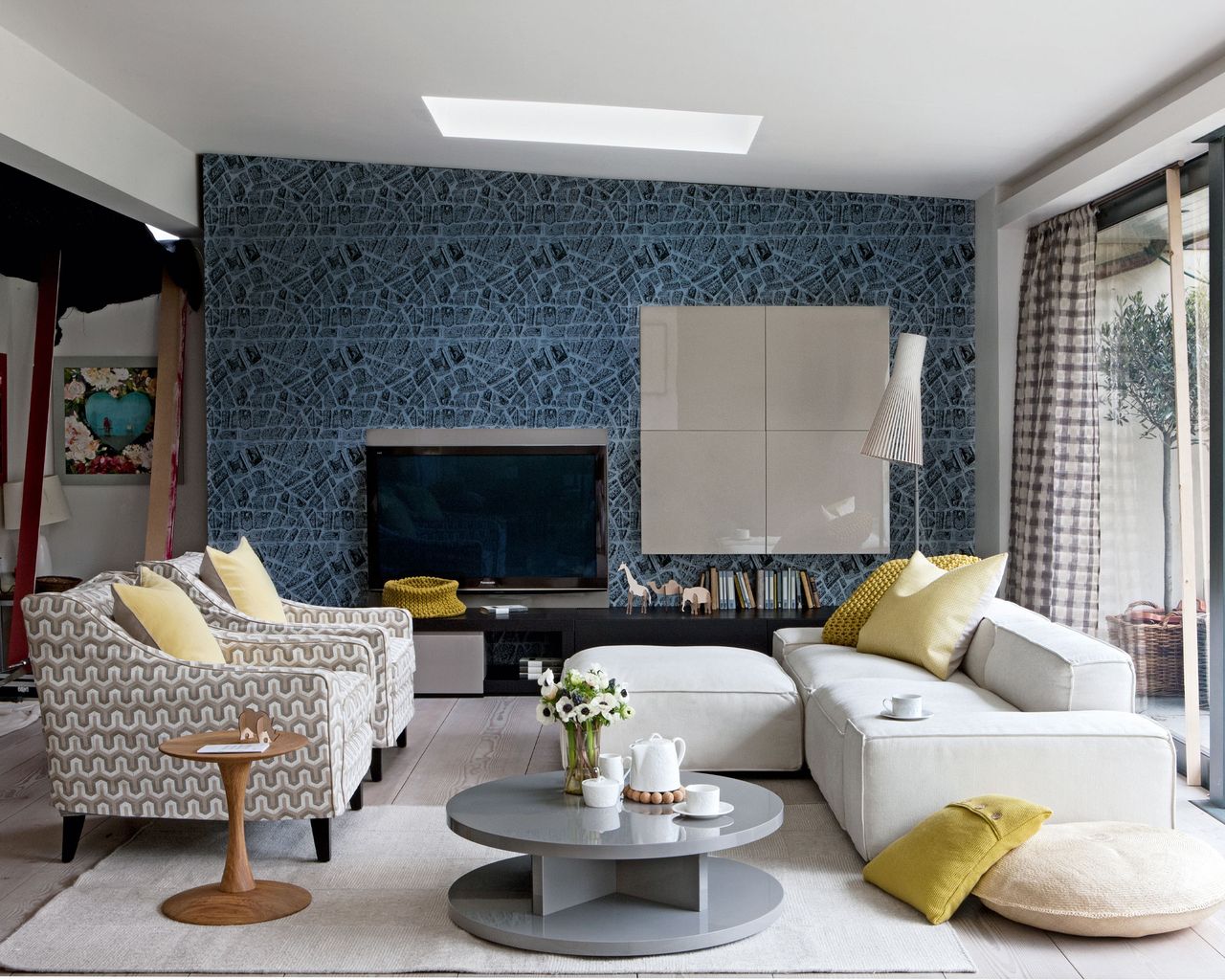 An easy way to create an engaging seat space, creating a seating area where pieces of furniture face one another effortlessly promotes conversation and interaction. 
Ideal for both spending time with family and entertaining with friends, heightening an atmosphere of socialization through furniture choices can transform the purpose and function of a family room space.
In this family room, the seating elements still create a cozy atmosphere where you can relax and watch TV, however by not directly facing the media unit, they create an enhanced element of togetherness and intimacy.
What furniture do you need in a family room?
As pointed out at the beginning of this article, the three principles to turn to when planning your family room furniture ideas are seating, storage and display.
Seating – create a central seat space in the room, pick a sofa or combine multiple seating options if your space is large or open-plan. 
Storage – using shelves, cabinets and multifunctional storage designs will ensure the space does not become overcrowded with objects belonging to the whole family.
Display – making sure you have furniture pieces in your family room that can be used to display and personal objects and decorative accessories will ultimately make the space more personal to you and your family.
By considering these three elements, you can create a well-thought out design that is rich with character as well as practicality.
What is a family room?
A family room is an informal, multi-functional space in the home where the main intended purpose is to relax and spend time with family and friends.
These spaces are often defined by TV and entertainment centers, as well as having lots of seating and spaces to read, unwind and play games. 
A family room is often separate to a living room space, however in some homes, there is just one living space that has elements of both.
Family rooms are often planned out to be more child-friendly and relaxed than living rooms, however, it is ultimately down to your to define the separation between the two spaces in your home.