First look inside Centurion New York by Yabu Pushelberg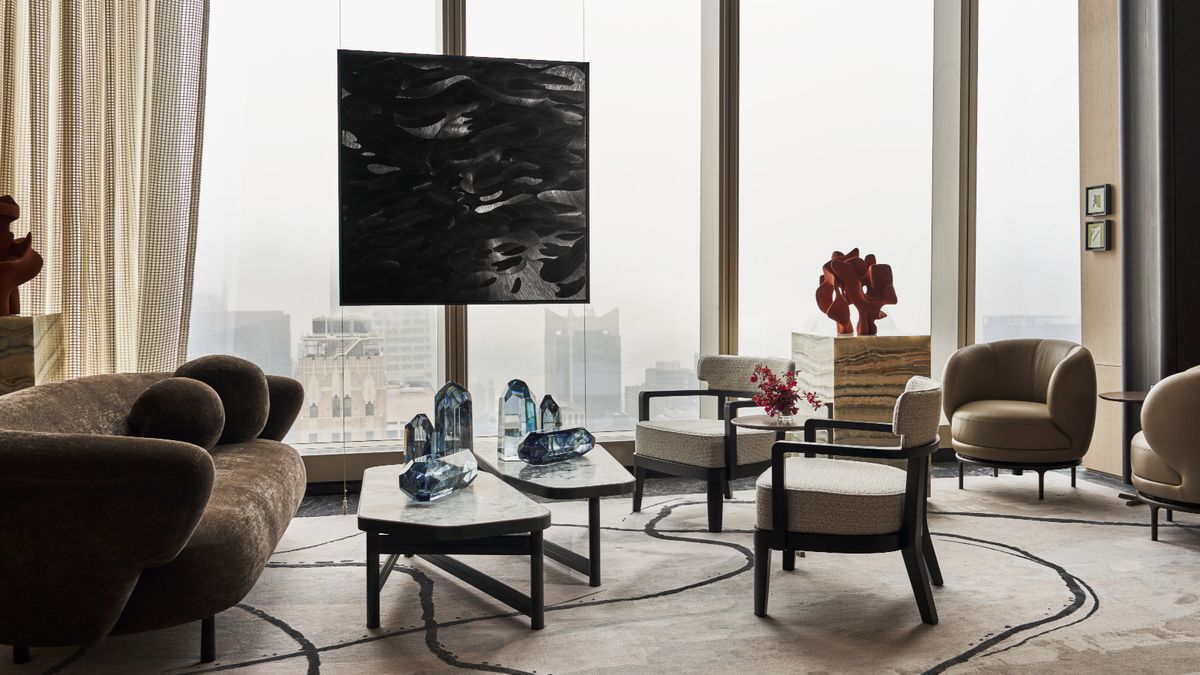 American Express has an exclusive new destination in New York City, and your ears will pop reaching it. The first occupants of the 55th floor of One Vanderbilt, a staggering 93-storey skyscraper on the corner of 42nd Street and Vanderbilt Avenue, Centurion New York provides a home away from home, a discreet place to work, and the very best to eat and drink designed for holders of the American Express Centurion Card (colloquially known as the Amex black card). 
Yabu Pushelberg on designing Centurion New York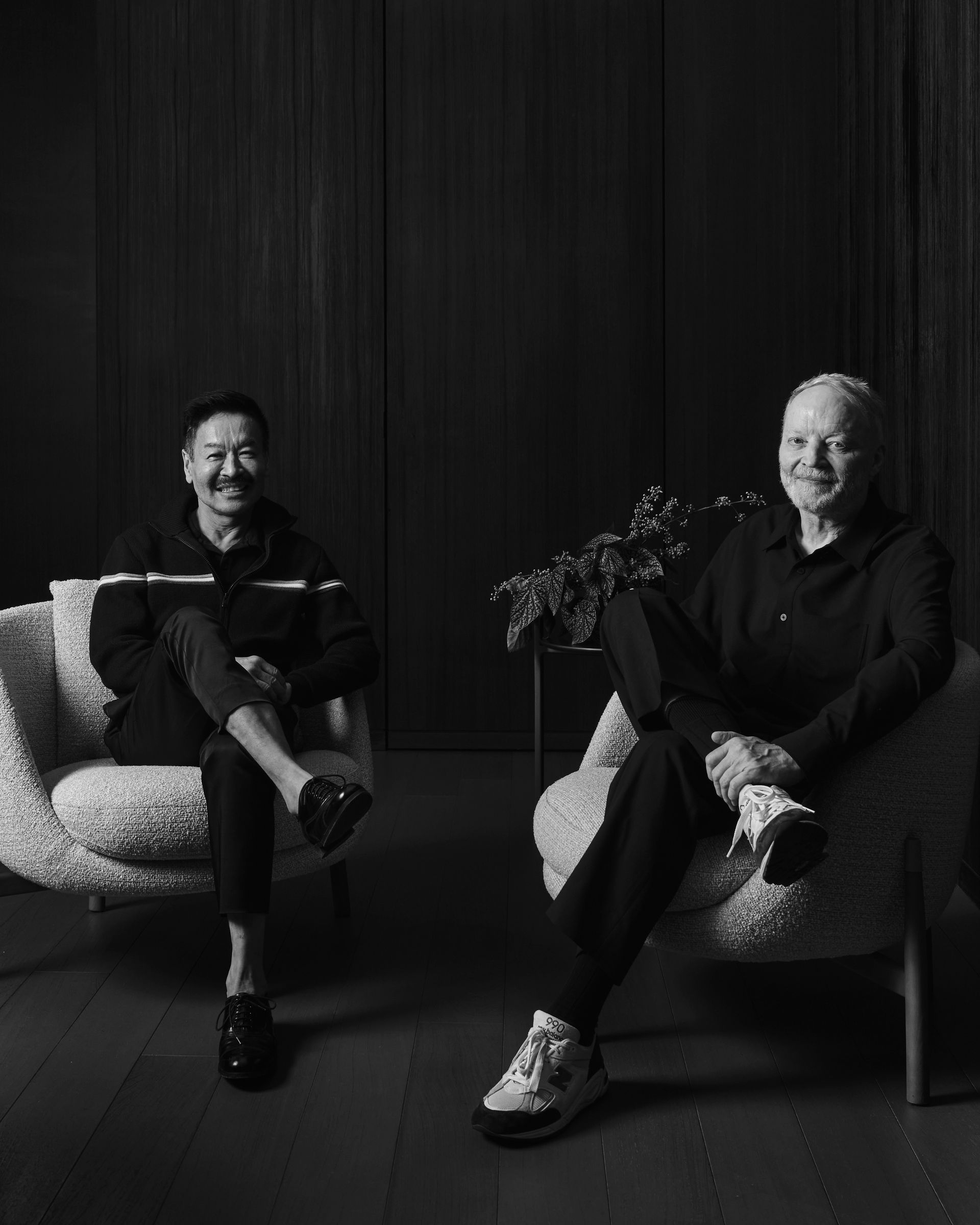 One Vanderbilt itself was designed by Kohn Pedersen Fox and completed in 2020. Amex brought on board George Yabu and Glenn Pushelberg of Yabu Pushelberg, the international design practice with headquarters in Toronto and New York, to further craft and outfit its space, right down to its curtains and cutlery. 
Yabu and Pushelberg were a smart choice, considering their extensive portfolio that blends hospitality (think The Miami Beach Edition and The London Edition, the Four Seasons New York Downtown, The Londoner, and Park Hyatt Shenzhen) with retail (they were involved in the historic and much-lauded overhaul of La Samaritaine in Paris), as well as many high-net-worth homes.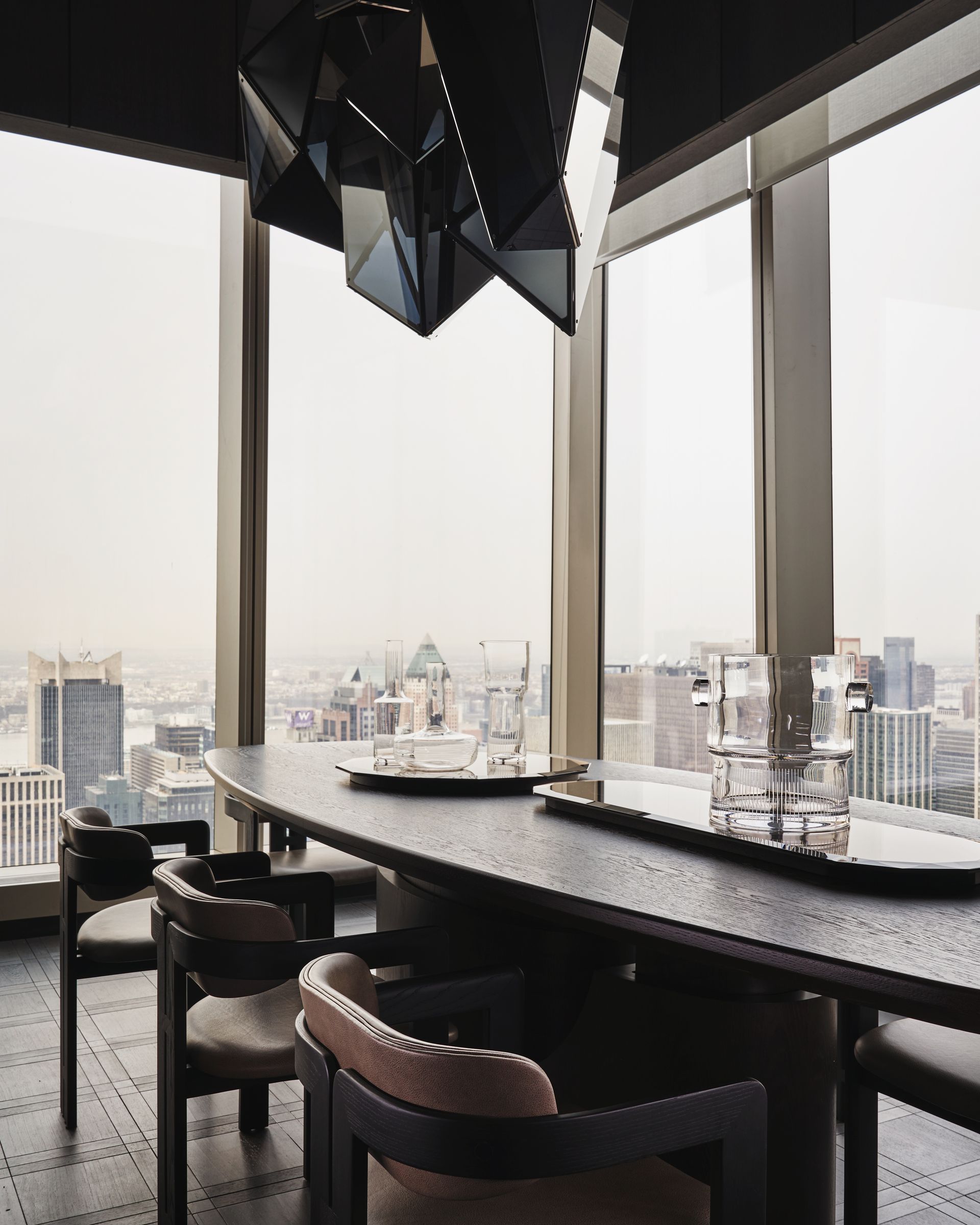 Located in the beating heart of Manhattan, directly opposite Grand Central Station, One Vanderbilt makes coming from and going to any destination a breeze, be that an uptown mansion, the Financial District, or JFK (or, more likely, Westchester or Teterboro Airports where the private jets park). With panoramic views to the east of the Chrysler Building – so close it feels you could step across into its jewel-like top –Central Park to the north, the Empire State to the south, and the Hudson River to the west, there is no denying its appeal.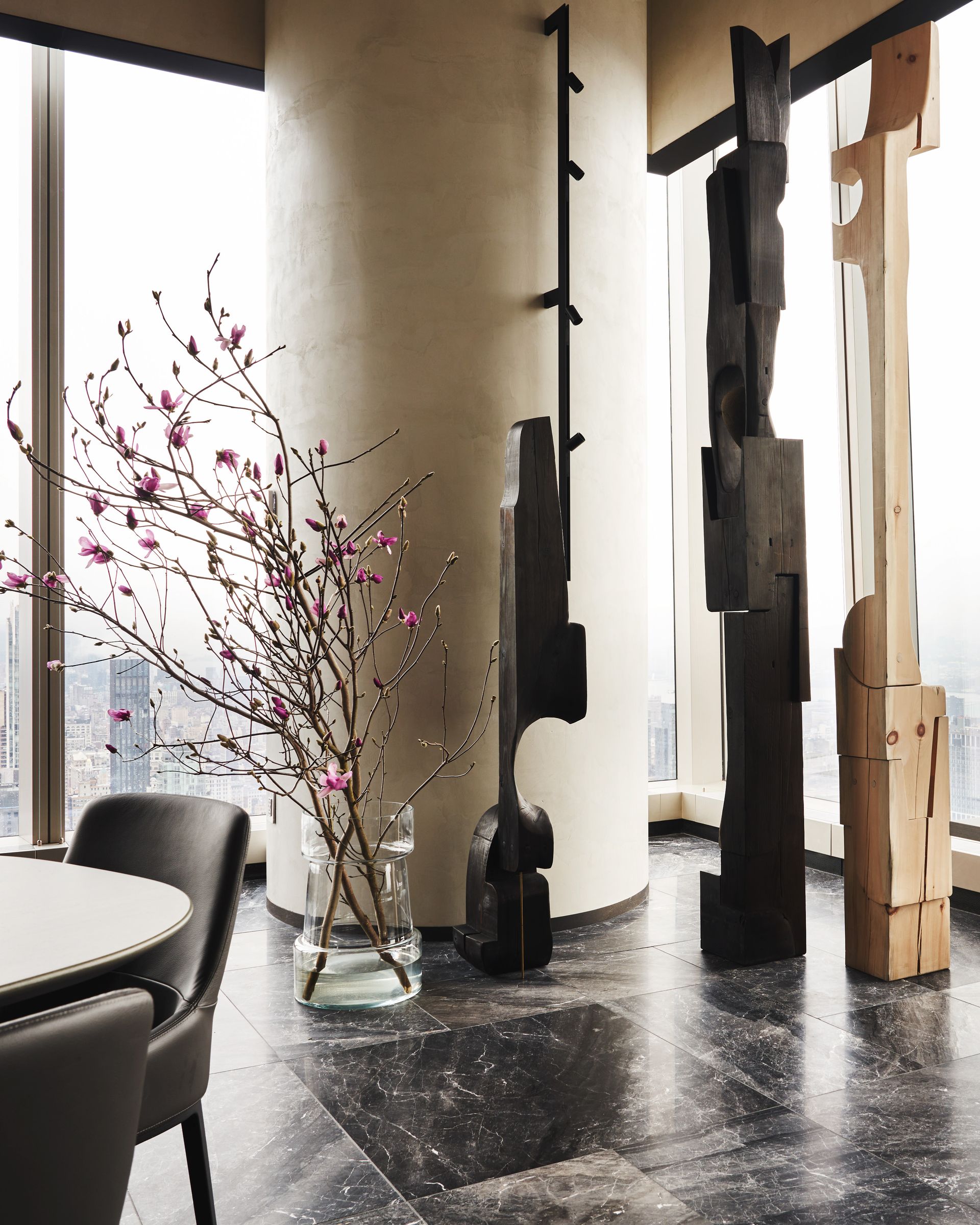 Spanning the entirety of the 55th floor, the 11,500 sq ft front-of-house area (the bowels of the operation, including two full kitchens, are cleverly tucked away in the centre to maximise the floor-to-ceiling views for guests) is divided up into a lounge area; several multipurpose rooms; a large event space; two restaurants with menus designed by Michelin-starred chef Daniel Boulud, a longtime American Express collaborator, one more casual à la carte and the other a fixed-menu fine-dining experience; a wine room stocked with vintages curated by Daniel Johnnes; a cocktail bar; and a further secret bar. 
Pushelberg describes the last as 'the antithesis of the rest, feminine and chic' in muted blush pink tones, with petite velvet sofas and hand-knotted rugs designed by his practice (this bar is 'invite only' at management's discretion; it will be available occasionally by advance request).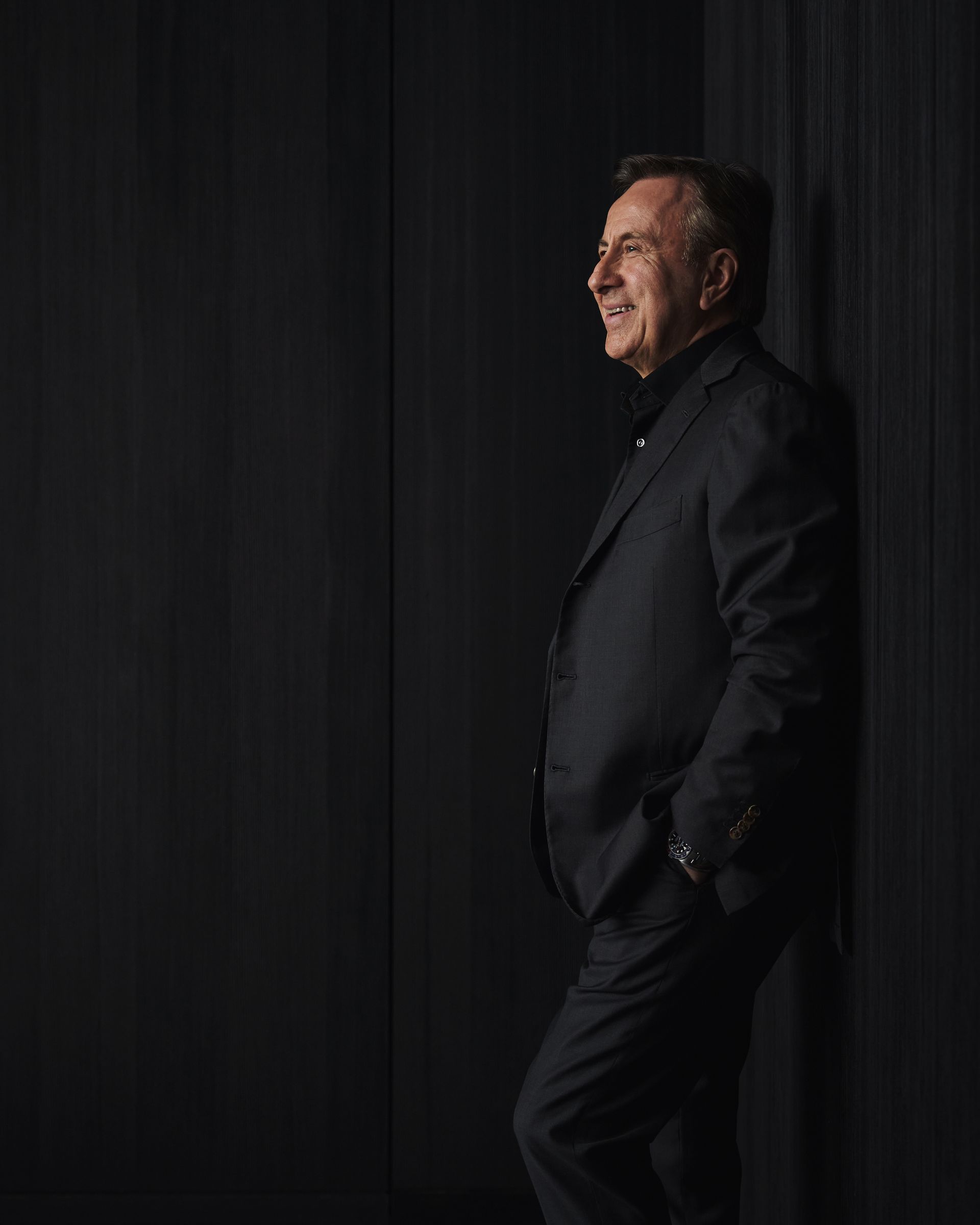 What is there not? No gym, no showers. And why not? The intention was not to recreate a (much-sought-after) Centurion airport lounge. Focus groups and intensive customer research led the Amex team to the current recipe, which may evolve over time with feedback from its guests. After all, lounges are for passing through, the aim here is to create a destination.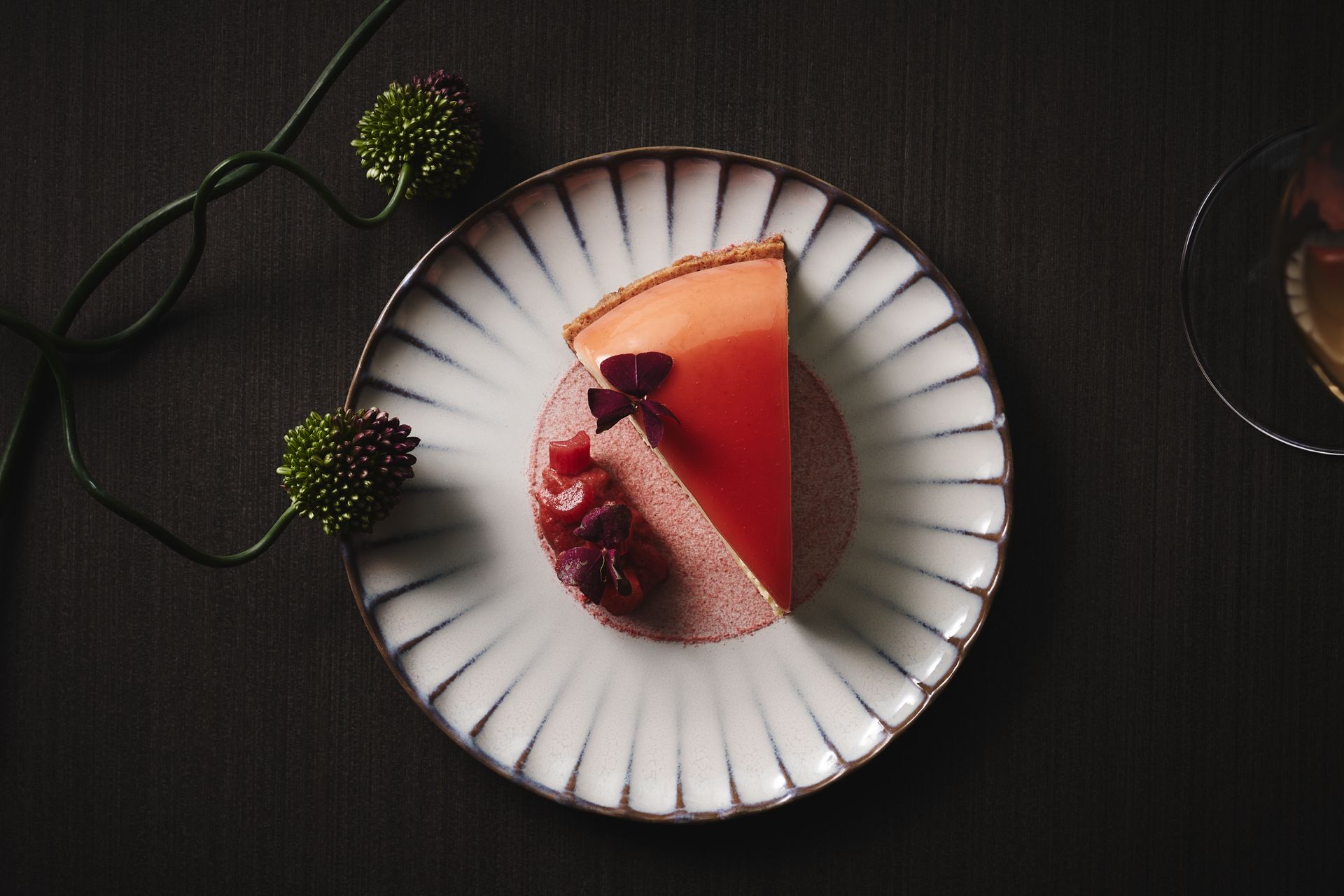 Some furniture pieces have been designed specifically for the space by Yabu Pushelberg, some hand selected from its existing collections (such as the brass and bronze sandcast 'Puddle' tables for Henge, which feature in The Salon lounge), and some are sourced. 
Art plays a big role in evoking the mood of a sophisticated home: 'Art inspires interiors and vice versa,' explains Pushelberg. The designers worked with their longtime friend and collaborator Jamie Stagnitta of Hanabi: Art and Artists to curate and commission a permanent collection of photography, works on paper, painting and sculpture, which is predominantly by New York-based artists, or otherwise alludes to the energy of the city.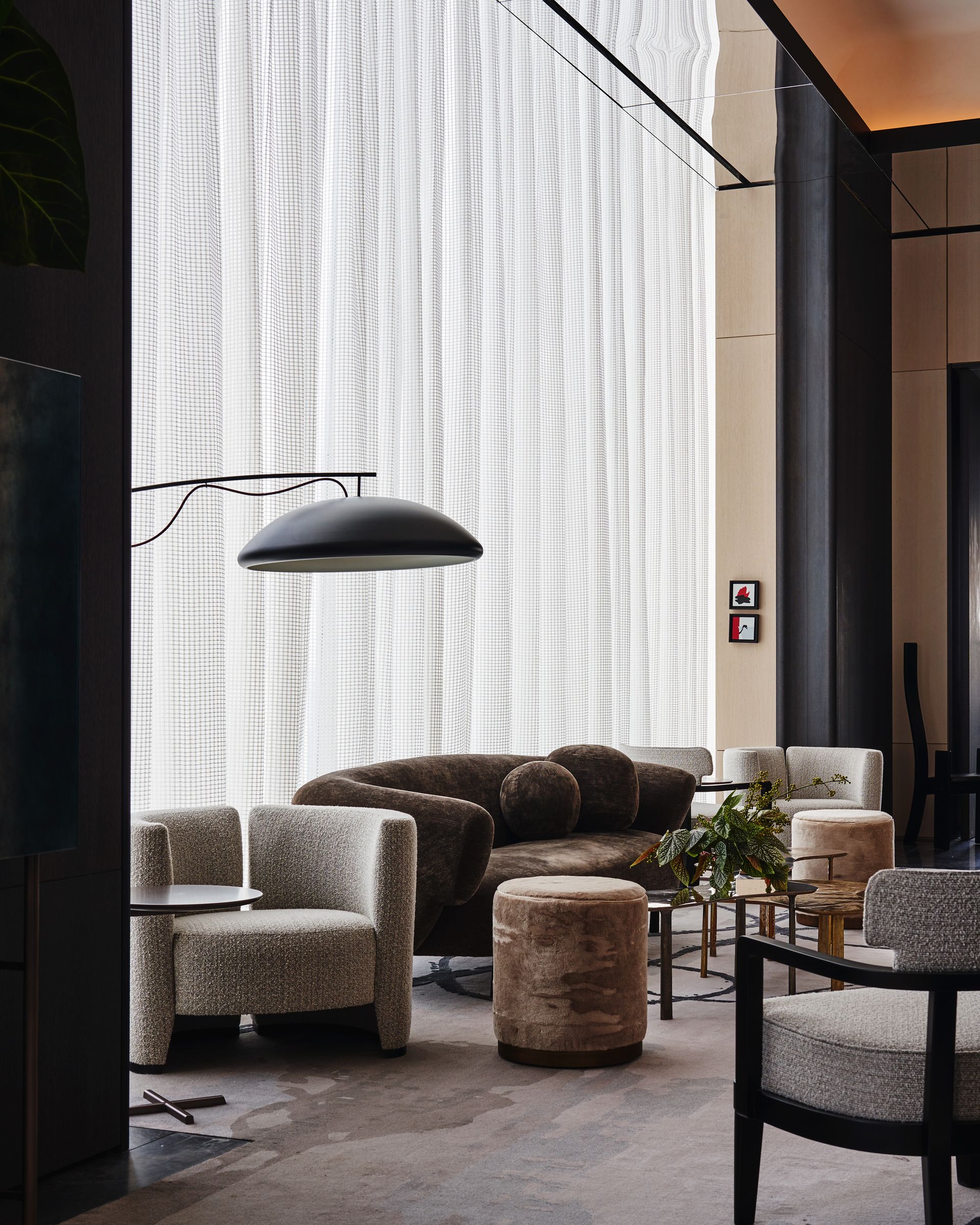 In the living room-style Salon, a curation of photography – all black-and-white bar one filmic Nan Goldin piece – includes works by Diane Arbus and Vivian Maier, and depicts Andy Warhol and Halston in Studio 54's heyday. 'A lot are focused on a certain time where things were more integrated and less segmented than they are today, a lot from the 1980s. They are like social documents, uptown mixing with downtown, royalty mixing with artists… the story here is the New York story, anything is possible in this damned city!' says Yabu. 
In the dining rooms, works are hung to align with the creative process, starting with drawings before moving into more involved paintings in the formal dining area. 'It's easy to be pretentious with these things, but it's good to relax the luxury and have a little bit of fun,' says Yabu of the hanging system of exposed metal girders.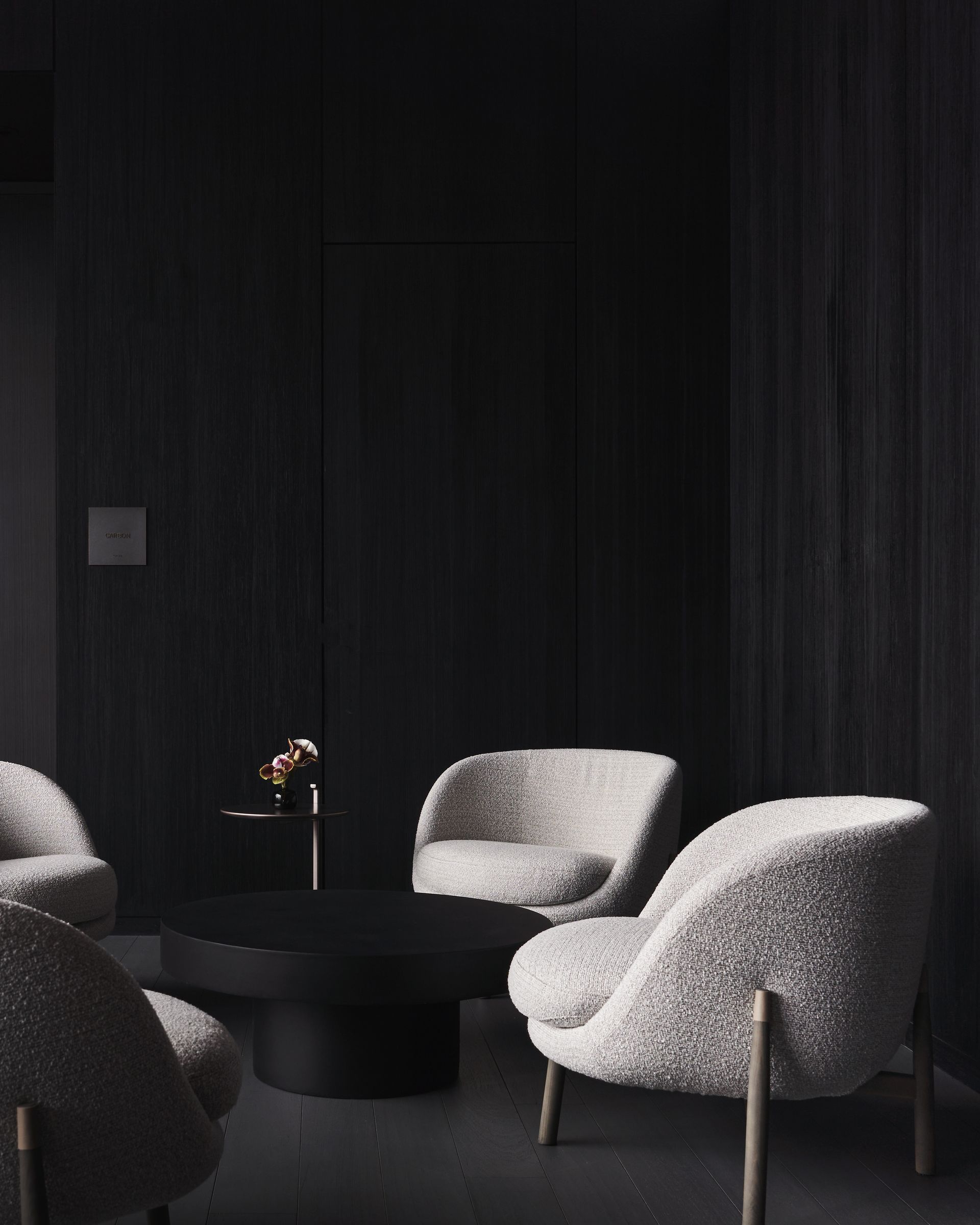 Design-wise, what note did Yabu Pushelberg want to strike? Comfort and familiarity or something more radical and unexpected? 'Familiarly exceptional!' laughs Yabu. 'It's authoritative. This is for people who are captains of their ship.' They were conscious not to underestimate the design literacy of the members. 'They probably collect a lot of these artists and designers already. This is the real deal, it's something you recognise or identify with, coupled with the functions like the concierge.' 
Indeed, the concierge is situated behind closed doors for utmost discretion (two Robert Motherwell prints hang on the wall). Requests that can be serviced by the Amex Centurion Concierge include hard-to-get dinner reservations, last-minute front-row theatre seats, as well as the more outré: someone once requested a particular species of tropical fish to add to their personal fish tank. Said fish was located and safely delivered.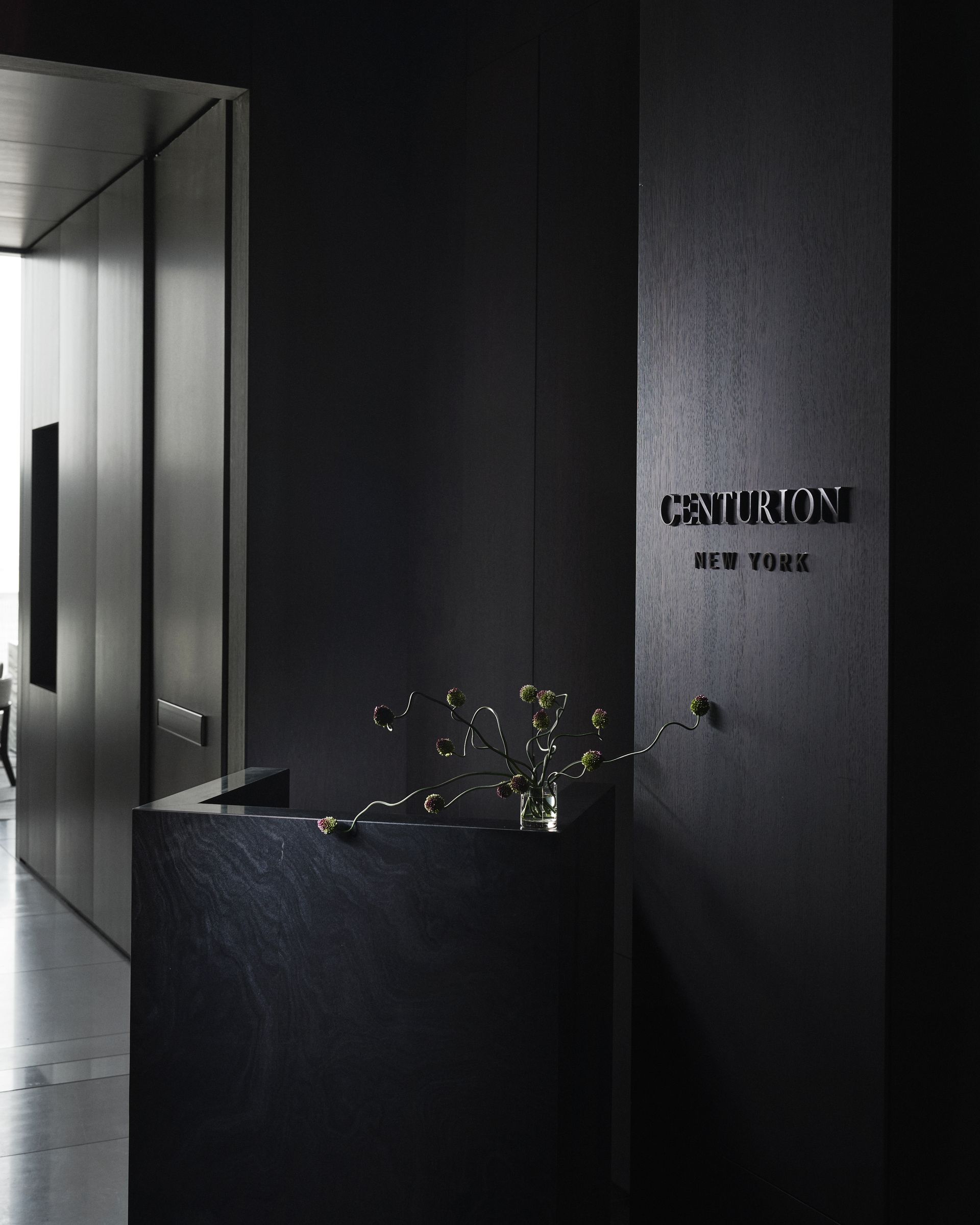 Expectedly, 'the theme of black, of carbon, was very important', says Pushelberg (a house black martini mixed with squid ink is on the menu), but it can be a challenging colour with which to create an inviting interior. 'You have to "lift" the surfaces,' explains Yabu, pointing out the wire-brushed oak veneer wall panelling painted in a soft black, in the cocktail bar overlooking the Chrysler Building. Other elements, such as two enormous hanging pendant lamps in elegant smoky Lasvit crystal, lend softness.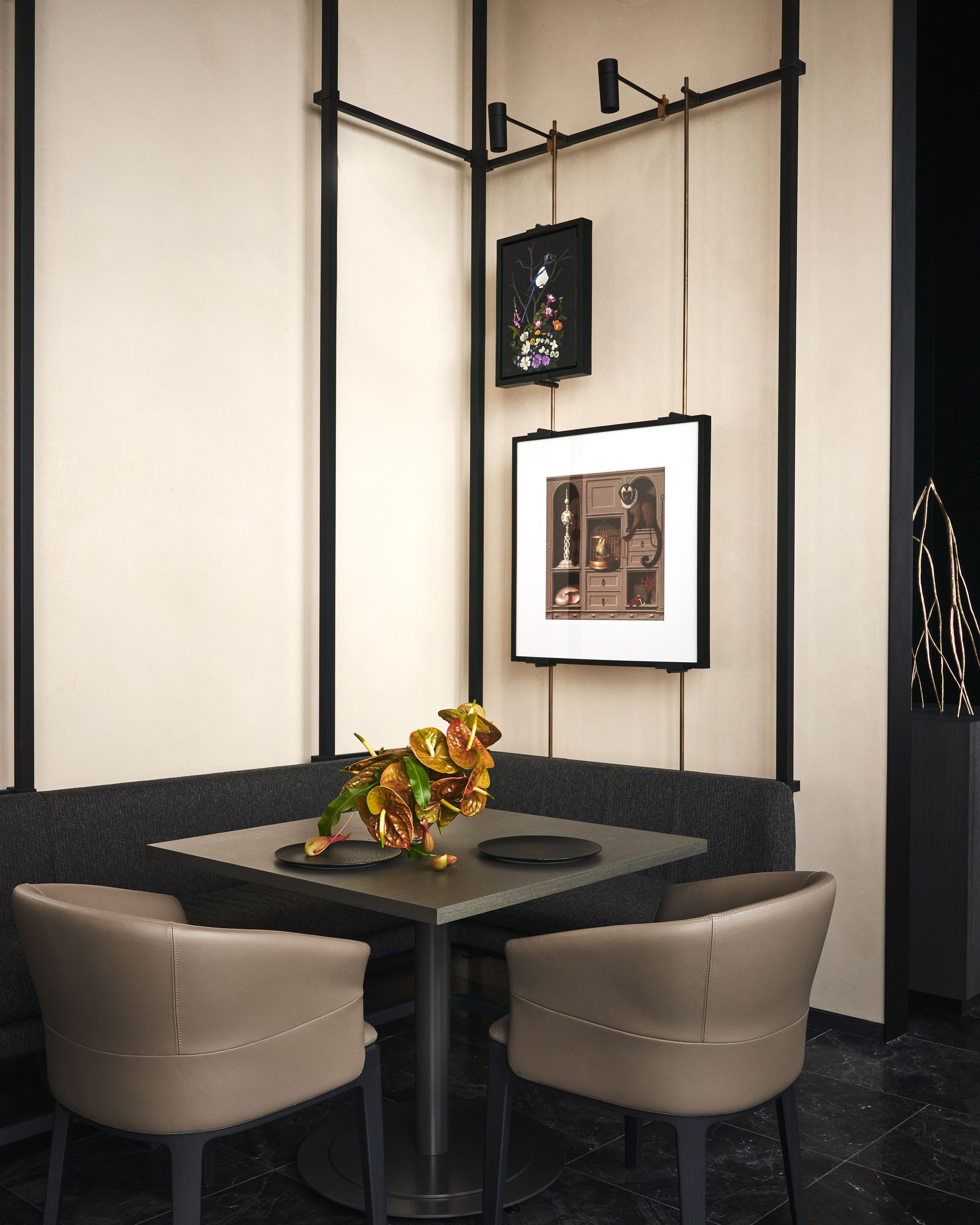 Centurion New York is the first of its kind for American Express. The hope is that Centurion Card members will pop in and spend a few hours between meetings or before going to the theatre. 'When we looked for new ways to serve [our Centurion Card members], having a destination where they can visit, connect with others, and enjoy great food and drinks in a beautiful setting arose as a great opportunity,' says Howard Grosfield, president of US consumer services at American Express, who has spearheaded the project. 
Since its launch in 1999, the Centurion Card has been invite-only, the selection criteria kept intentionally under wraps and ambiguous. The speculation has been that it involves spending into the millions per year. Nevertheless, Grosfield points out the demographic is evolving, and highlights Amex's conscious push towards tapping a Millennial and Gen Z audience – 'growing our generational relevance' as he puts it.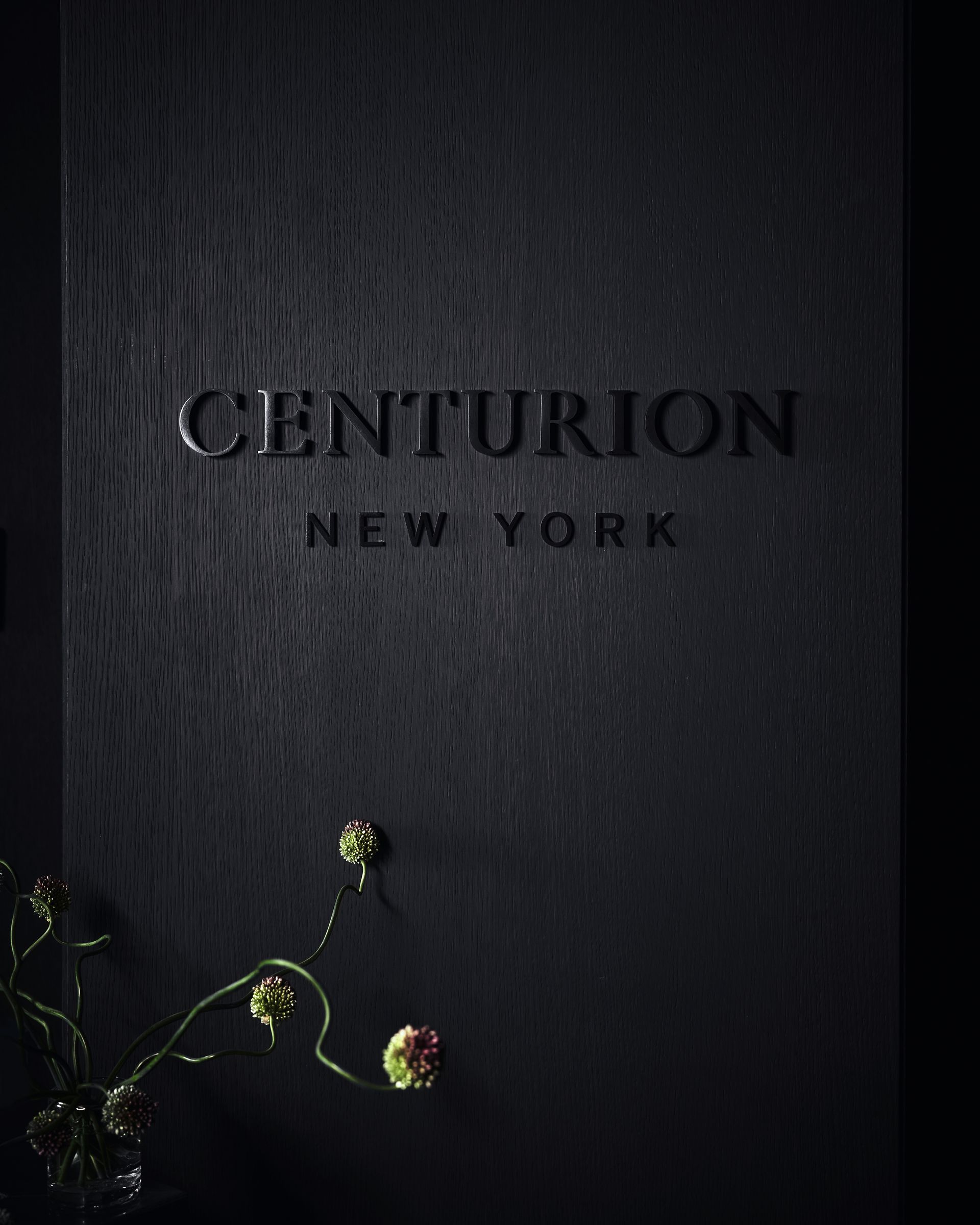 'I think we share a lot of the same clients,' says Pushelberg, 'and they need places like this where they can feel comfortable and relaxed, with a sense of privacy. When we meet our clients from the Middle East in London, and Chinese clients in North America, they are looking for their own private place.' Pushelberg similarly points out the increasing diversity of these clients: 'They could be an older established person, or they could be a younger person, someone who's modernist or classical. When you're designing the space, you create somewhere where they feel that sense of quality and completeness, and it works on both ends of the spectrum.' 
As the competition for long-term loyalty hots up, Amex is able to put into play its many years of learnings, gleaned from partnering with leading hotels and restaurants all around the world.
Centurion Card holders have already been calling in droves to book the restaurants or find out more. A dedicated Centurion app is launching soon, but there is hope for those of us on the outside: a few may be lucky enough to score a reservation via the Resy venue page, which is available now. Just keep in mind that reservations will be essential for non-card holders. 
Centurion New York, Floor 55, One Vanderbilt Building NYC
Restaurant reservations via Resy (opens in new tab)