Flooring ideas: 10 ways to create lasting style under foot

The floor is one of a room's largest surfaces, so careful consideration of flooring ideas is imperative to the success of any design. 
A floor's appearance is important, naturally, but so too is how it feels to walk on, how it will stand up to the room's activities and its atmosphere in the case of kitchens and bathrooms, and how much maintenance it will require.
Wood is eternally stylish and popular for many interior design schemes, but there are a dazzling array of additional options that might tempt and, here, we've put together flooring ideas for rooms around the home.
Flooring ideas
From hardwood and natural stone to clever lookalikes and soft and warm carpet and area rugs, these flooring ideas and expert voices can help inspire a room remodel.
1. Fall for natural stone in the kitchen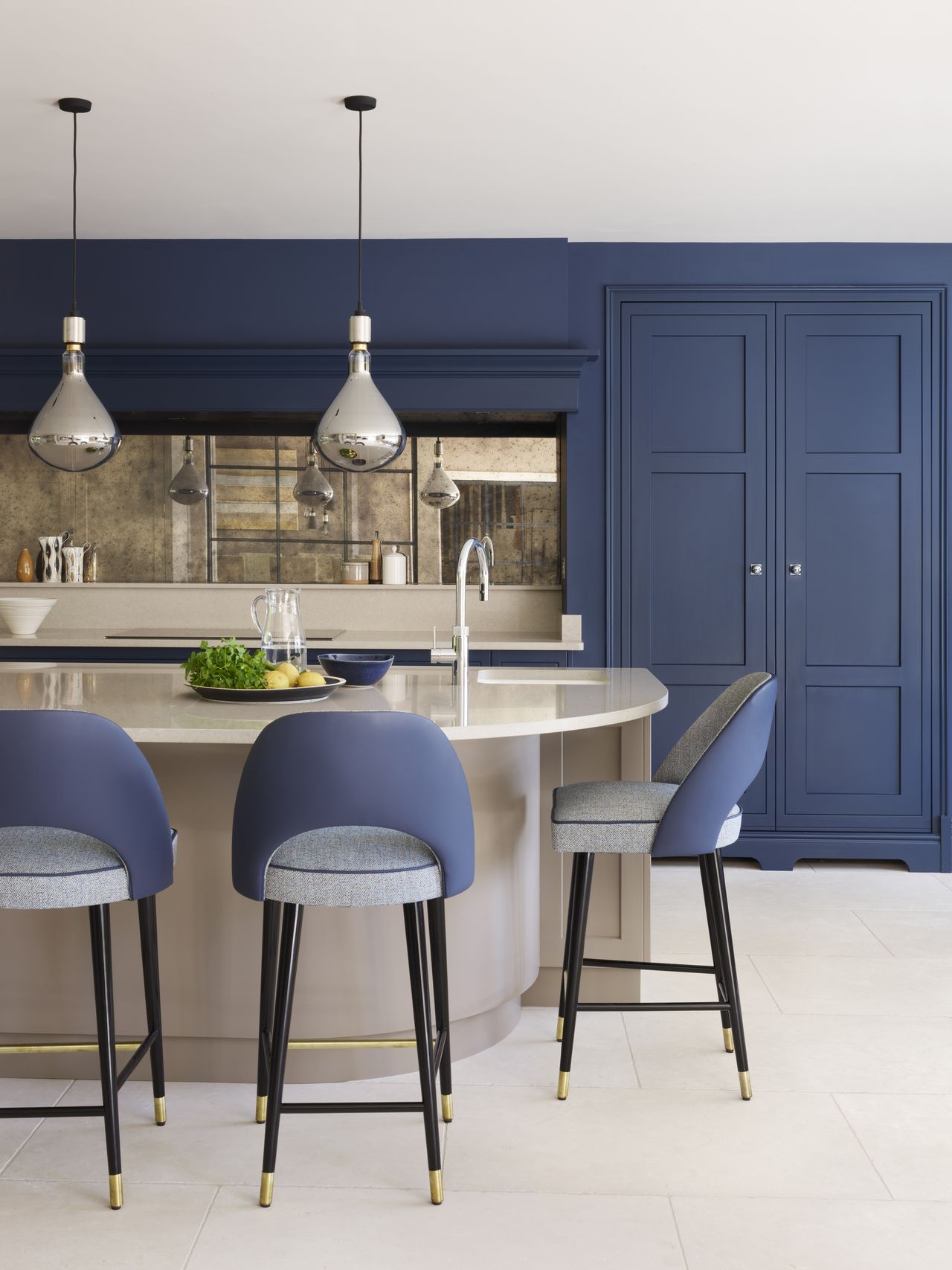 Put stone on your list of possible kitchen flooring ideas. Using any of the different stone flooring types ensures your kitchen floor has the unique beauty that comes with a natural material. Natural stone will also stand up to the foot traffic of a busy family home – and is a wonderful flooring idea for entryways, hallways and bathrooms, too. 
To make a small kitchen look bigger, and a larger room feel as spacious as possible, consider a large format tile which minimizes the grout lines that can make a floor look busy. 'Also, if you choose a grout color that is complementary to the tile color, the grout will be less noticeable which again helps to open the space out,' says Isabel Fernandez of Quorn Stone.
2. Elevate a living room with hardwood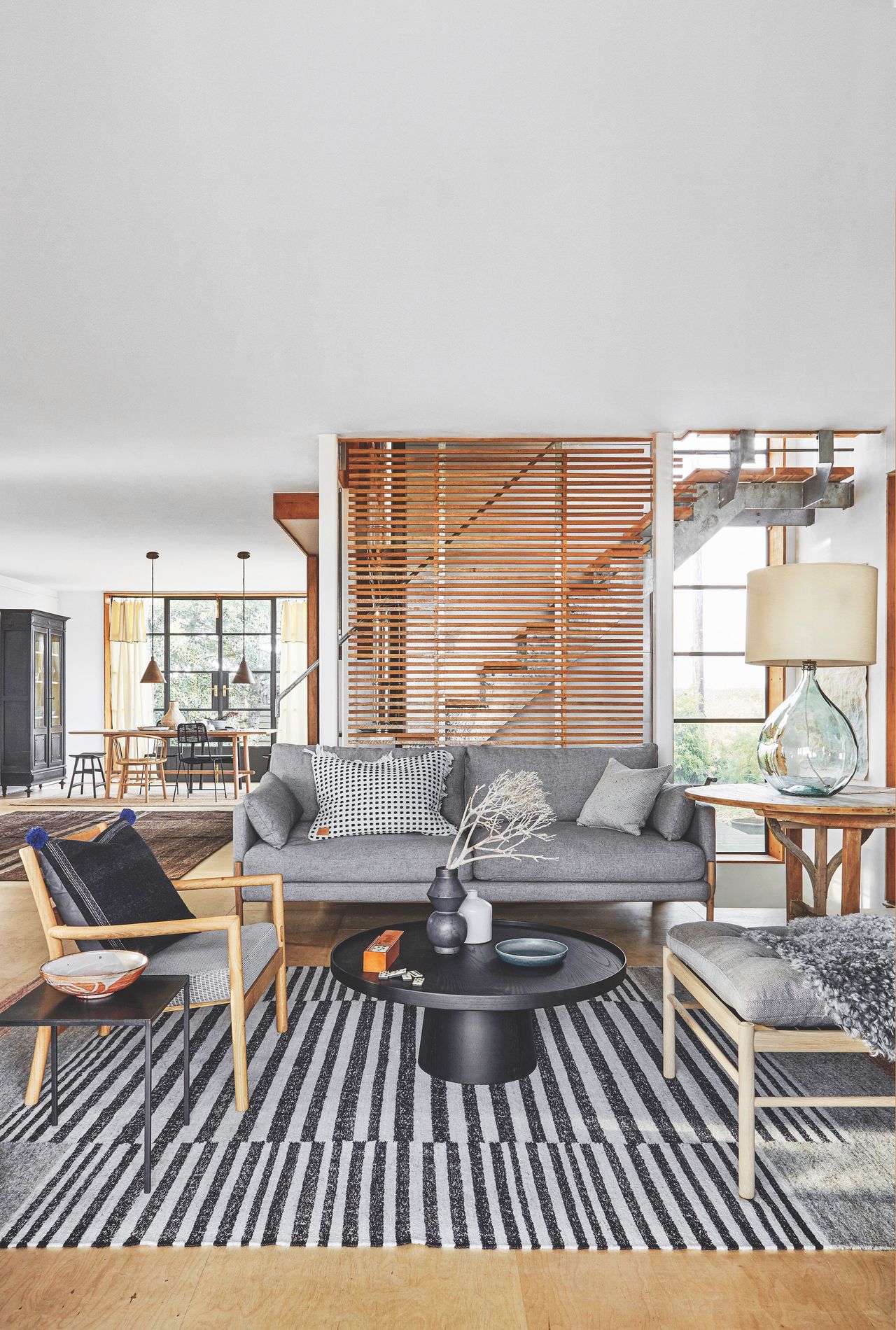 Hardwood flooring is the number one choice for living spaces for many people. It looks attractive when first installed, and with proper maintenance will become even more beautiful with age. 
Using wood is a great way to create a cohesive look for open floor plans and area rugs can zone the space while still leaving plenty of wood on show to make its warm and attractive impression. Taking this approach? 'Living room rugs should always be considered early in the design process and can be used to anchor a space and plan furnishings and accessories around,' says Noemie Deed, founder of Cosy Coco.
3. Make care easy with porcelain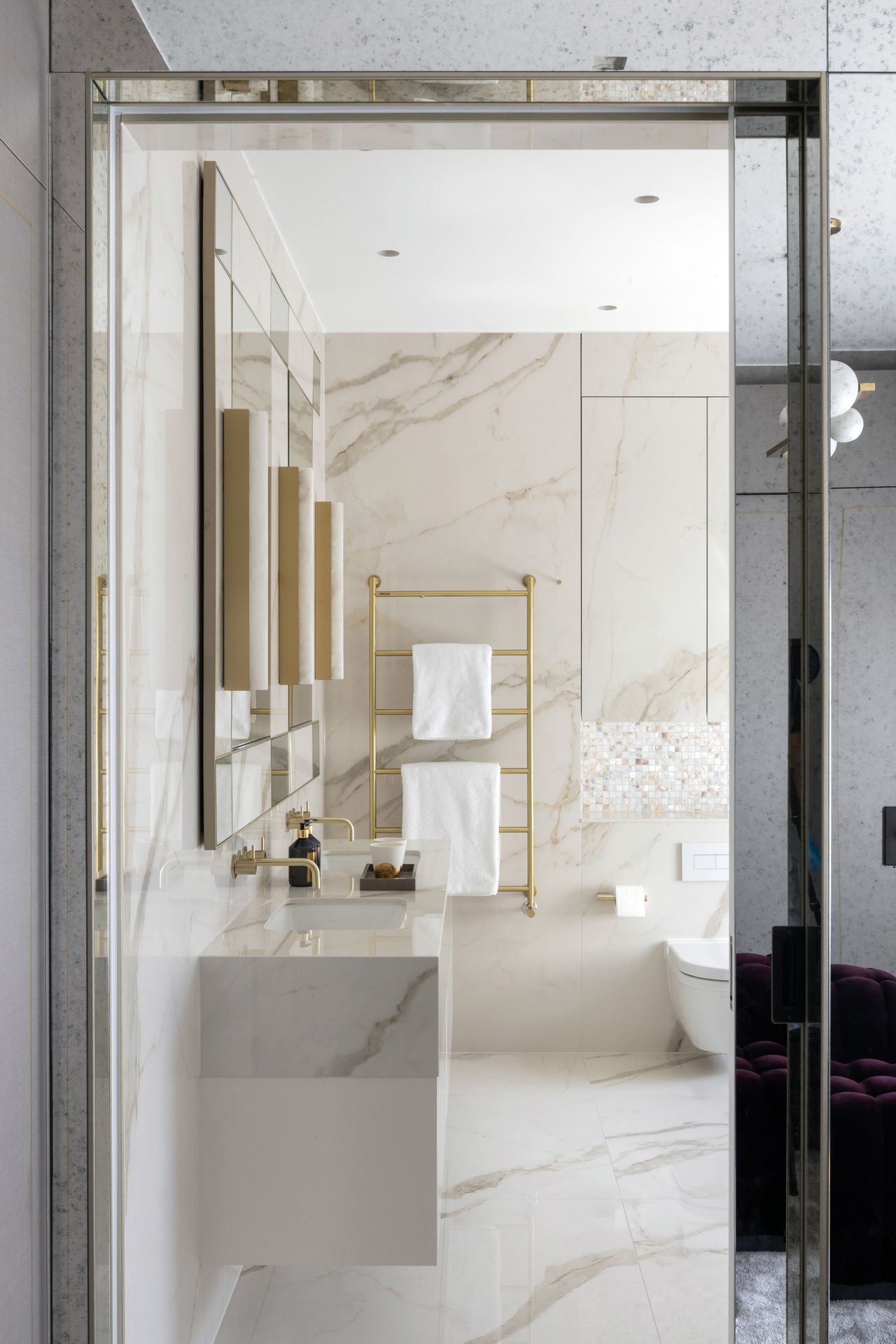 If stone is high on your list of bathroom flooring ideas, but keeping it looking its best is a concern, take a look at porcelain tile – it's a fail-safe, versatile flooring idea. 'Large format porcelain tile can be used in a wide variety of settings as it is virtually indestructible and stainproof, as well as being impervious to water,' says Jo Oliver, director of The Stone & Ceramic Warehouse. 
Porcelain can replicate the appearance of other materials, including marble or limestone, to give the room an upscale look without the associated care needs of real stone. 'Thanks to advantages in technology, digital printing has allowed porcelain tiles to be produced with a "natural" variation from tile to tile just as you would see on the actual stone,' says Jo. 'This reproduction is so accurate that these imitation porcelain tiles are now often indistinguishable from the real thing.'
4. Bring pattern to an entryway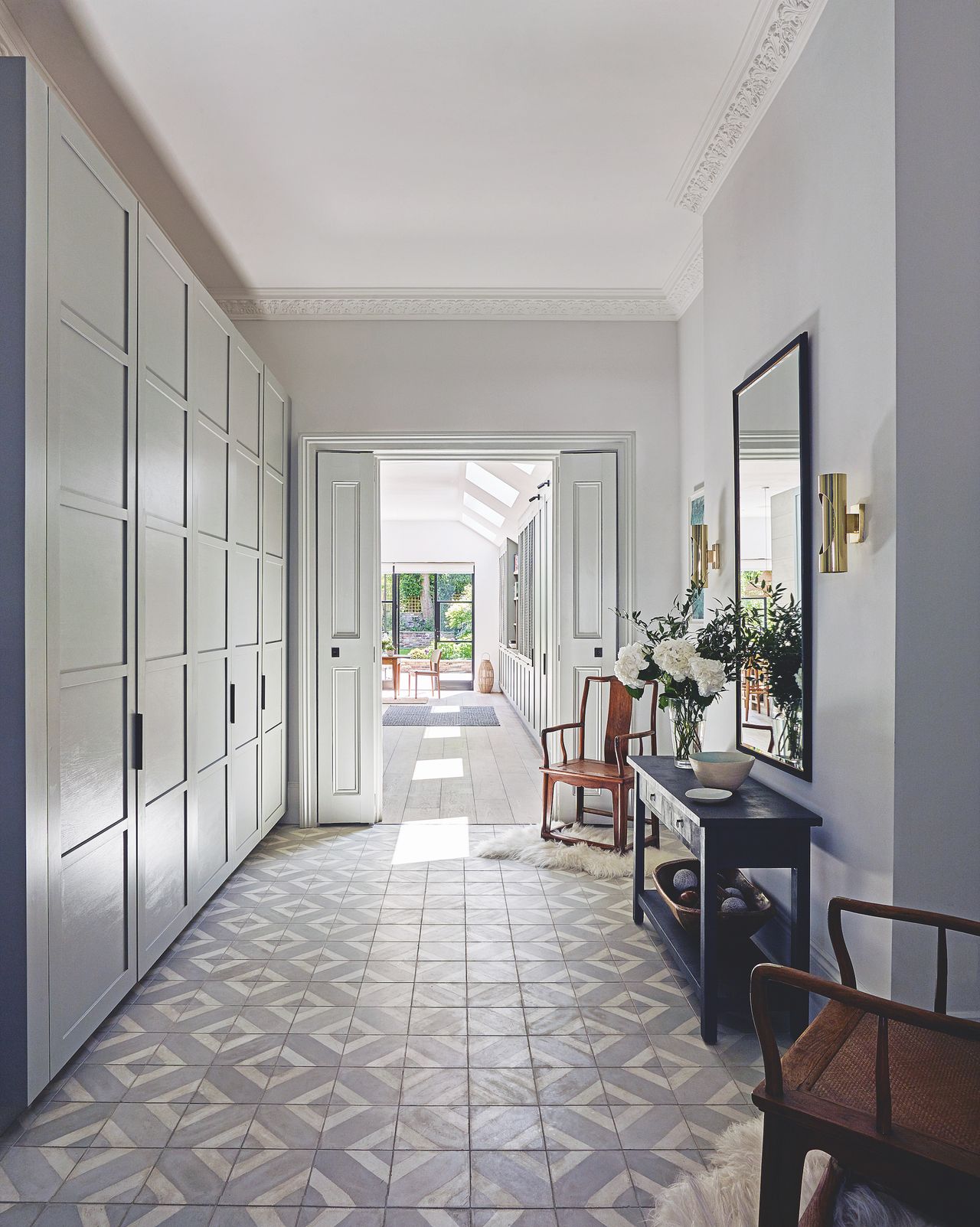 Flooring for an entryway has to be hard wearing, easy to clean, and look welcoming as it's the first part of your home visitors see. Patterned tile is an option that can fulfill all these criteria – and it makes a fabulous contribution to the decor, too. 
Choose from geometrically patterned ceramic or porcelain tile to create a sophisticated look. Porcelain is denser and less porous, but ceramic – provided it is a tile designed for flooring – can fit the bill. 
5. Add interest with parquet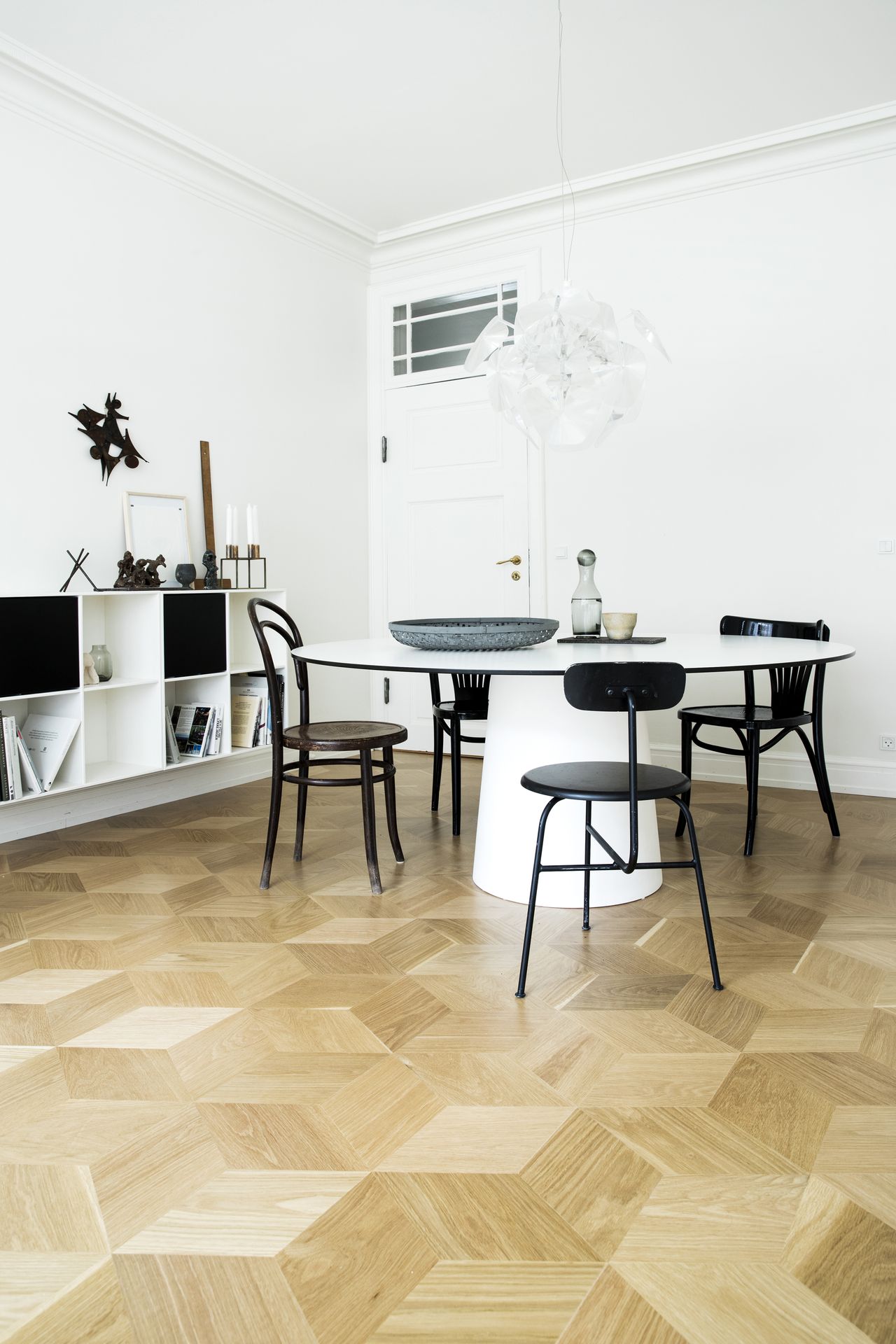 Make a living room floor a feature by opting for parquet in place of wood planks. Herringbone or chevron versions are classic flooring ideas, but examine the potential of alternative patterns to make a decorative impression.
'The trend for parquet floors sees no signs of abating and a newer addition to the classic look is a hexagonal parquet floor,' says Richard Aylen of Junckers. Team a parquet like this one with plain neutral walls to make the floor the star of the show.
6. Pick wood for its versatility in the kitchen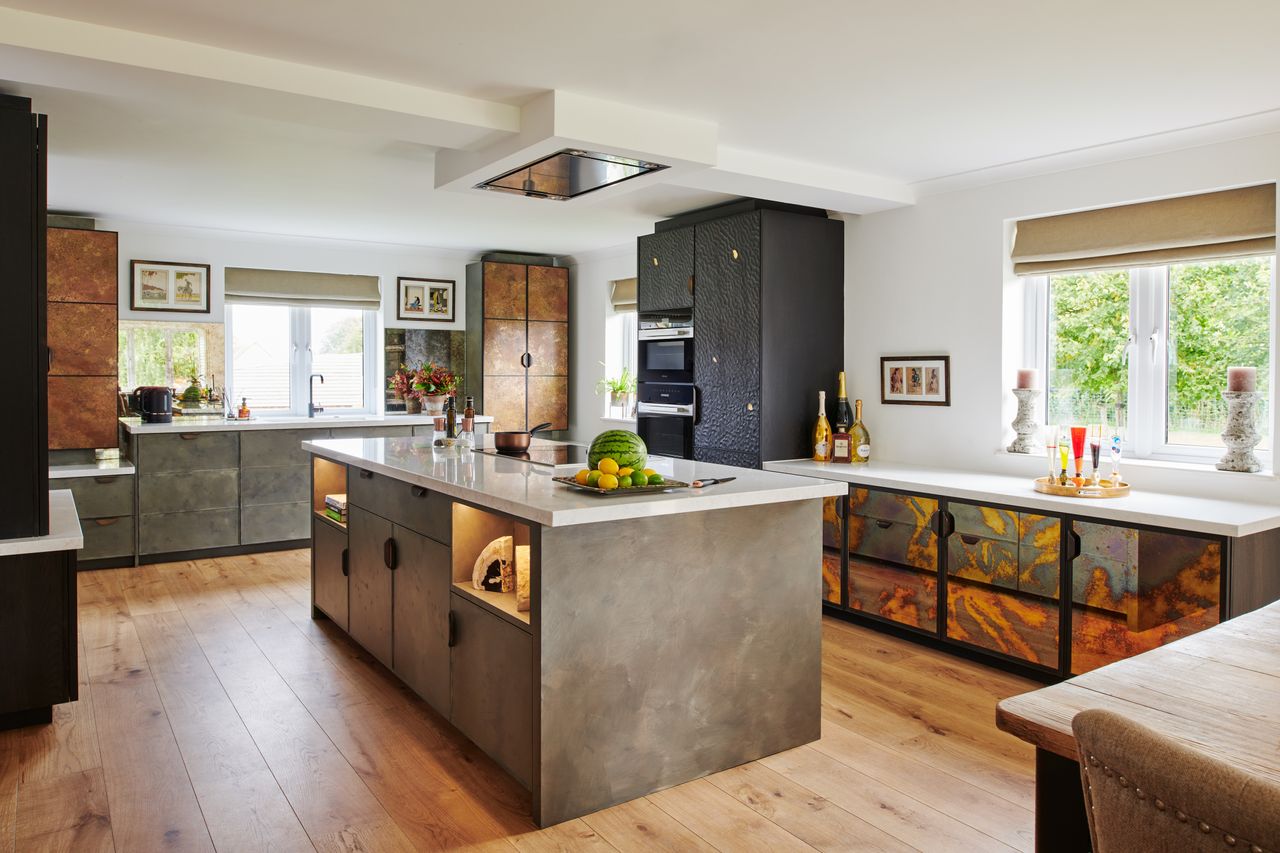 One of the best reasons to choose a hardwood floor for the kitchen is that it can complement traditional, contemporary, and transitional room styles, as well as the increasingly popular organic/natural look. 'Wood floors are one of the cornerstones of any interior and are versatile enough to adapt to any scheme,' says Robert Walsh, founder and owner of Ted Todd.
Another reason it's a favorite among flooring ideas for this room? 'The kitchen is often considered the heart of the home and wood flooring is the perfect choice as it adds warmth and character to a room that already has so many positive connotations,' says Robert.
7. Dress up a living room with patterned carpet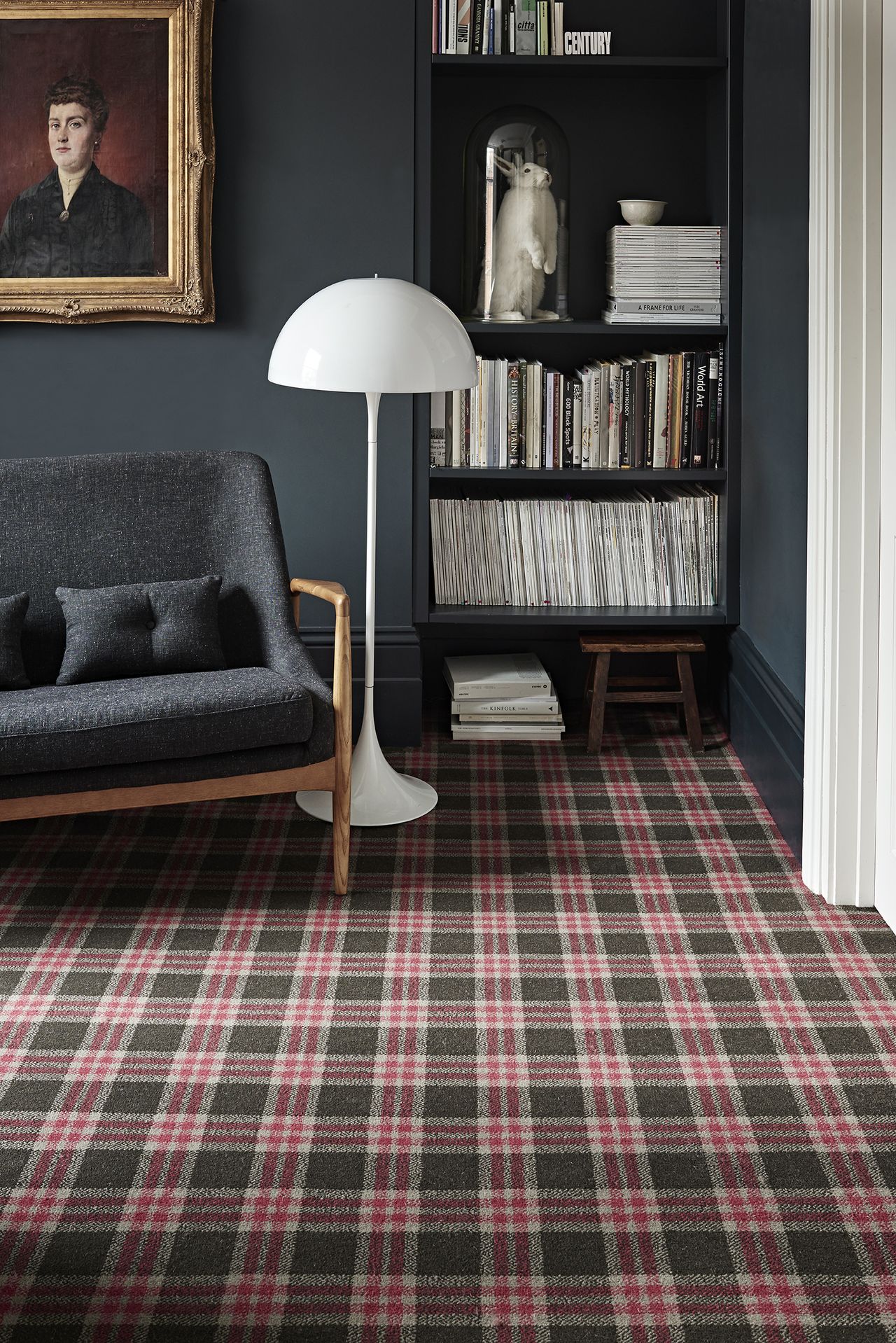 Be bold in selecting a living room carpet ideas and swap plain neutrals for pattern from wall to wall. 
'Patterned carpet is very versatile and is a contemporary and practical solution for the modern home,' says Rupert Anton of the Carpet Foundation. 'It has reinvented itself with fresh, modern styles, from stripes to plaids, botanicals to houndstooth, and the choice is huge. It adds glamour and makes a fantastic style statement in a room, providing an eye-catching result. On a practical level, it also hides a multitude of sins!'
8. Warm up the bathroom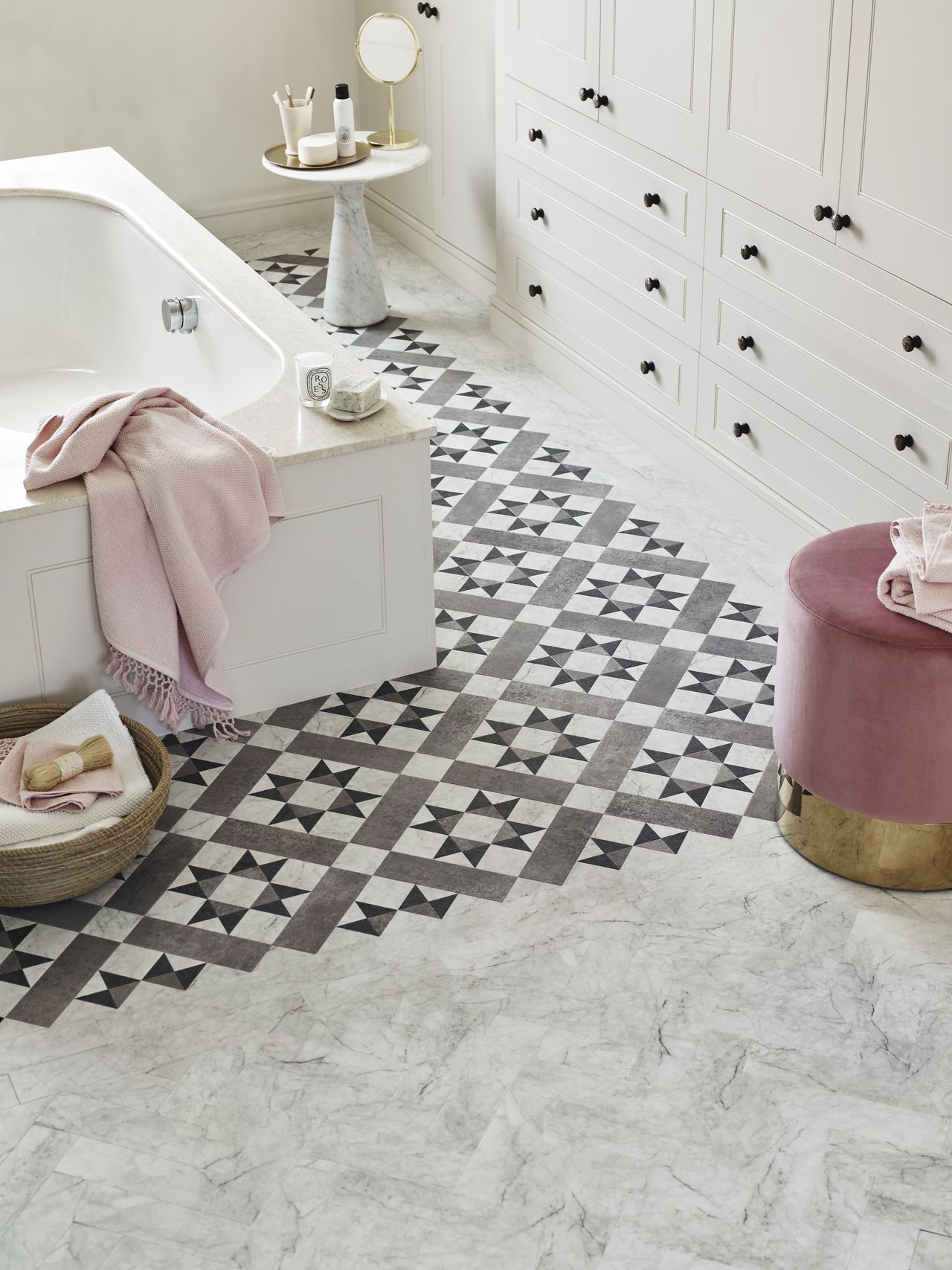 For a bathroom that's used by young family members, consider LVT (luxury vinyl tile) as a flooring option. It has the benefit of being more forgiving as a surface than other bathroom options and is warm for bare feet as well. It's also hard wearing and resists stains.  
Think about mixing and matching LVT designs to personalize the room. Here patterned tile makes the bathtub the centerpiece with a stone-look tile beyond. 
9. Choose a contemporary tone for wood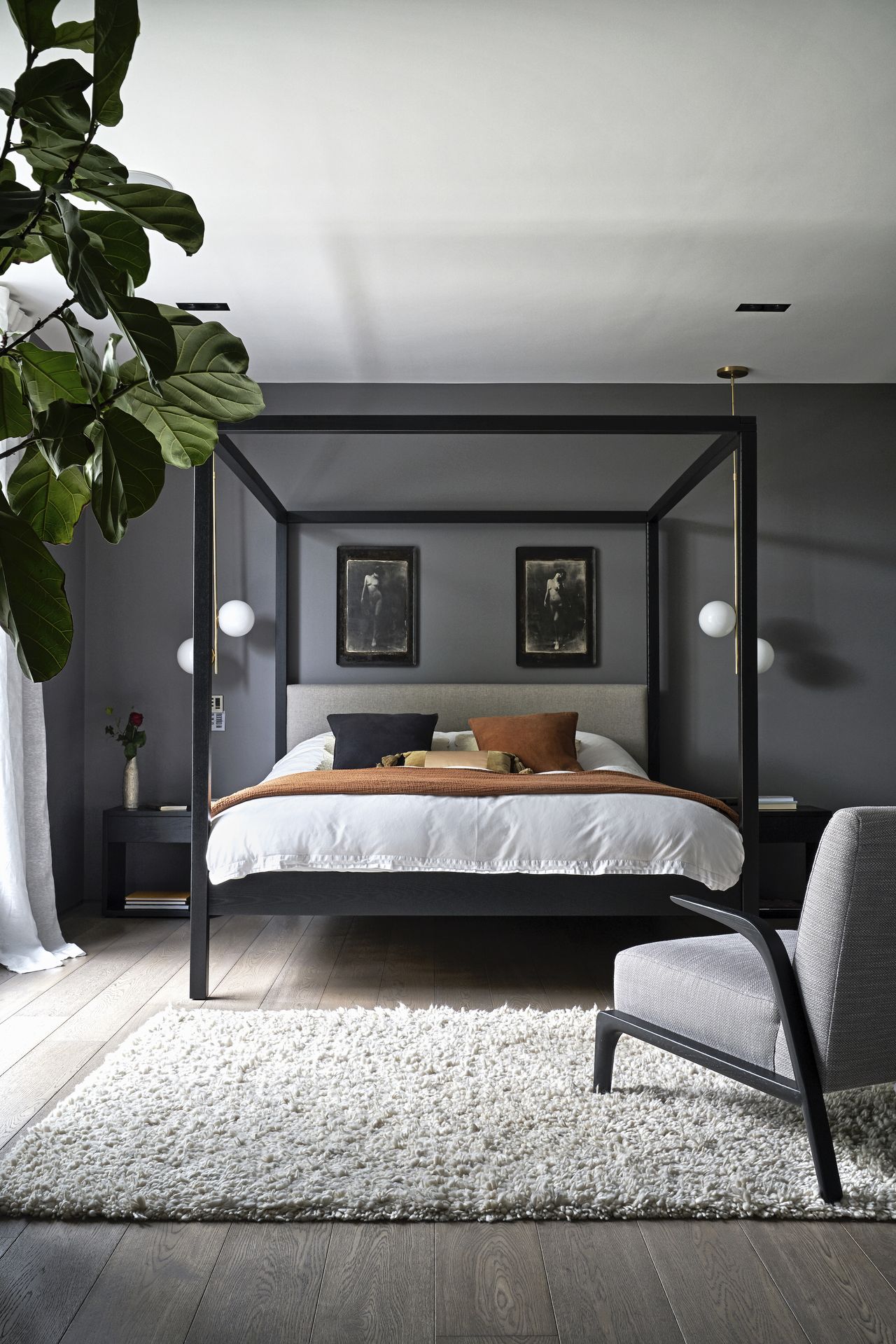 If you are looking for bedroom flooring ideas that are easy to update, consider wood – but don't just consider the different tones of brown wood flooring to create a neutral backdrop, and match it with bedroom rug ideas. Gray wood is a fabulous alternative and ideal for combining with other gray shades for walls and upholstery to create a contemporary bedroom design.
A gray finish has the advantage of leaving the grain and character of hardwood apparent, and it's possible to pick warmer, darker takes on the color or lighter, Scandi-style options to complement the remainder of the decor.
10. Correct bedroom proportions with stripes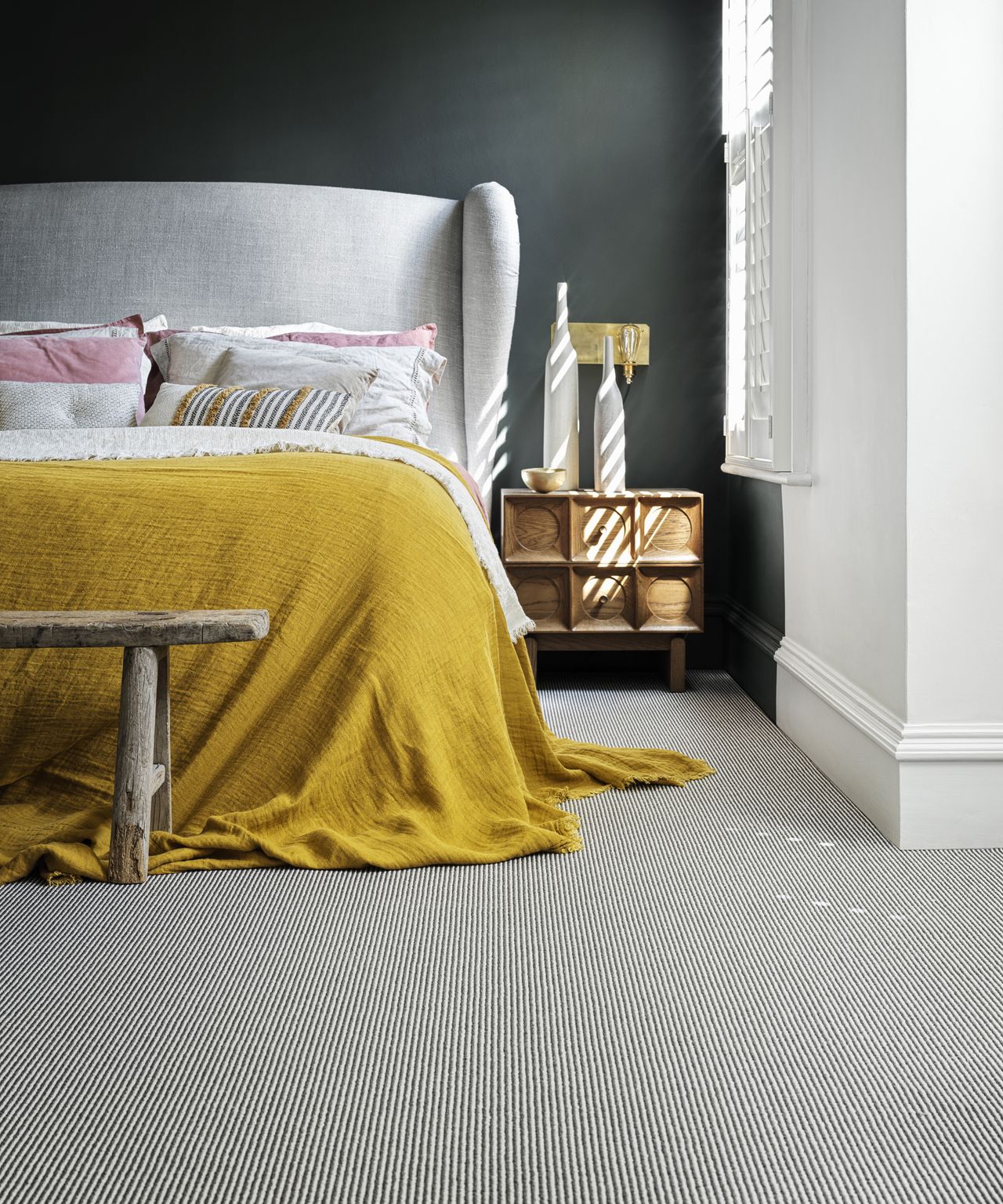 When a bedroom's proportions are awkward a striped bedroom carpet can perform a visual trick. It could make the space feel wider or longer as required as it draws the eye along the dimension. 
Striped carpet also ticks the boxes for softness and comfort for feet in a bedroom, so it'll give the space a cozy vibe. This type of flooring idea might also be the right choice because it provides sound insulation as well as keeping the space warmer.
What is the most popular flooring in homes today?
Hardwood retains its desirability in many homes today, and offers many benefits. Adrienne Robideaux with Animal Cracker Studio says, 'Wood floors allow for continuity between rooms while providing a neutral canvas for the furnishings in each room to take center stage. 
'Particularly in family homes, continuing a wood floor throughout the house allows each child's bedroom decor to evolve as they grow while still connecting to the home as a whole. 
'Reclaimed wood (much like vintage rugs) is a great choice for family spaces because it already has character. White oak is also an excellent choice for those looking for lighter floors (the darker the wood floor, the more dirt you see!) in a warm yet still neutral brown.'
What are the flooring trends for 2022?
Flooring trends for 2022 frequently tend to the bold and the colorful but natural shades, sometimes as part of the subtlest of patterns, are equally part of the mix for those who prefer floors to be more understated.
For carpet, pattern is an important trend as well as bold color, while classic neutrals remain a fashion-forward option. Think hardwood flooring in either gray tones or very pale finishes for the latest look if that material is your preference.
Look out, too, for natural stone – or authentic lookalikes – with strong veining, the continuing presence of patterned floor tile, or the new take on tile which offers sophisticated metallic effects.