George Clarke Praises Brilliant WFH Geodesic Pod: Amazing Spaces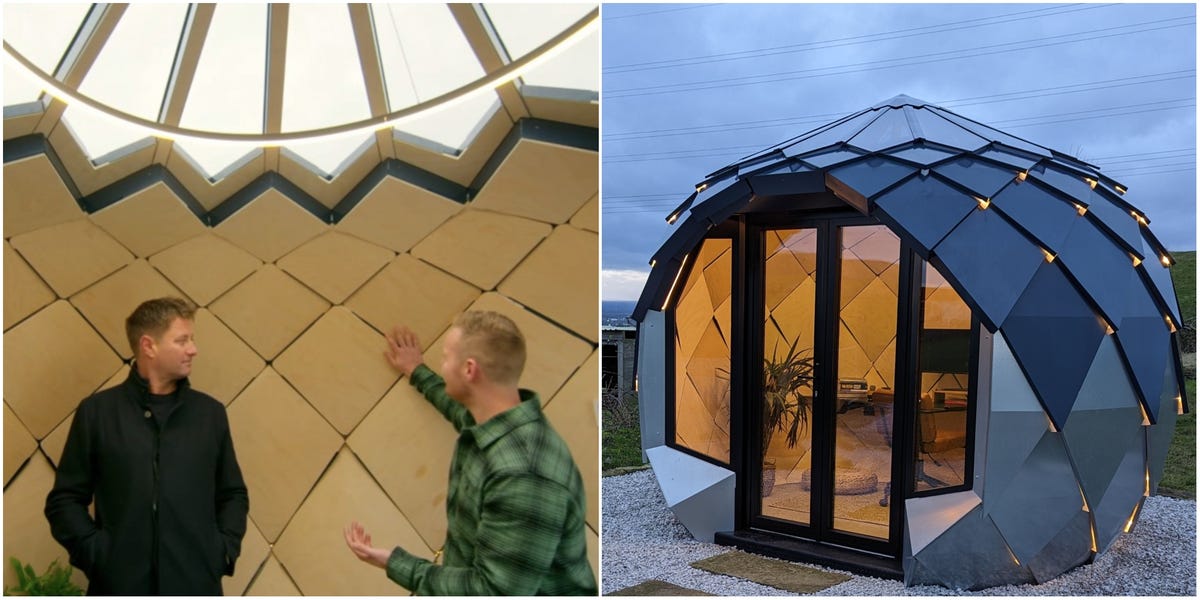 When freelance designer Anthony Hodson was forced to work from home during the pandemic, he came up with his own remote office solution: an external geodesic pod made of steel.
The circular-like 'Dzome', which appears on the new series of George Clarke's Amazing Spaces, took over two years to make and has been inspired by the spirals on a barrel cactus.
'I started working from my dining room table,' says Manchester-based Anthony, who used the Fibonacci sequence for his design. 'I didn't want to design a cube, so I looked to nature for inspiration. In nature there's lots of geometric shapes. I wanted to make it look more interesting than standard rectangular ones found on the market.'
With a curved faceted shape, the pod – a metal shell lined with birch plywood – is made up of 1,500 components and includes overlapping weatherproof steel segments, 75mm insulation, off-the-shelf aluminium doors, double-glazed windows, a bright skylight with a beautiful LED circular light hovering underneath it, and infrared underfloor heating. The floating desk at the back gives the illusion of more floor space, while the large houseplant brings the outdoors in.
To make sure his design would work before manufacturing, Anthony built a miniature prototype from sheets of aluminium. The model alone cost £1,000 to build. 'After creating technical drawings for the hundreds of parts and ordering them from a laser cutting business, I cut all the plywood on my new CNC router. I did a test build in the workshop when all the parts arrived. I disassembled, painted, and shipped them to the building site.'
With his computer-designed pod, Anthony has reinvented the traditional home office. Described by George Clarke as a 'relaxing cocoon of creativity', the finished design is haloed with light, features wooden panels attached with velcro (they can be easily detached to reach cables at the back), and LED lights outside that were created using a 3D printer. Thanks to precise engineering and intricate calculations, Anthony now has the perfect space to 'inspire and focus the mind'.
George said of Anthony's geodesic pod: 'When you get up close to it you notice just how clever and how well designed all the pieces are. It really is meticulous. What a fantastic space this is. You can hear the wind outside but you feel like you're completely protected from the outside world. And at the very top you've got the most wonderful skylight and the fact that you've put this beautiful LED circular light that's just hovering beneath it. It's beautifully done.'
Full of praise, George concluded: 'It's one of the most brilliant home offices I've ever seen. It's always great to meet the next generation of talented British designers and Anthony is clearly one to watch. Not only has he created a calming space to get away from all the distractions of day-to-day life, but he's also designed and built a stunning piece of small-space architecture.'
Anthony's budget was £12,000 – he ended up spending £15,000 on the project, something which George called 'good value'.
So what's next for Anthony? 'My initial motivation was to have an office pod in my back garden, but it's progressed a lot further than that. My dream is to manufacture and sell many Dzomes and for the business to be a success. Then I can hopefully secure a good future for my family.'
You can watch Anthony's design come to life via George Clarke's Amazing Spaces on Channel 4 On Demand.
---