How to Clean Gutters Like a Pro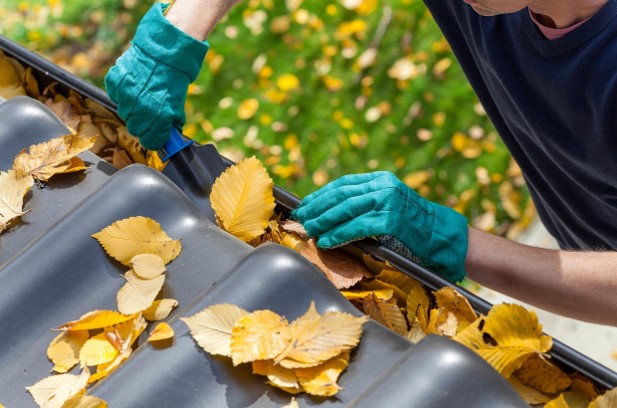 Cleaning gutters is an essential home maintenance task that helps prevent water damage and clogs. While it may seem like a tedious and dirty job, cleaning your gutters like a pro is easier than you think. With the right tools and techniques, you can keep your gutters functioning properly and extend their lifespan.
Manual Cleaning
Manual cleaning is the easiest form of gutter cleaning. There are two main methods to clean your gutters manually. A bucket is the most common method. Use a gutter scoop to remove any debris from your gutters and then place it in a bucket. You can either dump the contents in a compost pile, or you can dispose of them. This is a simple method, but it requires you to climb up and down ladders. Many people prefer to place a tarp under the gutters and then drop the debris on the tarp. After cleaning the gutters, use a garden hose to remove any debris.
Vacuum Cleaning
The vacuum cleaning method is great for anyone looking for a low-contact way to clean gutters. You will need a wet-dry vacuum to do this. You can rent one from your local hardware shop if you don't have one.
Now, you can simply vacuum up all the debris. Similar to manual cleaning, we recommend that you rinse your gutter with a garden hose after vacuuming.
Power Washer
A power washer can be a great tool to clean your gutters. These are great for reaching hard-to-reach places like the downspouts.
A power washer can be rented at your local hardware shop. An extension wand is recommended to allow you to clean your gutters from the ground while still staying at the ground.
Clear gutters are a non-negotiable requirement for homeowners. However, this doesn't mean one size fits all. Different homes have different needs. There are many ways to clean your gutters. To help you choose the best method for you, we've broken down three of the most common cleaning methods.
Leaf Blower
A leaf blower is a great way to clean out gutters that are blocked with mostly dry leaves. This works best when the leaves have just fallen. This method cannot clean the wet stuff that has accumulated in spring.
This post was written by a roofing specialist at All-Star Roofing. We offer the best roof repair in Tampa Bay FL. We are a family-owned and operated Lakeland roofing business, striving to be the best in our industry. Our family has been in the Tampa Bay area for over 60 years, and our objective has always been to provide roofing services at a fast, reliable, and competitive rate. All
Star has a tradition of quality workmanship, servicing residential and commercial properties.