'I Built a 4,000 sq ft Circular Underground Luxury Home'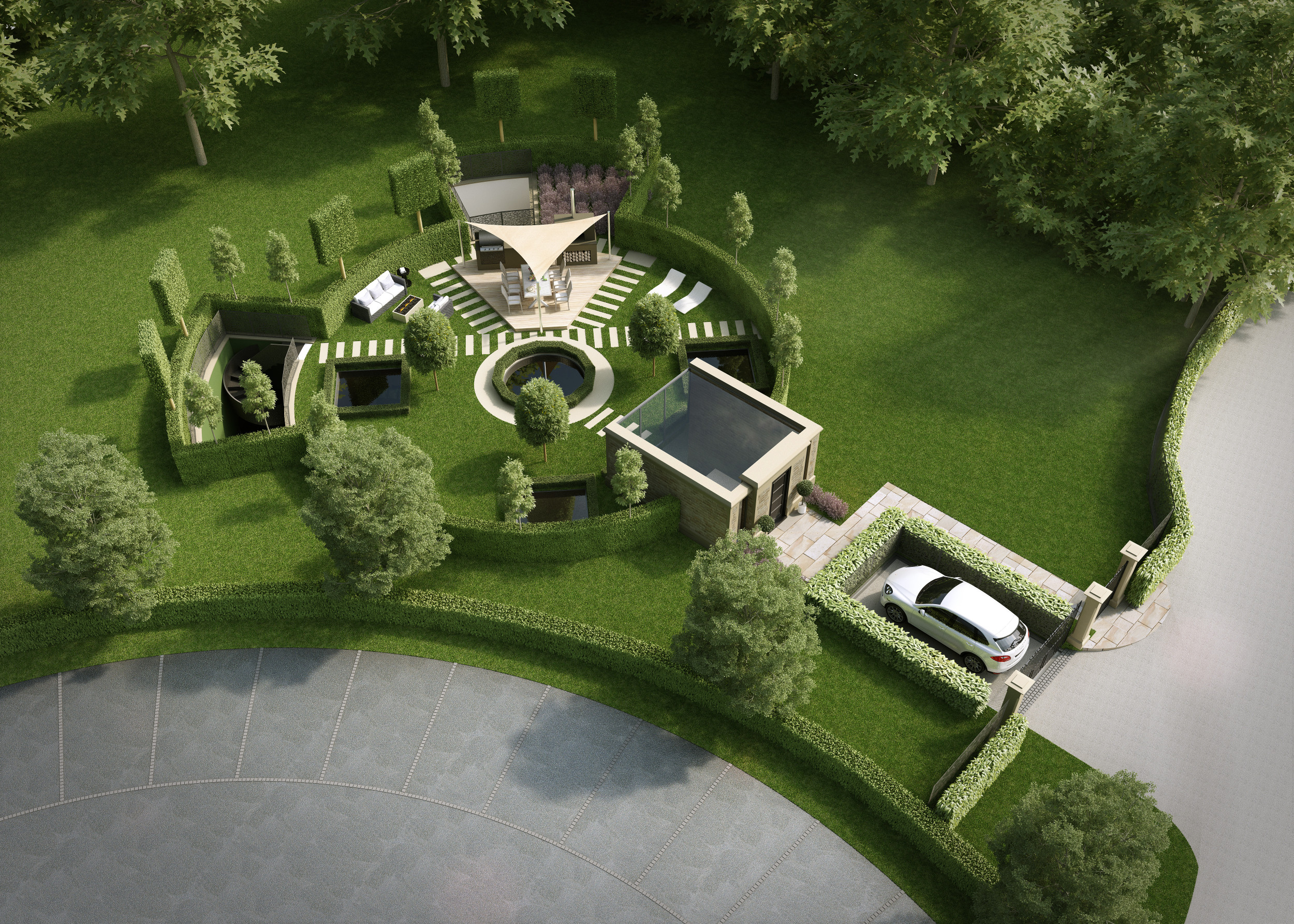 I was brought up on the British TV show Thunderbirds and James Bond films, so there has always been that sense of novelty about unique properties, but I wouldn't say I had a particular fascination with underground homes.
This project, Perdu, really came along out of looking for an innovative solution to a property problem. The underground home is built in the grounds of a large 19th Century mansion house in Cheshire, England. My self and a friend bought this particular property in 1999 and we converted it into apartments and extended it a little. Eventually we were left with half an acre of land at the front of the house, and being a property developer, it seemed rude to just leave it there!
But our application to build on it was rejected and an inspector said that because it's a conservation area, we would never be able to build anything in the front yard that takes away from the view of the main house. A little bell sounded somewhere in my head: if it didn't take away from the view maybe our property would be approved.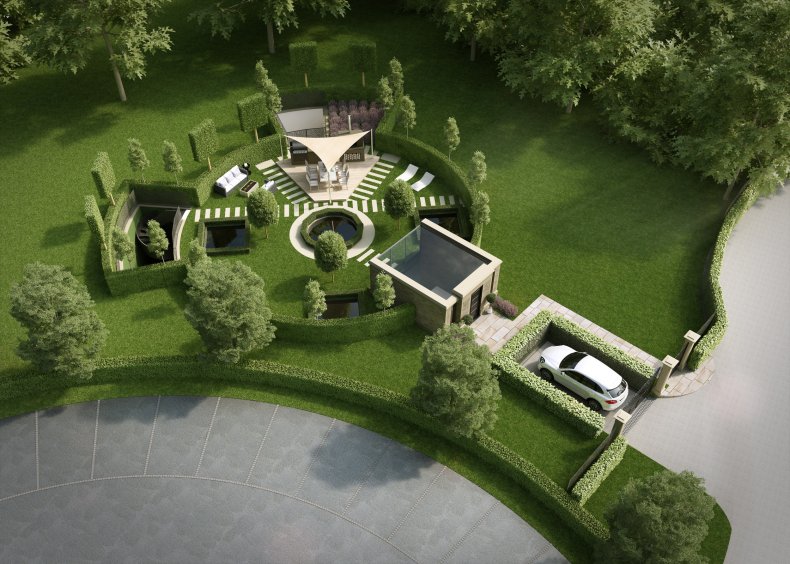 So, about 10 years ago we came up with a concept house that we did get planning permission for. It was a two storey subterranean house that we designed alongside the design arm of our company. We even had a swimming pool on the lower level with a slide down there from the upper level.
We had a couple of "almost" buyers; people who were interested but didn't quite get there. So, about three years ago, I made the decision that we just needed to build it. We had researched underground properties globally; there are a lot, and especially in the U.S. but we couldn't really find a luxury version. So we became a bit more pragmatic, reviewed our two storey subterranean design and decided that while the size did need to be around 4,000 square feet, doing it over one level would make sense.
The construction took 18 months, finishing in March 2022, and we actually overcame a lot of the issues that we could have had with light, because we could use roof light for all of it. We added a car elevator component—where you drive into a car elevator and it takes you down into the property—even though it cost around $200,000 (£150,000), because we felt it really made a difference to the glamor of the house.
The circle design started from a consideration of light. To have a central, circular light source in the middle also creates a real feature for the property. We have two big light wells, one is about 8 meters wide in a circle and curved walls, some of which are dressed as a "jungle" wall. And, we liked the idea of having a central living space with the bedrooms around it. The more we started to play with the design, the more it became a play on concentric circles. It really works visually, but it was harder in some ways. Curved walls are a pain and when you're fitting furniture it makes life more difficult. But we felt that shape would offer a lot of design opportunities and looking back now, it was the right decision.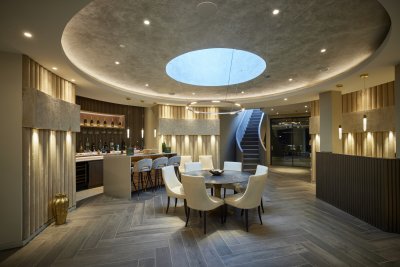 The underground home has a main open-plan living space which has everything you would expect: a kitchen, dining room and living room, but obviously on a pretty decent scale. We have then added fun elements like a bar and a DJ booth. There is also a full audio and AV system throughout that area. Houses worth between $4 million (£3 million) and $13 million (£10 million) have become the staple of my property development company, Huntsmere, over the years so we have created a lot of "club-like" spaces that are often tucked away in the basement of a house. But here, there are light wells at various points feeding light into the property and in the outer circle there are the three opulent bedroom suites with dressing rooms and ensuite bath and shower rooms.
The key to it really is the ceiling height. What I've learned over the years is that you need higher ceilings in the basement than in the upper space, so you don't feel like you're underground.
Our ceilings are 3.2 meters. When you come in you feel straight away that the volume of the space is really generous. Plus, it's a really detailed interior design with lots of layers of soft furnishings. The main living space has suede full height curved paneling that runs through it and polished plaster on the ceiling. We really pushed the boat out.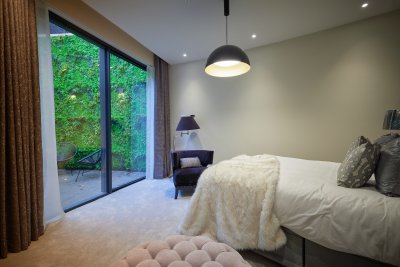 When we started to develop the house, it wasn't designed to be a bunker or with a complete lockdown environment in mind. But it is super secure and really private which appeals to a lot of people. There are security and camera systems built in and it is a concrete structure, so if some of the worst case scenarios played out it would be quite a good place to be I guess.
We're not in a desperate hurry to sell it. We're considering renting it for about $30,000 (£25,000) a month and based on our own anecdotal evidence, and views from some agents, we think around $5.2 million (£4 million) is a good guide price if we did sell it. There's the possibility to expand the property even further underground, so we'll see!
You never quite know where this type of thing is going to go; who knows what inquiries will emerge from it. But we've learned a lot from the process and we're delighted with the property. I've told a lot of people about this idea and the response has always been: "I don't know. I don't think I could live underground. I think it would be dark." We have now taken more than 50 people down there and the reaction has been the polar opposite of that. People say they would love to live there.
Chris Oakes is the managing director at Huntsmere, a luxury property development and design company based in the U.K.
All views expressed in this article are the author's own.
As told to Jenny Haward.