Interior Design Masters' Paul Andrews: 'Banjo's A Clear Winner'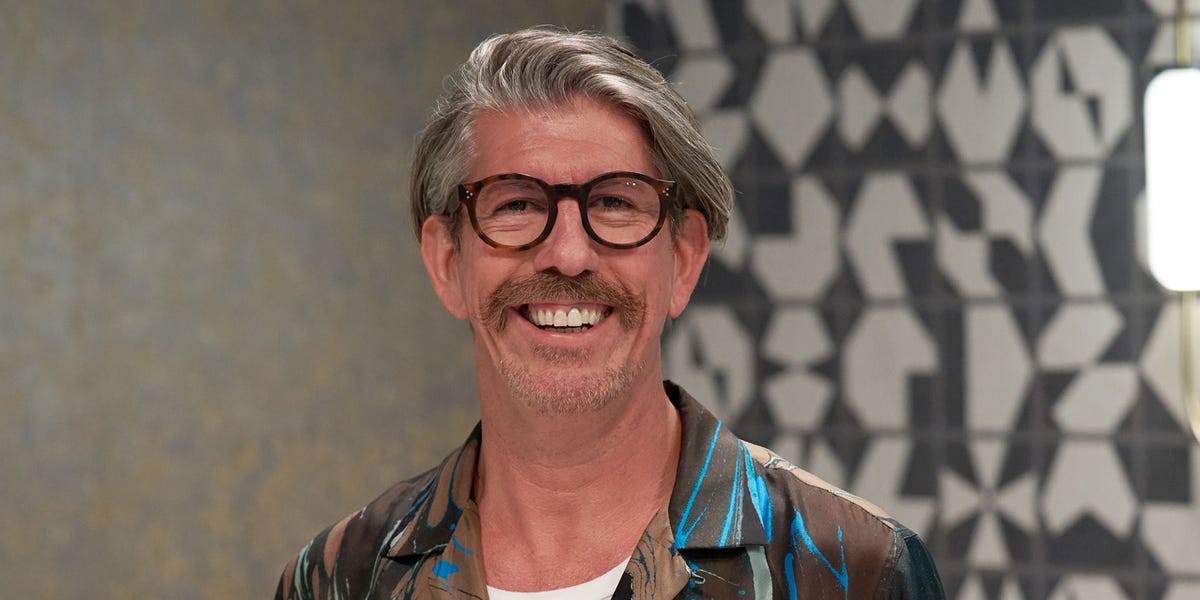 Things are really hotting up now as the semi-final of Interior Design Masters saw just three contestants left in the running to take the super-stylish winner's crown; Australian-born Banjo Beale from the Isle of Mull, London-based print designer and illustrator, Amy Davies, and Paul Andrews, a visual merchandiser, also from London.
Sadly, someone had to say goodbye and go home. Chief judge Michelle Ogundehin and her guest judge, interior designer and retailer Abigail Ahern, admitted that they loved something about all three schemes, transforming contemporary lakeside holiday lets in the Cotswolds.
But after much deliberation, Michelle and Abigail decided that the grand final next week will be between Banjo, whose bright citrus yellow kitchen to meet his 'young family holiday home' brief impressed the judges, and Amy, who found new confidence in her practical skills to create a funky black and pink retreat for a weekending group of friends, complete with outdoor cocktail bar.
Which meant that floppy-haired Paul, who viewers had come to love for his flamboyant self-confidence, had to bow out, extremely gracefully – of course – but with a few tears.
House Beautiful UK caught up with the ever-positive self-proclaimed 'creative genius' about his time on the show and found out – amongst other things – how he learned to tie those proper sailing knots in his coracle light fitting.
Hi Paul, how did you feel watching the show back last night?
I came to my family's home, in the village of Peatling Parva, Leicestershire, to watch the semi-final with my sister, Judith. There was only the two of us, but we went to the pub beforehand so everyone was quite excited. Since my mum and dad passed away 10 to 15 years ago, Judith's my closest family member. All my aunties and uncles live in the North West, as I'm originally from Fleetwood.
Obviously, [filming] was all done last year, and you know that all the experiences you did last year have been overtaken in some way by everything that has happened since. What this episode reminded me of was that we all got on so well.
We enjoyed learning a little more about you…
I felt like with this episode, viewers saw a lot more of me. It included a really nice tribute to my mum and dad, and I really enjoyed that. I grew up in Fleetwood, a fishing town in Lancashire. My dad was a fisherman and my mum was a really good seamstress. I think that's where using my hands came from – from both of them. I was pleased. I felt that the programme did justice to the design I had created. It was a nice end.
And that coracle? You were very impressive with fixing the ropes to hang it from the ceiling…
Ah yes, my dad was a fisherman, I used to watch him. He could do all sorts of different things with rope, all the proper sailing knots and everything. I picked it up from him. Living in central London it's not often I get the opportunity to do that. It was lovely for me because it brought alive the memory of childhood with my dad. I was amazed that I could remember how to do it. The whole thing felt so emotional. There was a real connection with my family and my upbringing, the fact that it was a lakeside retreat and I found a boat.
Were you cross that Banjo also included a boat?
It was amazing that Banjo found a canoe. We both had the same idea. I think mine was more complicated, what with the marine pulleys and hoisting it up. I travelled down to Plymouth for the pulleys. I drove hundreds of miles that week to buy all the pieces I wanted. I wanted it to be authentic.
We did have a chat about our boats when we were doing the research, and I actually looked at doing a second option, an antler chandelier. But I couldn't get hold of enough antlers to do it properly.
Are you really a creative genius?
Creative genius? There's irony when I say things like that. I also think I'm a comedy genius. I don't take myself seriously at all. If you're creative, it's about how it makes you feel, when you actually create something. It's brilliant.
The sofas – were they the tipping point?
No. I did everything within the budget [of £2,500] so it was impossible to replace them. No way could I have got two huge new sofas within that budget – they would have been two and a half grand apiece. It was impossible, so I chose to keep them. And they were the elegant Chesterfield shape. What I wanted was two linen sofas, so that's why I did the covers. I'm not saying I was penalised for them, but I would say why would I get rid of amazing furniture, and spend on changing it out?
Where did you source your pieces from?
Essentially Facebook Marketplace became my best friend. The marine trunk that I used for the coffee table, all of the metal fixings, the marine pulleys, they were all from Facebook Marketplace. If you go to a shop to source all this stuff, it would be so expensive. And the great thing about it is that you meet amazing people along the way. The problem is the time it takes. In the week that you've got to prep you can only afford to have two or three days on the road, so that can mean getting up at 6am and not getting back until 11pm.
So who do you want to win?
In my view Banjo was always my biggest competition. He's very creative, he's a clear winner, but at end of day, you just don't know. It's like Strictly Come Dancing – you're only as good as your last dance. And Amy, well in the semi-final she completely pulled out all the stops to do that build, building bars, flipping rooms around, it was really impressive. So who knows?
What advice do you have for anyone thinking of applying for the show next time?
It's a good idea to start playing about with Pinterest boards, and work out what do you like and what don't you like, what textures, what materials, how you want the room to feel and identify how you want to feel when you're in it.
It's important to understand how a room and environment can change your mood. Some like bold, zesty colours and everything crazy. Or if you want to go in and feel really calm, or if you want something really moody, darker, you'll need to create that. My advice is to look first at the colour wheel. You'll find so many different combinations.
The other thing is to understand how rooms flow. If you've got a small house, you might want to create consistency through colour palette. Or alternatively create a different look in every room, so that you go 'wow!' when you open each door to a room.
But doesn't an interior designer have to work to a set brief? Did you find that difficult?
For me it was always about the client. Because I'd worked in retail fashion, and for lots of different companies, I'd learned how to capture that brand's essence. So for The White Company, it would be all about neutrals. For Anthropologie, it's a lot to do with texture. As a designer, if you were to work for two different clients, each look would be completely different. You should always listen to what the client wants.
So what's next for you?
Well, I'm going back to London tomorrow. I'm in the middle of transitioning from the visual merchandising side of my work towards full-time interior design. I'm not going to throw away all that experience and the good thing is that I don't have to.
What are you working on right now?
I'm working on a Grade II listed cottage here in Leicestershire. I've met the property guy who's going to handle the building work, the electrics and so on. This project has come about because of the show. It's a full renovation and as it's Grade II listed, we're not touching any of the original features. I'll be focusing on the living room, bedroom and wet room. I met with Rachel, the lady who owns it, already – it's slightly eccentric, modern country style.
It's quite a small property, with low ceilings downstairs. But upstairs the beams go right up into the roof. So I've chosen an hydrangea wallpaper design, it's quite delicate. I'm going to take the wallpaper in between all the beams as well. The colour scheme is soft blues, soft putty colours, so it will all flow. Downstairs I've chosen another very pretty wallpaper. I've got to order it from America, but it's all very English flora and fauna.
• Catch the final episode of Interior Design Masters on Wednesday at 9pm on BBC One. Follow Paul on Instagram @paul.alfred.andrews.
Follow House Beautiful on Instagram.
This content is created and maintained by a third party, and imported onto this page to help users provide their email addresses. You may be able to find more information about this and similar content at piano.io