Marble Fireplace Ideas — 20 Designer Rooms With Marble Fireplaces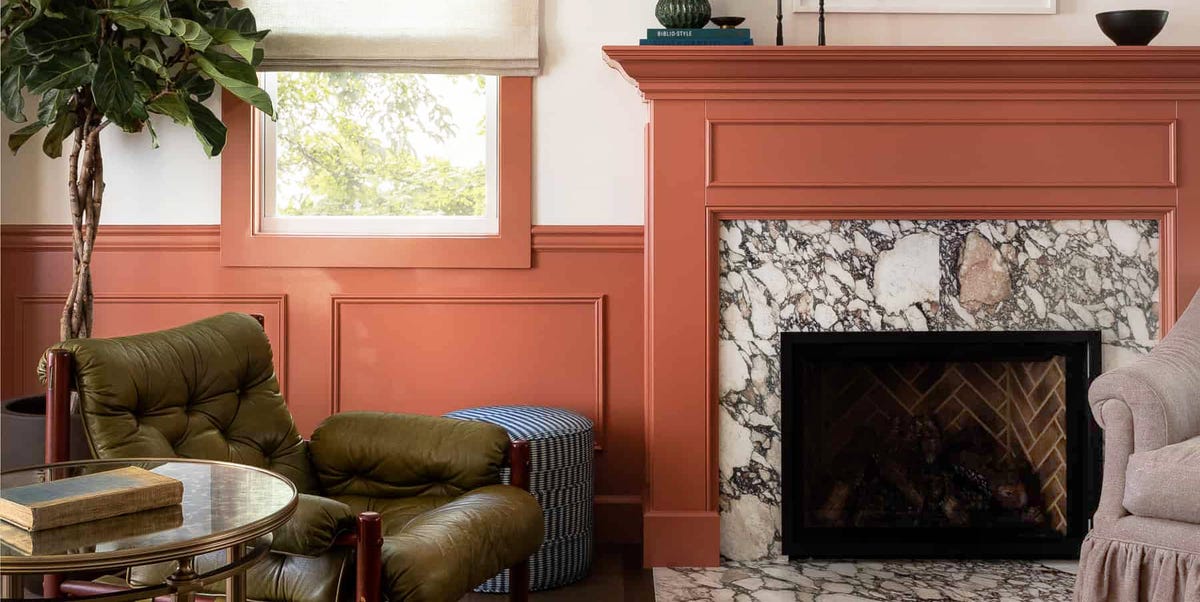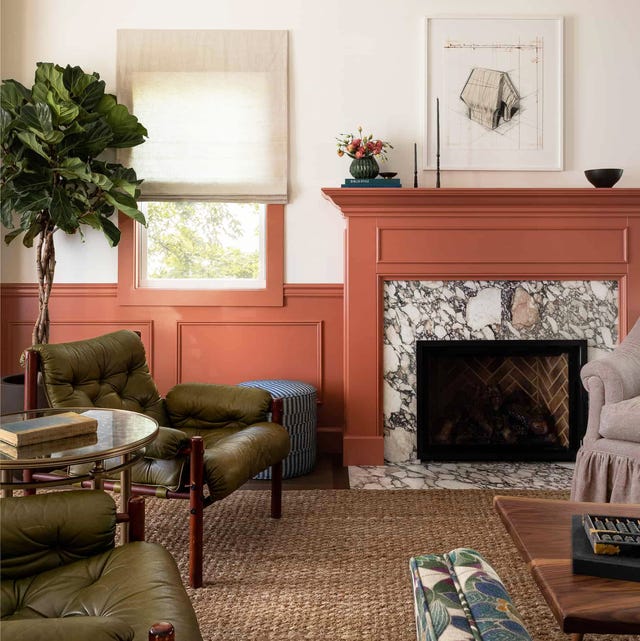 Heidi Caillier Design
Of all the fireplace surround materials to choose between, marble is arguably the best. Not only can it speak to both classic and modern designs, but it's also a high-performer when it comes to maintenance and longevity. Keep in mind that marble is prone to etching (most natural stone materials are in comparison to their more durable but less luxe composite cousins), but as designer Dries Otten points out, "the first scratch is the deepest," and from there, imperfections only add to an opulent old-world look. Since marble is a natural stone, it ages very gracefully, Business Class. While it's on the pricier side, though you can find some great reclaimed mantels at flea markets, Facebook Marketplace, or even on the street (speaking from firsthand experience, here—miracles do happen). Or, perhaps you're lucky and happen to live in a space that already has marble fireplaces and you're just here for inspiration on how to decorate it. Whether you're renovating and need some convincing to go the marble fireplace route, or you want to price up a preexisting one, these designer marble fireplaces ensure that you are in the best of hands. Ahead, discover 20 marble fireplaces you'll want to curl up by forever.
Advertisement – Continue Reading Below
1
Jumping-Off Point
This living room designed by Arent & Pyke incorporates the existing fireplace beautifully. Though the eccentric details like the tiles on the firebox and the intricate pink columns on the mantel support could have been seen as distracting with the wrong design scheme, they actually become the glue that holds everything together. They speak to the Art Deco floral rug as well as the geometric cube table, and all the contemporary, colorful accents.
2
Marble Statement Wall
Catherine Kwong Design makes a strong case for a marble statement wall above a sleek fireplace. The metal sheet below gives it a less precious edge.
3
Matching Marble Frames
Interior designer Tamsin Johnson used the same marble slab surrounding the firebox to frame the doorway for a surprising touch of glamour that also ensures cohesion between zones in the open floor plan. And rather than playing it safer with neutral-tone marble, she opted for swirls of deep purple and red.
4
Layers of Marble
This classic fireplace features several different layers and tones of marble, bringing a rich warmth to the small modern living room. Modern and midcentury furniture keeps things contemporary but the neutral tones and understated combinations as well as a classic gilt mirror on the mantel marry it all together nicely.
5
Subtle Accents
Look closely and you'll see that the two support columns are deep maroon. This colorful accent spruces up the inky black facade. A modern and eccentric mirror above the mantel doubles as artwork and sets the scene in this moody, art gallery-esque living room designed by Nicole Hollis Studio.
6
Quiet Simplicity
A sleek and understated gray marble frame props up a lighter mantel surface and tiled surround. Designer Jae Joo opted for two comfy, oversized armchairs facing the fireplace rather than a sofa angled towards two chairs or a wall to ensure an extra cozy and intimate fireplace experience.
7
Color Play
One of the beautiful benefits of marble is that veining can be a multitude of colors. In this living room by Heidi Caillier, it connects the unique dusty orange paint to the brick firebox as well as the black painted trim and even the cream walls and khaki accents. And all it takes is a little in the hearth area.
8
Earthy Hues
A bright white paint makes this living room by Corey Damen Jenkins a breath of fresh air. The warmer tones in the marble facade play off of the woods and browns while still maintaining the crisp, cool atmosphere.
9
Understated Centerpiece
The real showstopper of this Parisian dining room by Tamsin Johnson Interiors is the elaborate wall mural, which highlights all the beautiful original molding. To keep the design scheme aligned with the bones of the space while still bringing in some contemporary flair, Johnson opted for a white marble dining table surrounded by black and white Marcel Breuer Cesca chairs. The black marble mantel props up a playful modern vase.
10
Ultra-Modern
For an ultra-modern marble fireplace, choose a crisp white Carrera and opt for a flat facade. In this living room designed by Nicole Hollis Studio, the plush and illustrious gray carpet softens the space while still implementing the surface materials and colors used throughout.
11
Floor to Ceiling
Warm swirls of gold intertwine with earth tones in an open and airy home office designed by Breegan Jane. The material introduces a sophisticated, formal style to the more casual elements, and it also helps to bring the scale of the ceilings down to a more intimate, human scale.
12
Old Meets New
Pro tip: Darker marble is relatively low-maintenance because they hide soot better. Clean it regularly though if you don't want to leave permanent stains. keep the area clean to ensure that soot doesn't leave permanent stains. Here, Arent & Pyke uplifted the moody, ornate fireplace with sky blue paint, an indigo carpet, and a dainty chandelier.
13
Detailed Carving
If you love eclectic decorating, take notes. All the juxtaposition in this room is working so well—the angular mirror, vivid orange photography, marble fireplace, rustic stool, and geometric pottery are all unexpectedly complemented by the softness of the blush pink chairs. And, of course, we're into the high-contrast marble.
14
Faux But Chic
A nonworking fireplace can still be a valuable feature, especially when it has a sweet marble facade, like this one. Use the area to display a collection (Elizabeth Roberts filled this one with plants) or cluster some pine-scented candles to get that flickering flame effect.
15
Vintage Find
Designer Kyrstal Matthews gave her modern electric fireplace a classic facade with an old-school mantel she found for an affordable price on Facebook Marketplace. The black and white marble accent gives it an especially regal flair.
16
Matching Firebox
Brick doesn't always vibe with sleek monochromatic decor. But many (dare we say most) fireboxes are indeed brick. Nicole Hollis Studio's solution was to paint them black. This creates depth and makes the old-timey character of bricks more discreet, and it hides soot!
17
Statement Stone
Often, the term "marble" becomes a placeholder for all-natural stone slabs. But if you dig a little further, you will see there is a whole wide world f beautiful options that aren't actually marble. Elizabeth Georgantas chose a bold quartz slab that doubles as a work of art.
18
Mixed Materials
To give a more traditional marble fireplace a youthful feel, paint the surrounding walls an unexpected color (that still honors the veining). Romanek Design Studio opted for a dusty rose tone to complement the warmer, almost pink, grains in the marble. A simple white-painted wood mantel keeps things approachable.
19
Furniture Play
While the marble mantle and glossy floating shelves are angular and sharp, the coffee table and ottoman are soft and rounded, for a cozy touch in the formal living room. If you love decorating with natural materials, don't stop at the marble fireplace—extend the look to your furniture and other surfaces, too.
20
Extended Seating
When you can't surround the flue or firebox with marble for whatever reason, why not create a custom sitting area with a marble base? This marble base is partially covered in with a deep eggplant-hued seat cushion, a cheerful throw pillow, and iridescent mauve carpeting, there's so much attention to touch and texture in this fireplace sitting area designed by Arent & Pyke.
This content is created and maintained by a third party, and imported onto this page to help users provide their email addresses. You may be able to find more information about this and similar content at piano.io
Advertisement – Continue Reading Below