Neutral bedroom ideas: 15 elegant and soothing designs to inspire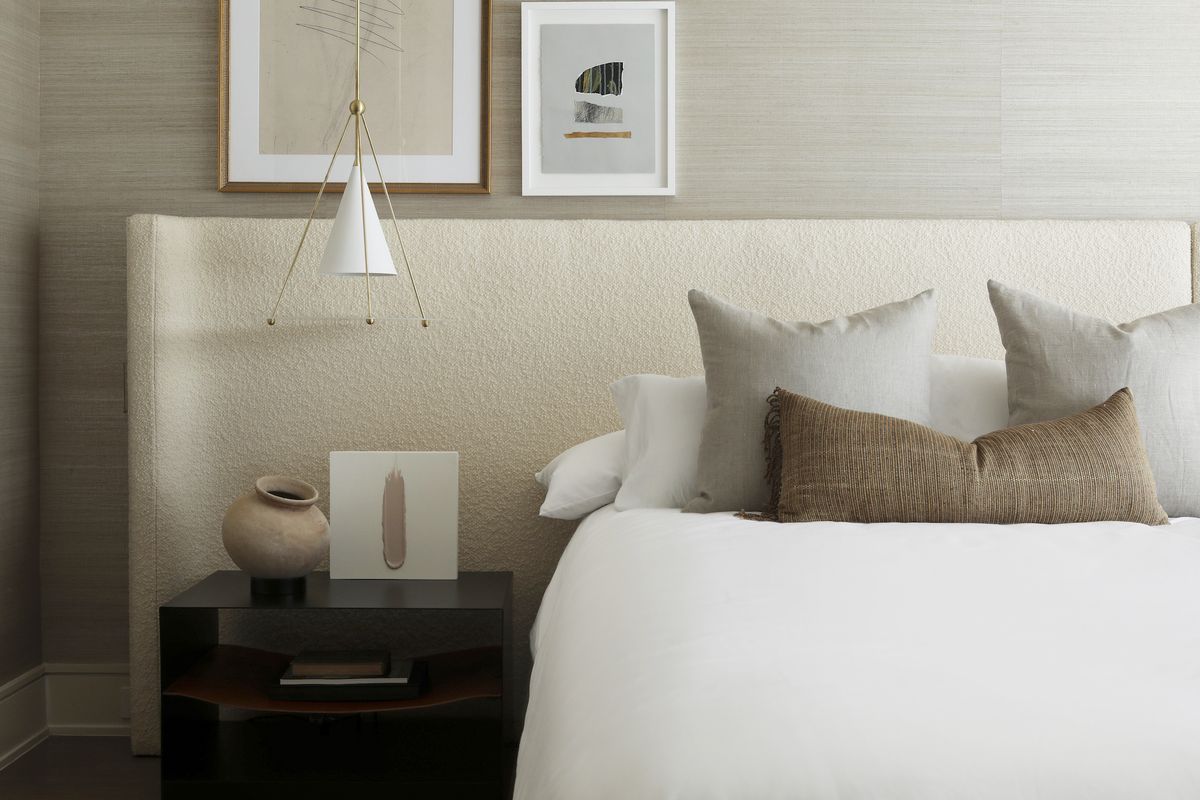 Neutral bedroom ideas remain a favorite choice for many. The effect of a neutral palette is calming – perfect for a room that's both sanctuary and sleep space – and the look enduringly elegant so it's not hard to see why neutral bedrooms never go out of style.
These bedroom ideas show the possibilities of neutrals in a bedroom. They can add warmth, visually expand the room, create a rustic feel, make it crisp and fresh, and more. 
Crucial to success with bedroom color ideas is selecting the right hues and materials for the room, and these neutral bedroom ideas are the ideal starting point.
Neutral bedroom ideas
Combining tones and textures is key to success with neutral bedroom ideas. Layer shades and incorporate a range of materials to bring interest to the room without deviating from the soothing palette.
1. Add soft curves to a neutral bedroom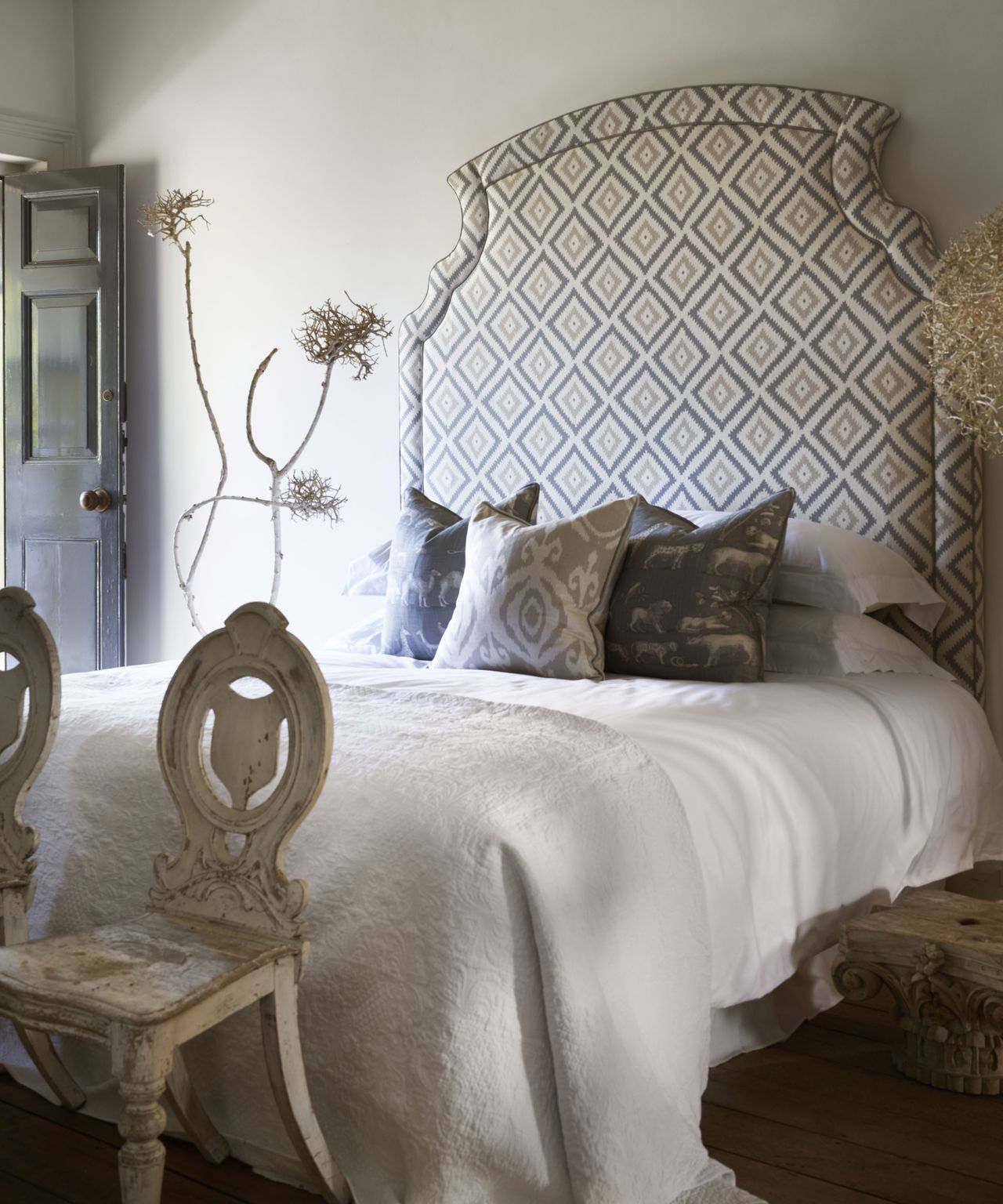 'Bedrooms should be a place where you feel most comfortable so it's important to choose colors that are soothing and relaxing,' says Mark Tremlett, co-founder of Naturalmat. 'Natural materials and warm neutrals are a wonderful choice for creating a calming sanctuary for sleep and will help you feel like you are bringing more of the outside in. 
'A curved headboard and wooden furniture with rounded corners will balance out any hard angles and edges, whilst accessories like throws, blankets and pillows with natural textures like linen and cotton will add depth to your scheme and aid in softening the room.'
2. Introduce a statement shade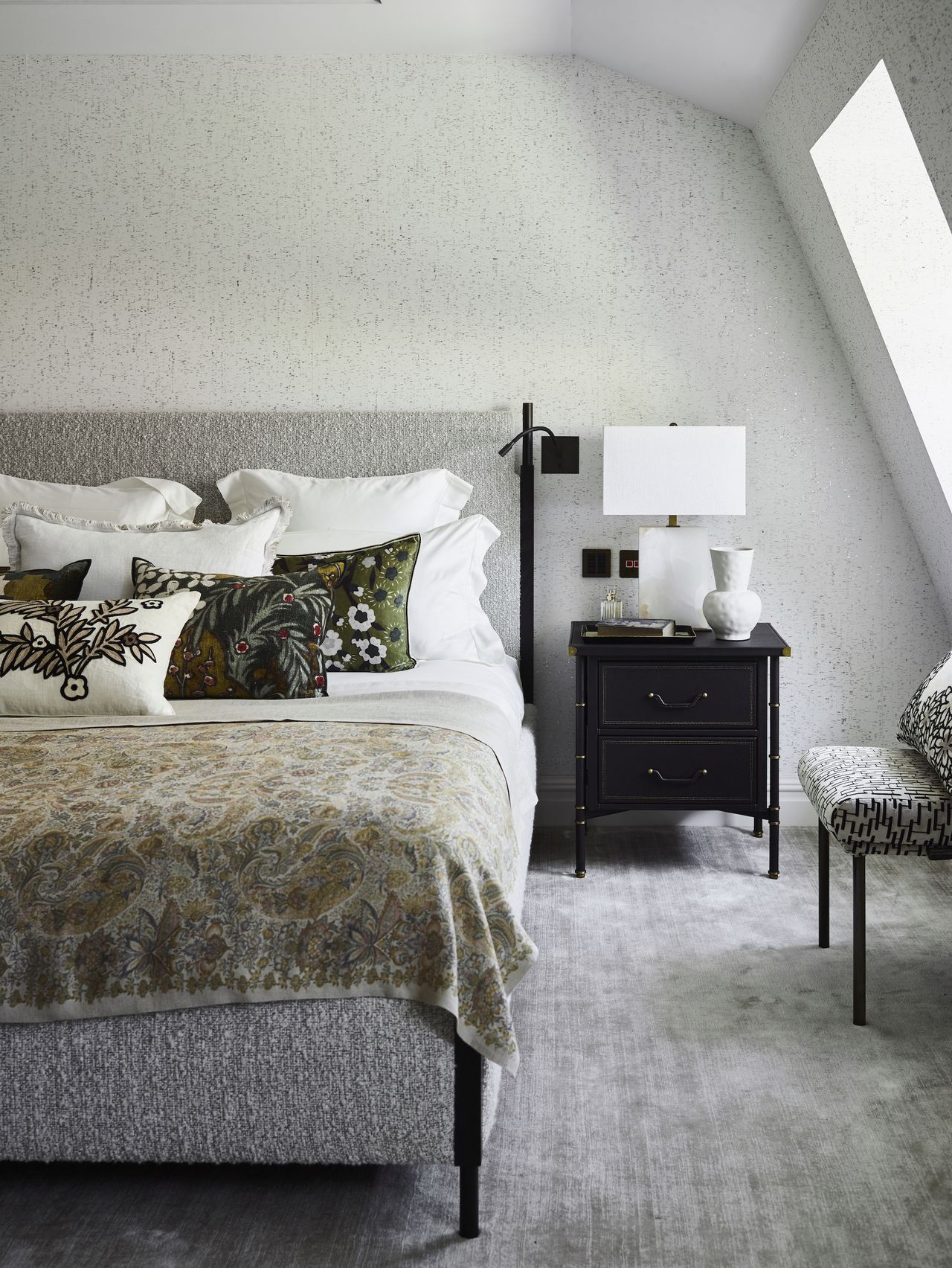 'From painted walls to painted floorboards, an all-neutral scheme will give your room the illusion of being bigger and brighter, while creating a soothing space for sweet dreams and lazy Sunday mornings,' says Annie Sloan, color and paint expert at Annie Sloan. 
'To avoid a clinical look, introduce a disruptor color on a focal piece such as a bed frame. A burst of your favorite statement shade will add personality and really pop against the clean gallery-style backdrop.' This room uses gray bedroom ideas for the latter, a warmer approach than using pure white.
3. Bring in rustic elements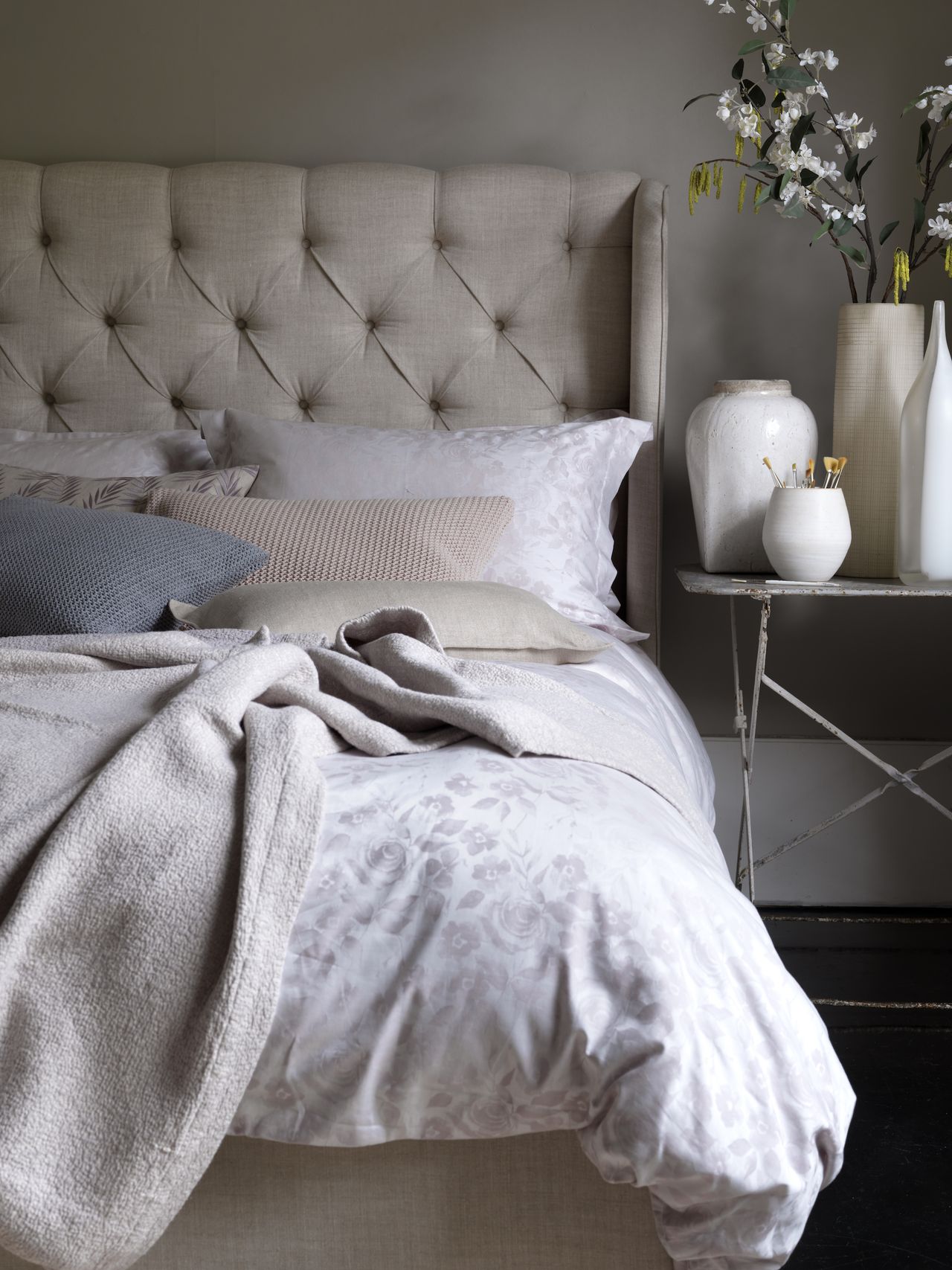 'This look is a stripped-back style with rustic elements and layered textures,' says Adam Black, co-founder of Button & Sprung.
'Creating a relaxing, comfortable environment, soft neutrals are used to create a calm and uplifting space with more sustainable accessories choices.'
4. Layer beautiful materials like wool and linen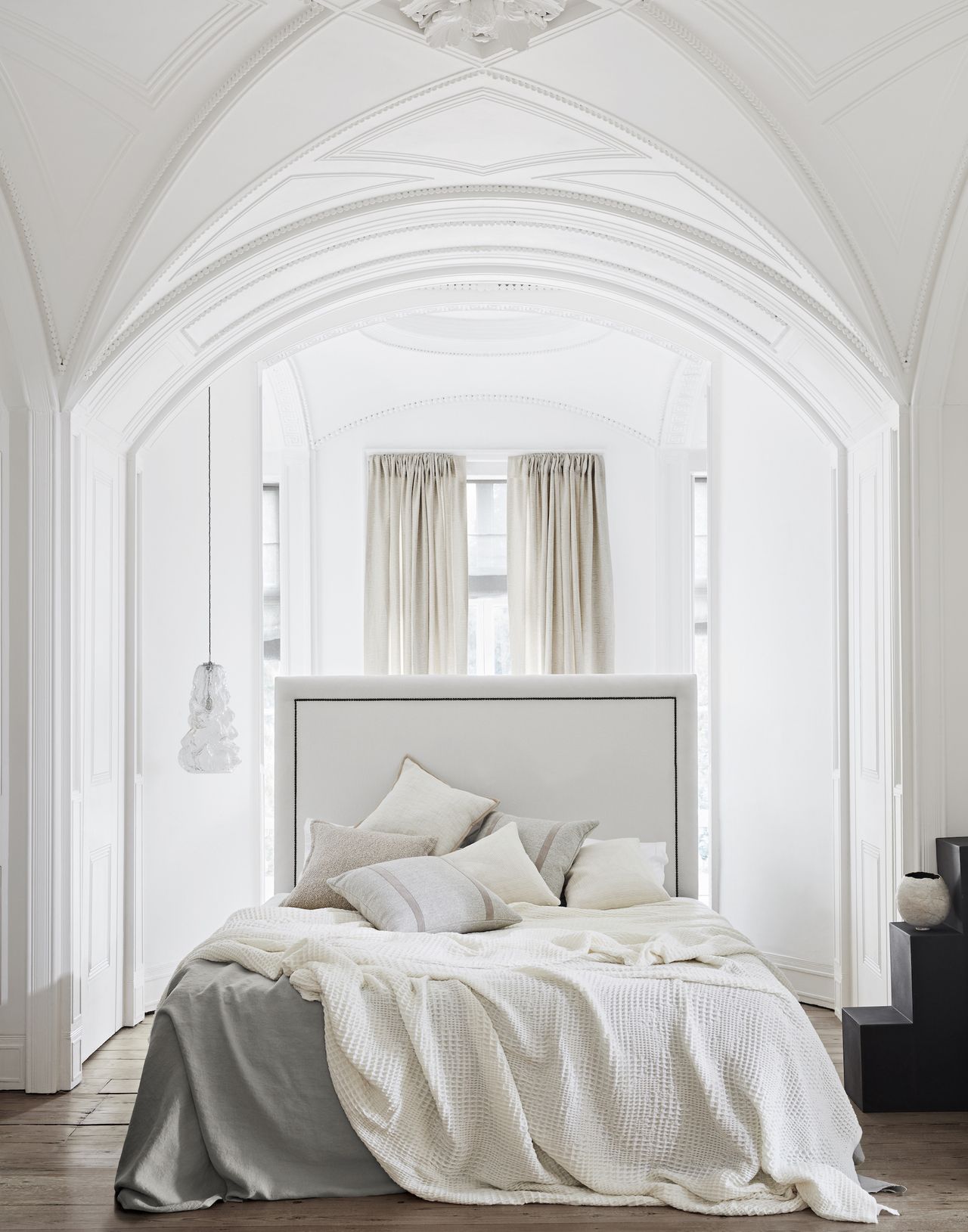 Just like in white bedrooms, focus on fabrics in planning neutral bedroom ideas. 'In the bedroom, fabrics should be a joy to touch,' says Bernie de Le Cuona, founder of de Le Cuona. 'I always choose natural fibers such as linen and wool as they are both beautiful and breathable. Colors should whisper, the look here is quietly glamorous.
'With linen, it's about layering the textures and weights to lend a room depth instead of one ta-da print. The variety of weights and finishes of linen fabrics allow you to dress the whole interior.'
5. Create a cocooning feel with putty colored walls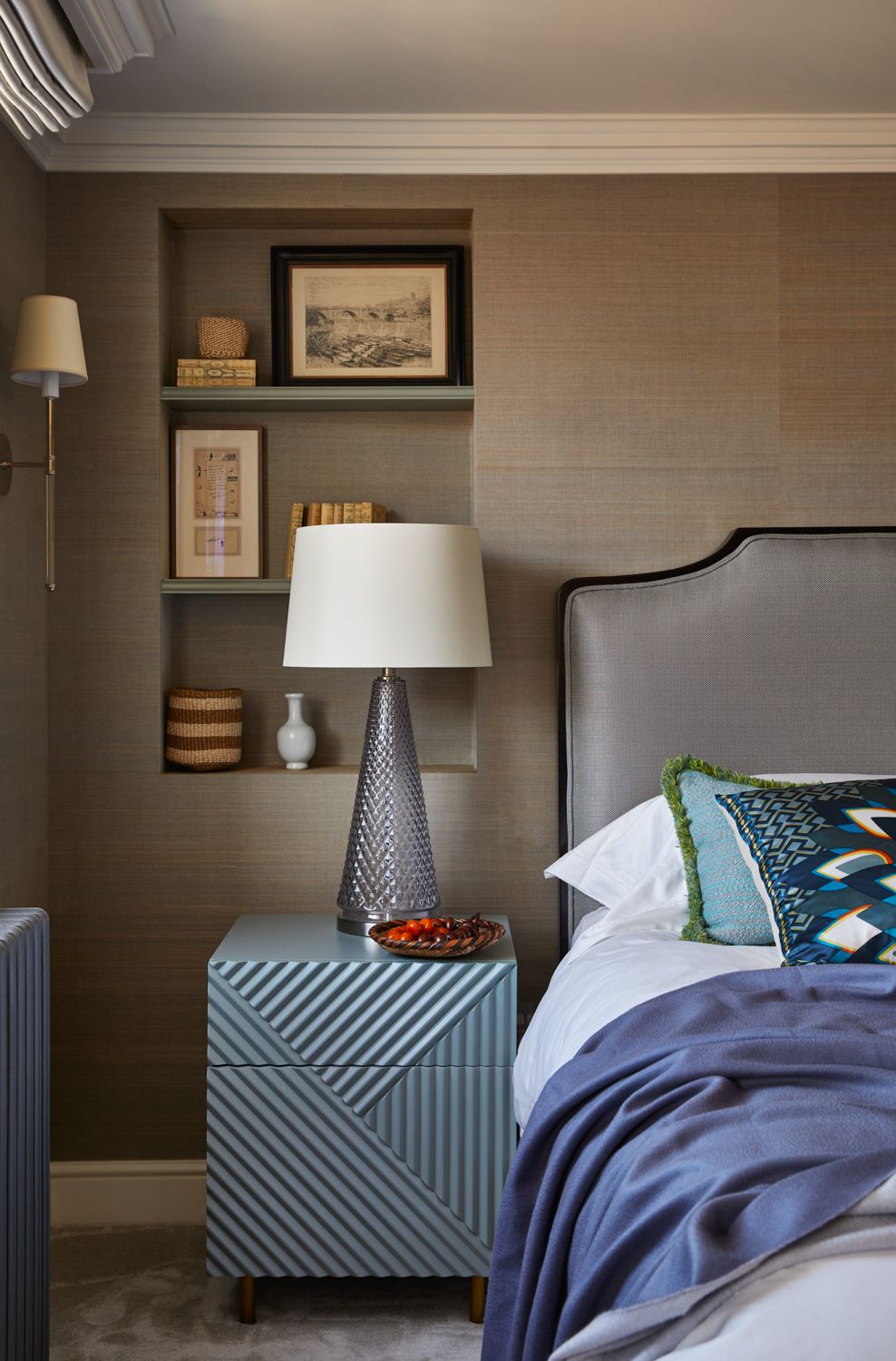 Don't discount neutrals when it comes to the best bedroom colors for evoking a cozy feel. 'Choose a shade for your walls like putty and paint it everywhere, from the baseboard to the ceiling for an all-encompassing feel, then break it up with crisp white bedding and accessories in ceramic and wood,' says Jennifer Ebert, digital editor, Homes & Gardens.
6. Opt for pared-back nudes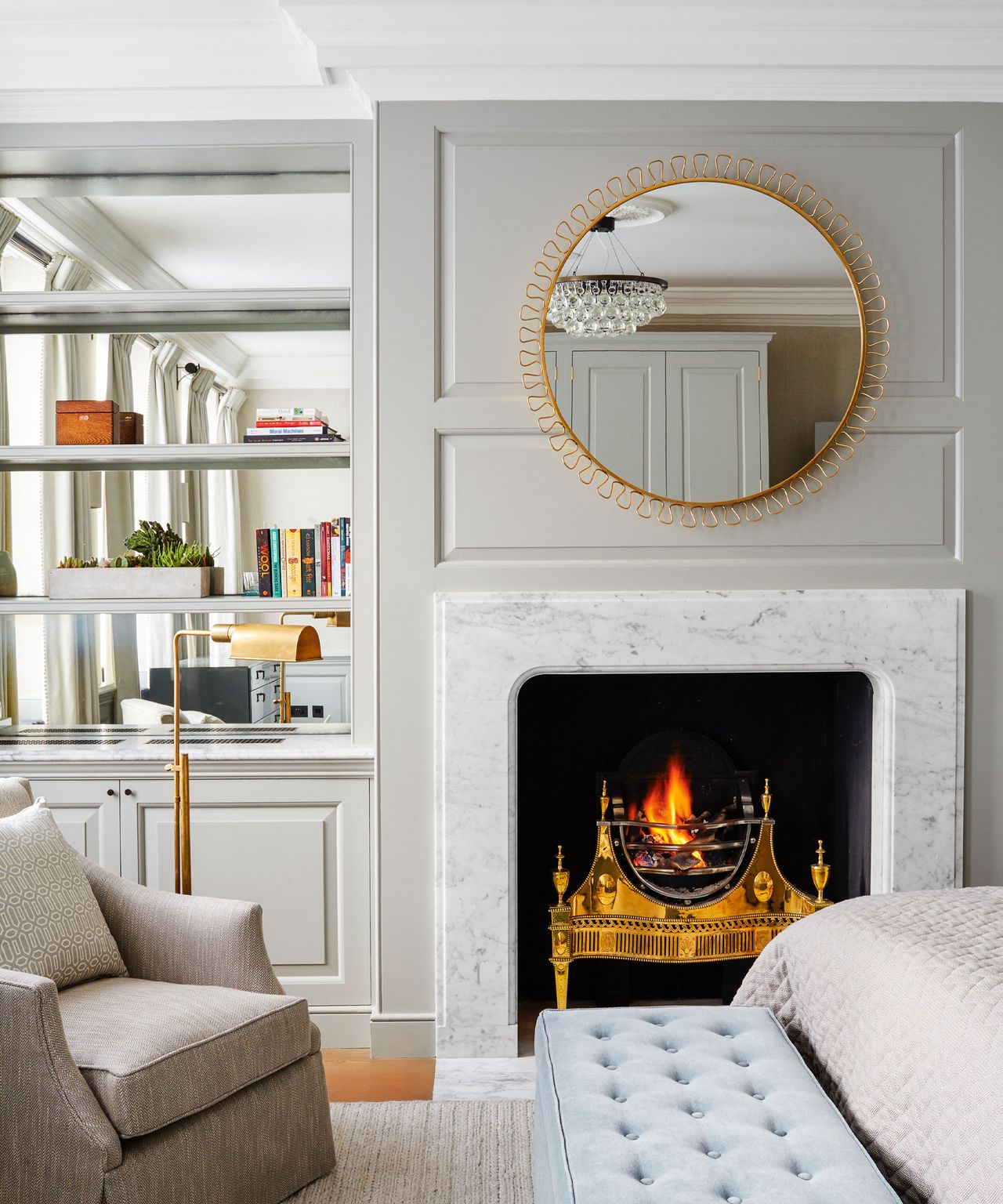 'Pared-back neutral bedroom ideas are a wonderful way of creating a restful space that is conducive to sleeping, especially when complemented with natural linen upholstery and light cotton sheets,' says Joanna Spindler of Graham & Green. 
'Try sweeping the same neutral shade across woodwork, up the walls and over the ceiling for a scheme that feels fresh and serene, whilst never going out of style.'
7. Choose a simple geometric wallpaper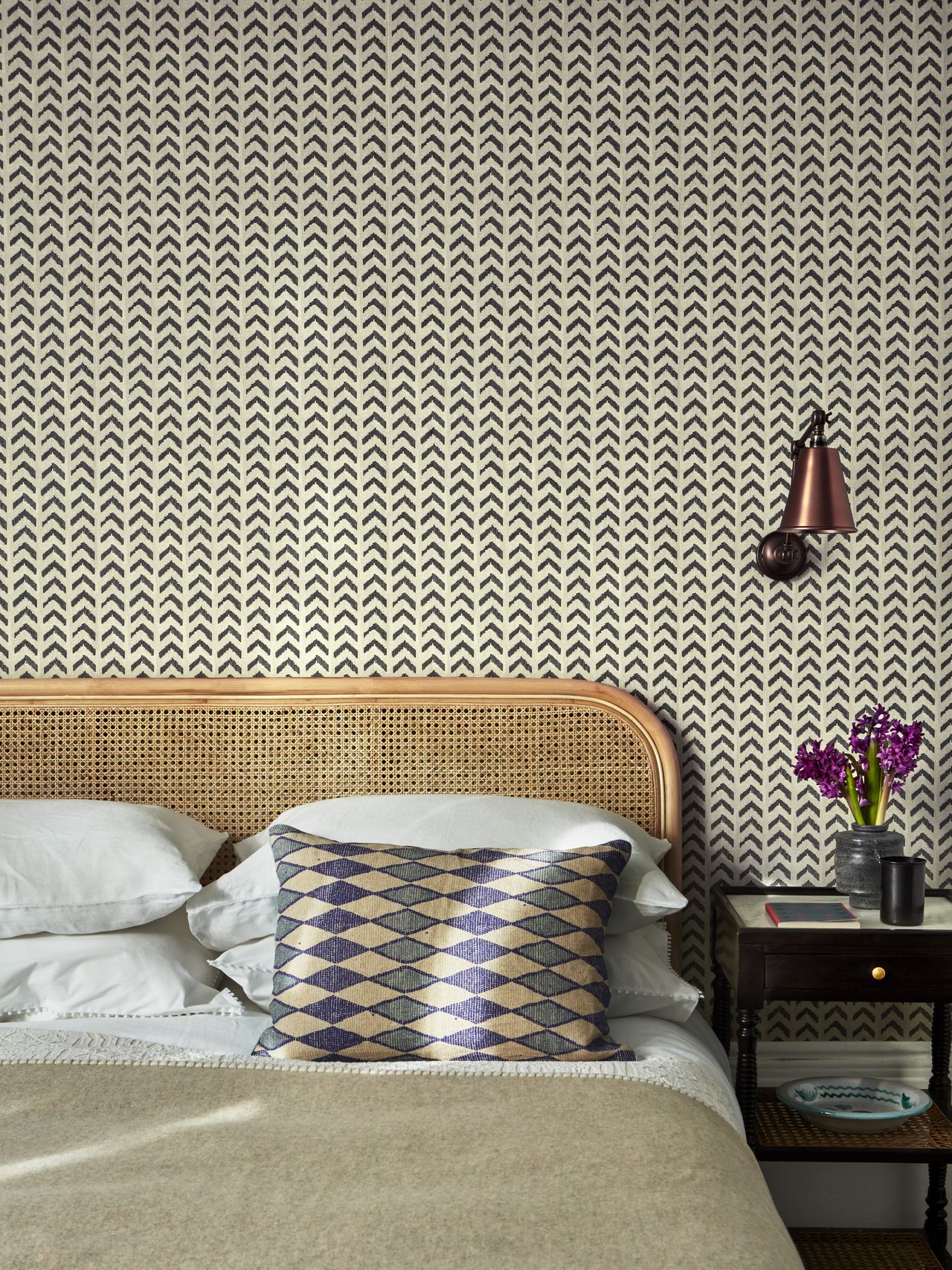 Think neutral bedroom ideas and you might put pattern out of your mind, but it doesn't have to be the case.
'A simple geometric wallpaper in a pared-back color palette will provide a wonderful backdrop to natural surfaces and textures such as washed linen, wood, rattan and bamboo,' says Kate French, creative director, Dado.  
'A small scale geometric that's packed with subtle detail such as Diyenay from the Amechi for Dado collection which features neat rows of stitch-effect chevrons will provide a versatile, textile-like background that allows you to add a few gentle pops of color on cushions or accessories to create a gentle neutral bedroom scheme that's packed with pattern and texture.' 
8. Embrace a hint of color with blush pink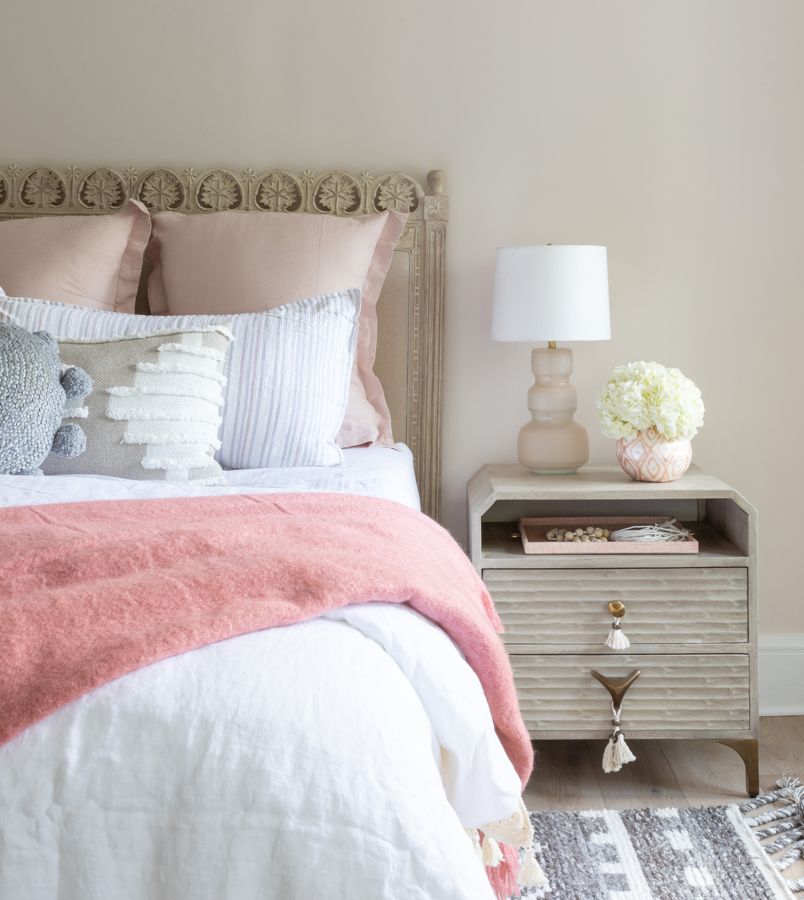 Love pink bedroom ideas? 'Mixing neutrals with pink as an accent color adds in a hint of feminine touch without being too overbearing,' says Karen Wolf of Karen B Wolf Interiors. 
'At the same time, this color scheme has a calming effect and is gentle on the eye. Neutrals can be paired with a wide range of colors. I love using pink in neutral bedrooms because it helps create a warm feeling and an airy vibe to the space.'
9. Cover a headboard for fabulous neutral texture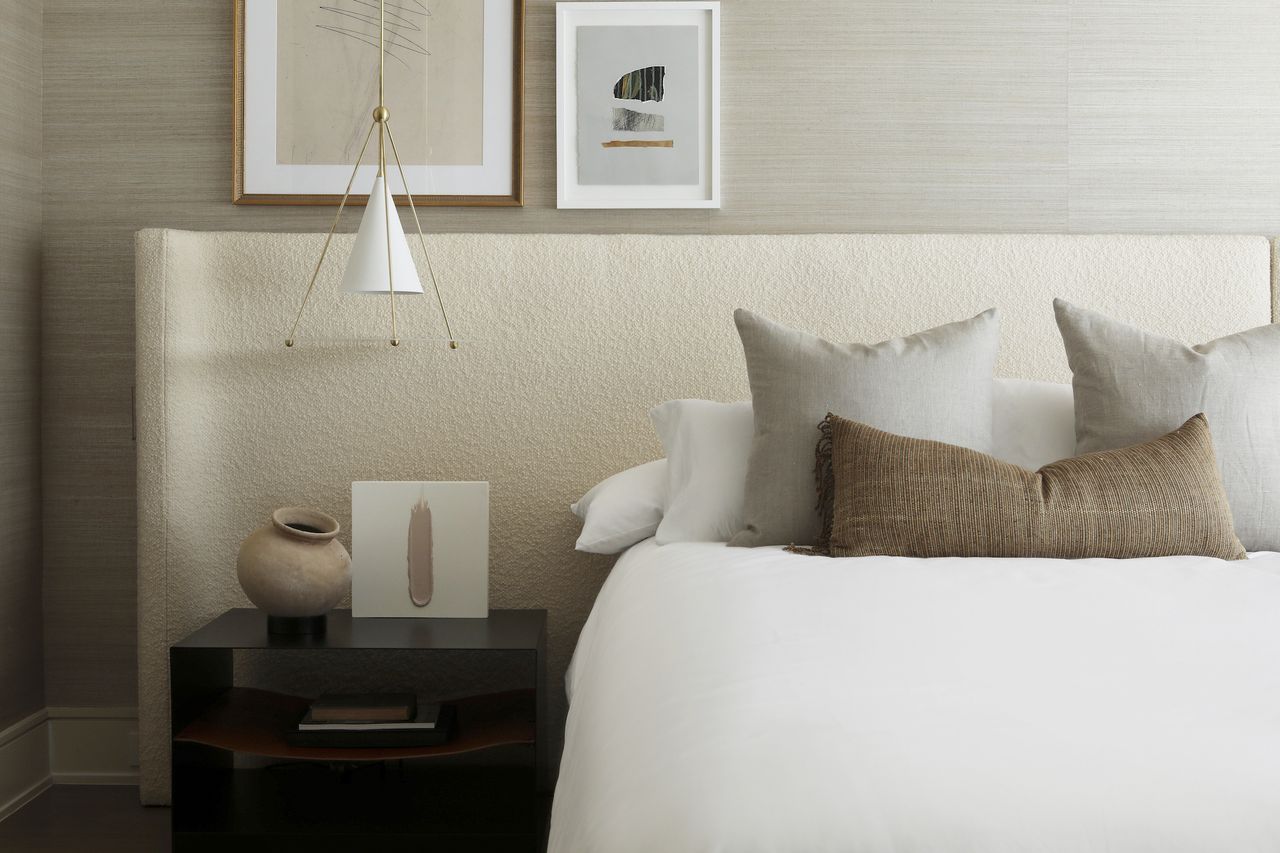 Generous headboard ideas can add just the right level of luxury to a neutral bedroom. 'The clients love organic and sculptural pieces, so the design for this home reflected just the right mix of simple, clean lines coupled with comfortable furniture for the family to relax,' says Ginger Curtis, owner and principal designer at Urbanology Designs.
'Urbanology designed a custom 10' x 10' bed for the master bedroom to fulfill the clients' love of oversized beds. This bed features a textured and neutral bouclé fabric in the headboard that extends on both sides to frame two beautiful metal and leather nightstands. When working with a neutral color scheme, we like to incorporate plenty of texture and interest to give the room a cozy vibe.'
10. Add a luxurious element with silk bedding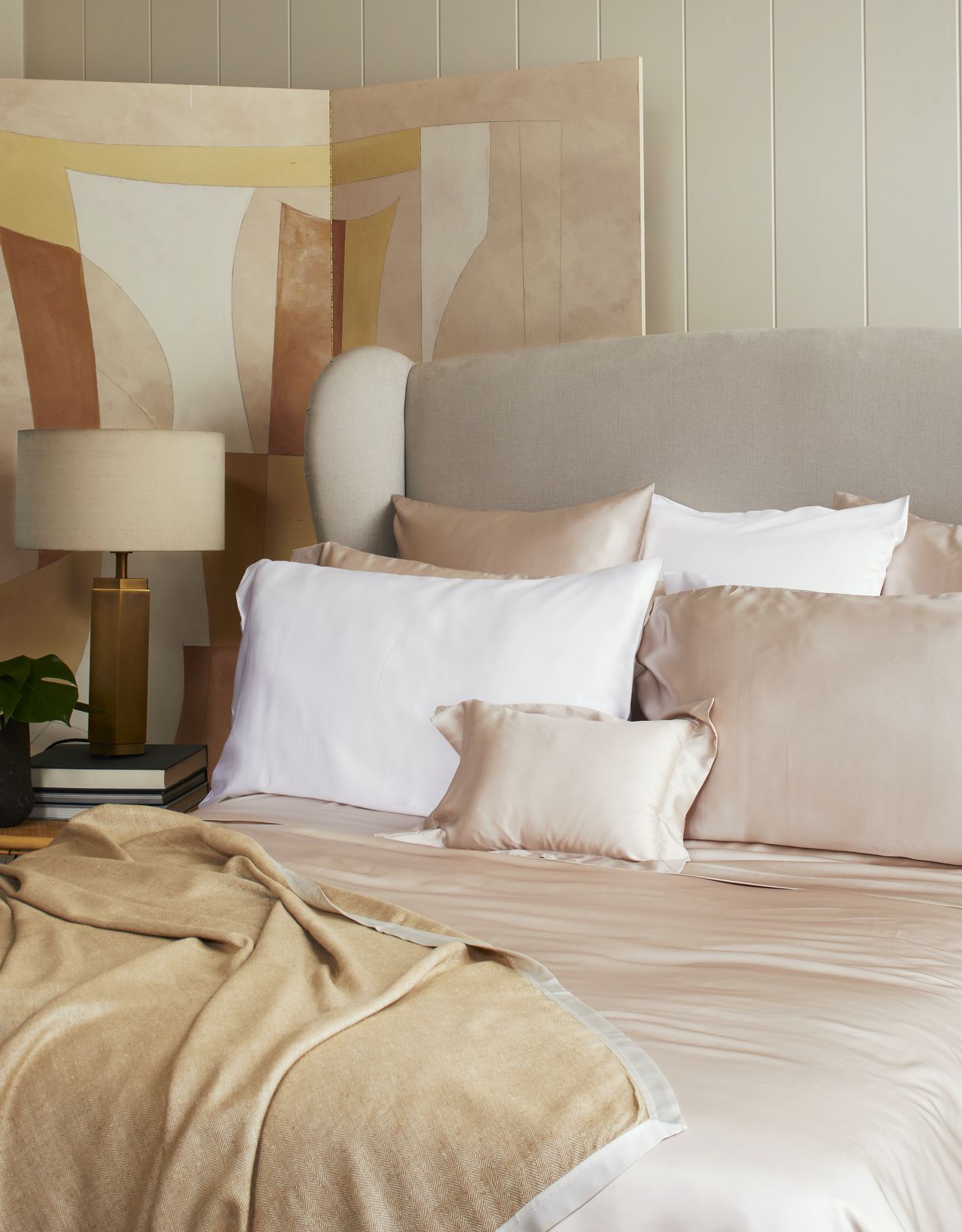 'Soothing neutral shades with crisp white are a wonderful, timeless combination for a bedroom, just perfect for creating a restful atmosphere that is calm and restorative,' says Deborah Fiddy, founder of Gingerlily.
'When introducing a more muted and neutral palette, add layered interest through the choice of materials within the space. The lustrous quality of pure silk bedding and a silk throw will contrast beautifully with the textural detail of a linen upholstered bed or headboard, and natural finishes such as wood flooring or rattan furniture will age and develop unique patinas over time. When these different materials are combined and contrasted together, each will have their own moment to shine.'
11. Elevate a neutral scheme with a mirror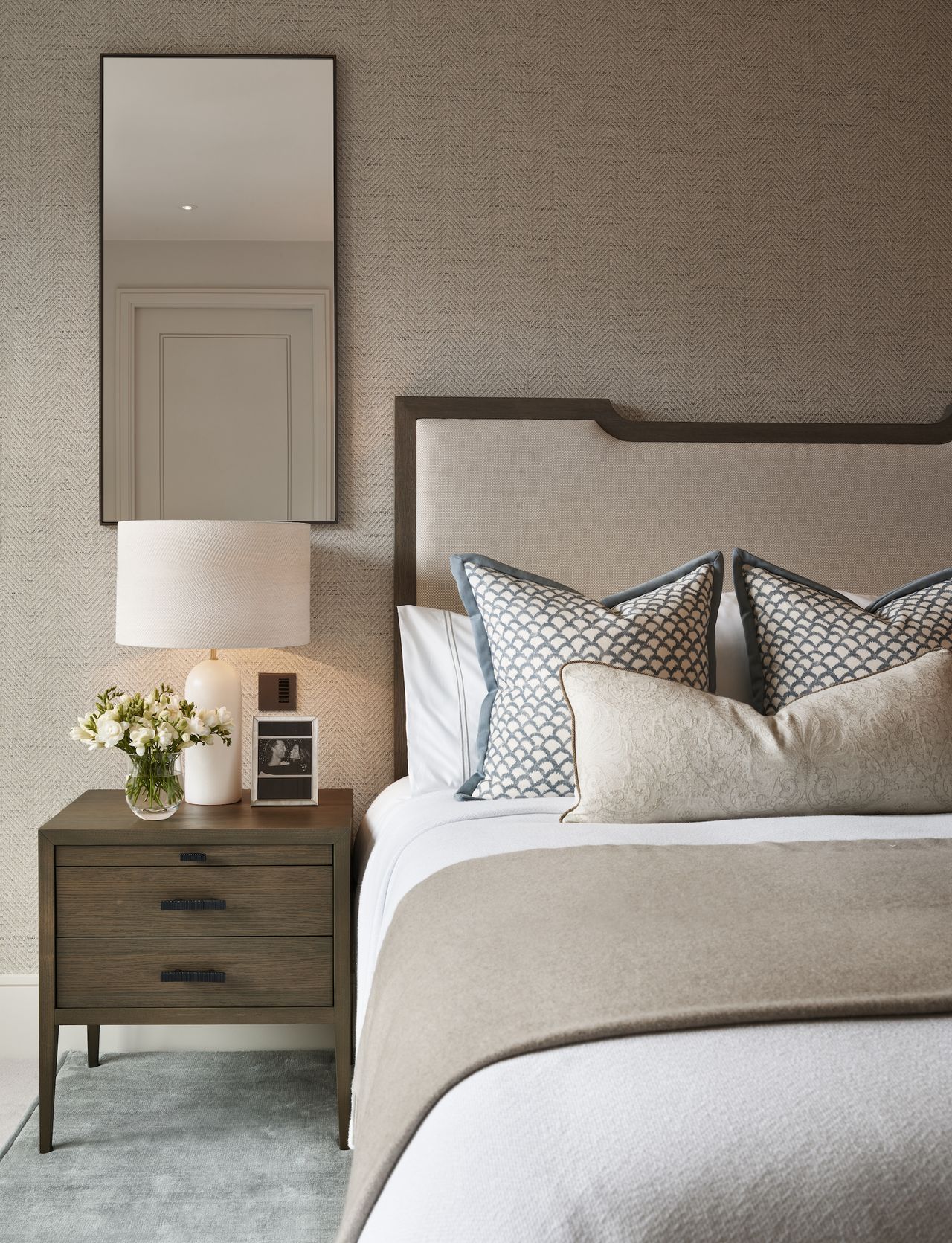 Consider a bedroom mirror for a neutral room. 'When decorating a bedroom, adding beautiful wall decor or a dramatic mirror to a neutral scheme can really add a touch of elegance and sophistication,' says Abbie Ireland, director of Patrick Ireland Frames.  'If space allows, choose a grander mirror as the eye will immediately be drawn to this and it will naturally bounce light around the room. 
'Make sure not to forget about the frame. Choose a color from a throw, for example, or a texture that matches a cushion, to tie in with your neutral scheme.'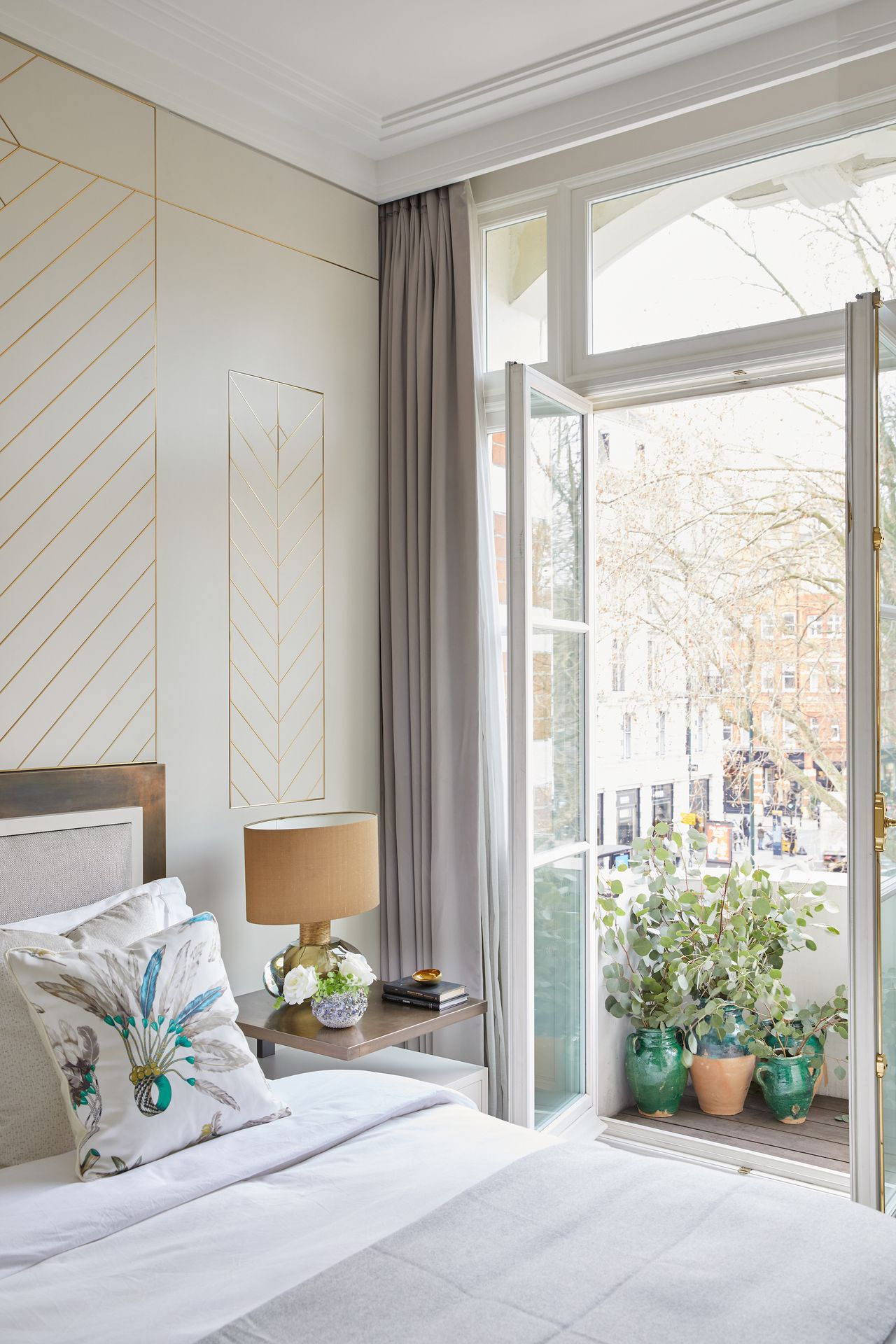 'Neutral tones work well in bedrooms as they speak to serenity and calmness,' says Natascha Dartnall, founder and director of ND Studios.  'This room boasts an abundance of natural light thanks to generous French windows and high ceilings, and our pale, neutral palette served to elevate the sense of space. 
'Neutral tones are always safe but must not to be confused with being boring. Nudes, creams, and whites are such a brilliant base for louder accessories, like the cushions used here, while the gold detailing behind the headboard and on the hidden cupboard above the nightstand are subtle nods to glamour.'
13. Incorporate pattern as well as texture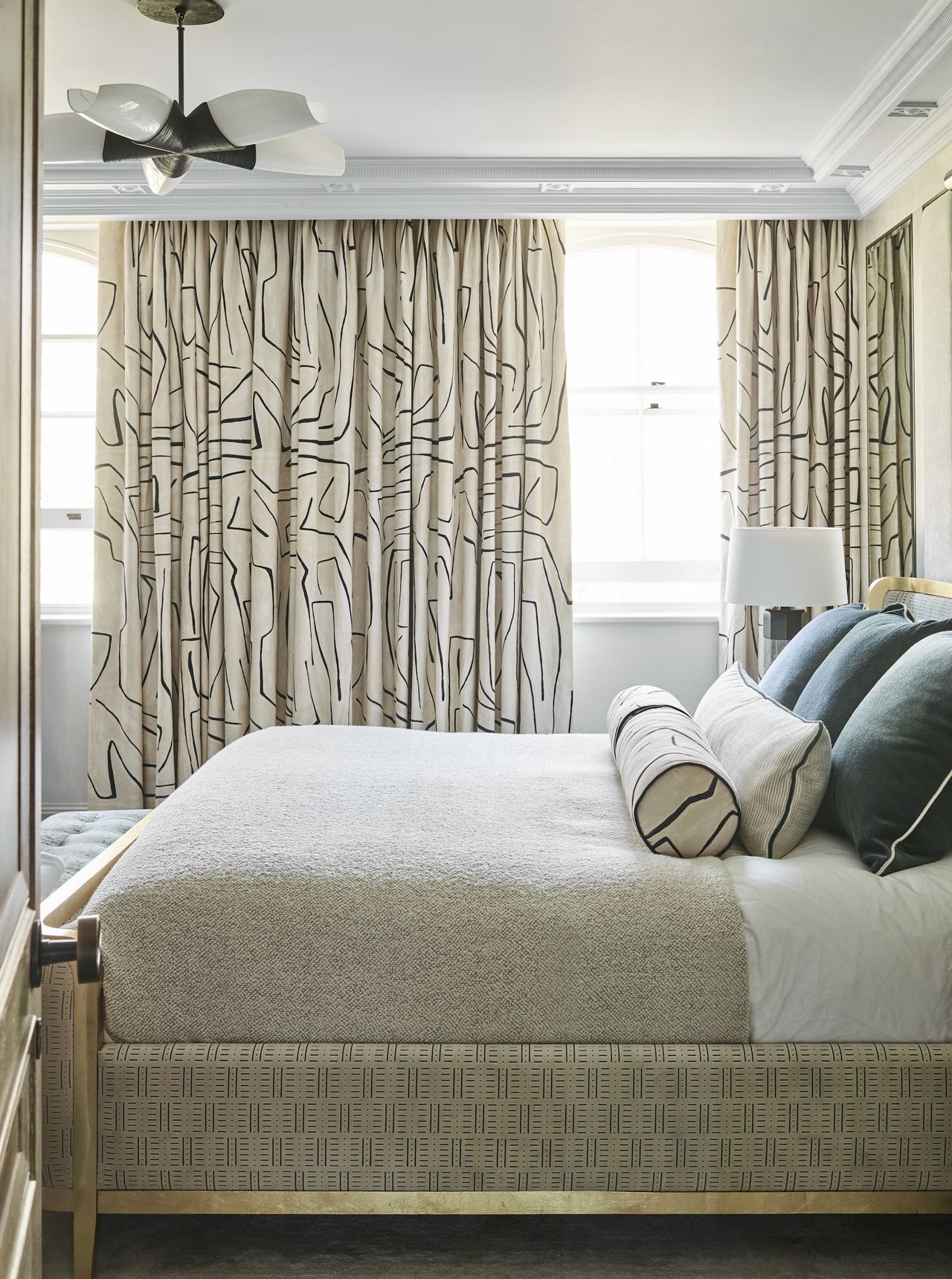 'As well as adding texture to a neutral scheme, you can add print,' says Lucy Searle, global editor in chief, Homes & Gardens. 'Not only will it lift all the off-whites, ochres, grays and nudes, it will give your bedroom a decorative element that can be needed when you have a muted color scheme.'
14. Choose a darker, more prominent base color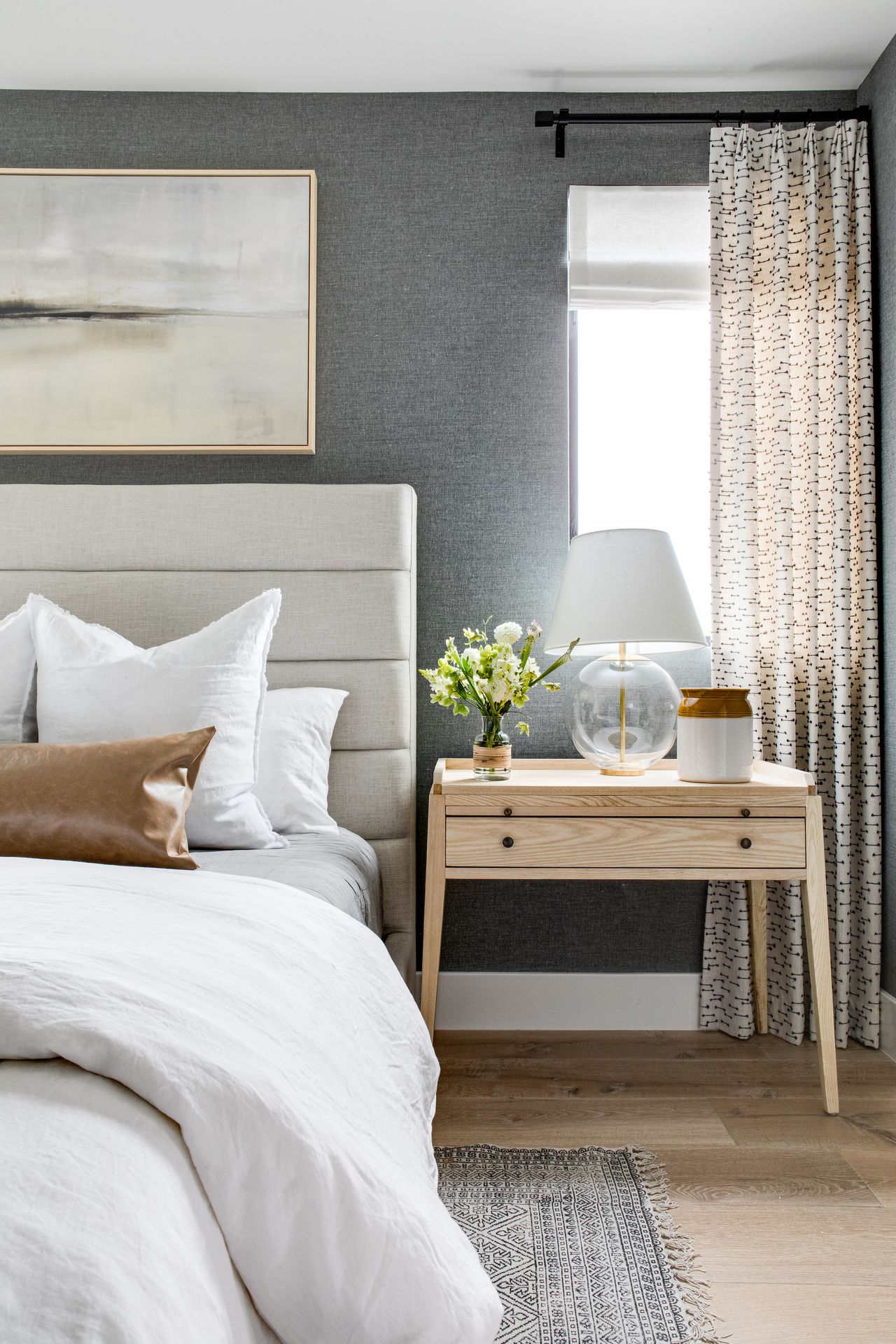 California-based designer Lindye Galloway chose a mid-gray textured wallpaper to anchor this neutral bedroom. 'The rest of the scheme is light and tactile – like the pale blond wood bedside table, bed head, floor and drapes. The result is a perfectly balanced look that's stylish and relaxing,' says Jennifer Ebert, digital editor, Homes & Gardens.
15. Embrace the new neutrals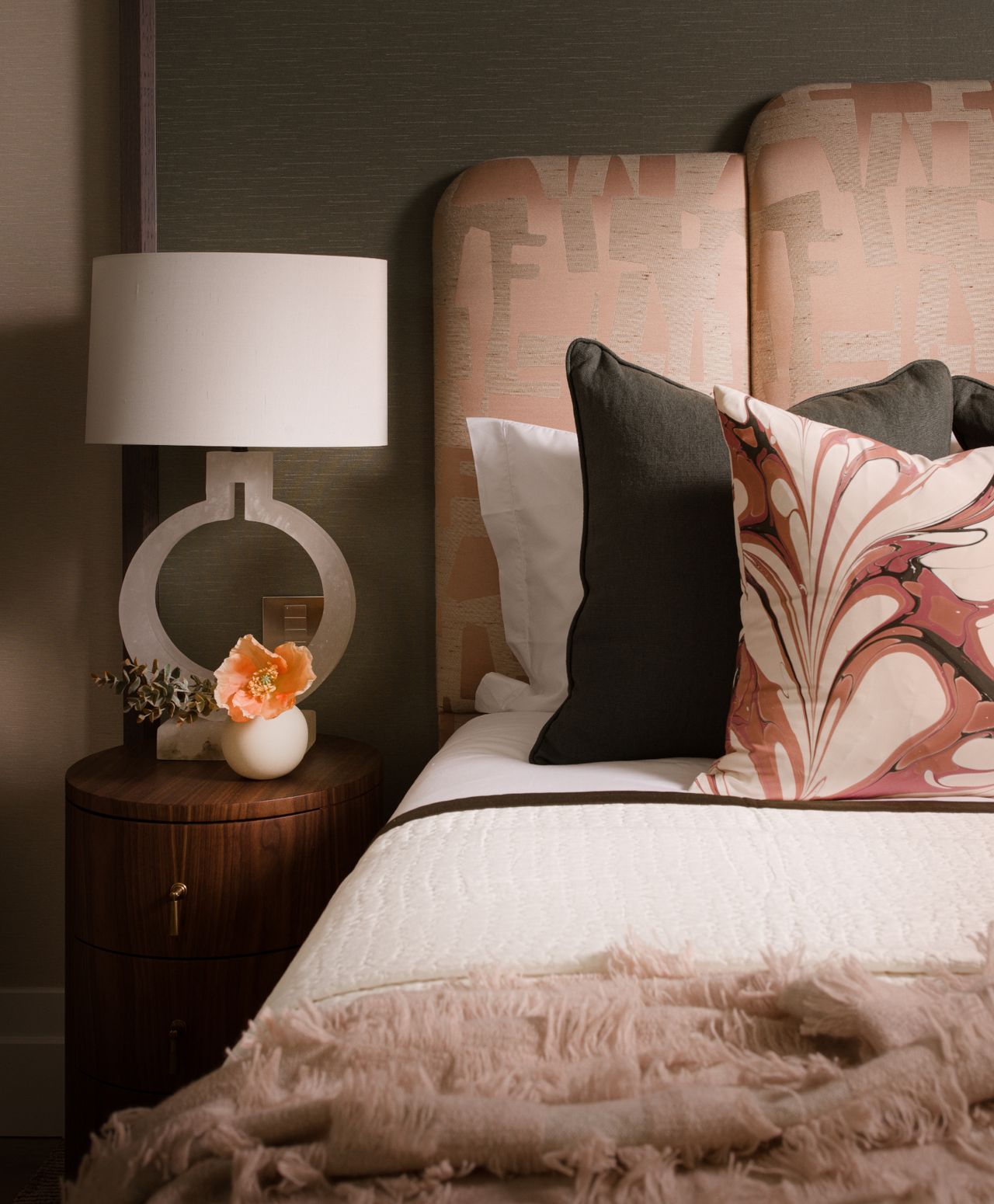 More and more of the interior designers we talk to are introducing what they are calling the 'new neutrals'. Prominent amongst these is interior designer and founder of Elicyon Charu Gandhi, who counts gentle spice shades amongst a warmer range of neutral bedroom ideas.
'Not to be confused with cold and bland palettes, the new neutrals are warm by nature. An underlay of yellow pigmentation throughout creates a cozy cocooning aesthetic, regardless of scale,' she says.
'Typically matte in finish, they have the ability to flex, and so it's possible for them to suit any home, be it traditional or contemporary – in fact, their elasticity is the reason we're calling them "new".' 
What is a neutral color for a bedroom?
There is actually a huge range of neutral colors perfect for a bedroom. Think beige, taupe, gray, ivory, cream and other shades of white, for example. Darker neutrals up the coziness of a bedroom, so consider these for a cocooning feel. Paler shades, meanwhile, can appear to stretch the space. Try takes on white to promote a clean, fresh ambience.
How do I add color to a neutral bedroom
It's easy to add color to a neutral bedroom. Throw blankets and pillows are a classic way to bring in accent shades, but think, too, about using area rugs, artwork and decorative accessories.
Furniture can also be painted in a statement shade and houseplants will add fresh green and even the color of their blooms to the room.