Rattan Garden Furniture – 20 Must-Buy Rattan Outdoor Furniture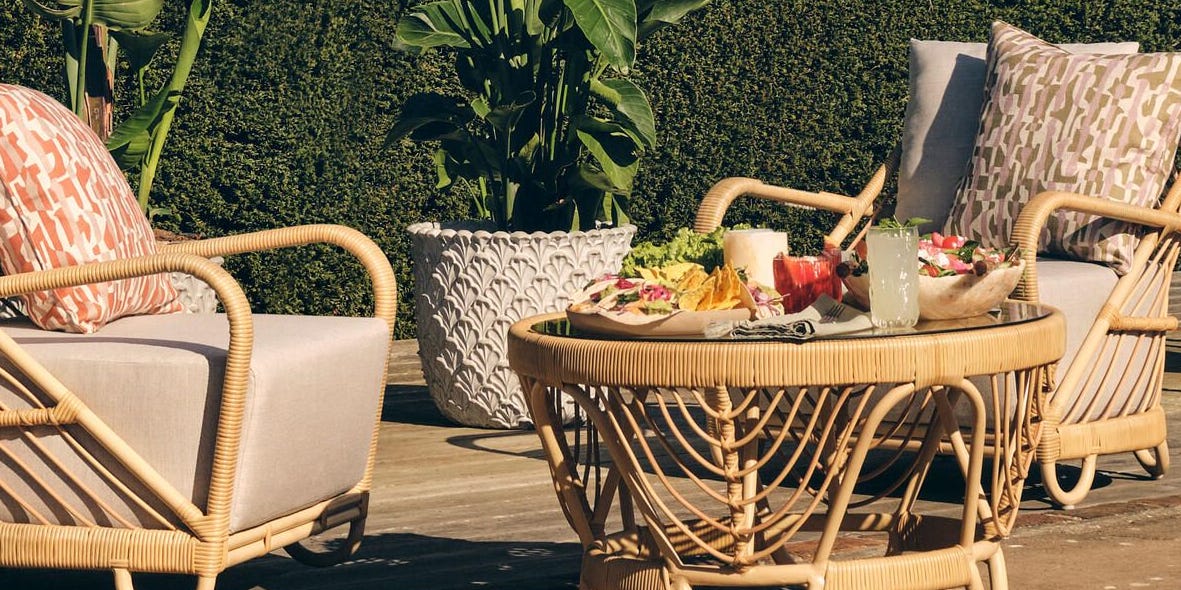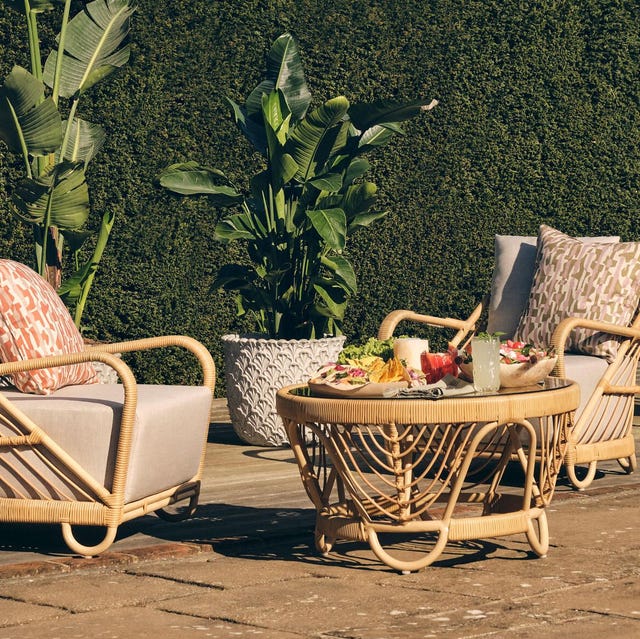 Mad About Mid Century Modern
Rattan garden furniture is a style that just won't quit. Year after year, summer after summer, outdoor rattan styles remain a staple in gardens up and down the country. For good reason, too – furniture made from rattan is the perfect combination of style, comfort and durability. We think its classic yet boho appeal makes it a versatile style worth investing in.
With a myriad of weaves to choose from, selecting a new rattan garden set can feel like a tricky, if not overwhelming, choice. Fear not, we've answered all of your rattan related queries, and to top it off, picked out our favourite styles for you to browse as well.
What is rattan?
Rattan is the name for approximately 600 species of climbing plants that grow in tropical climates, such as Africa, Asia and Australia. Although close in relation to the palm tree, the rattan vine is both strong and flexible, with a similar texture to that of bamboo. Such attributes make rattan the perfect material for weaving, and as such, ideal for creating furniture. Rattan garden furniture is distinct in style, lightweight (making it easy to move or rearrange) and ultra-durable, too. Plus, it looks great in just about any garden.
In recent years, synthetic rattan furniture (created from man-made polyethene) has become ever more popular. Laura Schwarze, Head of Luxury Rattan, sums up your options:
'There are a couple of choices when it comes to rattan, natural rattan which is made out of organic materials and synthetic or Polyethylene (PE) resin rattan, which is man-made and designed to mimic the look of natural materials. You'll find the majority of outdoor sets are made out of PE rattan as it is perfectly suited to be kept outdoors.'
Why is rattan so popular?
First and foremost, rattan is popular simply because of how it looks, with its distinctive appearance both classic in style yet well-placed in modern gardens too.
'Rattan is perfect for those wanting to bring a more traditional style to a garden,' says Jonny Brierley, CEO at Moda Furnishings. 'Both charming and elegant, it brings a beautifully unique feel to a space while being completely durable and hard-wearing. Whether you're looking to entertain friends and family or simply chill in the sunshine, it brings a unique charm that promises to transform all sizes of outdoor spaces.'
The classic nature of rattan outdoor furniture guarantees its longevity, meaning it will look on-trend for years to come. The perfect investment piece, some would say.
What are the benefits of rattan furniture?
Rattan is not only stylish but comfy too – just what you need for hours relaxing in the open air. Natural and synthetic rattan are also incredibly resilient materials and require only a small amount of care to remain looking as good as new. And, as we all know, weatherproof outdoor furniture is essential in any UK garden. Better yet, even large pieces of rattan furniture are relatively lightweight, meaning you can rearrange your garden set-up to your heart's content – great if you like to follow the movement of the sun!
Laura agrees: 'Rattan garden furniture is a really great investment, not only does it let you tap into the natural decor but it is easy to clean and keep looking as good as new. The vast majority of outdoor rattan furniture is made of synthetic rattan, meaning it is plastic and designed to be weather resistant and won't rust or fade when left outside. This makes it the perfect choice for those who don't have access to a garage or shed to store their furniture when not being used.'
What is the difference between wicker & rattan?
'It's a really common misconception that rattan and wicker are the same things, but in reality, rattan is the material and wicker is the technique used to create your piece,' Laura explains. 'While wicker is a really common method of creating rattan furniture, it is also a method used to create lots of other types of furniture – for both inside and outside the home.'
As such, wicker can be woven from many more naturally-occurring materials than just rattan and is also crafted from synthetic substances, such as polyethene. This means that although wicker garden furniture is often made from rattan, this is not always the case – always make sure to check what you're getting.
So on that note, shop the best rattan garden furniture (and a few accessories) for your outdoor space this summer.
1
Best Rattan Garden Furniture
Portofino Outdoor Rattan 2 Seater Bistro Set in Grey
housebeautiful.co.uk
£649.00
A contemporary bistro set perfect for your morning coffee or lazy lunches in the sun. Featuring all-weather PE rattan, wood-effect aluminium and showerproof seat cushions, this is a winning combination of style and function.
2
Best Rattan Garden Furniture
Lexy 4 Seater Rattan Garden Sofa Set
A contemporary crowd-pleaser, this handwoven rattan garden furniture set is made for relaxing. Take a seat in one of the modern egg-shaped chairs or lie back on the spacious sofa while you sip your morning coffee. Both smart and comfortable, this outdoor sofa set comes with plump cushions for maximum comfort.
3
Best Rattan Garden Furniture
Folding Rattan Sunbed Lounger in Grey
The ideal place to relax and unwind, this rattan sun lounger is comfortably padded for hours spent topping up your vitamin D. The best thing about this sun lounger, though? It has to be the fact that it's completely foldable for easy storage. Simply unfold when the sun shines!
4
Best Rattan Garden Furniture
Lyra Garden Dining Chair Set, Grey & Blue
Crafted from a sturdy metal frame and woven PE (polyethene) rattan, this is a style built to last. We love the playful pop of blue on the legs, which is just the thing to inject some fun into your outdoor furniture. These rattan garden chairs come as a handy set of two.
5
Best Rattan Garden Furniture
Tuscany Outdoor 6-Seater Dining Set in Stone
housebeautiful.co.uk
£2,749.00
A luxury purchase, this high-quality dining set seats six people comfortably. It's crafted from all-weather 5mm PE (polyethene) rattan and handwoven with a unique combination of close and open woven patterns. For added comfort, the chairs come complete with waterproof seat cushions in a soft neutral colour. The table has a shelf and a parasol hole, perfect for sunny days.
6
Best Rattan Garden Accessories
Natural Polyrattan Lined Willow Planter
Elevate the corner of your patio or decking with this rustic polyrattan planter, which is UV, rust and frost resistant, meaning your plants will look great outside all-year round.
7
Best Rattan Garden Furniture
Bali Corner Garden Sofa Fire Pit Set
Entertaining a crowd? This contemporary rattan garden set seats up to seven people comfortably. We love the showstopping fire pit table, it's the perfect thing for keeping the party going during chillier summer evenings.
8
Best Rattan Garden Furniture
Lyra Garden Hanging Chair, Charcoal Grey
Hang about all day long in this fun, retro hanging egg chair. A real statement piece, this is guaranteed to catch the eye and would look best paired with a matching rattan side table – you should never be too far from refreshments when relaxing!
9
Best Rattan Garden Furniture
Kubic 4 Seater Dining Cube Set
Dunelm
dunelm.com
£399.00
Alfresco dining just got an upgrade. Sleek and contemporary, we love the black rattan woven rope design on this dining set, which comprises four chairs and a glass top table. Best of all, it's a space-saver; the chairs neatly tuck under the table – in a cube – when not in use.
10
Best Rattan Garden Accessories
Rattan Wooden Lantern with TruGlow® Candle
Summer nights in the garden is all about ambience, so ensure the setting is just right with this gorgeous rattan lantern. Perch this on your table top or decking. An outdoor TruGlow® candle sits within the intricate rattan frame, which you can set on a six-hour timer for automatic illumination every evening.
11
Best Rattan Garden Furniture
Tuscany Outdoor Rattan Sun Lounger in Stone
housebeautiful.co.uk
£850.00
Add texture and interest to your patio with this luxury rattan sun lounger. Made from handwoven, all-weather 5mm PE rattan, its unique combination of close weave and open weave patterns creates an intricate design.
12
Best Rattan Garden Furniture
6 Seater Cushioned Outdoor Plastic Rattan Round Sofa Bed
Outsunny
aosom.co.uk
£459.99
Garden lounging just go a whole lot more chic. This is a unique hybrid of rattan loungers and a large bed, comprising two quarter chairs, two quarter chairs with backs and a small round table A key feature is the retractable canopy, allowing you to block out UV and sunlight when wanted.
13
Best Rattan Garden Furniture
Singapore 4 Seater Conversation Set
Need a new spot to catch up with friends? This conversation set is just the thing. Featuring a two-seater rattan sofa, two armchairs and a couple of tables as well, you'll be here for hours. Why get up when you're comfy and in conversation?
14
Best Rattan Garden Furniture
Faiyaaz Rattan Coffee Table
17 Stories
wayfair.co.uk
£65.99
Pop your drinks, bowl of nibbles, and favourite magazine (House Beautiful, of course) on this PE rattan table to ensure all your essentials are within easy reach when relaxing outdoors. It's easy to clean too – all you need is a damp cloth.
15
Best Rattan Garden Furniture
Ibiza Rattan Sun Lounger Set with Ice Bucket Coffee Table
The next best thing to lying on a beach in Ibiza, this rattan sun lounger set is sure to impress. It comes with a handy coffee table featuring its very own ice bucket – happy hour starts whenever you want it to.
16
Best Rattan Garden Furniture
San Marino Black Pod Chair
A comfy cocoon in the form of a chair, you'll have to tear yourself away from this pod. The textured feel of the natural rattan finish is contrasted by ultra-plush cushions for a modern boho look, perfect for contemporary gardens.
17
Best Rattan Garden Furniture
Dante 2 Seater Garden Sofa, Natural
John Lewis & Partners
johnlewis.com
£400.00
Outdoor lounging just got an upgrade with this classic two-seater rattan garden sofa, crafted from synthetic wicker. Classic yet contemporary, this timeless piece features a sturdy aluminium frame for a long-lasting finish.
18
Best Rattan Garden Furniture
Amaya Outdoor Rattan Coffee Table
madaboutmidcenturymodern.com
£739.00
Offering endless curve appeal, this glass-topped rattan coffee table takes inspiration from Soho Beach House Canouan and it's ticking a lot of boxes. The sculptural metal frame and intricate weaving adds extra interest.
19
Best Rattan Garden Furniture
VIDA – 2 x Sun Loungers with Side Table & Parasol
modafurnishings.co.uk
£1,680.00
Perfect for soaking up the sun in comfort and style, this pair of loungers have squared edges, headrests and deep filled cushions with a dual-density foam, ensuring they keep their shape for many years to come. Better yet, multiple recline positions and hidden wheels mean you can easily move your loungers into your preferred position. The set includes a parasol, too.
20
Best Rattan Garden Furniture
Rattan Garden Day Bed Sofa Set in Grey
rattandirect.co.uk
£1,539.00
We know an investment piece when we see one. Comprising a pair of two-seater sofas, a pair of padded ottomans that double as coffee tables, and a selection of scatter cushions too, this set can be mixed and matched for a configuration that suits you best.
This content is created and maintained by a third party, and imported onto this page to help users provide their email addresses. You may be able to find more information about this and similar content at piano.io