Stunning Treasures You Can Only Find at the New York Design Center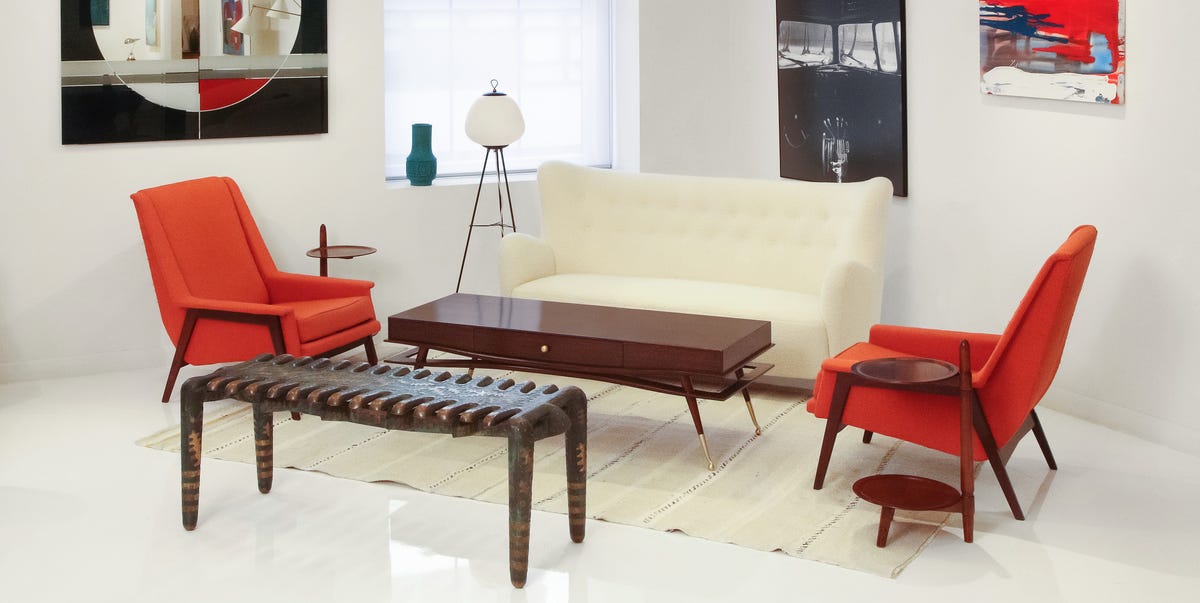 Housed in its own century-old building, the New York Design Center (a.k.a. 200 Lex) offers more than 500 lines of furniture across nearly 100 showrooms, as well as hyper-curated antiques, handcrafted heirlooms, trendy decor, and more. Since its inception in the early 20th century as a furniture-only showcase, 200 Lex has evolved into an institution in the heart of Manhattan catering to the design obsessed.
Whether they're casual collectors or industry pros, interior designers and consumers can find an impressive range of products that span the design gamut from mid-century modern furniture to bespoke cabinetry. To illustrate the variety of styles and selections available only at 200 Lex we chose standout picks from seven of the leading outposts on site.
The Gallery
On the 10th floor of 200 Lex, The Gallery is more than a showroom. It's a shoppable destination displaying antiques, vintage, and 21st century finds from over 50 dealers. Its rotating selection of curated products ranges from Art Deco accent pieces to abstract, postmodern art. The best part is, shoppers can peruse the collections in-person on the 10th floor or online through the luxury antique marketplace InCollect.
Pieces from world-class dealers include this buttery, saddle leather sofa made in Italy in the 1980s, and this Art Deco faux bamboo side table set designed by a famous French Modernist. Other swoon-worthy furniture includes this vintage geometric armchair made from French oak, as well as this post-modern lounge chair designed by a Swiss architect using a mahogany frame and ribbed leather.
For statement wall pieces, art lovers will get their fill with an eclectic variety of paintings and prints. Choose from abstract, earthy works by Barbara Rosenzweig, translucent enameled paintings by artist Willy Burger (son of Italian glass artist Walter Burger), bold mixed media prints like these from Diane Love, and more. Or, go for these exceptionally rare 18th century botanical prints by Georg Dionysius Ehret, whose work is also housed in prominent museums.
Amuneal
With an impeccable eye for detail, Amuneal produces artisanal cabinetry, doors, desks, and built-in, customized shelving, all on display in their showroom. What began as a magnetic shielding business in 1965 is now a world-renowned family-run design company, known for using top-quality materials across its bespoke creations. Highlights include this Ebonized Oak Butcher Block Island with bronze undercladding for a speakeasy-style home bar, and these stunning doors using Bronze Frankford pulls and double-sided tempered glass, which provides an element of privacy when used in a dressing room or shower.
To add industrial edge, their custom Gunmetal Bar with Curved Glass Doors, designed in collaboration with Jagr Projects, features a blackened stainless-steel body, warm bronze pulls and wire mesh panels, and ebonized oak interiors with dimmable LED lighting to emphasize the glassware inside. And oenophiles should take note of this lustrous Collector's Wine Room Shelving. Show off individual bottles of vino via the open wine rack storage cases and the solid oak shelving along the bottom.

Cliff Young, Ltd.
Cliff Young Ltd., a legacy brand founded in the late 1960s by Alberto Azzolina, has become one of the top showrooms at 200 Lex. The brand's award-winning CY Signature Collection is on full display, alongside a series of curated and custom selections of contemporary furniture, lighting and rugs.
Highlights include the Quickship Tosca III Table & Ottoman, a finalist in 2022 NYCxDesign Awards, as well as the Art Deco-inspired CY Allegro Sectional which features gracefully tapered armrests. In black oak with bronze inlay, the multi-material PDQ Salvatore Dining Table is another standout that has all the features of a handcrafted heirloom. And the CY Signature Margaret Console is a sculptural gem inspired by NYC skyscrapers and urban architecture. Made with Azul Marcaubas quartzite and a curved steel base, it's a conversation piece that will transform any foyer or entryway.
Global Views
Up on the 6th floor of the 200 Lex, Global Views is a total home resource offering everything from ultra-chic lighting and funky wall décor to avant garde furniture. Among its classic statement pieces is the Emily Martini Table designed by the FORM Design Studio. Inspired by the work of haute couture embellisher Emily Barrell, the table features layered, leather feathers and a back-painted glass top.
Other stellar finds include a Draped Glass Chandelier made with hand-pulled glass rods hanging from an antique bronzed frame to resemble silk fibers on a drying rack. There's also the Ben Floor Mirror, which features an undulating form of melted glass and beautiful etching work for a scintillating display.
Profiles
For more than 30 years, Profiles has been wowing with their distinctive, timeless selections of furniture, lighting, and wallpaper which bring individual expression to the forefront. The Obscura Cluster Light Fixture, a grouping of circles created by Codor Design, is entirely handmade and each piece is one-of-a-kind. Another unique artwork is the handcrafted steel and papier mâché Gilded Cage Chandelier designed by Fisher Weisman as an interpretation of light fixtures from the 1920s Golden Era.
If your home fits a more minimalist aesthetic, there's the Hygge-inspired Altamont Swivel Chair which begs viewers to sink into its plush form, and Berman Rosetti's low to the ground, streamlined Cubist Sectional, with sake granite upholstery and an oak base.
Benjamin Moore
Color not only transforms a space, it can also have a big impact on our moods or state of mind. Legacy paint brand Benjamin Moore paired up with celebrity medium Mystic Michaela to explore how the spiritual energy of certain colors influences the feeling of a space. The result is their new AURA Interior paint collection, which comes in a variety of curated color selections that help reflect one's personal energy.
Whether your individual aura is a bold ocean blue, a serene yellow, or a luminous white, you're bound to find the right shade to suit your vibe in five different finish options, ranging from eggshell to satin to semi-gloss. Sneak a peek of the spiritually-conscious hues at their 200 Lex showroom.
SA Baxter
SA Baxter specializes in architectural, handmade hardware, with a vision of transforming door levers, knobs, and wall sconces into illustrious works of art. Using a 10-step process known as lost wax casting, the Hudson Valley-based metal foundry reimagines heirloom antique hardware, emphasizing weight, texture, and form.
With its bold, geometric shapes and angular forms, the Trousdale collection by Tim Campbell includes sleek tapered handles and starburst knobs in a variety of finishes from burnished copper to antique brass. The Shark Collection designed by Sasha Bikoff features a series of nautically-inspired knobs and pulls that resemble the animal's teeth, while the Hill Park Collection showcases curved knobs and handles with a sense of organic movement. For something a bit more classic, check out the Centre Doorknob 2024, which comes in Georgian, Transitional, or Traditional design styles. The simplicity of the circular shape, combined with its weighty feel, commands attention and adds elegance to any door. Most styles can be customized in different finishes, including polished or brass and oil rubbed bronze.
It may take some time to parse through it all at 200 Lex—there's a lot to choose from—so you may want to book an appointment with a designer to guide you along the way.
The New York Design Center also offers its Access to Design program which connects you with an interior designer to assist in your shopping and design needs. You're also free to tour the building on your own—just be sure to bring along a decisive friend.