The Best Flooring Trends For 2023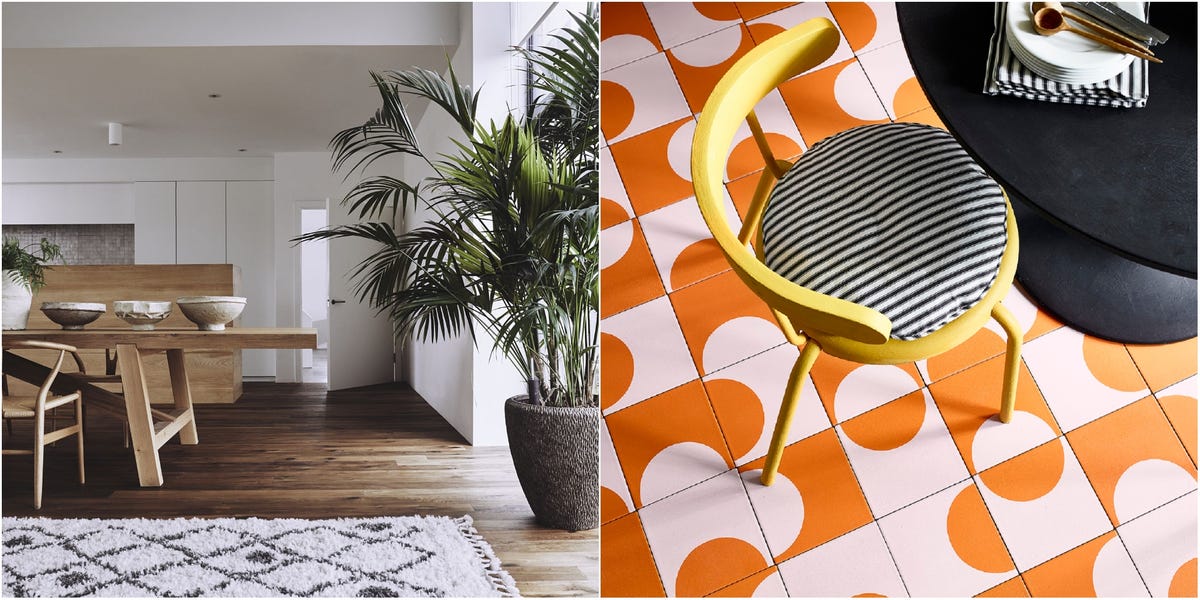 A new year has arrived and so have the interior trends set to shape the months ahead. And when it comes to flooring, bold patterns, cosy carpets and neutral colours inspired by the natural world will be big in 2023.
'For 2023, giving our homes a new lease of life looks to be a priority as Google searches for "interior design trends 2023" have risen by over 500 per cent,' Katie Hudghton, Head of Marketing at Woodworks, says. 'It seems that keen interior enthusiasts and renovators are looking for a complete transformation with new flooring on the cards, as "flooring inspiration" continues to trend on Pinterest.'
From living room accessories to paint colours and flooring choices, our homes are a constantly evolving mix of all the things we love. Planning your next renovation? Take a look at the top flooring trends for 2023:
1. Bright colours and bold patterns
'Bright colours and eye-catching patterns are back,' Paul Herbert, Head of Buying for Carpets at Carpetright, tells House Beautiful UK. 'Full of personality, more and more people are choosing to inject colour into their homes from floor to ceiling. We're seeing an increase in customers opting for jewels colours, such as gold, ruby, forest, and midnight blue, that make a statement in any room.'
Busy, bold patterns create an energy in the home. While neutral flooring has long been popular (and still is), 2023 will see more of us switch up safe designs for eye-catching styles. In the hallway, choose these beautiful cube tiles from our House Beautiful collection at Homebase, while Ca' Pietra's Lily Pad Porcelain tile never seems to disappear from our Instagram feeds, making it an excellent choice for the design conscious among us.
Craig Smith, Merchandising Manager at Flooring Superstore, agrees, adding: 'Tiles in 2023 are all about making a statement. Whether it's a dramatic geometric pattern or bright and bold pops of colour, 2023 is the year to push boundaries with your tiled flooring. Team with neutral shades and low key accessories to make your flooring pop.'
2. Large format tiles
Large format tiles will be big news, thanks to their ability to make a smaller space look bigger. 'Large porcelain slab tiles have become increasingly popular and with such a wide choice of colours and textures available, they are sure to remain a firm favourite into 2023 and beyond,' Jo Oliver, Director, The Stone & Ceramic Warehouse, says.
'Using a large format tile means you will have fewer grout lines, which gives a feeling of space even in a small room. Light coloured tiles can make a small room look bigger as they reflect more light than darker colours, giving a light and airy feel. A top tip is to use the same wall tiles as the floor tiles. This will enhance the feeling of space further by creating a continuous look.'
An ideal solution for everyday use, Jo tells us that large porcelain tiles are extremely hard-wearing and stain proof. 'They also won't be damaged by detergents or any of the other chemicals we frequently use in our homes,' she adds.
3. Go for gold
The allure of shimmering fabrics never fades, with iridescence now creeping into the world of interior design. For 2023, homeowners will dazzle their homes with carpets that shimmer and shine.
'Earthy and natural tones are big for 2023 and golden metallic hues are the perfect match for neutral wall shades,' adds Craig. 'Luxury carpets with a subtle shimmer are a great way to embrace this trend, while adding a much needed dash of luxury and added warmth to your finished look.'
Top tip: If you don't want to choose gold, opt for natural hues instead. Dark, rust tones are excellent for cosying up bedrooms.
4. Checkerboard flooring
Revitalise your home with one of 2023's hottest trends: checkerboard flooring. 'There is no doubt about it, checkerboard flooring is experiencing a resurgence,' explains Matilda Martin, Lick's Trend Specialist, noting its 'timeless, heritage' feel.
'Checkerboard floors are a great way to add pattern and visual interest to a room, and they look especially good in hallways, bathrooms, and kitchens. Whilst traditionally monochromatic, we are also seeing modern iterations using a variety of playful colour schemes in softer tones,' she adds.
5. Encaustic floor tiles
Colour and pattern play a vital role in determining the feel of a room. We love nothing more than a vibrant floor tile, but the experts predict our attention this year will also shift to material choice. According to the design team at Craven Dunnill & Co, encaustic cement tiles are set to surge in the coming months, particularly in spaces with more foot activity.
Traditionally created using different colours of ceramic clay, with the pattern inlaid into the body of the tile, encaustic tiles are known for their durability as well as their stunning patterns and pigments.
'Encaustic floor tiles are a wonderful way of bringing life to a room, infusing a space with refreshing colour and pattern,' explains Diane Hyde, Marketing Manager at Craven Dunnill & Co. 'Beautiful in appearance, encaustic floor tiles are also completely durable, making them perfect for high traffic areas such as hallways or kitchens. Designed with longevity in mind, they are an investment that promises to stand the test of time for years to come.'
6. Wool carpets
Soft, plush wool carpets are going nowhere. As well as offering superb resilience to both wear and general dirt (and keeping its original appearance for many years), wool provides natural insulation by reducing draughts and trapping warmth.
'Given the uncertainties of the economy and an increased desire for a feeling of sanctuary in our homes, we should see wool carpets become increasingly popular in 2023 due to their timeless look and exceptional heat retention properties,' Johanna Constantinou, Brand and Communications Director at Tapi, says.
'We're seeing homeowners looking to add value to their existing homes, rather than relocating. Wool carpets provide a robust, durable option for those looking to install some comfort without compromising quality, so they're perfect for achieving this.'
7. Woodgrain
Wooden flooring will remain a top choice for 2023. 'With all the stresses and strains of daily life – creating a space that provides peace, rest and refuge will be a big trend for 2023,' explains Craig. 'Natural colours, fibres and texture all create a gentle aesthetic that is the perfect ambience to relax and unwind. And there's no better way to complement a relaxing space than with natural wood flooring.'
Traditional wooden styles are also back, as Karen Wilding from Forbo Flooring tells us: 'We also predict to see more traditional flooring styles being chosen, such as parquet and herringbone influenced designs to add depth and character. Throughout 2023, we expect wooden aesthetics to remain a popular choice, with homeowners opting for cooler, more desaturated shades.'
Follow House Beautiful on TikTok and Instagram.
---