The Best New Furniture of 2021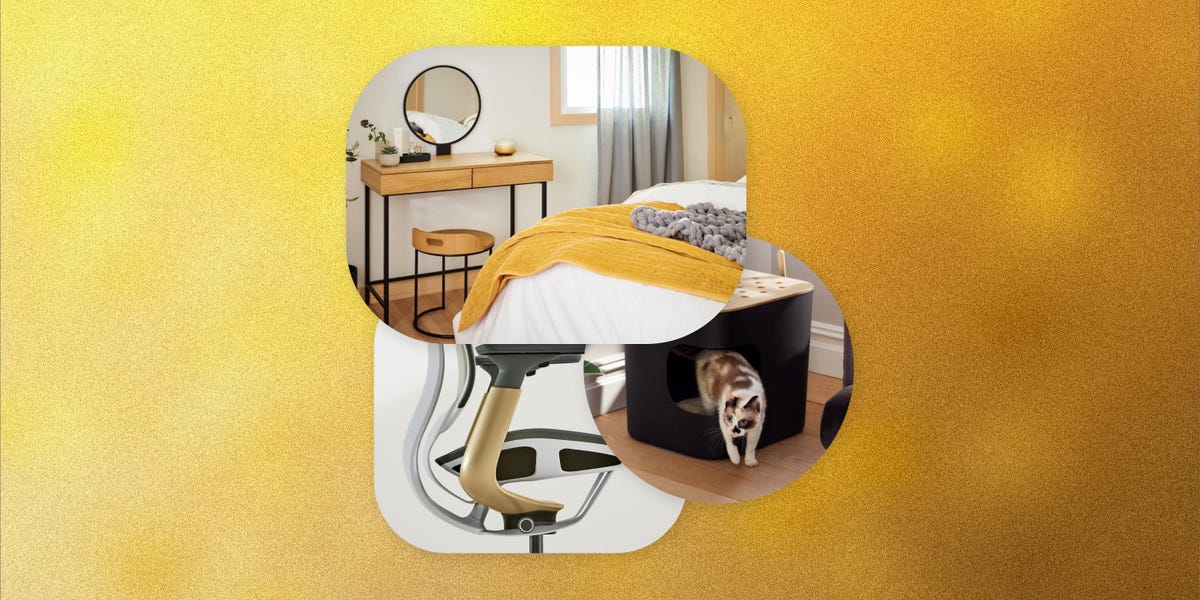 This story is part of our end-of-year series This Year in Gear, rounding up the most notable releases of 2021.
words.
Revival Laurel Canyon Rug Collection
Revival's latest collection of rugs pays homage to the '70s. The four rugs are hand-knotted with New Zealand wool, featuring raised, cut-pile motifs. Some of our favorites include the Joan and the Grier.
Price: $429+
SHOP NOW
Burrow Field Sofa
Burrow practically popularized the sofa-in-a-box concept with its first sofa design, the Nomad. Since then, it's released a whole mess of home furnishings, and now it released its third sofa collection, the Field. With a slimmer profile than the original Nomad, with a look that also has some design elements of its second sofa collection, the Range, the Field sofas give shoppers another excellent couch option. And like the other sofas, Field can grow (or shrink) with you thanks to its modular design and ease of delivery.
Price: $1,095+
SHOP NOW
Lego Collection x Target
For the new Lego collaboration with Target, expect more than just a handful of exclusive-to-Target Lego sets. There are over 300 items in the Lego Collection x Target, ranging from kids clothing to home decor. Everything has a similar motif about it like bright Lego-like colors or a recurring block image. Either way, it seems this collection came at just the right time for the gifting season.
Price: $2+
Cat Person x Jason Wu
If you're a cat person then, well, you should be shopping at Cat Person, a brand of design-forward cat gear for your feline friend(s). Its latest collection is designed in partnership with fashion designer Jason Wu, who worked on a hideaway scoop and holder, a little box, a blacked-out bowl, cat toy and collaboration hoodie. Yes, your cat only wears designer.
Price: $7+
SHOP NOW
Herman Miller Comma Chair
Herman Miller's latest chair pays homage to every writer's favorite punctuation (kidding). The Comma Chair, designed by Michael Anastassiades, is a fairly bare bones chair with a circular seat, rounded back and straight legs. It's available in six wood finishes and either leather or wood seating. Now we're looking forward to an Em Dash sofa, the Semicolon chair or Ampersand bean bag.
Price: $995
The Citizenry Hinoki Collection
In expanding its Hinoki Collection, home goods store The Citizenry has added four new products made in the fragrant and soft wood: a bench, a nightstand, a nightstand with a drawer and a counter stool. The pieces are crafted from hinoki sourced in Okawa, Japan, by the The Okawa Hinoki Workshop, a fair-trade workshop that's been mastering the art of making furniture for over four generations. The pieces perfectly complement the existing pieces of a side table, floor mirror, sauna set and — the much-loved — bath mat.
Price: $750
SHOP NOW
Fritz Hansen Oxford Chair
In 1965, architect and furniture designer Arne Jacobsen designed the Oxford chair for professors at St. Catherine's College at the University of Oxford. The task chair was designed to look good but also to be a comfortable place to sit for long hours, which is basically what everyone is looking for in an office chair these days. This could explain why Fritz Hansen is relaunching the Oxford chair with a few modern upgrades. The new Oxford chair comes in either a low or tall option for its backrest, as well as an upgraded tilt mechanics and adjustable seat height, angled armrests so the chair can fit under desks and a number of upholstery options to suit everyone's taste.
Price: $2,255+
Bed Bath & Beyond Studio 3B
Bed Bath & Beyond has been going hard with the in-house brands lately. Its latest, Studio 3B, combines modern design and contemporary aesthetics for every room in the home. The collection includes practically everything you could think of from furniture — like bar carts and a desk — to bedding. And to top it all off, it's incredibly affordable.
Price: $4+
SHOP NOW
Steelcase Karman
Steelcase makes a number of amazing office chairs, one of which, the Series 1, is our pick for the best overall office chair. The brand has done it again with the release of its new Karman chair, which is equipped with a new type of mesh textile, called Intermix, that alleviates pressure on the sitter. Karman is meant to make you feel weightless thanks to a lightweight flexible frame. Whereas most mesh chairs use a rigid frame, the Karman's adapts to your movements providing support without being hard. And if you're sick of the typical black office chair, Karman comes in 13 colors and finishes. The chair will be available in early 2022, and we'll keep our eyes out for when you can finally buy it.
LEARN MORE
CB2 x Kravitz Design

Lenny Kravitz is a global rockstar so it makes sense that his collection with CB2 draws inspiration from all over the world. (Though one could wonder why the rocker has a furniture collection to begin with.) As CB2 describes it, the collection, "[draws] inspiration from the ateliers of Europe, the markets of Africa and beyond." The collection runs the gamut from throw pillows to beds, each with its own distinct personality. If I had an endless supply of money and square footage, you could find the Imbu sectional, Traverse rug and Kibo media credenza in my home.
Price: $8+
SHOP NOW
West Elm Kids x The Old Truck
If you don't have kids (or you're just not a children's books fanatic), "The Old Truck" is a popular block-print illustration book for kids. And now, thanks to West Elm, your kids can immerse themselves in the world of "The Old Truck" with its collection at the furniture retailer. Shop quilts, wallpaper and a lamp to have your kids feeling like they just jumped into a book.
Price: $15+
SHOP NOW
This content is created and maintained by a third party, and imported onto this page to help users provide their email addresses. You may be able to find more information about this and similar content at piano.io