The Splendor of Marble: Bellavista Collection Showed Its MICHELANGELO at the Salone 2023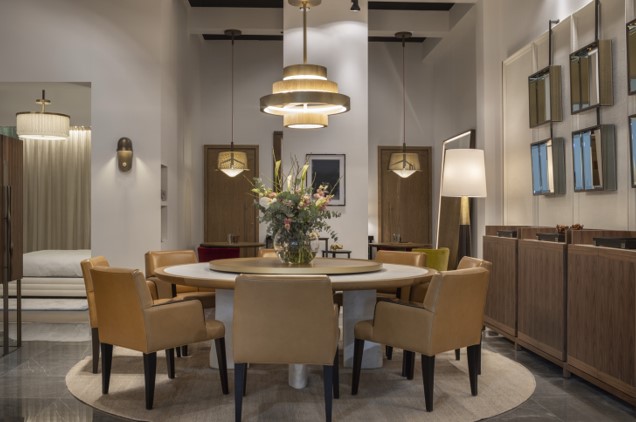 If asked to name the materials for furniture production, most likely, wood will be the first one you'll remember. Then you'll probably think of metals – aluminum, stainless steel, or bronze, to name a few. When talking about furniture making, marble won't be the first that comes to mind. However, many Italian luxury furniture designers and manufacturers love this attractive natural stone. Bellavista Collection, for example, uses about a dozen diverse kinds of marble, mostly for tabletops, details, and decorative elements, not to mention a coffee table named PENCHINO, made of a single chunk of marble.
So, no wonder that one of the brand's showpieces, displayed at the latest, the 61st, edition of the Salone Internazionale del Mobile this April, was made mostly of marble. The famous Carrara marble, picked for this remarkable dining table, was the favorite stone of the world-famous Italian sculptor from the High Renaissance Michelangelo Buonarroti. That's why this furniture piece was named MICHELANGELO.
From BRAND&STONE to the Salone del Mobile
In fact, Salone Internazionale del Mobile was the second exhibition where MICHELANGELO table turned heads. The first one was BRAND&STONE, which is a part of MARMOMAC, a reputable trade exhibition, devoted to natural stone processing.  This event took place in Verona, in September 27 and 30, 2022.
MARMOMAC is a must-attend fair for professionals, whose vocation is related to any aspect of processing natural stone: new techniques and know-how, chemicals, machinery, and many more.
BRAND&STONE is a cultural section of the exhibition; its aim is to show magnificent articles, made of natural stone.  They illustrate how modern technologies can be used to create timeless beauty. In 2022, among these exhibits was MICHELANGELO dining table from Bellavista Collection.
Marble is a great material but it is pretty difficult to process. Turning a just-excavated chunk of stone into a slab suitable, say, for a tabletop, requires special machines and qualified specialists. That's why MICHELANGELO was produced in collaboration with ARTEMARMI, a renowned marble processing company.
MICHELANGELO looked really grand. Its round top, 210 centimeters in diameter, is made of marble; its frame is crafted of solid oak wood with rose finish. Four rather thick marble legs supported the top. In spite of being heavy indeed (natural stone is a heavy material), MICHELANGELO doesn't look ponderous at all. Its design is pretty graceful.
The variant of MICHELANGELO, displayed at this year's Salone del Mobile, was equipped with a Lazy Susan. Thanks to its well-thought-out design, this handy device fits all round tables in Bellavista's collection.
Equally Perfect for Statues and Tables
Now let's take a quick look at the material, selected for this remarkable dining table, named after the legendary Italian sculptor.  It's the finest kind of Carrara marble, named Statuario. As it's easy to guess from its name, this marble was considered to be the best material for making statues. It's more homogenous than other marbles, and its color is pure all-white, sometimes with a light shade of blueish-gray. For about two millennia, Carrara, and particularly Statuario, marble has been excavated from the quarries in Apuan Alps – a mountain range in northern Tuscany. The city of Carrara (which was founded in 1235, by the way), located next to the rich marble deposits, is still known as the Italian capital of marble.
Ever since the ancient times, marble from the local quarries was widely known: for example, the Roman Pantheon was built of it.  Many sculptures that survived from the times of Ancient Rome and the Renaissance were carved out of this stone.
According to the memoirs of his contemporaries, Michelangelo Buonarroti was extremely choosy when it came to marble. He walked miles and miles through the Carrara quarries on foot, at any weather, to pick the material which later became his David, Pietà, or Moses.
Some of these old marble pits became a historical place, attracting thousands of tourists – but some are still working! Modern artisans, from sculptors to furniture makers, do value this beautiful stone, because they understand all the splendor of this material and make the most of it.
MICHELANGELO dining table is a great example of how natural beauty of stone, combined with brilliant design and great craftsmanship, result in a real masterpiece that will last forever – in the direct sense of this word. It's difficult to find more sustainable material than natural stone…
The Core of the Dining-room Zone
Of course, at the Salone Internazionale del Mobile, MICHELANGELO dining table wasn't displayed alone: it was a part of a luxurious dining-room set in Bellavista Collection's exhibitor booth.
Since 2012, Bellavista brand showcases its furniture as complete ensembles, together with lamps, mirrors, boiserie, and other items no real home can do without. Needless to say, all of these pieces are designed and produced by Bellavista Collection.
So, every visitor of the Salone del Mobile who entered the brand's exhibitor booth (stand E-21) at Hall 3 of Xlux section, saw a fully-furnished open plan apartment. It was divided into a few separate zones, including bedroom, living-room, and dining-room areas. MICHELANGELO dining table with chairs to match formed the core of the dining-room zone.
This beautiful dining table also perfectly harmonized with a number of other pieces, such as the elegant STING cabinet and VASCO mirror on the wall. And that's not to mention stylish lighting fixtures Bellavista brand is well-known for. The newly designed PALMAREAL floor lamp, with the pole made of fine woods, and STARGATE ceiling lamp, with its lampshade composed of wooden and metal rings, made the dining space feel fully complete. In spite of being created separately, all these pieces looked as if they were designed especially for this ensemble. What is more, the number of such ensembles is virtually infinite: Bellavista Collection style is all about versatility, practicability, and, of course, timeless beauty and top quality of every detail.