Tulane, NOCHI students team in a gingerbread house contest | Home/Garden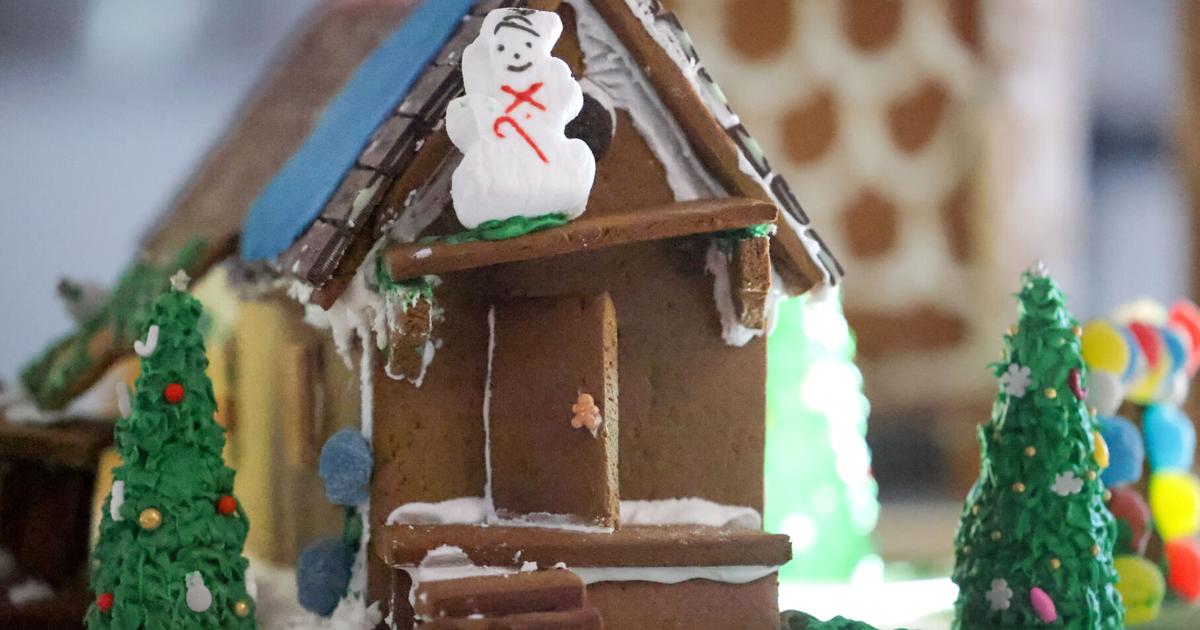 The mouthwatering aroma of freshly baked gingerbread wafted across the pastry room of the New Orleans Culinary and Hospitality Institute, signaling that another batch was almost ready.
A kitchen-timer buzz interrupted the nervous chatter, and several students scrambled to pull pans of the golden-colored holiday pastry from the convection oven before it was too late. The last batch had been a little overcooked, and tensions were running high because now, the oven mitts were nowhere to be found. One more minute at 350 degrees and this batch might also be toast.
It was the kind of gingerbread mayhem that had been unfolding for nearly two days. 
Students from the Tulane University School of Architecture were teamed up with students from the New Orleans Culinary and Hospitality Institute to compete in a gingerbread design and baking contest. Each of the five teams consisted of one NOCHI student and two architecture students. At stake were bragging rights, gold medals and gingerbread glory.
With just one day left to complete their confectionary cottages, everyone was feeling the sweet heat. Each team had discovered that building with gingerbread takes a delicate touch, as trouble had reared its ugly head time and time again. Combining architectural know-how with culinary skills seemed like an ideal match for the contest, but a nearby trash can heaped with dozens of cracked, warped and broken pieces of gingerbread revealed some of the difficulties the teams were facing.
"This is our second attempt," said Rejinae Francis, a NOCHI student on a team with the ambitious goal of building a gingerbread replica of the Plaza Tower skyscraper. It's just two blocks away and clearly visible from the kitchen window, which overlooks Howard Avenue in downtown New Orleans. "Some of our first batch cracked when it cooled, so we had to roll and cut another set. We're way behind schedule."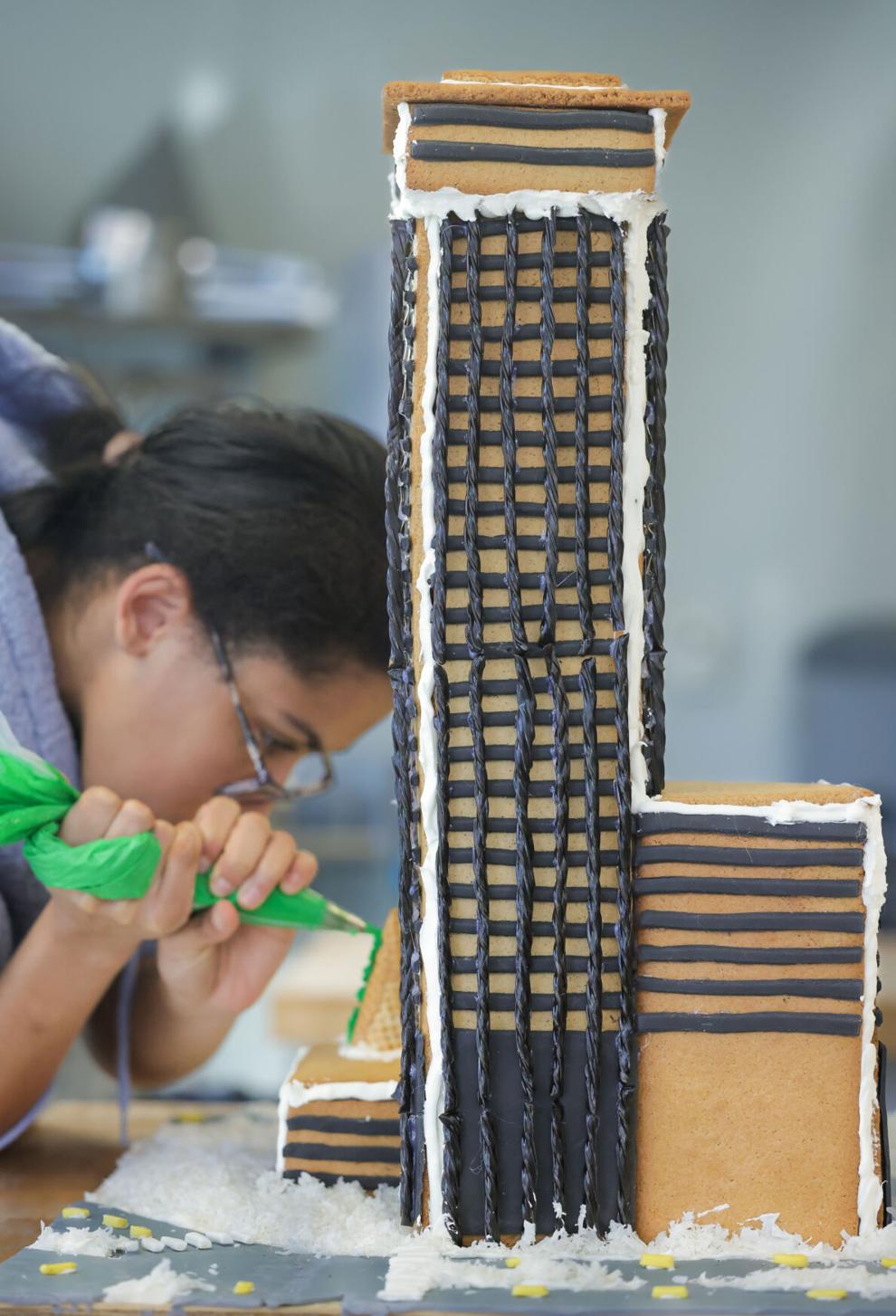 Rivalry and teamwork
Across the room, students were feverishly cutting, stacking and cementing gingerbread pieces, and almost everyone was too engrossed in their task to appreciate the lip-smacking holiday scent.
"I've never seen your hands shake so much," Tasjanique Moore said with a laugh as she heckled Rena Ford, a member of another team. Ford was using sticky icing to join two gingerbread walls of Snoopy's dog house. Moore ribbed her again. "You better wipe those drips. They'll dry like cement and never come off," she said with a sassy smirk and a wink.
The teasing was in good fun, but it may have hit home. Ford's team already had been forced to regroup earlier in the day after their plan to build a house lifted by balloons, like the one in the movie "Up," proved too complex. A replica of Snoopy's dog house was their Plan B, and they were already a day behind the other teams. "Hopefully, we're not here all night," Ford said to her teammates.
The contest idea was cooked up several months ago when the Tulane architecture school moved into the NOCHI building while their classrooms on the Uptown campus were being renovated. The schools quickly came to appreciate each other, and the idea for a collaborative holiday competition with gingerbread was soon fully baked.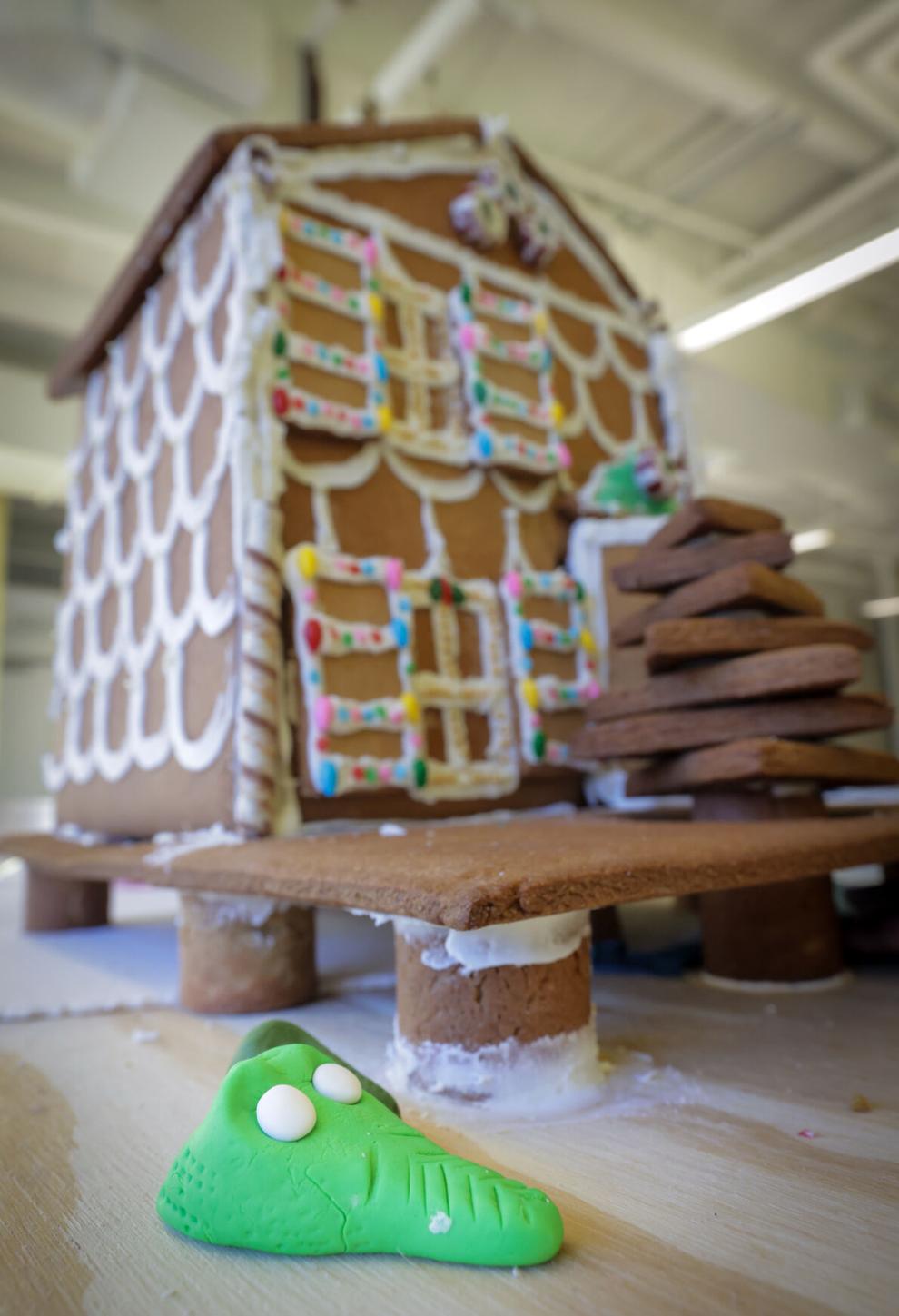 The guidelines were simple: The entire creation had to fit on a 2-foot-square board and not exceed 2 feet in height. It had to be 75% edible and weigh no more than 50 pounds.
Once the teams agreed on their themes, the architecture students were tasked with rendering the design into a scale model, and the culinary students were tasked with bringing it to life using gingerbread and icing. Everyone was tasked with bringing their imagination to the table.
Carla Briggs, a chef and workforce training manager at NOCHI and a judge for the competition, said partnering NOCHI students with Tulane architecture students gave everyone a chance to showcase what they are learning.
"The teams had just three days from start to finish, so they had to really collaborate and let each person use the skills they've learned in class," Briggs said. "The first real test is whether it (the gingerbread project) makes the trip downstairs in one piece for the contest."
Surviving that journey downstairs had Francis and her teammates, Tulane architecture students Lauren Lake and Camille Kreisel, so concerned they opted to use a piece of plastic pipe to stabilize the inside of their mini replica of the Plaza Tower building.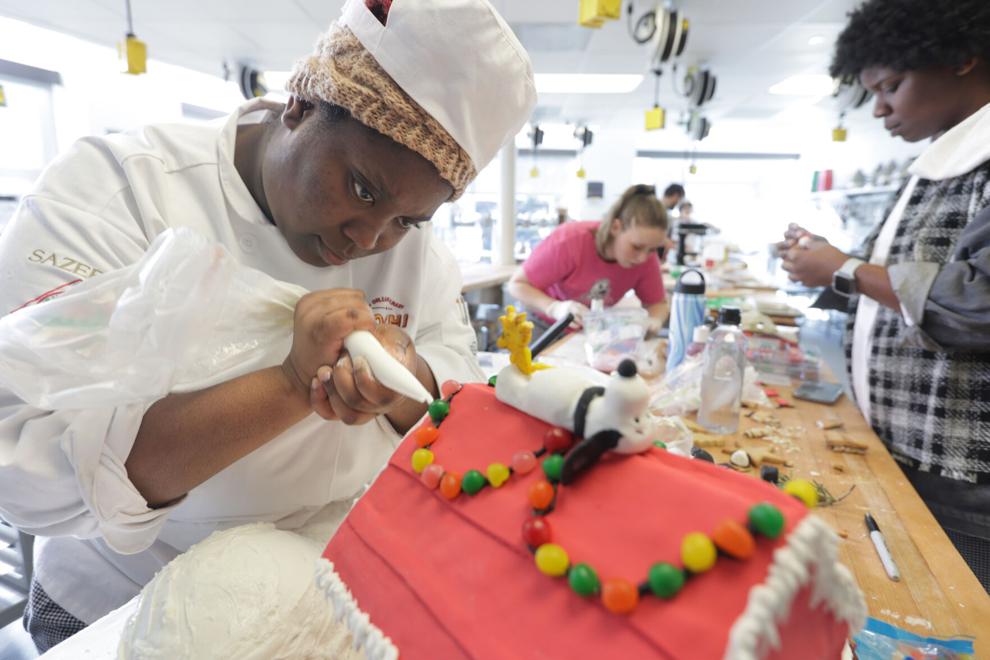 "The pipe and a little hot glue are pretty much the only part that's not edible," said Kreisel, who created the templates for the gingerbread pieces on her laptop using 3D architectural design software. "Otherwise, you can eat the whole building."
Judges in the house
A panel of judges selected from the local culinary and architecture communities was on hand to select a winner based on specific criteria that included construction difficulty and creativity.
Steve Dumas, a partner with Eskew Dumez and Ripple architects, was a judge. He appreciated the difficulties of building with gingerbread.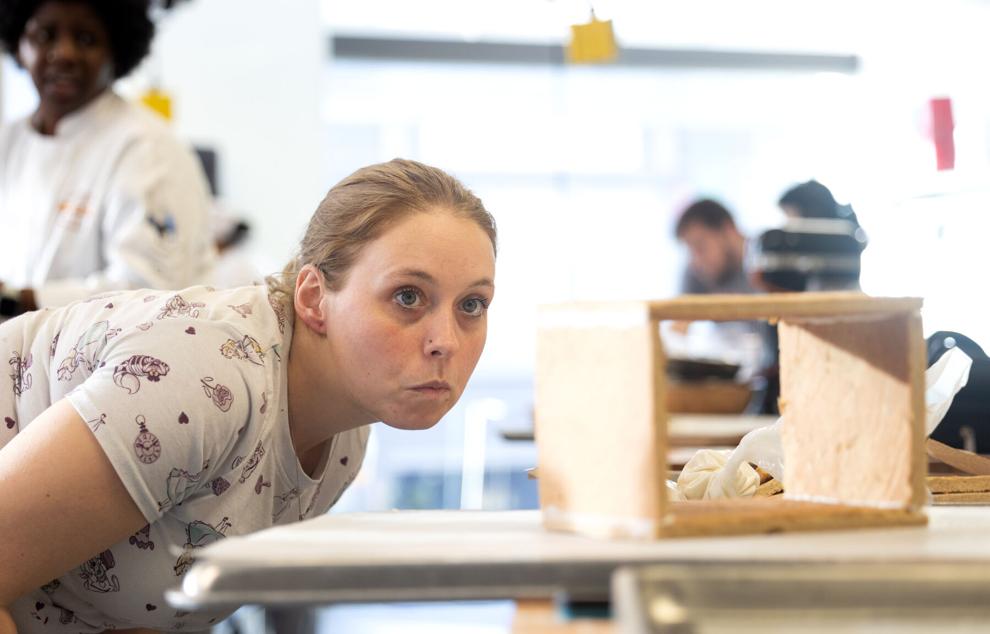 "Having tried making gingerbread houses with my kids, I know just how challenging and frustrating it can be," he said. "I've seen a lot of creativity here, and some in an unexpected way, and that's refreshing. Clearly a lot of thought went into each of these."
First-place medals were awarded to the team that designed "Leah Chase's House." This entry featured a classic New Orleans-style shotgun house in a winter wonderland setting with a roof made from layers of Andes chocolate mints. In a nod to life in New Orleans, the team covered part of the roof with a tiny blue tarp made of fondant.
Second-place medals went to the "Christmas on the Bayou" team that built a Cajun-style cottage on stilts in a snow-covered bayou with a Christmas tree on the front porch and gators peering up from the water. The skylights on the roof of the cabin were made of melted Jolly Rancher candies.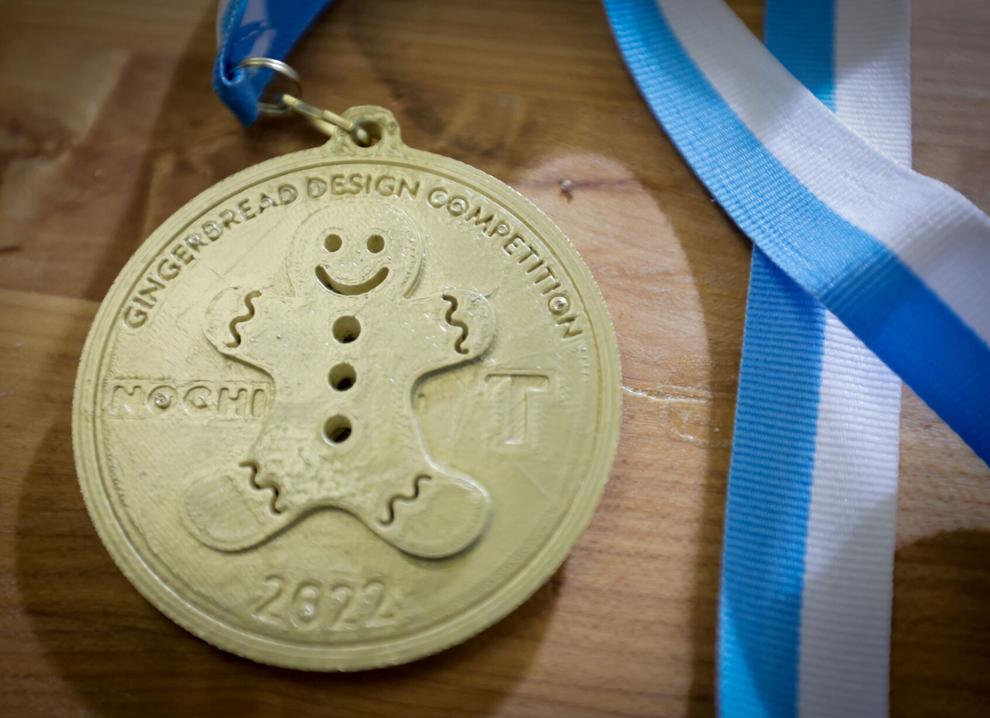 Third-place medals went to "Snoopy's Dog House," complete with Snoopy and Woodstock resting on top, and in the front yard was Charlie Brown's sapling Christmas tree made of rosemary sprigs and topped with a single candy ornament.
The medals, engraved with gingerbread people, were designed and made by architecture students and created using a 3D printer. No, the medals were not edible.
All the contest entries will be on display in the NOCHI lobby through December.