Urban Outfitters' spring 2022 furniture collections bring modern style to your home
After the long, dark winter, our spaces can tend to look a little cluttered — or worse, drab. Luckily for all of us, Urban Outfitters is to the rescue. The retailer's home division just rolled out its spring collection, including everything from mirrors and sofas to daybeds, chairs, rugs, lamps and more, all awash in on-trend materials, colors and patterns. Read: These are the pieces that are going to add some life back to your abode.
And, in case you missed it, UO isn't just for college kids anymore. Once the go-to brand for dorm rooms coast to coast, Urban Outfitters Home now offers a vast variety of products, all curated through a much more sophisticated lens — seriously, the store has dozens of options of stools alone in materials ranging from leather and wood to ceramic, wicker and metal (and maybe one comprising faux stacks of $100 bills). Pricing, too, has escalated, starting at four bucks and heading all the way up to $2,300 for a chic sectional.
Below are our favorite picks for spring, but you can catch all the offerings here.
Sleek and simple, this glass-and-metal coffee table will make your room look bigger in an instant, and it's guaranteed to appease pretty much everyone's aesthetic.
Mod and moody all at once, this wall-mounted sconce shade is a space saver too, freeing up any room a table or floor lamp would take up. It gets bonus points from being made from recycled pulp.
Oozing with Scandinavian vibes, this hefty dresser is a must-have for anyone lacking in closet space. The light finish ensures it will match your existing decor scheme, and the carved curing cutout lends some serious design cred.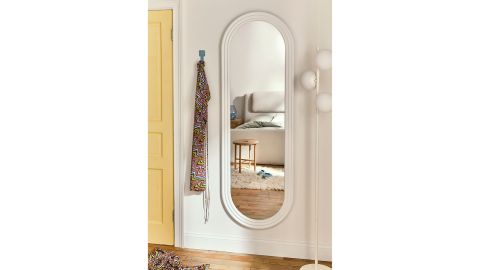 We've never met a full-length mirror we didn't like, and that includes this stunner. Ovular with ridges, the mirror is interesting enough to stand out but simple to blend into your space.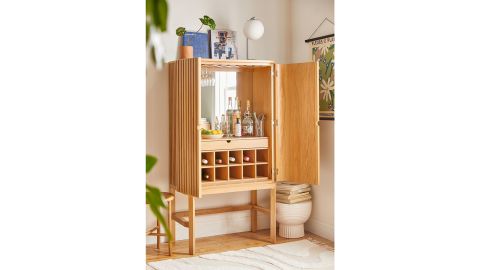 An entertaining godsend, this bar cabinet is genius in its design, offering up 12 cubbies for storing wine bottles, eight slotted racks that can each hold three wine glasses, a big ol' drawer for your bottle openers and cocktail accoutrement, a shelf space for bartending and — our favorite detail — doors that can tuck all those things out of sight when not in use. A mirror backsplash only adds to the cabinet's overall allure.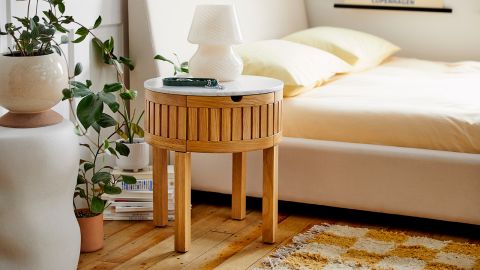 Nightstand, but make it fashion! Putting other nightstands to shame, Juliette features a handsome oak wood finish with a slatted design and rounded construction, topped with a chic marble slab. The hidden drawer makes it equal parts form and function.
Add a fun pop of color to your breakfast table or nook with these modern chairs that come in a pea green or baby blue hue. The best part? The plastic composition means you can wipe them down after an especially messy meal.
One can never have too many side tables, and this one is worth investing in not only because of its cool, bohemian appearance — we're loving the speckle-grazed, semi-matte surface — but also because its neutral color palette is going to blend seamlessly with the room in which it lands.
Indoor/outdoor rugs are known for being incredibly durable, and we love that this one is also incredibly cute, perfect for zhuzhing up a high-traffic area in your home. Featuring an eye-catching geometric pattern, the reversible rug is made from recycled plastic and is mildew-free.
Let your guests know that sit-ins are encouraged by having a slew of these tufted floor pillows on hand. Great for stacking or topping on a bench, the pillows come in a cream or black hue and have a cozy, woven texture on the top panel.
Everyone's got room for a little lamp — whether it's on a nightstand, a bookshelf or a dresser — and this one is a winner. With nearly 300 glowing reviews and a 4.8-star rating, the lamp emits a warm glow and comes in eight hues and patterns, all of which are equally attention-grabbing.
Wall shelves are a hero decor piece — not only can they accommodate a ton of stuff, but they're also space savers! We love this one with its feminine curves and the light finish of the bentwood.
If you're in the market for a showpiece of a sofa, this is it. Featuring curved armrests and a linen-blend fabric, the Mabelle comes in this light blue colorway in addition to a cream and a striped option.
A quick way to overhaul the look of your drawers? Add in new pulls! And a few of these will do the trick — the arched shape and woven rattan detailing are sure to freshen up everything from dressers to console tables.
Like something you'd find in an extremely chic tropical hotel room, this stool can offer extra seating or a resting spot for your coffee/book/TV remote. The piece's intricate spiral structure and beautiful woven cane patterns make it a showstopper.