The Knives Out Movies Reimagine the Modern Whodunit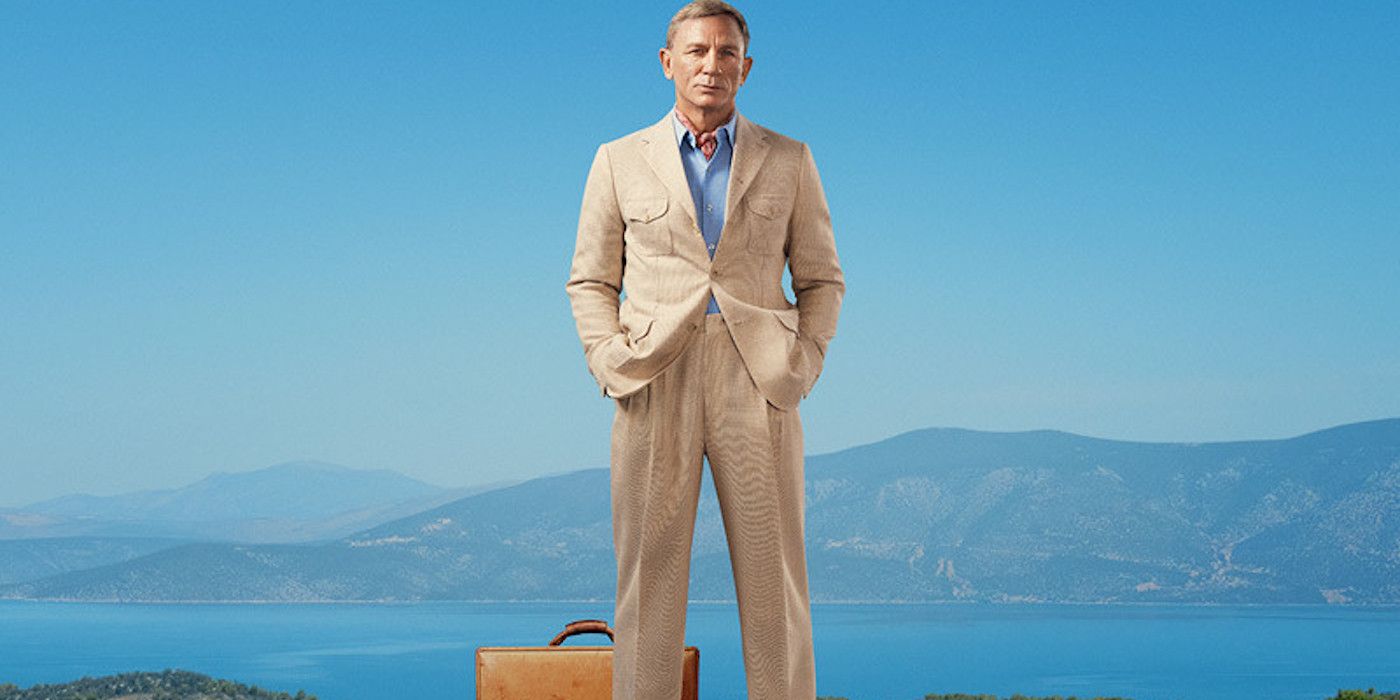 With 'Glass Onion,' the 'Knives Out' series solidifies its place as the modern mystery whodunit for a new generation.
With Glass Onion: A Knives Out Mystery now airing on Netflix to just as much well-deserved praise as its predecessor, Knives Out, it's quite clear that director Rian Johnson has patented a terrific formula for creating the modern mystery whodunit. With the sequel soaring to the top of the streaming service's movie rankings, we feel safe making such a bold claim. Johnson's combination of a racially diverse cast, state-of-the-art-props and set pieces, and a relevant social media awareness illustrate how he is much more in touch with today's zeitgeist and how to implement it into current cultural trends. Benoit Blanc is not your father's super sleuth, and he certainly isn't Sherlock Holmes of Scotland Yard or Hercule Poirot solving mysteries aboard trains and ocean liners involving old money and family wealth. Not that we have anything against said detectives, they're just not as cool, quite frankly, as Daniel Craig's quirky, Cajun, crime solving savant.
Culturally Aware and Diverse Casts
Of the five so-called "Disrupters" that receive invites to the lush Greek island, there is a blend of several different races that are culturally diverse. Johnson includes people of African-American heritage, Filipino heritage, European heritage and Asian heritage. Similar to the original, which had Ana de Armas and LaKeith Stanfield in leading roles, each character represents a slice of American society that just about every viewer will be able to relate to in some way. Janelle Monae is prominently featured as Black twin sisters Cassandra (Andi)/Helen Brand, a brilliant scientist who is unceremoniously kicked to the curb after her invention is stolen and turned into a fortune. American-Filipino actor Dave Bautista makes yet another appearance in a huge film as militant ultra-right wing social media influencer Duke Cody who loves his guns and his Harley. Not to be outdone, Singaporean-Chinese actress Jessica Henwick stands out as the assistant to the flighty, "canceled" former fashion model, Birdie Jay (Kate Hudson) in a role that could have been much larger.
RELATED: 'Glass Onion: A Knives Out Mystery' Cast and Character Guide: Who's Who in the Rian Johnson Whodunit
Cool Set Pieces and Props
The way in which the Disrupters are invited to Miles Bron's (Edward Norton) annual bash is the first sign that the film is going to go "all in" with even the smallest set props. A shape-shifting, riddle-rigged box holding the invitation gets the ball rolling with the cool gadgets. While the first Knives Out used a sprawling English estate with hidden passages as a backdrop, when the guests arrive at Miles Bron's secluded island off the coast of the Mediterranean Sea in Glass Onion, they are met with an astounding and palatial mansion that looks more like Disney's Epcot Center with the titular, massive, shimmering onion shaped sphere that sits atop a layered hilltop lined with all kinds of manicured pathways and a sparkling pool. Right off the bat, you're swept away into this exotic, futuristic set design that houses some remarkable stuff inside.
The main living area inside Bron's luxurious manor is filled with gorgeous glass sculptures and sleek, modern furniture to the point of excess. His remote activated bulletproof case containing the actual Mona Lisa by Leonardo da Vinci is pretty dope and gives you the feeling that the stakes for Johnson's murder mystery are going to be first-rate and spare absolutely no expense. It all goes toward ramping up the tension for the mystery that is set to unfold.
Of course, everyone in the cast is armed with their phones that are part and parcel of the 21st century lifestyle, and that was part of the first film, but Johnson's use of the social media aspect in the sequel raises the bar considerably. He employs this aspect of new technology with great aplomb to advance the storyline and make it a key plot device. Bautista's Duke Cody is a YouTube-ish social media influencer whose storyline involves his aspirations to further his presence in the multimedia space. Kate Hudson's Birdie Jay is the culturally insensitive social media user that isn't allowed to make unsupervised posts online as she is suffering the backlash of our movement toward a cancel culture, and the rest of the cast is forced to deal with the incessant pinging of their own devices that they can't be apart from for more than five minutes. Every character in the film is in some way effected or even compromised by social media footprints that are ubiquitous in modern society.
New Money, Not Old
The character of Miles Bron is a not so subtle facsimile to Elon Musk as his mega, multi-platformed company Alpha closely resembles Musk's Tesla products. You could easily make the case that Johnson is taking a shot at Musk by painting Bron as a no-talent hack who stole someone else's idea and has been riding the wave of unfulfilled promises and Pollyanna technology to billions of dollars in wealth and international fame. Whatever Johnson's intent is, it is far more in line with the type of business mogul that would reside in such a location and put on such an event. It is the new technology money versus the wealth used in previous ensemble whodunits that separates Glass Onion from the murder mysteries that have come before it. The updated genre no longer has the old guard of shipping magnates or titans of the steel industry in the main roles of suspects. The fact that Miles Bron uses a fax machine as his only method of communication on the entire island is a fine bit of satire and irony that isn't lost upon the audience.
More 'Knives Out' in the Future
So what can we expect from Johnson moving forward? It is clear that he will continue to stay in line with an ever-evolving cultural zeitgeist. We already know that plans are in place for two more Knives Out films. Netflix has also secured the rights to premiere the third installment by outbidding competitors Amazon and Apple for the rights, and while details regarding the cast and potential plots are still being developed, we think it's a safe assumption that Rian Johnson will perform the necessary due diligence and stay ahead of the newest trends whatever they may be. We look forward to seeing the mysteries that will be put at the feet of the great Benoit Blanc moving forward.